Nothing is more rewarding on a sweltering hot summer day than gulping back a refreshing beverage that instantly quenches your thirst. Ice cold lemonade, a crisp beer or chilled water, whatever you're reaching for when the sun is blazing, a cooler that keeps it icy fresh is surely a must.
Soft coolers are handy for days at the beach here a long walk may be involved but hard coolers often have more pack space and are like your very own mobile fridge. Although some models are quite large and heavy, if you have the means to get your cooler from point A to point B, they are certainly worth it. Whether you spend your weekend in the woods camping or you are enjoying a block party with your neighbours, we've got a great selection of the best hard coolers sure to exceed your needs.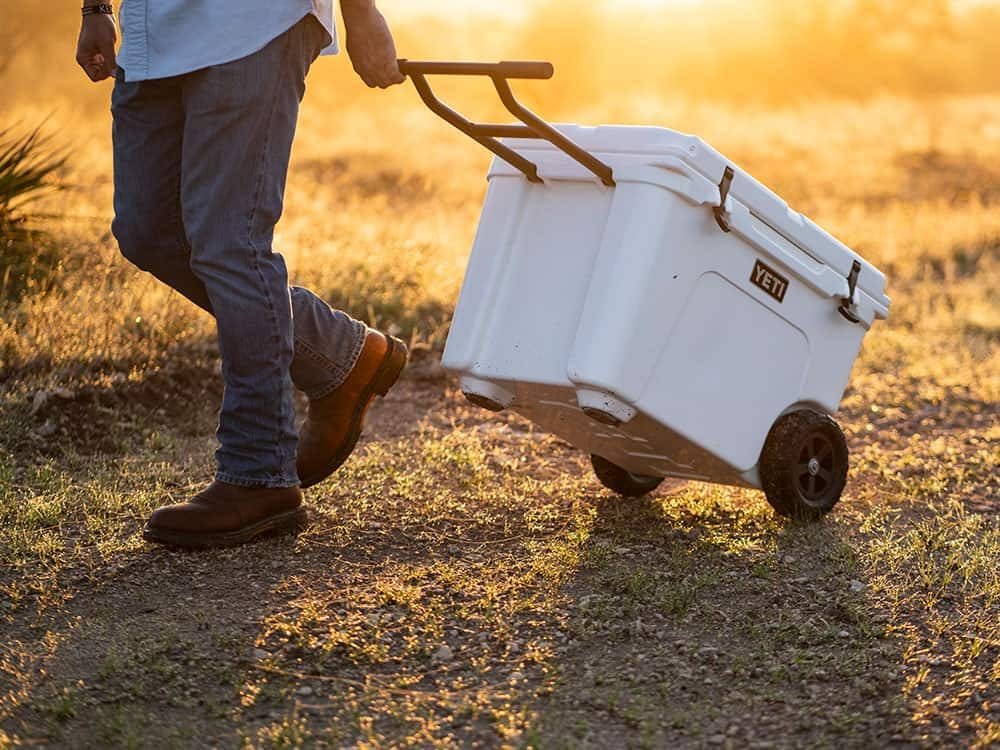 20QT to 45QT Coolers
Are you headed for a weekend away or have a long drive with the family and need to keep everyone hydrated? If you answered yes, then we have exactly what you need! Our collection of 20QT to 45QT coolers is full of variety, colour and sizes. Below are a few of our favourites.
YETI Tundra Collection
YETI, a well-known cooler brand among outdoor enthusiasts, produces some of the highest quality coolers on the market. Available in a variety of sizes and colours, their Tundra collection is the perfect companion for a weekend of adventure. The 35 and 40-quart sizes are ideal for road trips thanks to its ultra-portable size and 20 can capacity. From roadside lunch stops to makeshift car seats, the Tundra 35 and 40 are easily a must-have adventure companion and will keep your drinks cold for hours until you've reached your destination.
Pelican Elite Collection
Built for a lifetime of adventure, the Pelican Elite collection is tough enough to withstand your wildest adventures. Available in a variety of sizes, you can find the perfect Pelican to suit your road trip, camping or block party needs. The 45QT wheeled model makes transporting fragile goods (the ice cold beverages) even more convenient and is the perfect companion for a day at the park or the beach. From leisure to play, the Pelican Elite collection is sure to keep your goods fresh all day
YETI Roadie Collection
When space is limited and size is crucial, the YETI Roadie 20 is exactly what you need. Perfect for keeping lunch cold or a few of your favourite drinks fresh while enjoying a day under the sun. Headed for a solo road trip or a long ride at your favourite trail network? Leave the YETI Roadie 20 in your car or at camp and come back to a refreshing snack or drink to complete your day. If you're not afraid of getting it a little dirty, the Roadie can be a great companion for a day of fishing on the river. Keep your catch cold and fresh while you're reeling in tomorrow's dinner.

50QT and More
It's that time of year for BBQs, picnics at the park and weekends at the cottage. From evenings under the stars around the fire to pontoon afternoons on the lake, our 50QT and more coolers are exactly what you need for a day under the sun.
YETI Tundra Collection
When space and weight are unlimited, take on the outdoors with a cooler packed full of fun. Choose from YETI's Tundra lineup with a choice of a 50QT, 65QT, 75QT and 105QT cooler. The bigger the cooler, the better the adventure! Spend a day out on the boat and keep your afternoon's catch fresh for dinner on ice inside the Tundra. No matter how hard the hot sun is beaming down, you can be sure that the contents inside your cooler are going to be icey cold thanks to the PERMAFROST™ INSULATION Pressure-injected commercial-grade polyurethane foam in the walls.
Pelican Elite Collection
Want to be the hit of your backyard BBQ? With the Pelican Elite 70QT cooler you can be the hit on the block, at basecamp and the tailgate party. Designed tough with a freezer-grade seal, the Pelican Elite is sure to keep your drinks, snacks and catches of the day fresh for countless hours even under the hot sun. Caught a big fish but not sure just how big? The Elit 70QT is equipped with a built-in centimetre and inch ruler along the lid. 
Coleman Xtreme Collection
If you're headed for a weekend with an itinerary calling for 100 cans or more, the Coleman Xtreme collection is the perfect candidate for the job. With a 100 can capacity in the 70QT and 204 can capacity in the 120QT, these coolers are designed for the most extreme refreshments. Coleman is a brand that has been around the block for awhile and continues to produce camping products that are just as durable, convenient and performant as the classics.