It's that time of year where your winter gear is dug up from the back of your closet or storage locker and inspected for its likelihood of survival for another winter season. The gear is built tough to withstand numerous winter seasons but sometimes the seasons take their toll and replacements are needed.
If you have a favourite pack that has gotten you through the roughest backcountry adventures and lasted season after season, it's understandable you'd want to share more winters together with a replacement. But! If you have yet to promise your loyalty to a particular brand or bag or you're still searching for that special one, the GREGORY Targhee may be just the ray of light you're looking for.
Available in three sizes; 25L, 35L & 50L, the Targhee is your backcountry buddy! For touring, I would suggest choosing the 35L. It's not too big that you'll feel like you've got a small yeti clinging to your back and not so small that you can't fit all your gear. The perfect size for the perfect day!
If you don't generally ride with a pack and are skeptical about how it will affect your performance, don't sweat it! The Targhee's compact shape will keep you feeling comfortable and confident so you can stomp all your lines.
The Targhee is bursting with features which make it the perfect all-day backcountry touring pack; the abrasion-resistance and cut-resistant reinforcements and the snow-shedding fabrics are only a few!
Check out the hydration sleeve; good-bye inconvenient cube of ice and hello drinkable water supply! Stay hydrated on the mountain knowing that your water will remain drinkable and not turn into a little icicle in your pack. The Targhee hydration sleeve has an insulated shoulder harness which covers the hose and keeps the water from freezing so you're not stuck with the cumbersome weight of an ice block.
The features don't stop here! There is also a handy mesh, helmet holder that can be stowed away when it isn't needed. This is convenient for warmer temperatures when you remove your helmet for the climb or hike over to your destination. Your helmet is conveniently accessible and doesn't take up a ridiculous amount of space inside your pack so you've got more room for other gear and snacks!
Now for the important features: carry straps for your board, skis, poles or even snowshoes. The Targhee is equipped with multiple stowable carry straps so you can get all of your gear to the fresh powder. You can carry your skies with the A-frame and stowable diagonal ski carry straps or attach your board or snowshoes with the stowable vertical carry straps. No matter what you ride, the Targhee will get you and all your gear to the destination.
Pockets, pockets and more pockets! The Targhee is packed with convenient pockets for all your gear and winter goodies. There is a pocket dedicated to your avalanche safety gear so load it up and make sure you know how to use it! There is also a large pocket located on the top of the pack where you can stow your googles or other necessary items. You've even got a conveniently placed pocket on the waist belt where you can keep small items such as lip balm or a few bucks.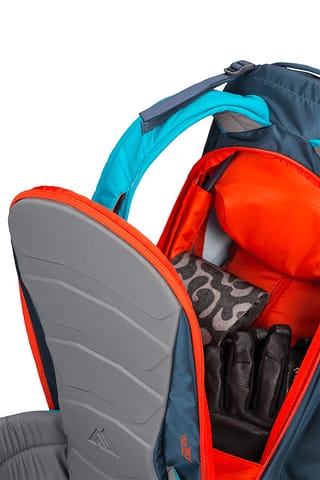 All the little details make the Targhee the perfect pack for your backcountry adventures! Every scenario has been considered and taken into account during the designing of the bag. Take the full-length back panel main compartment access for example. When your pack is loaded and you need to get that little thing from inside your pack, this pocket allows you easy access without having to unpack and repack all over again. Talk about convenient!
GREGORY hit the nail on the head with the Targhee. A well-designed and durable pack that's built to enhance your winter adventures by providing convenient features and details that take care of your gear so you can enjoy the day. Pack up the Targhee and head out for some backcountry fun this season!