You know that Fall is here when you start to see dried leaves on the ground, and that Winter isn't that much far either when the temperatures are starting to drop. Perhaps you were planning on buying a new jacket or shopping for a new sleeping bag? If this is the case, you might have noticed that the outdoor world is full of technical slang words when it comes to talking about insulation. One question: down or synthetic? Also, what is Asclepias? This guide will help you take your decision.
Down – What is it?
Down is what you find under the layer of water bird's feather that protects them from the cold. Unlike feathers, the down is made of multiple filament that grows in all direction; it is then more voluminous than feathers and therefore contains more air. Note that all products made of down are also made of a little percentage of feathers. The ratio is about 90% down and 10% feathers.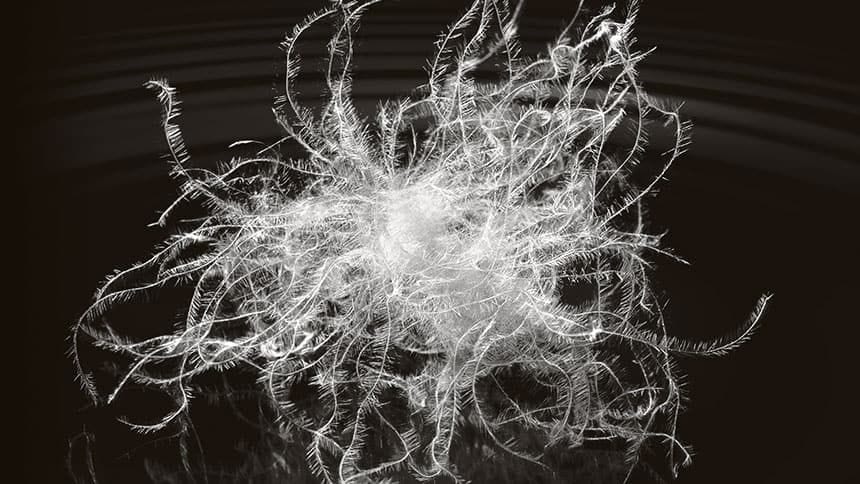 You might have heard horrible stories about the method used to collect down, fragile hearts you might not want to look into it. But nothing to worry, there are responsible and ethical methods to collect down through suppliers certified by the Responsible Down Standard.
Many big companies such as The North Face rely on this norm to isolate their products, and others like Patagonia have their own verification system that they developped themselves called Traceable down standard. Quartz Co., on the other hand, takes their supply from Québec and Alberta farms.
Fill Power
By looking at the construction of down, you can see multiple tiny bags of air that form a barrier from external temperatures. The more down can take expansion, the more bags of air there will be, the more efficient the insulation will be. This is what the number beside the word Down relates to (usually between 550 and 900). It is the measurement of the down's volume and its capacity to take back its volume after being compressed. This means that the higher the number is, the better quality of down you will have in your product. Note that this only gives a partial rating of the warmth of the product; it also depends on the quantity of down used in the product.
Down insulation is ideal for trips or hikes during which the weight is one of your top priorities. The lighter the better when you need to carry equipment with you. A down products are always lighter than a synthetic product for a same level of warmth.
When the down is wet, it loses its warmth capacities. In fact, since warmth comes from tiny bags of air and that when it is wet the down is compressed, the bags of air disappear and the insulation loses its efficacy. On an other hand, nowadays most down products are treated with a DWR coating to resist to water.
Therefore, it would be best to avoid this type of insulation if you are going in some climates extremely humid.
Pros
The ratio weight-temperature is the best
Very compressible
Extremely durable if it is taken good care of
Very light
Breathable
Cons
Loses its thermal capacities when wet
Takes quite some time to dry
A bit more expensive
Requires a delicate maintenance
Possibility to have down/feathers coming out of the fabric, but this does not affect the insulation (it is also very important to never pull the feathers out of the fabric, but to try to push them back inside of their bundle)
Synthetic – What is it?
Synthetic insulation was created to imitate down insulation qualities, although they do have many different properties. They are mostly made of polyester fibers of different levels of thickness that are laid out to form little bags of air to keep in warmth, just like down would do. The most important point about synthetic insulation is that it keeps its warmth even when wet.
The most common insulations
Primaloft: Insulation that is frequently used and that divides in 4 categories. The most popular ones are Primaloft Gold, Primaloft Silver and Primaloft Silver Eco. The Primaloft Gold is the most performant one and offers a great protection in the worst conditions. The Silver Eco is made of 70% of recycled fibers. They are all, at different levels, breathable, compressible, comfortable and water resistant.
Thinsulate: Thin, warm, light and breathable insulation. It is made of 50% recycled material.
Thermoball: Developed by The North Face in collaboration with Primaloft, to create a synthetic alternative to down. This insulation is very effective and has began a revolution in insulation technology. The fibers bunch together much like that of down fibers. Heat is then trapped in small pockets with these bunches and create warmth. It is light, warm and compressible and continues to insulate even in damp conditions.
Polartech alpha: It was created for intense conditions that the US Armed Force would work in. It is mostly known for its high degree of breathability, for its warmth, compressibility and for its easy maintenance.
Cirrus: This insulation is used by Rab to recreate the volume and structure of down while providing a unique synthetic insulation. It has the same weight & warmth ratio and is equivalent to a down 600. It dries quickly and keeps its warmth even when wet.
Coreloft: Unique to Arc'teryx, this insulation is made of staple fibers in mixed sizes that are crimped to trap air and retain warmth. It is also available in different thicknesses.
Usage
Synthetic insulation is the best insulation to wear if you think of doing hard workouts. What is great is that it will stay warm even when humid. Also, synthetic insulation is a bit cheaper price wise, so if you're on a tight budget, this could be a great option. Although synthetic insulation is often treated with an antibacterial product, they keep odors a bit more than products made of natural fibers.
Pros
Less expensive than down
Quick dry
Keeps its warmth even when damp
Cons
Heavier than down
More voluminous than down
Less durable than down
Asclepias
You might have heard of this plant also called Milkweed or you might have already read our blog post here.
For a long time, this plant was confused for a weed, but it has a specific role in the reproduction cycle of the Monarch butterfly. What happens is that the butterflies lay their eggs on the plant and when they hatch, the caterpillar will feed on the leaves. In addition to being a life support for the monarch, this plant has exceptional qualities.
The outdoor world has recently turned to this plant for its qualities and innovative insulation. Quartz Co. is one of the first brands to utilize this new plant insulation and have collaborated with Altitude Sports to produce the first ever milkweed insulated urban, winter coat. The Belfort model was available for men and the Laurentia model was available for women. These two coats were part of a worldwide premiere to showcase the use of milkweed insulation for outerwear.
This alternative insulation is green, has a great thermal efficacy, is light, renewable, hypoallergenic and its production is locally made. The fiber keeps its warmth even when compressed in, for example, the fold of a sleeve. Asclepias has been tested as insulation in the Himalayas in numerous products and the Coast Guard has also tested the insulation. The cold, wet and windy climates which it was faced with influenced the choice to pick milkweed.
Milkweed is very promising. Made here in Canada, this alternative plant insulation effectively retains heat and it takes little to insulate a winter coat, which allows for very light products.