Solo camping is great, but it's even better with a partner you can share the experience with. Together you can make memories that you can later reminisce about and it also helps add an extra element of safety on an overnight adventure.
The best part of camping with a partner is that a lot of camping gear is now available in sets of two or made for couples. You can pool your budget together and avoid the hassle of bickering over the more cushy mattress or bigger bowl. Camping never goes out of style, so the products just get better every year.
This camping season, share the experience with your adventure partner with a two-person kit perfect for a couple's camping getaway.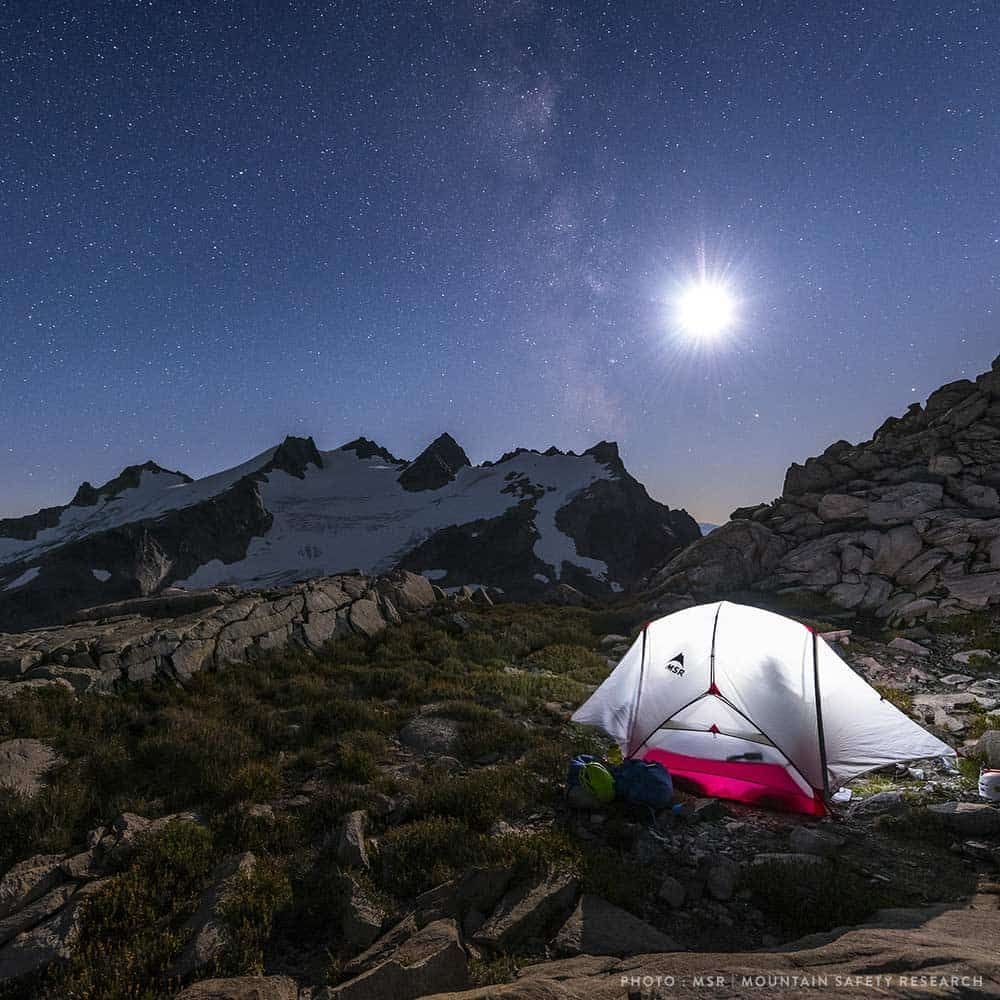 Cooking & Dishes Couple Sets
MSR

Trail Lite Duo System

MSR

Alpinist 2 System

MSR

2 Person Mess Kit
Glass or ceramic isn't very practical when you are in the wild so opting for a camping dish set rather than your usual kitchen dishes is ideal. With a wide variety of 2-person sets to choose from, you certainly have options! A set that includes two plates or bowls and two mugs or cups is common and you'll often have to purchase the cutlery separately. A side bonus: these duo sets usually come with one or two cooking pots so you've nearly got the entire kitchen sorted. There are multiple camp recipes that require only one pot but having that additional one, of course, makes things easier.
Double Sleeping Bags for Couples
The North Face

Dolomite Double

The North Face

Campforter Double

NEMO Equipment

Tango Duo Slim
If you're a nighttime cuddler, solo sleeping bags may be your arch nemesis. Thanks to the invention of double sleeping bags, you can enjoy camping with your spouse again. Cozying up under a starry sky on a chilly night in a double sleeping bag is almost as good as sleeping in your bed at home. Say goodbye to cold feet and blanket-hogging and hello to sound sleeps in nature.
The coolest part about most double sleeping bags is that if you choose to go camping without your significant other, you can unzip it and end up with two single bags. Convenience at its finest.
Double Mattresses for Couples
Exped

Synmat HL Duo

Therm-a-Rest

Down Coupler

Coleman

Supportrest Plus Combo
There's nothing worse than having your two mats slowly slip away from each other in the night and waking up on the hard, earth floor. With a double mattress, your camp bed is complete and you're all set with the comforts of home out in nature. All you need now is two camping pillows.
If you're doing a variety of camping both solo and with your partner, you may want to check out the Therm-a-Rest Dorado Duo Coupler. This handy accessory allows you to combine two mattresses together for a duo excursion but still have the freedom of a single-person mat when needed.

2-Person Tents for Couples
MSR

Mutha Hubba NX

NEMO Equipment

Galaxi 2

The North Face

Stormbreak 2

Mountain Hardwear

Vision 2
When it comes to choosing the right tent, you want to ensure you are finding one that meets your needs. If you are more of a car camping couple that drives in and sets up without having much of a hike from point A to basecamp, size isn't an issue. If you are planning on spending weekends in the backcountry and hiking a few kilometres before setting up camping, you'll want to opt for a lighter tent such as the Mutha Hubba NX.
There are a variety of tents to choose from and you're sure to find the perfect tent to meet your needs. Keep in mind that if the weather turns, you may want a tent with more headroom. This keeps things spacious so that if you're stuck inside for a few hours, you're not cramped.
Camping Accessories for Couples
Burton

Camp Chair

GSI Outdoors

Nesting Wine Glass Set

Coleman 

Popcorn Popper

Goal Zero

Rock Out 2
Last but not least, you can't forget the fun camping accessories. If you're hiking to camp, space and weight are limited so unnecessary accessories are usually thrown to the curb but the Mizu Wine Cup Set can be small enough to make the trip. If you're car camping (or "glamping"), you've got the freedom to bring whatever you want. So grab the chairs, the bocce, and music speaker, and you're ready for a weekend of fun.
SHARE