Whether you're running in winter, on cold summer days or windy fall afternoons, a good pair of running tights are essential for running all year round and fighting off cold weather. There's nothing like a pair of the best running pants and tights for men and women for winter running.
We've pulled out the stops and chosen our eight faves, all to help you enjoy the outdoors and your training regimen through the winter. Our top pick for men is the Sub Zero Zap Tight by Sugoi, and for women, the Winter Warm High Rise Tights by The North Face. Read on to find out why…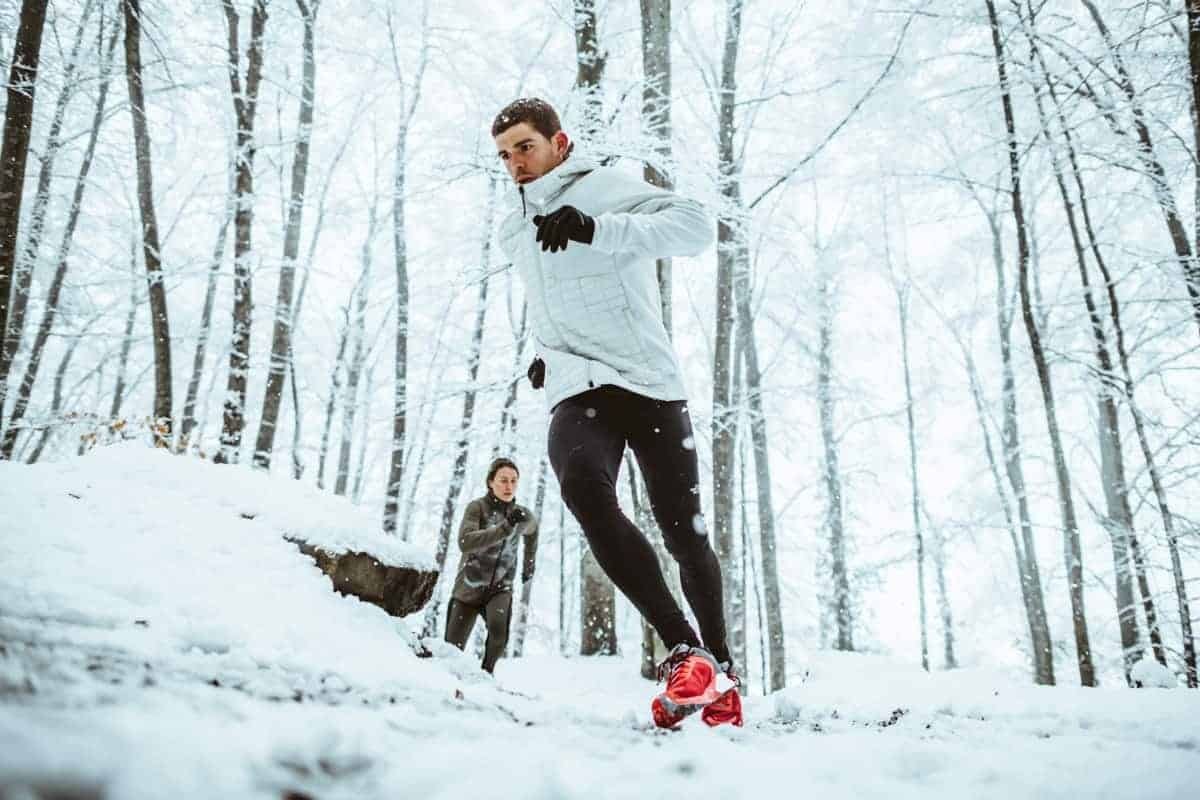 Salomon RS Warm Softshell Pants
Comfortable and functional, the RS Warm Softshell Pants from Salomon are perfect for those cold winter morning workouts. Sporting a combination of MotionFit / SMART SKIN™ / AdvancedSkin Shield technology, and treated with a DWR to boot, theyre designed to stave of winter winds in sub-zero weather. The bottom leg zipper allows for easy access and a lower leg stride grip offers sustained protection that fits your every movement. They feature reflectivity panels to keep you visible on evening runs. These ultra-versatile running tights are our top choice for men looking to keep running through cold winter temperatures.
For milder, cool weather check out the Salomon Agile Warm Tight
Price:
0.00$
Salomon Lightning Lightshell Pants
A lightweight, versatile piece made for those who want to train all year long, the Lightning Lightshell Pants by Salomon are made with a comfortable, dual fabric design that can handle the most rigorous workouts. A windstopping fabric on the upper section keeps wind gusts at bay where you need it most, while the lower leg is made of soft touch fabric for added breathability. Full 360 degree reflective details for the early onset of dusk in winter runs. Finally a undispensible back pocket to carry accessories. 
Be sure to check the Elevant Softshell Pants for milder temperatures.
Price:
0.00$
Running Pants by On
Some prefer pants over tights, and we've got no problem with that. The Running Pants by On are ultra-lightweight and perfect for chilly runs in Spring and Fall. They're super comfortable and designed with runners in mind.
Price:
0.00$
ColdGear Legging by Under Armour
With Under Armour, you get quality at a great value, and the ColdGear Legging is a prime example. These compression pants wick sweat and dry quickly, all while keeping you warm. They're the perfect leggings for cold-weather activities, and one of our best sellers.
Price:
0.00$
Best Windbreaker Running Pants
Firewall 180 Thermal Wind Pant by SUGOi
Designed for winter activities and training in cold weather, the Firewall 180 Thermal Wind Pant by Sugoi is warm and lightly insulated. It protects against wind and rain, and it's perfect for cold Fall days. Made with the Firewall Thermal Knit fabric, it has two front pockets for storing essentials.
Price:
0.00$
Best Odour-Resistant Leggings
Merino Sport Fleece Wind Tight by Smartwool
Perfect for an active winter, the Merino Sport Fleece Wind Tight by Smartwool is made from a blend of polyester and merino wool. These pants are warm moisture-wicking and odour-repellent, so you can stay comfortable during intense workouts. You won't even need to wash them after every use.
For women, Smartwool makes the Intraknit Merino 200 Bottom. They feature Smartwool's new Intraknit fabric technology that will keep you warm, comfortable and smelling fresh when you're ready to move.
Price:
0.00$
Best Windbreaking Leggings
Windblock Tights by ASICS
On the road, on the trail, training or recuperating…these leggings do everything. The ASICS Windblock Leggings Tights are compression pants with an integrated waistband pocket that keeps your essentials from bouncing when you hit the trails. The MicroStom guard protects you from the elements so you can maintain your routine regardless of the weather.
Price:
0.00$
2XU for him, UA for her
MCS X Training Compression Tights by 2XU have a bit of everything for the training addict. Mapping for glutes, hammys, quads and calves; durable, high-Dernier compression support; even UV and bacteria protection. These, and a whole lot more, make these compression tights perfect for winter running. 
Ladies can lock themselves in with the Under Armour Fly Fast 2.0 HeatGear Tights. Super light, fast drying, a 4-way stretch construction, with more movement at the knees...if you're going winter running and want to opt for sweats, throw these on beforehand and run longer, better, in more comfort. 
Price:
0.00$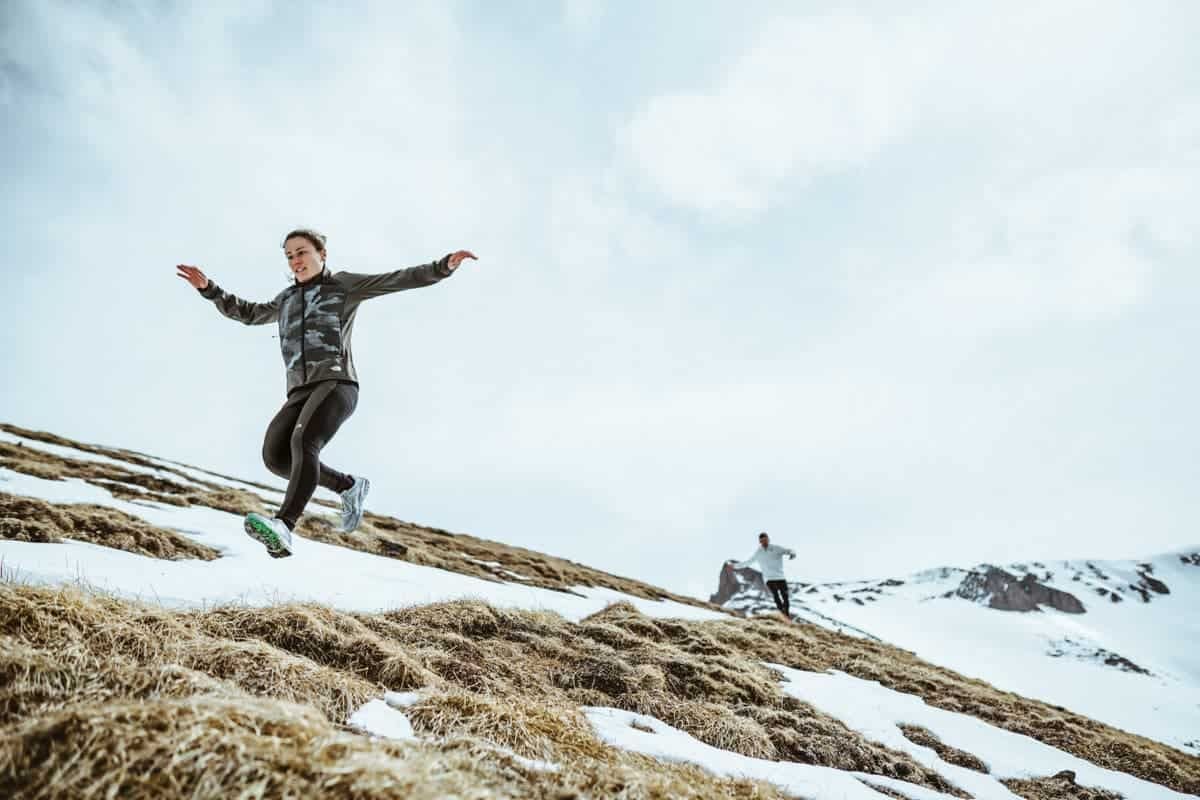 What To Look for in Running Pants & Tights 
Runners training in Canadian winters need protection from the daily subzero temperatures. When finding the right running pants and tights, you should look for an inner lining, weather-resistant fabric, handy pockets, and other features such as zippered bottoms. 
Also, consider the workout you'll be doing and whether you'll feel more comfortable in tights, pants, or compression leggings. 
Types
Tights
The best running tights are securely fitted around the legs, helping keep the wind chill out. There will also be less material getting in the way when you're running, making you feel light and flexible. 
One thing to keep in mind is that tights are usually transparent, so you'll need to wear something like compression shorts underneath. 
Pants
Running trousers can be more loosely fitted than thermal tights, which can be more comfortable for some. The fabric should be stretchy enough to allow you to still run freely in any direction. An elastic or drawstring waistband makes sure they stay secure on your waist. 
Compression
Compression running tights help circulate the blood, keeping you warmer during those chilly mornings. Compression pants also reduce muscle soreness and recovery time from injuries. Many runners prefer them for their aesthetics, as well as their ability to wick away moisture from the body. 
Fabric
Winter running pants & tights should have a fleece-lined inside, which is excellent for single layering in frigid temperatures. For the outside material, you'll want to look for Durable Water Repellant (DWR) coating to keep off sleet and snow. Materials like merino wool will make the pants windproof and water-resistant, keeping you warmer. 
Pockets
The two main areas on running pants are inside pockets on the waist or outside utility pockets. You may also see external pockets on the thigh, big enough to fit a phone or wallet. 
On the back, there's usually also a zippered pocket for keys, a credit card, and any other hand-held essential items. 
Other features
Reflectivity is an essential feature if you're running at night or in the early morning. Additionally, you want to look for either a well-made elastic waistband or a drawstring that adjusts well to your size. 
Sometimes you'll also see a zipper on the ankles for a better fit. Other features include a windproof material on the thighs to block out frigid winds. 
winter running tights faq
Why Wear Compression Tights?
Compression tights are designed to offer support to muscles, ligaments and joints during and after your workout. Wearing compression tights during physical activity will improve proprioception and body movements, all while targeting the muscles that work the hardest. They will also facilitate blood circulation through the body.
You can also use compression during the 24 to 48 hours of recovery following exercise. This will help decrease muscle fatigue, eliminate lactic acid build-up, and help you recover much faster.
How to Wear Running Tights?
There are a number of ways to wear running tights, and this will depend on preference. During winter the best way to wear running tights is to wear them under your shorts. In addition, since most pants are fitted, it makes more sense to wear them with shorts. Same thing with compression tights. You also don't have to layer your running tights with compression tights. One pair will do.
Are running tights the same as leggings?
Leggings are made for more everyday wear, while tights are designed for athletic uses. Winter running tights will help to keep your muscles compressed more than leggings will. 
Do you wear shorts with running tights? Should I be wearing underwear?
Since running tights can be see-through, it's best to wear another layer with them. This other layer can be underwear, shorts, or a jacket that covers the waistline. 
There you have it. You're set to run all winter long in a pair of the best winter running tights. After looking at this extensive review of the best winter running pants and tights on the market, we hope we've helped you reach a better-informed decision. The most crucial factor in running legwear is the ability to keep cold temperatures out and be water and wind-resistant.
Our top choices are the Subzero Zap tight for men and the Winter Warm High Rise Tights for women. Along with the other options on our list, these tights will keep you running comfortably as temperatures start to drop. Peruse our selection of tights and get set for your favourite training in the snow! 
Read >> How to Dress for Winter Running
SHARE