We at Altitude Sports are all-season runners – but spring and summer are when we hit the streets in numbers. Our new ACC club welcomes any runner, no matter your level. This year we'll be involved in the sponsorship of running events, holding product testing clinics across Quebec, and showing up almost any place where running is the focus.
Simon Pelletier-Marcotte, one of our buyers, founded the club. He's a gear and footwear aficionado who's followed his passion for running everywhere he's been. From running with top clubs around the world to hanging with the shoe designers, Simon truly has a finger on trends, what's next, and running club culture.
We spoke to Simon about the ethos of ACC, the club's present and future, running shoes he's hyped on, and how you can run with us.
Altitude Sports: What sparked the idea for the running club?
Simon Pelletier-Marcotte: ACC came out of creating a sports club for people who don't necessarily play sports. I sort of wanted it to be a band of misfits – people who don't fit into the usual team sports – and give them a place to connect. People consider running a solo activity, but you can run in a group. The goal is community.
AS: What's your role at Altitude Sports?  
Simon Pelletier-Marcotte: I'm a buyer, focussing on collaborations and special projects. I also oversee many of the special collections. As co-founder of the running club, I always look at the shoes my colleagues buy. For running brands I'm excited about, or products I've tested, I'll give them input.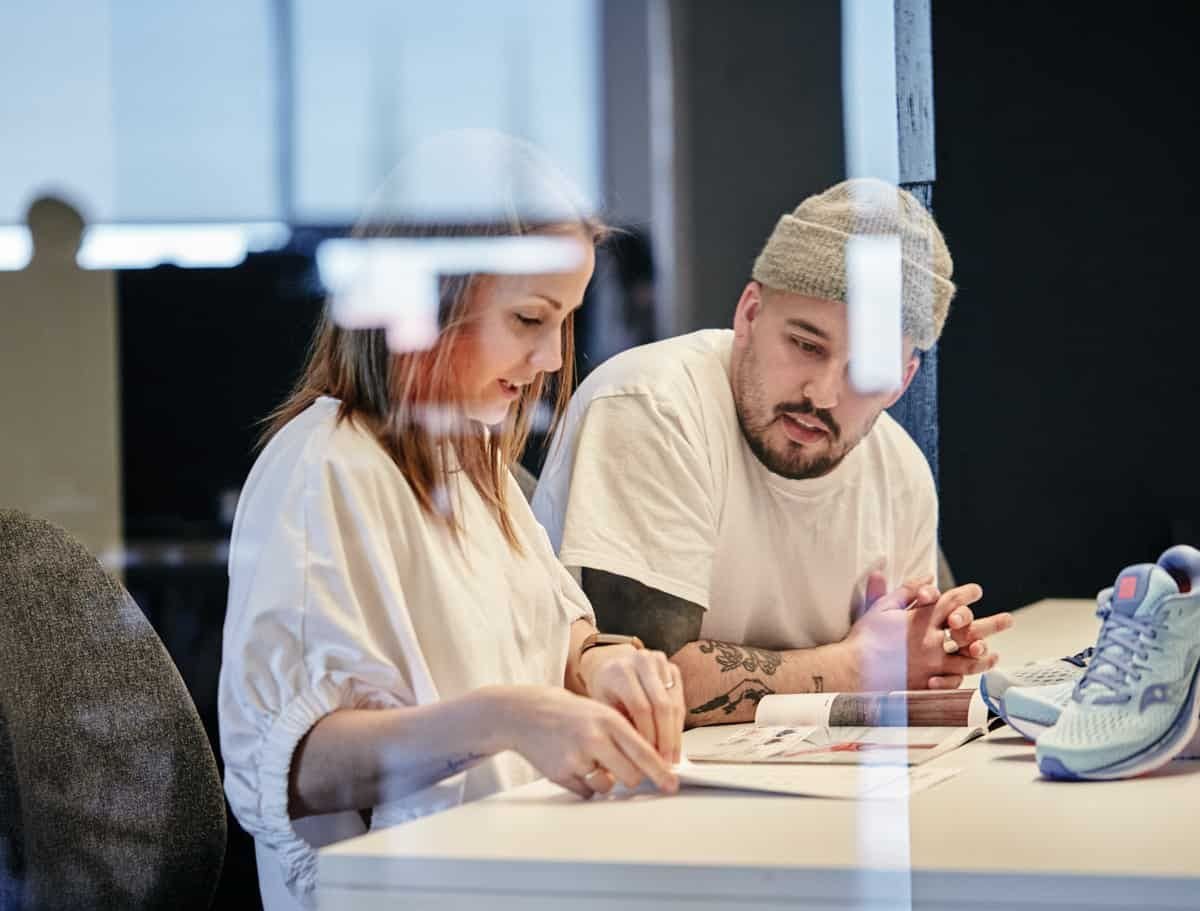 AS: Before joining Altitude Sports, what was your background?
Simon Pelletier-Marcotte: I started at Off The Hook (Montreal Streetwear store) when I was 18, my second family. I learned the importance of looking ahead. It's funny, in 2014 at OTH I actually started a running club with now-former employees Vincent Tsang (Dime MTL) and Jeremy Karl (freelance designer). After I left I was a sales rep, then I ended up here. I liked the brands we carried and thought I could help shape the business.
AS: How do you feel about the trend of technical, maximalist running shoes & sneakers?
Simon Pelletier-Marcotte: There was minimalism and now it's maximalism. I prefer neutral shoes, but running different midsoles and drops works out different muscles. One day I'll run with an 8mm drop, the next with none. That's why I own so many running shoes, maximalists included (laughs). I'm also a review junkie.
AS: How many pairs of running shoes do you currently own?
Simon Pelletier-Marcotte: I think 12 pairs of just running shoes.
AS: You regularly interact with some pretty informed people (product developers, designers, engineers) from some amazing running brands. What's that like?
Simon Pelletier-Marcotte: Inspiring. Creative minds captivate when you're in their zone – and those people are so passionate. Shoe developers were all runners before they got into designing shoes. Creatives design products they'd actually want to run in.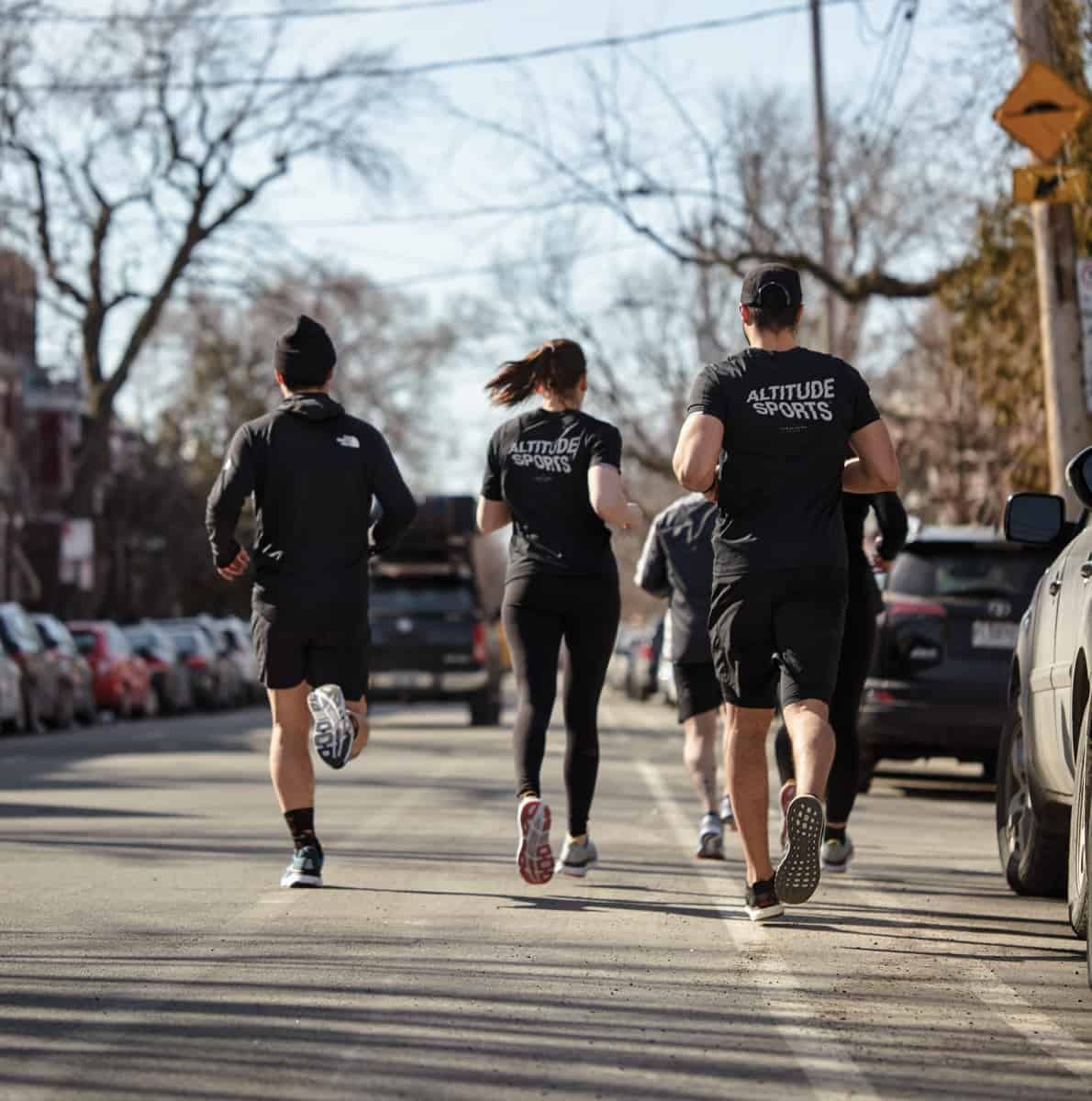 AS: Any one shoe designer or product developer stand out?
Simon Pelletier-Marcotte: JP Lalonde, who used to run with the East Laurier club here in Montreal. He worked for Veilance (Arc'teryx) as a sales rep, and now oversees Salomon's ADV crossover collection – making their famous trail running shoes into urban footwear.
AS: Did you expect ACC to become as popular as it has with the staff and runners in our community?
Simon Pelletier-Marcotte: It's been an amazing start. Honestly, I knew it was going to take a while before becoming what I envisioned. I want ACC to be the biggest, most well-known running club in Montreal. No hard feelings toward other clubs, but I feel like we can offer more. I want to have varied runners, from first-timers to Boston Marathon runners. And also showcase top performers. I want it to feel like a family – but a big, inclusive family.
AS: What shoes are you're running in at the moment?
Simon Pelletier-Marcotte: Right now I'm between the Salomon Sonic RA Max and Hoka One One Bondi 5's for more cushioned midsoles and recuperation. For faster city runs, I throw on my Saucony Kinvara's. When hitting the trails, the S/LAB XT-6 Softground ADV's. I know the ADV's are hype, but they run the trail perfectly.
AS: Favourite running shoe of all time?
Simon Pelletier-Marcotte: Nike Lunarglide 3's. I'd buy them again in a heartbeat.
AS: Your favourite place to run in Montreal?    
Simon Pelletier-Marcotte: I'm a group guy, and because ACC runs start in Mile-Ex, we run around the Mile-End, Outremont, and Little Italy. The intersections, back alleys, parks, passing bagel shops and getting the smells. Montreal is small and I always see someone I know and wave. I have a chalet in the Laurentides, so that's where I trail run.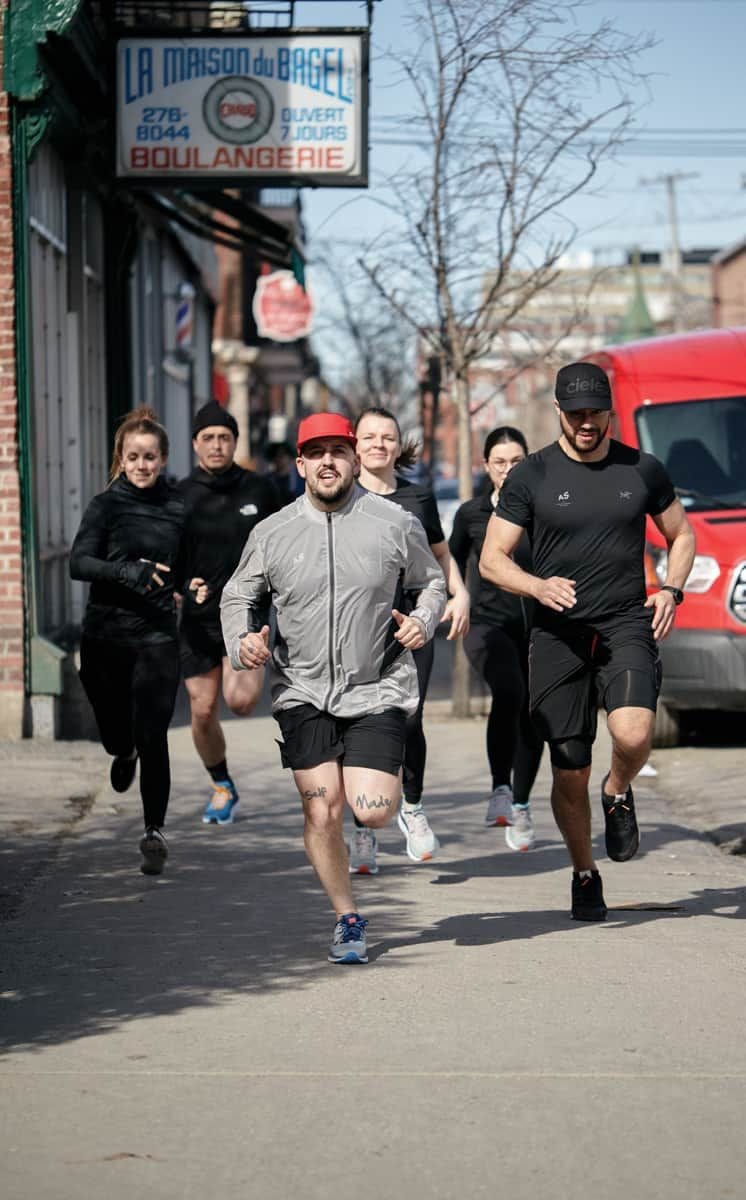 AS: Most memorable run?  
Simon Pelletier-Marcotte: It was last year on a buyer's trip to New York. I met up with the Bridge Runners. I didn't know the pace or how long we'd run, I just knew I had to try it. That night, we ran from Manhattan across the Brooklyn Bridge under pouring rain. I ended up running 17KM with 40 to 50 random strangers, cheering, clapping, yelling as we reached certain milestones. The energy was amazing.
AS: What running products and brands are you excited about for Spring-Summer 2019?
Simon Pelletier-Marcotte: The Salomon Predict RA road racer looks like fun. We just got On from Switzerland, looking forward to trying them out too. I've also tested the new Brooks Ghost 11 and Hoka One One's updated Clifton 5.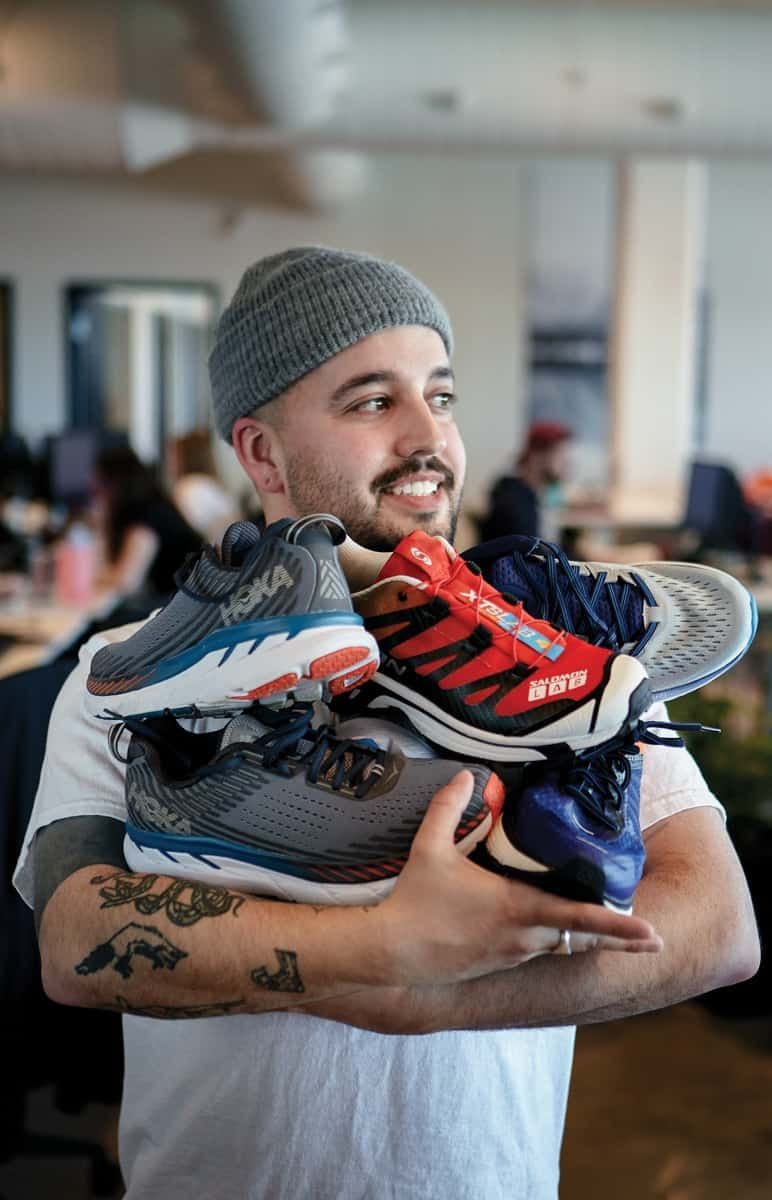 AS: Where should we expect to see ACC in the summer months? And how can interested runners participate?
Simon Pelletier-Marcotte: We'll be rolling from Montreal to Quebec City and everywhere in between to run the streets and trails. We'll be at the Bridge Race that our friends at East Laurier are organizing, the Sir Wilfrid Laurier Classic, and other events. Our regular run is in the Mile-Ex/Little-Italy area every Wednesday at 6 pm – meet us at 90 Beaubien West. We're also hosting mini-clinics where people can come try out shoes from Hoka One One, Saucony, Brooks and Salomon.
AS: So ACC is open to everyone?
Simon Pelletier-Marcotte: That's the point. We want anyone, no matter your level, to come run with us. Grab your shoes and come join. We are Social Pace, an all-level group, and you can get training and gear advice. Plus we can help keep you motivated. We don't bite! Every week we'll be posting our meet-ups and stories on Instagram. Follow us, turn up, get running!
SHARE