"Weather isn't rocket science, it's way harder than rocket science" – Robert (our ski guide)
Let's start at the end: Iceland changed my life.
I was brought to the land of ice by Smartwool Canada to learn about their Fall-Winter product line. What better place than Iceland to discover and test Smartwool's merino wool products? A country of extreme weather, extreme emotion, and extreme fun. These three subjects kept popping up on our journey to find the best spring ski lines in the north of the country. The Tröllaskagi Peninsula in mid-April offered an ideal setting to try out Smartwool products.
Before heading to the northern fjords, we spent two days in Reykjavik, experiencing the capital. Good coffee, cute shopping, and fish soup overflow in this trendy and charming city. The imposing modern cathedral sat atop the town's highest point, looming over us as we toured the downtown quarter.
Reykjavik's hip vibe stacks up to any major metropolis I've ever visited. The street art and coffee culture are in full force and trumped only by the very late-starting nightlife. Bars don't fill up until about midnight on weekends. Bring your drinking hat.
As sad as it was to leave Reykjavik, we had come to Iceland to push our limits on the mountains and long days on the slopes lay ahead. A 35-minute flight landed us in Akureyri, Iceland's second largest "city" with a population of 18,000. We then drove 30 minutes north to Dalvik, a small fishing village nestled in the valley bay of Eyafjördur, which became our home base for the next four days.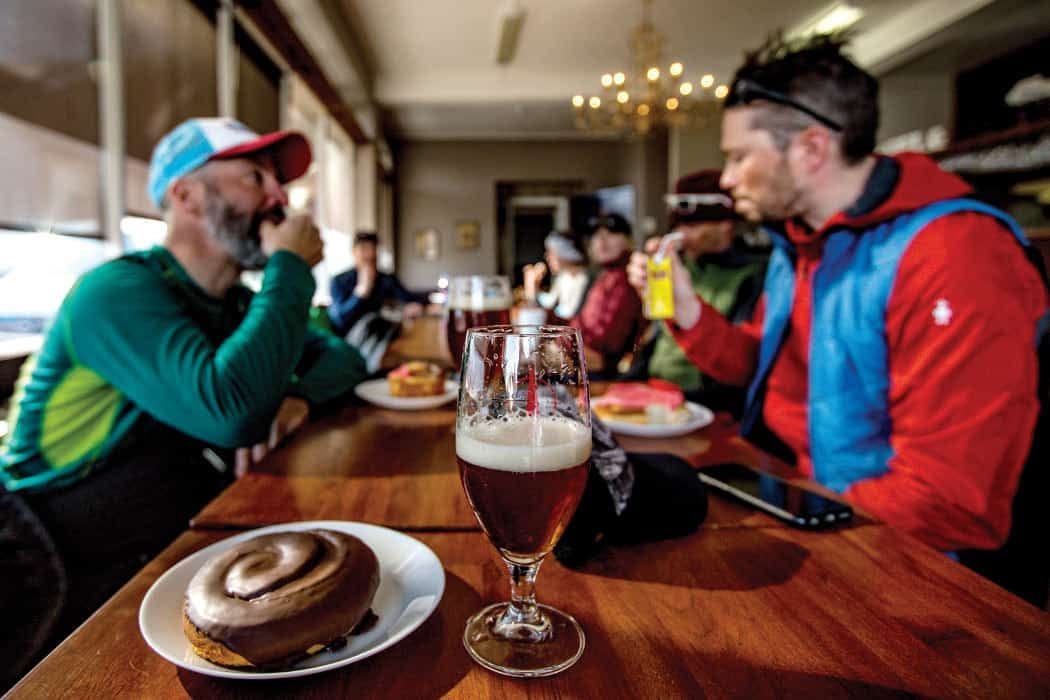 Eager to taste what the landscape had in store, three of us slipped into our touring gear across from our lodge and did an evening lap of the surrounding mountains while other group members hit the spa for refreshments. The late-setting sun over the ocean sparkled off our skis as we slowly and quietly ascended the valley.
The next morning, we ingested our hut breakfast of steaming coffee, porridge, and more coffee, and took in the lovely house that the guiding company had recently been converted into our lodge. From the backyard, we could see the eerie waters of Eyafjördur. Out front, our gaze was blessed with steep mountains covered in endless skiable lines. Morning temperatures in April hover just above zero Celsius with gusty winds from the nearby water clawing at exposed skin. Dressing appropriately was necessary, and blisters weren't an option.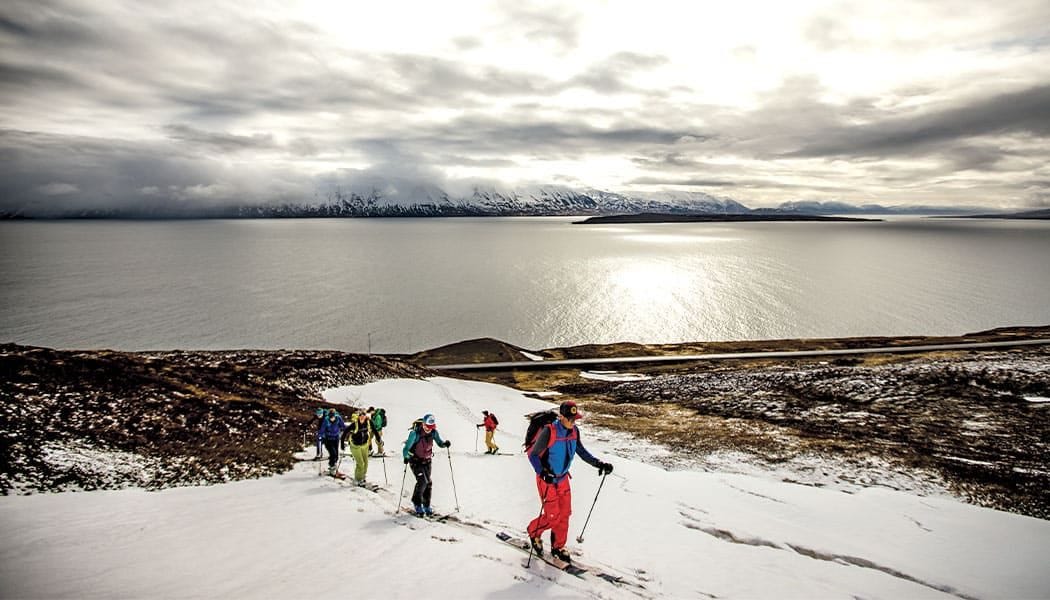 Each morning as we stepped out of our van, we were like children at Christmas. The windswept coastal mountains tucked alongside the Atlantic Ocean were beyond description. On one particularly bad day, we set off into low clouds and skinned our way right into a cloud-soaked zone of zero visibility. We decided against turning back as had another group. As we approached the summit and the clouds finally lifted, we couldn't believe our luck. We saw an almost 360-degree view of our playground. The powder turns on that descent were the most fulfilling of our trip.
At the end of every valley was yet another ad infinitum. The fjords of Northern Iceland will capture your heart and your lungs. Finding the perfect line and snow takes patience and a knowledgeable guide willing to make you work for it. No matter how hard we suffered on our climbs, it was always worth it. Firm conditions awaited us in the mornings, but as the hours progressed and our elevation rose, we found plentiful runs with softer untouched snow. Ending each day in the lower elevations, we slashed through perfect corn snow, embracing each turn as if it was our last. Sometimes, as I carved through another picturesque valley, I felt like I was sharing the world with the last eight people on earth.
View this post on Instagram
If you're on the trip of a lifetime, gear that lets you down is unacceptable. Thin merino base layers were essential to prevent overheating during ascents while windbreakers kept the elements at bay. For our descents, we pulled on Smartloft insulators and hardshells. Once we figured out the ideal layering pieces, lively discussions of breathtaking landscapes and lines we were scoping overtook the group. Not once did we have to worry about our clothing.
| | | | |
| --- | --- | --- | --- |
| Men's Merino 250 Baselayer | Men's Merino 150 Baselayer pattern Bottom | Men's PhD® Ski Light socks | Men's Smartloft 120 Jacket |
Every trip has "that day". It's the one that lingers in your dreams and makes you grin every time you think about it. Ours included 13 kilometers of skiing, 1,400 meters of vertical, countless valleys, drop-ins and turns, all while perched on powder-kissed peaks looming above sapphire fjords. After repeated transitions, working our way up, down, and sideways, we traveled further into the backcountry. Eventually, we made it to our destination summit, earning a privileged view of the next fjord where we peered down onto another small fishing village. This was the magic of Siglufjördur, a combination of skiable peaks sweeping down onto black sand beaches, and dotted with beautiful coastal communities.
At nighttime, we would soothe our aches and pains in the local geothermal hot pools. Before this, we shared the memories of our favorite turns over espresso and kleinurs (Icelandic doughnuts) in the quaint Dalvik coffee shop. Our dinners consisted of fish – lots of fish. There was no need for nightlife in Dalvik- we hit the hay early to dream of our next adventures.
View this post on Instagram
I was incredibly lucky to share this marvelous place with old and new friends. At the same time, Iceland settles you with a sense of loneliness and a feeling of lightness with its vast landscapes. As a skier and person, it challenged me in all the right ways. The endless crunch of the snow under your skis as you slide your way up a mountain is as purifying as any beach.
Icelandic culture is wonderful and inviting. The country's language, architecture, food, and scenery create a fantastic tapestry. Iceland stole my heart, but all good things come to an end. As with all ski touring trips, the most challenging part isn't slogging up summits or taking care of your aching body, but saying goodbye to a group of friends you've bonded with over the experience of a lifetime.
SHARE