Like many, I'm relatively new to backcountry skiing, a discipline that was once reserved for the most daring and motivated. Since the 2020-2021 season is marked by limited access to resorts, many skiers have chosen to take a different path to freedom. And that path is ski touring.
However, one shouldn't venture off the resort without some basic knowledge and the right equipment. So where do we start? Let's explore the basics to get a good understanding of a sport that's gaining in popularity at full speed.
What is Backcountry Skiing?
Backcountry skiing, ski touring, alpine touring, off-piste…whatever you want to call it, let's start from the beginning and see what it's all about. 
Ski touring involves going up the mountain, skis on, before going down–in fresh, untouched powder if you're lucky. Going up on skis for a better descent is a way to access a larger ski area that is no longer limited to the marked trails surrounding the chairlifts. Some people also see it as a way to spend more energy during their skiing day (and burn off the poutine in the cafeteria, one of resort skiing's guilty pleasures).
Backcountry skiing has several advantages, including avoiding queues at the lifts, skiing at a lower cost (most resorts offer a low-cost ticket to the trails) and last but not least, staying warm, even in very cold weather. Gone are the days when you couldn't put on your skis for fear of freezing on the chairlift!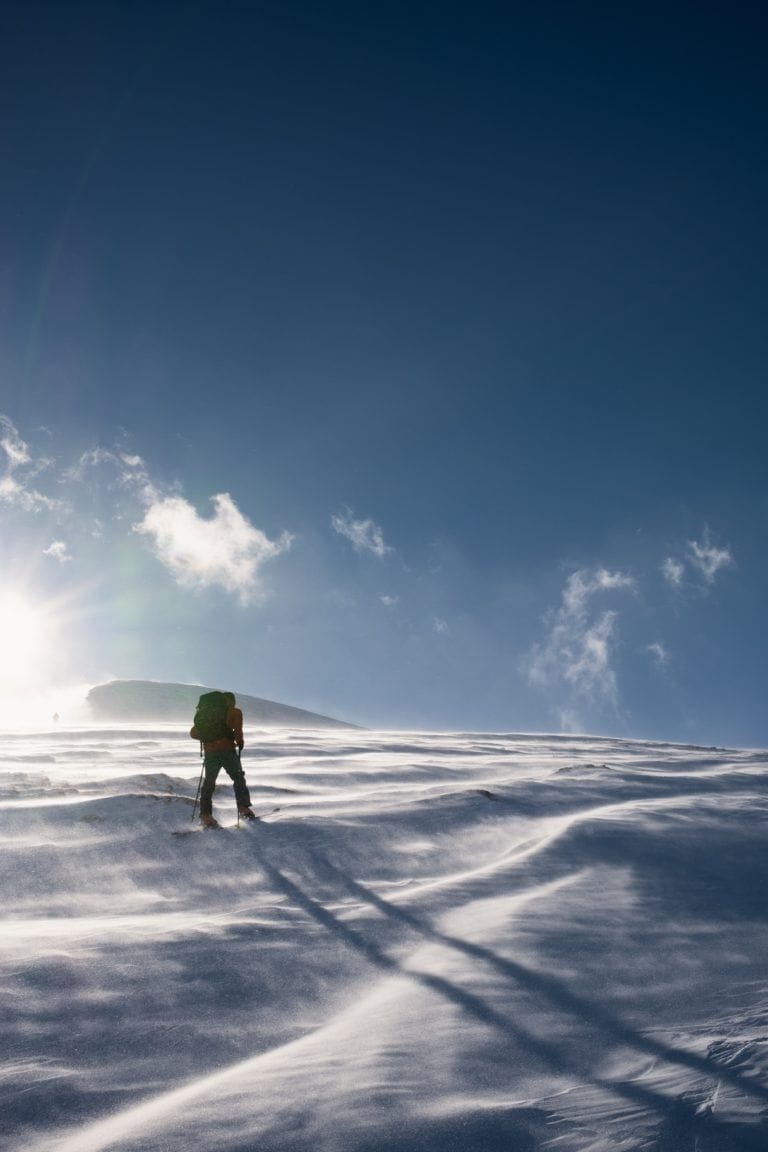 With Ethics
Alpine touring has been practiced by freedom-seekers for many years. These skiers, who are used to being alone in the calm of the forest, are always happy to welcome new enthusiasts to the sport. But before storming the trails en masse and disturbing the peace and quiet that reigns there, here are a few tips to maintain the quiet sanctity of the place beyond the resort.
When you go up, be careful not to damage the tracks taken by skiers who have passed before you. Like when hiking, move off the trail when you stop so not blocking anyone from passing. There is nothing more annoying to others than a group of skiers talking in the middle of the trail! Always choose your route based on your abilities, weather conditions and the terrain you are venturing into.
Be civil: greet other skiers, inform them of the conditions and help them if needed. Trails are still sometimes poorly marked, I always appreciate being told if the path I'm taking doesn't lead anywhere before I realize that I've been walking towards a dead end for 45 minutes. And as always when you're out in the wilderness, don't leave tracks–other than with your skis, of course!
Knowing the Terrain
When it comes to skiing in the backcountry, there's also the risk of avalanches. Even if they are becoming rarer in Quebec, the risk of avalanches is very present in the Chic-Chocs and in Western Canada. Since the equipment allows you to explore the mountain without restrictions, only experienced skiers should venture into unpatrolled areas. You are therefore responsible for your safety and that of your group. Be aware of hazards and check avalanche reports before you go. 
Do Your Research
Before thinking about skiing in avalanche territory, I strongly recommend that you take a course on mountain safety. It's also essential to have the safety equipment: a shovel, a probe and an avalanche transceiver (learning how to use them properly is key). 
If you want to downhill ski on a smaller scale, checking with resorts and national parks about the accessibility of alpine hiking trails before you leave will save you a lot of trouble–especially in a pandemic context where the number of places is sometimes limited.
Climbing Skins
The first time I heard about sealskins my heart leapt… sealskin? Ascension skins were originally made from real seal skin. I can reassure you, this has not been the case for several decades now, thanks to modern innovations. Today, the skins that are glued under the skis are made of synthetics materials, most commonly nylon.
How do they work?
They're made to stick to the snow so you can climb with your skis on without sliding.
How do you strap them on?
Straps at each end allow the skin to be positioned and stretched correctly under the skis. The skins are then glued along the length of the ski.
How to choose the right size?
A well cut skin should cover the entire surface of the ski, but it should not cover the edges. You will therefore have to cut your skins by yourself to adjust them to the shape of your skis. Don't panic! Most skins come with a trimming tool. Simply lay your ski flat and upside down, glue the skin to the surface and use the small knife to cut off the excess–and you're done!
When in doubt, offering a beer to an expert friend and asking them to help you with the cutting of your skins is also an option. Make sure you choose skins that are wide enough for your skis. Refer to the widest point, which is usually found at the front of the ski–this is the width of the skins you will need to buy. 
To determine the length, measure your skis and take away 10 to 15 cm. The skins have a rear attachment that allows you to adjust the length. Your skins should be taut, but you should be able to put them on without too much effort.
How to maintain your skins?
The lifespan of your skins will be greatly affected by the care you give them. A few basic tips are therefore essential. Never glue them one on top of the other, this will damage the glue. Instead, use the nets that are provided for this purpose.
Always dry your skins after a day of skiing. You can hang them up, but avoid intense heat such as that from the fireplace, or direct sunlight. In freezing weather, keep your skins close to your body to prevent them from freezing. Special backcountry coats such as Arc'teryx, Norrona or Mammut have large interior pockets that can hold your skins during the ascent.
The Indispensable Trio
If you're skiing in high mountains, it's essential that you have an avalanche beacon, a probe and a shovel. Having them in your backpack is one thing, but knowing how to use them is essential to prevent disasters. In case your idyllic day turns into a nightmare (we don't wish it on anyone, but magical thinking won't help you here), you'll have to act quickly to get a buried person out. Make sure you have all the necessary equipment to perform a rescue or to yourself out.
Place your transceiver in a closed pocket of your coat or pants and secure the device by tying the clip to your pants strap or belt. Don't forget to turn on and test your equipment with your fellow climbers before you begin the climb.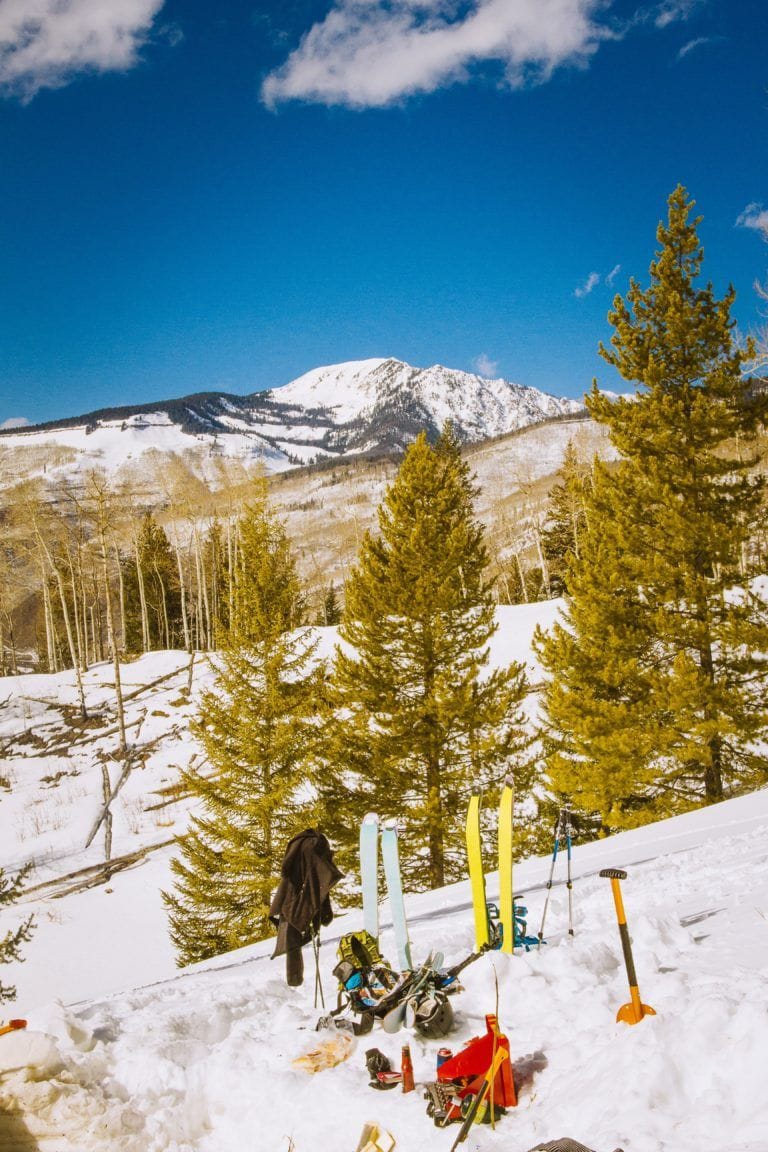 A Quick Layering Guide for Beginners
Multilayering has grown in popularity in recent years, so that even my mother now knows the importance of layering. If you want to learn about alpine hiking, you will have to trade your down-filled alpine ski coat and insulated pants for several technical garments. More than just a trend, layering is THE best way to stay comfortable, dry and warm on the slopes. But what does it consist of?
It's simply a matter of layering clothing so that you can remove or add layers during your activity. Forget your grandfather's big wool sweater and 3 pairs of stockings. To set up an effective system, you need the right combination of clothes.
Like the name suggests, the base layer is the foundation of your multi-layering system. What's it made of? Merino wool. I won't repeat all the advantages of merino wool for fear of going off on a rant about the benefits of eco to everyone, but I invite you to read this complete guide to this fiber that has become the Holy Grail of my outdoor wardrobe.
For both top and bottom, your base layer should be adjusted to facilitate mobility. Merino clothing is available in several grades that correspond to the thickness of the wool. You should choose 150 or 200 grade, otherwise, you'll be too hot. Some models of icebreaker or Smartwool are specifically designed with ventilated mesh areas. And don't forget the socks! I'm not exaggerating when I say that switching to merino socks has completely changed my life. I especially like this model which has a cushion on the shin to absorb the pressure of the ski boot.
Second Layer: The Midlayer
The midlayer is the one that insulates you from the cold. It can be made of down, synthetic or fleece. Choose a jacket close to the body to avoid drafts. A cut that's too loose will restrict your movements and will be cumbersome when it's time to put on your last layer, the shell.
I can't say enough about my love of the Atom LT from Arc'teryx. Lightweight, versatile, breathable, windproof and warm, this coat is a true favourite among outdoor sports enthusiasts and my go-to for alpine hiking trips. Norrona, Mammut, BLACKYAK and Patagonia also have good options.
The shell is your protective layer against the weather. It's often the one you'll be wearing for the climb (along with your base layer), which is why it's important to choose a shell that's adapted for the backcountry: uninsulated and with ventilation openings that will allow you to evacuate heat–believe me, it's essential. The outer layer can be larger to accommodate your other layers. The important thing is to choose a breathable waterproof shell.
What about pants?
Forget the insulated pants you wore when you sat on the chairlift, you'll be sweating within the first few minutes of the ascent. For the legs, I find that the ideal is to put on a merino base layer and shell pants with ventilation openings. In touring and backcountry, bibs are popular. They protect you from snow and block the wind. In addition, you can store your avalanche transceiver in the front pocket.
Other essentials
Now that you understand the importance of layering in the backcountry, here are a few essentials you won't want to forget to pack in your backpack…starting with the backpack.
Backpacks
Like in any hike, the backpack is essential to alpine trekking. You load it up with your middle layer during the ascent, your gloves, your water bottle, your helmet and your glasses in addition to a few snacks.
Ideally, you'll want to get your hands on a backpack specially designed for skiing. This allows you to store your helmet in a front pocket so it doesn't take up all the space in the main compartment. A reinforced compartment is also designed to hold a shovel and a probe. Side straps (or front straps for a snowboard) are used to attach your skis if you have to hike up tricky terrain. 
Gloves
I won't surprise anyone by saying that on the climb, you'll want thin, light gloves (or no gloves at all!), similar to those worn by runners. But don't forget your ski gloves, which you will need for the descent.
Sunglasses
Just like your gloves, your ski goggles will be packed away in your backpack while you make your way up to the summit. Don't make the mistake of climbing with your helmet and goggles on your head; you'll soon get hot and the condensation will fog up your lens and freeze at the top. 
Invest in a pair of sports sunglasses. Lighter and more comfortable than city goggles, they'll be your best friend on the climb–and they'll make you look like a pro!
Hydration
You've certainly thought about the (well-deserved) beer you'll be drinking at the summit, but have you planned for water? Even in winter, it's important to stay hydrated even if you're less thirsty than in hot weather. I always prefer the water bottle to the hydration tank, which often tends to freeze. If you're a reservoir addict, consider placing straw under your clothes to prevent the cold from freezing the droplets and blocking the waterline.
Conclusion
If the pandemic has kicked off the discovery of new passions, it's a good bet that alpine hiking is one of them. The sport is a golden opportunity to enjoy winter, to take and change the air, to keep fit and to share good times with friends. It's hard to only do it once, and I have no doubt that your touring skis won't get dusty in the years to come.
Keep in mind our advice: be careful, stay informed and be respectful. This will certainly help you make new friends on the trails.
SHARE