Camping season is upon us and so is the yearly tent search. With so many tents on the market to choose from, it can be an extremely difficult task to settle on just one.
If your camping outings take you no farther than a few meters from the car, any tent, large or small will be just right. Whereas, if you are someone who hikes for hours into the woods, up rugged mountain paths and exposed summits, a lightweight tent will be more your style. If you do a combination of both, one versatile tent will work best. For the lucky few who have a budget that has no limits, you've got a buffet to choose from! Single person tents for solo expeditions, lightweight 2 person tents for adventures with your partner or best mate and even spacious tents for those weekends where you just want to get out of the city, park the car and watch the stars.

3-Season Tents for Hiking
For those who take their camping adventures far from the parking lots and deep into the forests, a lightweight, technical tent is what you need. There are a variety of 3-season tents to choose from so the first thing is to decide what type of terrain and environments you will be camping in, how many people will you travel with and what are necessary features you 'must' have.
Different tents have different shapes, some have two entry doors, others have only one; pick a tent that you know will suit your needs. Although they can be expensive, sometimes the extra few dollars you spend for those few must-have features or shedding a few pounds will be more than worth it in the long run. Your tent is your home in the woods or wherever you travel to so you want to be comfortable.
MSR Hubba Tour 1
If you are looking for the perfect tent to sleep under the stars during your next cycle tour, the Hubba Tour 1 is for you! Like other Hubba tents much appreciated by adventurers, this one is relatively spacious. The novelty of the model is its exoskeleton structure and the interior fabric that offers multiple storage solutions, including a huge vestibule particularly convenient for travellers. Lightweight (3.15 lbs), extremely compact and easy to set-up, the Hubba Tour 1 is definitely an excellent adventure companion when you're exploring solo.
Marmot Tungsten 2 Person Tent
If you live for life on the trail and are looking for the perfect backpacking companion, the Tungsten 2 is the ideal candidate. Boasting a roomy, durable and a livable design, the Tungsten 2 is designed for life on the trail and weighs just over 5 pounds. Two D shaped doors on either side of the tent provide easy access and so no matter where your tent is set up, you can enjoy the view.
The North Face Talus 2
Weighing 2.3kg, the Talus 2 tent may not be the lightest in its class, but it offers all the protection and sturdiness you need for your wilderness adventures. After a long day of exploring, do not waste time setting up your camp: the Talus 2 installs in a jiffy. If the skies turn and the rains come, you'll be able to sleep comfortably knowing you're going to wake up dry thanks to waterproof fabrics and sealed seams.

3-Season Tents for Car or Family Camping
Camping with the family is an enriching experience for everyone. You get to spend time together in nature, enjoy the fresh air and get back to the basics. Leave the electronics at home and rejuvenate your mind with the tranquil sounds of nature and play some cards or explore in the woods.
Having a tent that is roomy enough for the family is essential and may eliminate any conflicts which lead to a better camping experience. It's no secret that not all siblings get along so having those few inches of extra space can be a lifesaver.
Marmot Limelight 3 Person Tent
When you get to camp, the first thing on your mind is to relax so a quick and easy to set-up tent is a must and the Limelight fits the description. A large and roomy interior provides ample living room for a weekend away and double door access makes ins and outs easy. Two vestibules on either side keep gear dry when the rains fall and hidden if you need to leave camp for a few hours.
NEMO Equipment Wagontop 4 Person Tent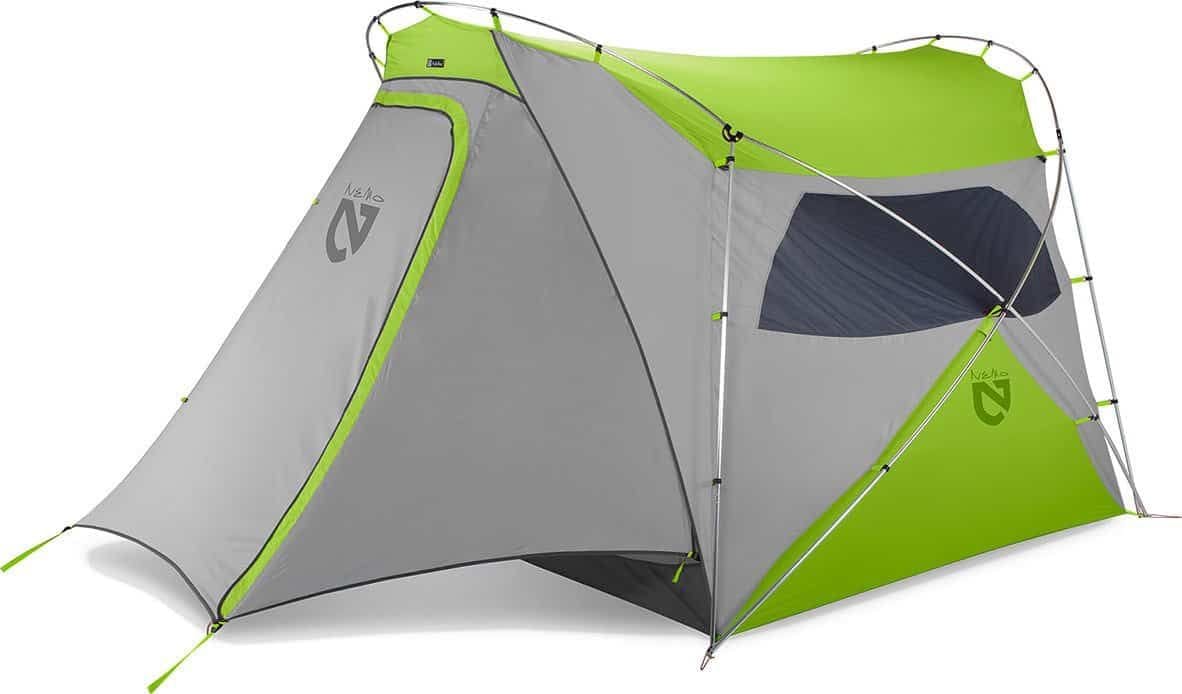 The Wagontop tent stands out, at first sight, thanks to its aptly named shape. This tunnel-shaped tent will be enjoyed by everyone to the space it provides. It is also a favourite among tall people who will appreciate being able to stand tall inside. For a comfortable night under the stars, the Wagontop is sure to be a favourite.
Big Agnes Big House 6 Deluxe
Who doesn't love a night of sleeping out under the stars away from the lights and sounds of the city? If comfort is your focus, the big house of Big Agnes is sure to fulfill your needs. Spacious and airy, it has a multitude of storage options (we are talking here about 10 interior pockets – yes, yes ten!). Plus 2 media pouches and light aluminum hooks. A similar model designed to house 4 people is also available.
Eureka Copper Canyon
If you're looking for a tent to house the whole family for a weekend under the stars, look no further than the Cooper Canyon. this spacious tent sleeps up to 12 people and is the perfect choice for your annual family camp out. If you and your family or group of friends are camping with a collection of additional gear and bags, you may want to cut off your tent capacity at 7 or 8 people to ensure there's enough room to sleep comfortably amongst your gear. Equipped with a room divider, the Copper Canyon tent is a perfect option for families and must-have glamping essential for your weekends away.
[wdi_feed id="5″]
SHARE