The end of winter means one thing for cyclists: it's time to stock up on the essentials. Having a proper helmet is number one, but after that, having the right bike lock comes a close second. There's no one-size-fits-all lock, what's "right" varies from person to person. Protecting your bike from theft is important when you're  commuting through the city or touring through mountain trails. Your lifestyle determines which lock is best for you and your bike. No matter where or how you ride, this guide will help you find the right lock for you.
Best Overall Bike Lock
1- Kryptonite New York Standard Bike Lock
What makes the Kryptonite New York Standard Bike Lock the best one overall? It starts with its excellent theft protection, which includes a 6mm steel shackle, a pick-resistant lock, and a double deadbolt. Even though it's safe to use in many urban settings, it's not weighed down. Weighing in at only 4.45 lbs, it's light enough that you won't feel it jostling around in a hiking or commuter bag.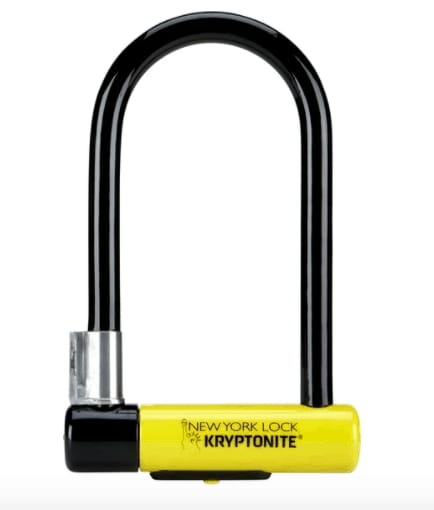 Kryptonite – New York Standard Bike Lock
Pros
Small and portable

Pick & drill resistant

Protective vinyl coating
Cons
Mount does not stabilize the lock in transit

Not weather resistant
Best Affordable Bike Lock
2 – Kryptonite Keeper 12
For a more affordable option, it's hard to beat the Kryptonite Keeper 12. It's a little bit thinner than other U-locks on the market, but the 12 mm steel shackle is still tough enough to resist many of the hand tools commonly used by bike thieves. The vinyl coating covering the lock also means that you won't scratch your bike when locking up.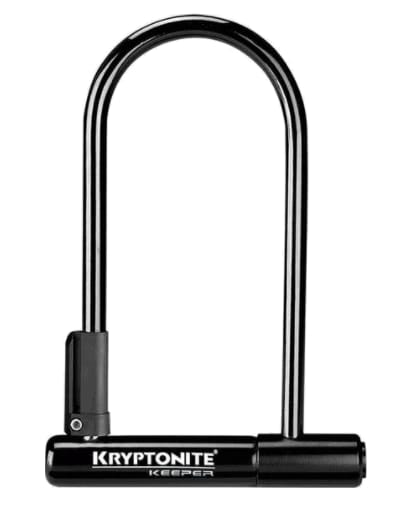 Kryptonite – Keeper 12
Pros
Better bracket for mounting on bike

Replacement keys available with registered product 
Cons
Plates need to be lined up to unlock

Can be cut through
Best Lightweight Bike Lock
3 – ABUS Ultra Mini + Cobra
If you're not as worried about theft, then you also don't need to worry about lugging around a heavier lock. At only 2.5 lbs, the ABUS Ultra Mini + Cobra is extremely portable. It's a simple cable and U-lock combo, easy to use, and light enough to carry. Though it's ultra-lightweight and compact, it still offers solid safety features like double-bolt locking and a hardened lock body.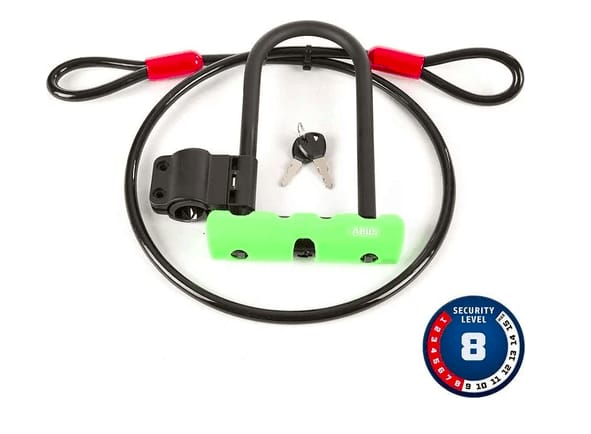 ABUS Ultra Mini + Cobra
Best U-lock
4 – ABUS Ultra
The U-lock is a classic bike lock for a reason: it doesn't need all the fancy bells and whistles to get the job done. The ABUS Ultra is no exception. With a 12 mm round shackle and double-bolt locking, it's simple without skimping on safety.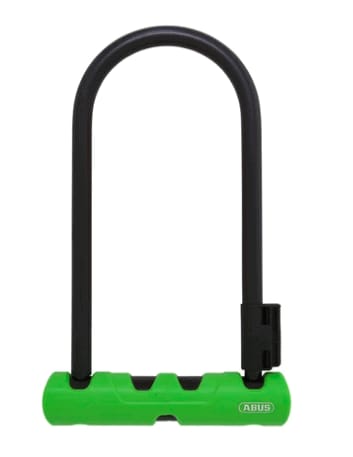 ABUS – Ultra
Best Bike Chain Lock
5 – Kryptonite Integrated Chain KryptoLok
If you live in an urban area where theft is rampant, a bike chain may be the only lock that keeps your bike safe. This heavy-duty Kryptonite Integrated Chain KryptoLok is the ultimate protection against theft. Every detail is designed with security in mind, making the chain lock less vulnerable to breakage and cutting. And unlike regular steel chains, this lock comes with a water-resistant sleeve to protect your bike from scratches.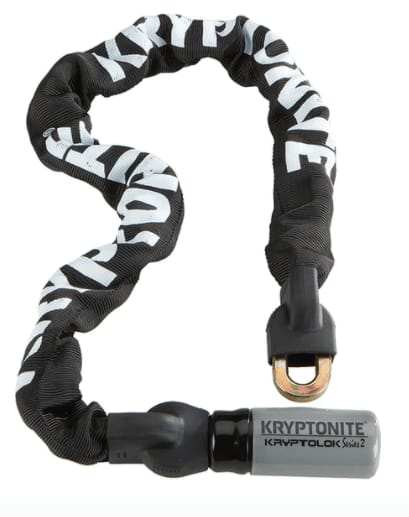 Kryptonite – Integrated Chain KryptoLok
Pros
Weather-resistant sleeve protects from rust

Longer chain can lock to a variety of elements
Cons
Heavier than most cable or U-locks

Will need to wrap repeatedly if locking to a thinner anchor
Best Flexible Bike Lock
6 – ABUS Cable + U-lock
Some areas don't have traditional bike racks. This means you'll often have to leave your bike tied to a larger object, like a tree or a column, where a U-lock wouldn't work. That's where having a more flexible bike lock like this ABUS cable and U-lock combo comes in. The included mount makes it easier to remember your lock every time you leave the house.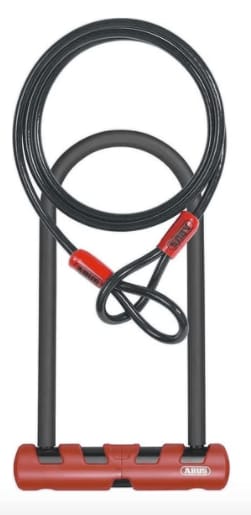 ABUS – Cable and U-lock
Best Bike Lock for Touring
7 – ABUS Foldup Lock
When you're touring, you need a lock that is designed for long stretches of time on the road. The last thing you need to worry about it is extra bulk or weight when you're cycling for miles on end. This is what makes the ABUS foldup lock so special. The sleek design and compact size take up minimal space while still offering complete protection.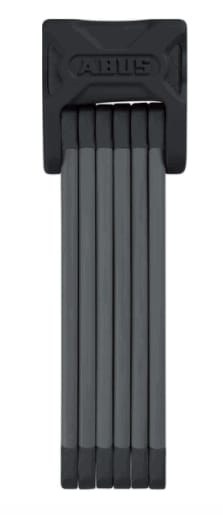 ABUS – Foldup Lock
Pros
Small and compact enough to fit in a jacket pocket

Resistant to cutting and lock picking
Cons
Shorter length means less flexibility

Thinner steel takes less time to cut through
How To Choose the Best Bike Lock
It's important to decide what your needs are before you determine your perfect bike lock. What are you using your bike for? If you're commuting to work in an urban environment, you will need a different lock than someone who is going for a leisurely evening ride. Is bike theft common in your hometown? Then maybe you're better off with a heavy-duty chain. 
Think through different scenarios you'll likely be in. Locking up outside the local convenience store to run in and buy milk is different than leaving your bike outside of a large office building for hours. Whatever your environment is, decide what safety features you need to feel comfortable leaving your bike by itself.
Next, think about where you (and your bike) live or spend the most time. What's the weather like? Would you be better off with something water-resistant that can hold up to the elements? If you're in sunny San Diego, you likely won't need to worry about this. If you're in Canada, you absolutely will. It's a good idea to consider all these factors before purchasing your lock.
Lock Types
U-locks
U-locks are named after the steel "U" that locks into the bar. They're the complete package, offering quality theft protection while still being portable and lightweight. Usually, U-locks need a key to open. The security of these locks vary. Different grades of steel, thickness, and how it is secured will determine how much protection each model offers. But, if you're looking for a bike lock that can be used in most scenarios, the U-lock is the best choice.
Chain Lock
Chain locks are usually the toughest options. In places where theft is common, a chain lock combo with a U-lock is the best way to keep your bike safe. Many chain locks can't be cut through or broken unless the person stealing it has specialized tools and equipment. 
Cable Locks
It's hard to beat cable locks for flexibility and weight. They're great for parking your bike in places where a U-lock won't fit, like a tree or a building column. Cable locks also work well if you need to anchor multiple bikes at a time. 
Folding Locks
If you're on your bike for long periods of time, touring or otherwise, it doesn't get much better than a folding lock. These are newer to the market but are already cultivating a loyal following in cycling communities, and for good reason. Folding locks are compact, efficient, and don't sacrifice when it comes to protection.
Security Rating
If you're unsure of what the specifications mean on any bike lock description, the Sold Secure rating system can be a great guide. Sold Secure is a non-profit that aims to reduce crime by rating security products, like bike locks. The ratings are simple: Bronze is the lowest rank and has the lowest security rating, Silver is the next step up, and Gold is the most secure.
Keys vs Combination
Choosing a keyed lock versus a combination lock boils down to what you're more likely to remember. Keyed locks are most often used on U-locks and chain locks. The biggest drawback to using a keyed lock is the key itself, which is tiny and can be easily lost or forgotten. With a combination lock, you don't have to worry about misplacing or forgetting a key. However, you do have to remember the code you choose. Cable locks are more likely to use combinations to lock up over keys.
FAQs for Bike Locks
What are Bike Locks Made Of?
Most bike locks are made from a combination of steel and plastic or vinyl coating. The thicker and higher grade the steel, the more difficult it is to cut through. Hardened steel—popular with U-locks—is a specially treated kind of steel that cannot be broken with standard lock cutters. Cable locks, on the other hand, are made of a thinner wire that is then covered in a protective outer layer.
Are U Locks better than Cable Locks?
This depends on your needs. Cable locks can be easily packed away and transported. However, they are also easier to cut through. U-locks, tend to be stronger and more durable but lack the flexibility of a cable. There are combo cable and U-lock sets available if you don't want to choose between the two.
Can U-locks be cut?
Yes, U-locks can be cut. By what tool and how easily depends on the type of steel used in the lock. Locks with lower-grade steel will be easier to cut through than hardened steel. Most U-locks can't be cut with a simple lock cutter–though some can–but if your thief has a hacksaw or a power tool, they may be able to cut through even a stronger lock if given enough time.
What Bike Lock Should I Buy?
This all goes back to the basics. Do you commute to work in a high-crime urban area? A chain or heavier duty U-lock might be best for you. On the other hand, if you're riding on your local suburban bike path after work, you might not need as much protection. Think through what you hope to get out of your lock, choose the lock that best fits your lifestyle and setting, and then hit the road. 
SHARE