In the wake of the smartifying revolution, watches have gone the way of the telephone, becoming much more than their humble beginnings suggest. Today, a watch not only tells time—it tracks your location through GPS, plays your favorite music, syncs up with your smartphone, and measures all the nuances of your physical existence. 
For its general wizardry in all these categories, Garmin's Venu Watch is our top pick. Read on to discover why and which other models we're excited about.
The Top Garmin Watches Reviewed
Best Overall Smartwatch
Garmin Venu Watch
Garmin's Venu Watch does just about everything except cook you dinner. With over 20 preloaded GPS maps, a handful of activity apps, and technology that monitors everything from your sleep cycle to your menstrual cycle, you'll be all set. The AMOLED display is a nice touch, offering a beautiful and vibrant interface of 390 x 390 pixels.
The Venu features incident detection and assistance software in the event of an emergency. When paired with your phone, the system automatically shares your location with your emergency contacts. The Venu is also equipped with Garmin Coach, which offers training programs for a 5k, 10k, half-marathon, and marathon, based on your unique profile.
A full charge will get you about five days. That number drops to about six hours if you're using GPS and music. While it seems low, this is actually quite good when compared to the battery life of similar smartwatches; however, the AMOLED display does consume more battery life.
Pros
Sleek & sexy

Wide range of features

Wide range of metrics

Battery life

Price 
Cons
Display does not stay lit
Best Runner-Up Smartwatch
Garmin Vivoactive 4S Watch
Both the Venu and the Vivoactive were released around the same time, with the same features, and for the same price. So what's the difference? It comes down to their size and displays. While both models are unisex, the Vivoactive runs a couple millimetres larger and has a lower-resolution display of 260 x 260 pixels.
Interestingly, Vivoactive's battery life is slightly better. For GPS tracking and music, you still get about six hours, but can expect seven days instead of five in smartwatch mode. This is because the Vivoactive lacks the Venu's AMOLED display.
Pros
Sleek & sexy 

Variety of features

Wide range of metrics

Battery life

Price 
Cons
Display can be hard to read

Less vibrant/lower res.
Best Running Smartwatch
Garmin Forerunner 245 Music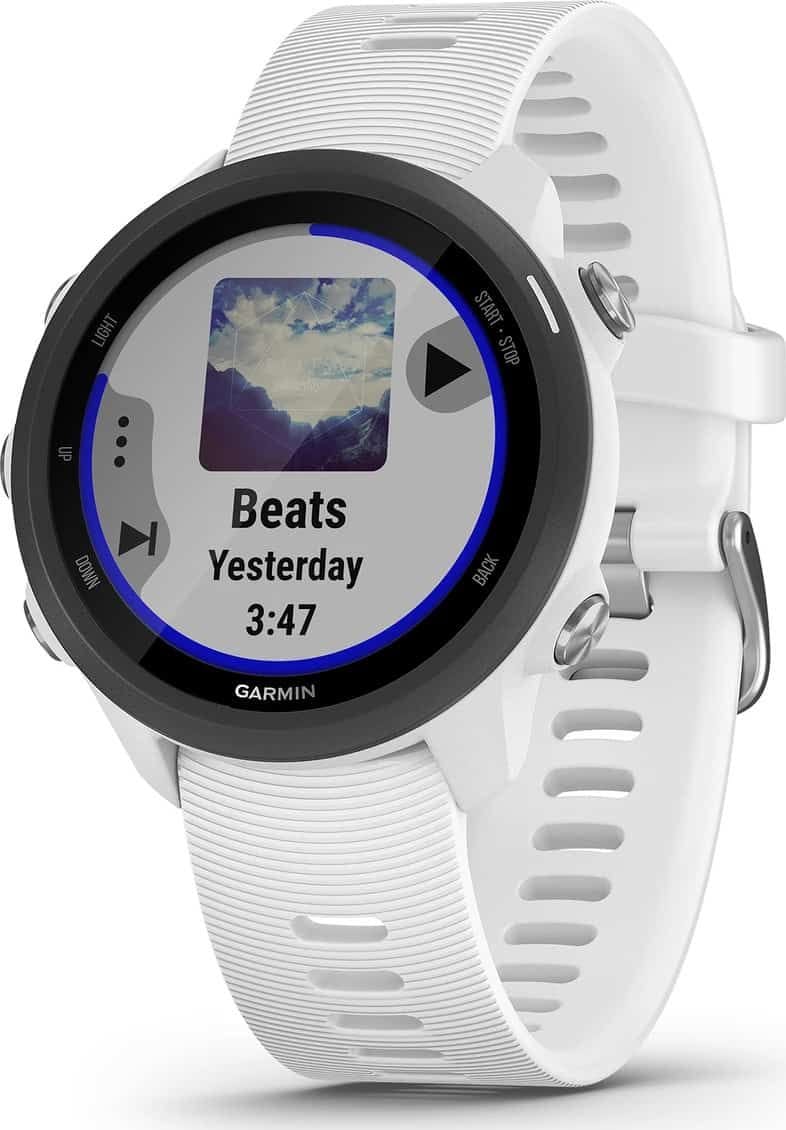 If running's your game, look no further than the Garmin Forerunner 245 Music. As the name implies, this watch is well-suited for those whose very existence hinges on running and music. 
What we really love about the Forerunner 245 is its ability to compare previous performances with your current performance. This feature lets you know whether you're pushing yourself too hard or slacking. Battery life is impressive, too: seven days in smartwatch mode, 24 hours in GPS mode, and six hours in combined GPS/ music mode.
Pros
Ultimate choice for music-loving runners

Access to online community

Stores/ plays music

Lots of metrics

Battery life 
Cons
Very specific for running

Display resolution 240 x 240 pixels
Best Lifestyle Smartwatch
Garmin Vivomove Premium Watch with Leather Band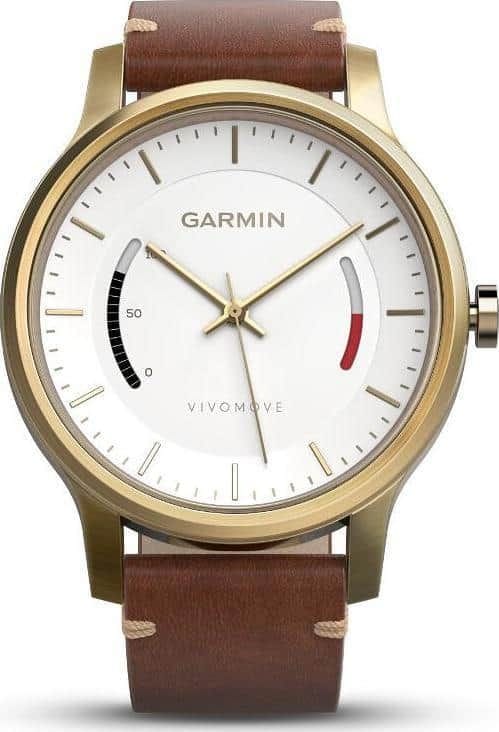 Ah, the timelessness of a gold bezel on a cognac strap. Garmin's Vivomove is for folks torn between the classic beauty of a bauhaus-inspired timepiece and the technological innovations of the 21st-century. It is literally your personal trainer in a tux, a fitness and wardrobe staple.
The Vivomove tracks everything from your steps to your sleep, and hooks up to the Garmin Connect app, which stores your data and offers you insight into your patterns and progress. Straps are easily interchangeable—for swankier occasions, switch out the band for something more formal.
Pros
Classic/ timeless design

Range of metrics

Syncs with Garmin Connect

Replaceable battery (1 year guarantee)

Comes in two color schemes
Cons
Less robust than a real smartwatch
Best Smartwatch for Serious Athletes
Garmin Fenix 6 Sport Watch
A serious athlete needs a serious smartwatch. Meet the Garmin Fenix 6 Sport Watch. It features a highly durable metal build (entirely waterproof), sleek design, and thoughtful software. 
The Fenix 6 Sport Watch really shines when it comes to battery life (you may want to sit down for this). In Expedition Mode, you're looking at about 28 days; 14 days in smartwatch mode; and 48 days in power-save mode. Even with GPS running, you still get 36 hours—72 hours if you max the battery for GPS. The display is 260 x 260 pixels.
The one downside is that the display is not touchscreen. This is good if your sweaty fingers tend to sabotage your interface attempts, but it does detract from the overall experience. The upshot is that the large buttons make navigation easy to memorize, so you can track your workouts without even glancing at the display.
Pros
Sleek & sexy

Easy to navigate

Wide range of metrics

Battery life

Durable build 
Cons
Best Trail Running Smartwatch
Garmin Instinct Watch
If the price point of the Fenix 6X Pro is a little steep, the Instinct is a more affordable option, offering similar functionality with fewer frills. The military grade plastic bezel is durable, and the screen features a neat little window in the top-right that displays critical data.
While the screen is monochrome, its high contrast makes it easy to see even on bright afternoons. The other perk of a monochrome screen is the added battery life—14 days in smartwatch mode, 16 hours in GPS mode, and up to 40 hours in battery-saver mode—making it a solid option for ultrarunners on a budget.
Unfortunately, the Instinct does not offer Garmin Connect IQ. Another common complaint is the absence of a VO2 Max tracker. That said, the Instinct's bluetooth can pair with an external heart-rate monitor. As for the maps, you're looking at breadcrumb trails as opposed to full-res topos.
Still, for its durable build, cool design, battery life, and price point, the Instinct is the perfect trail running smartwatch in 2020.
Pros
Cool, lightweight design

Extra display window

Bluetooth-enabled

Durable

Battery life

Price 
Cons
Monochrome screen

No VO2 Max tracking

Maps lack detail
Best Smartwatch for Swimming
Garmin Swim 2 Watch
Great for both pool and open water swimming, the Garmin Swim 2 tracks everything, including distance, pace, stroke count, and stroke type. It even calculates your SWOLF score, a measure of swimming efficiency. Besides swimming, the watch also includes running, cycling, and cardio profiles.
The Swim 2 is compatible with Garmin Connect and smartphones. Battery life is roughly seven days in smartwatch mode, 13 hours in GPS and optical heart rate (OHR) mode and 72 hours in pool and OHR mode combined. Its water resistance is up to 5 ATMs, or about 50 metres.
Pros
Smooth, seamless design

Wide range of swim metrics

Compatible with smartphones/Garmin Connect

Accurate heart-rate monitor

Battery life 
Cons
Less features than a more general sports watch
Best Smartwatch for Cycling
Garmin Forerunner 945
As a multi-sport watch, the Garmin Forerunner 945 offers users many activity profiles, from running to golf. But for cycling, it offers three impressive profiles: outdoor, mountain biking, and indoor (stationary). 
The Forerunner 945 is compatible with smartphones, bluetooth heart rate devices, and Connect IQ software. Water resistance is 5 ATM, or about 50 metres. A built-in gyroscope increases GPS precision, and a heart rate monitor tracks your vitals. 
While it does have a striking resemblance to the Fenix 5, you'll notice the Forerunner 945 is slightly slimmer, lighter, and less durable, reflected in its lower price point. But compared to its predecessor (the Forerunner 735), the 945 has 36 instead of 14 hours of battery life with GPS running (10 with music going). This makes it a good option for both cyclists and triathletes. 
Pros
Attractive design

Beautiful color display

Wide range of profiles

Tracks performance/ training/ recovery

Battery life

Price 
Cons
What to look for when buying a Garmin smartwatch
When it comes to smartwatches, form follows function, so start with the basics: What do I need it for? Are you a runner, a swimmer, a biker? All three? Now, decide which features are most relevant. Budget permitting, you can also find a style that suits your needs: Will I use it strictly while training? Will I wear it around the office? Luckily, whichever smartwatch you choose, Garmin makes function look good.
Use
Which activities are you most intent on tracking? Do you want to simply track your data or are you looking for a techno-coach? If you're a triathlete or ultrarunner, then something with a solid battery is a must. What about phone syncing? Will you be answering texts through your watch or listening to music? Or do you prefer to keep those aspects of your life separate? The trick is to analyze your behaviours, attitudes, and goals.
Features 
Let's discuss the main features in a Garmin smartwatch.
GPS
Garmin is a world leader in global positioning software. Most of their models come standard-equipped with a receiver that communicates with active satellites. This allows the watch to triangulate your location. Some Garmin watches even feature a built-in gyroscope, which provides even more accuracy on your movement, position, and direction.
Heart Rate Monitor 
Garmin's built-in heart-rate monitor excels when used in conjunction with running and biking profiles. To accurately monitor your heart-rate outside of these activities, consider using an external heart-rate monitor; many of Garmin's smartwatches are compatible with these through bluetooth. Models that can be synced with Connect IQ to provide an in-depth history and analysis of your heart rate.
Music
Almost all Garmin smartwatches are bluetooth compatible with your phone. Of course, if you'd rather not take your phone along for an activity, consider finding a model that allows you to directly store music in your device and connect to bluetooth earphones, such as our pick for best running smartwatch, Garmin's Forerunner 245 Music.
Touch Screen 
As a rule, there's a premium to pay if you want a touchscreen. It's certainly a more interactive experience, but as we mentioned in our review of the Garmin Instinct, no touchscreen means no hassle with sweaty fingers.
Advanced Features
Features like sleep tracking and VO2 Max, and access to Connect IQ are not standard across all models. Again, this comes down to personal needs. Likewise, an AMOLED display (like that of the Garmin Venu) is a luxury. Of course, having more features means less battery, so stick to the things you really want. 
Style
This is all about personal taste. If you're the type of person who wants one watch to rule them all, then consider getting a smartwatch that pairs well with formal attire, like our choice for best lifestyle watch, Garmin's Vivomove Premium Watch with Leather Band.
Budget
No matter how you look at it, a smartwatch is an investment. If it's your first one or you're a casual athlete, consider starting small—a cheaper model offers fewer features but will be useful in determining what you like and what you don't. The money you save now can be put towards your next smartwatch. Either way, it's a step up from your Casio F91W-1.
FAQs for Garmin smartwatches
What is the most accurate Garmin watch?
A Garmin smartwatch tracks, measures, and analyzes many things. Depending on the watch's primary function, some models will have a more precise GPS system, a more accurate altimeter, or a better heart-rate monitor. On the whole, though, no one watch is more accurate than any other—all of them are equipped with top-of-the-line Garmin technology.   
How long do Garmin watches last?
Barring any assembly-line lemons, this depends entirely on how you use it. While the battery will require many charges over the years, the watch itself is built to last. Who knows—you may be handing it this one down to the next generation of athletes.
Conclusion
Let's face it, choosing between one Garmin watch and another is like choosing between a ripe apple and a slightly riper apple; no matter which one you choose, you'll be getting broad functionality, multiple profiles, and a beautiful timepiece.
SHARE