Nothing is more rewarding on a sweltering hot summer day than gulping back a refreshing beverage that instantly quenches your thirst. Ice cold lemonade, a crisp beer or chilled water, whatever you're reaching for when the sun is blazing, a cooler that keeps it icy fresh is a must.
Soft coolers are handy for days at the beach or hiking, but hard coolers usually have more space and are more like a portable mini fridge – keeping your food and drinks cold all day. Although some hard cooler models are quite large and heavy, if you can transport your cooler from point A to point B, they're certainly worth it.
Whether you spend your weekends in the woods, tailgating, or hosting a block party, we've got a great selection of hard coolers that will meet your needs and exceed your expectations. With a range of different sizes (from 20 to 120 Qts) and brands (the best like Yeti, Coleman, and Pelican) we've got the outdoor and camping hard coolers you need for summer.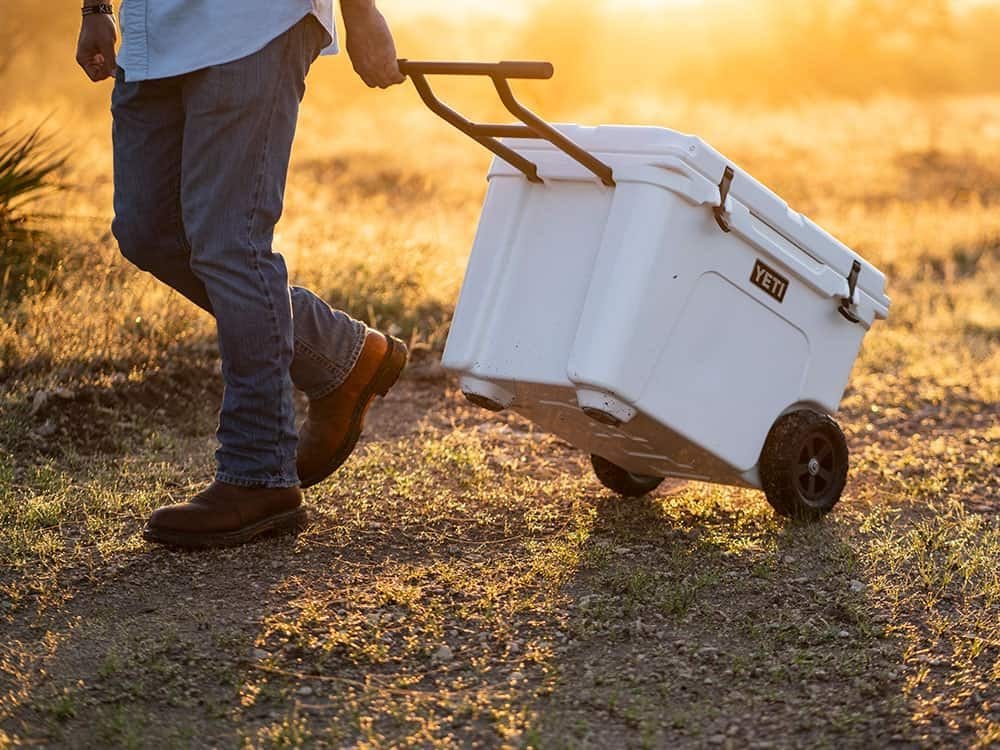 20QT to 45QT Coolers
Headed for a weekend at a campground in the Rockies or do you have a road trip to a friends wedding on the horizon? If you're hitting the road on a summer weekend, you need to stay hydrated with an economically sized hard cooler. Luckily, we have the insulated styles that fit perfectly into the back seat of your vehicle and effortlessly transition to the corner of your tent.
Our collection of 20QT to 45QT coolers feature a variety of colors, sizes, and lid styles. Below are a few of our favorites, and some of the cheaper cooler options we stock.
YETI Tundra Collection
| | |
| --- | --- |
| Tundra 35 Cooler | Tundra 35 Cooler |
YETI, a well-known cooler brand among outdoor enthusiasts, produces some of the highest quality hard coolers on the market. Available in a variety of sizes and colors, their Tundra collection is the perfect companion for a weekend on the open road.
The 35 and 40-quart sizes are ideal for quick trips thanks to their ultra-portable sizes and up to 20 can capacity with a 2:1 ice ratio. From roadside lunch stops to makeshift campfire seats, the Tundra 35 and 40 are a must-have adventure companion. Plus, these styles keep your drinks cold for over 12 hours and have a 5-year warranty. The Tundra collection is built to last!
Pelican Elite Collection
| | | |
| --- | --- | --- |
| 20QT Elite Cooler – 18.9 L | Elite Cooler 30QT/ 31.18L | Wheeled Elite Cooler 45QT/ 42.59L |
The Pelican Elite collection is built to withstand your wildest adventures. Available in a variety of sizes, you can find the perfect Pelican to suit your road trip, camping or block party needs.
The 45QT wheeled model is one of the toughest you'll find and has a capacity of almost 43L. The heavy-duty wheels make it easy to transport over the roughest terrain. Moulded-in tie downs keep everything tightly sealed and compact. Up to 10 days of ice retention means you don't have to worry about everything staying cold if you decide to extend your weekend camping trip.
YETI Roadie Collection
When space is limited and size is crucial, the YETI Roadie 20 is exactly what you need. Perfect for keeping lunch cold or a few of your favourite drinks fresh while enjoying a day under the sun. Headed for a solo road trip or a long ride at your favourite trail network? Leave the YETI Roadie 20 in your car or at camp and come back to a refreshing snack or drink to complete your day. If you're not afraid of getting it a little dirty, the Roadie can be a great companion for a day of fishing on the river. Keep your catch cold and fresh while you're reeling in tomorrow's dinner.

50QT and More
It's that time of year for BBQs, picnics at the park and weekends at the cottage. From evenings under the stars around the fire to pontoon afternoons on the lake, our 50QT and more coolers are exactly what you need for a day under the sun.
YETI Tundra Collection
| | | |
| --- | --- | --- |
| Tundra 65 Cooler | Tundra 75 Cooler | Tundra 105 Cooler |
When space and weight are less of an issue, you have the freedom to take on the outdoors with a cooler packed full of fun. Choose from YETI's Tundra lineup with a choice of 65QT, 75QT and 105QT coolers.
The 65QT can hold up to 39 cans with the recommended 2:1 ice-to-contents ratio. If you want to up your game, the 105QT has a 59 can capacity and keeps you well stocked throughout the weekend. No matter the size, the Yeti Tundra Coolers are made from Rotomolded Construction, making them almost indestructible. The coolers also feature PERMAFROST™ INSULATION, a pressure-injected commercial-grade polyurethane foam in the walls that ensures everything stays cold.
Pelican Elite Collection
Elite Cooler 70QT/ 68.53L
Built with the toughest materials, the polypropylene exterior and stainless steel hardware can withstand the roughest treatment. With a freezer-grade seal and 2″ of insulation, the Pelican Elite is sure to keep your drinks cold, even on the hottest days. Even with the most durable materials and construction, the Pelican Elite still comes with a Lifetime Guarantee.With the Pelican Elite 70QT cooler you can supply the block party, basecamp, and tailgaters with cold refreshments. With a storage capacity of 69L, or 53 cans, this cooler means business.
Coleman Xtreme Collection
| | |
| --- | --- |
| Xtreme 5 Cooler – 66 L | Xtreme 5 Wheeled Cooler – 58.5 L |
A household name for campers and hikers, Coleman continues to make products that are just as durable, convenient and performant as they did when they started.
For those adventurers, the 70QT Xtreme 5 Cooler is the perfect size for a weekend trip to the cottage with the gang. The 66L capacity has plenty of storage, holding up to 100 cans. Xtreme technology keeps the ice for up to 5 days at 32°C. The lid has integrated cup holders and is solid enough to double as a seat in case you need an extra spot around the fireplace.
SHARE