When deep cold strikes your regular gloves or mittens might not cut it against the freeze. Extremities get numb and nothing is worse than cold hands and cold fingers, especially out on the ski slopes or scaling an icy mountain. Fortunately in the never-ending world of innovative outdoor products, there are electric heated gloves – the digit-warmers of today and the future.
Electric Heated Gloves Q & A
Electric gloves for winter is still a relatively – if undeservedly – little-known segment of the outdoor winter apparel industry. You have questions, we have answers, plus a few helpful suggestions.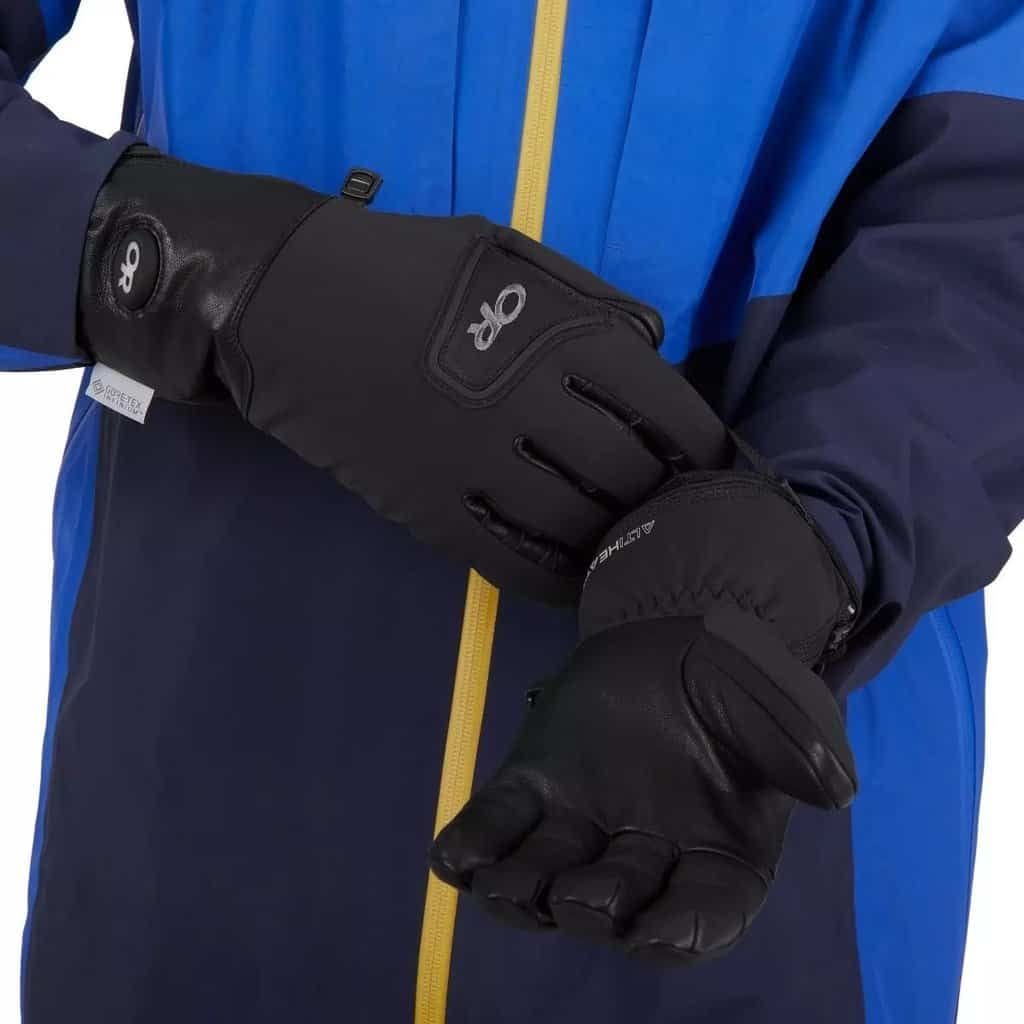 Are heated gloves worth it?
The first thing that will jump out at you is the price. These are not your bargain-bin throwaway woollens here. However, you get what you pay for—and with heated gloves, you get a lot.
These are nothing if not versatile and can usually be used for many things, like skiing, ski touring, alpine and ice climbing. Of course, you can also use them for long walks with the dog and shovelling out your car after a blizzard. They are built rugged, warm, made to last, and are one of those things you'll wish you had them when you really need them. You're investing in warmth for now and the future.
How do heated gloves work?
What might seem complex is actually quite simple in the field, providing you've prepped correctly. These come with rechargeable batteries that store in their own compartment attached to the gloves. When charged, attach them onto the heating wire and zip them back into their compartment.
There are controls so you can regulate the level of heat or switch them off when engaged in high-output events like skinning up a mountain. Control layouts and features vary between brands, but most offer lighting for better visibility in snowstorms and the dark.
Are heated gloves safe?
Yes! The heating coils in the gloves are encased in a protective coating and won't cause shock. The battery packs shut off in the event of a short circuit. As long as you follow the instruction manuals for both the batteries and the gloves (never wash them in the washing machine!), you'll be fine and your hands will be warm all winter.
Best Heated Gloves
Best for Deep Cold
Outdoor Research Capstone Heated Sensor Gloves
The warmest in a very warm line of gloves, the Capstones enable two battery use to double the heat output when winters in Canada turn bitter. Waterproof GORE-TEX inserts shut out elements awhile allowing hands to breathe. Synthetic insulation means heat is trapped effectively even if it gets damp with sweat. Plus a long life goat leather palm will last many winters to come.
Best All-Mountain Sports
Hestra Heated Power Heater Gloves
The Power Heater gloves pack a bit of everything into a premium construction. Like nothing else, they heat your hands perfectly on the slopes and off. Everything is windproof and waterproof, with hands protected and heated as you need them. The zips and cuffs also shed water. Lined with synthetic insulation and with goat leather palms, these may be your essentials when ice climbing, ice fishing and everything in between.
Best for Skiing
Outdoor Research Stormtracker Heated Sensor Gloves
Sometimes you need a glove that's a bit lighter and offers more mobility while providing the same charged heat. Enter the Stormtrackers, with city-friendly features like touchscreen-compatible leather index and thumbs and brighter settings. It's a soft-shell thin heated construction with total protection from the wind. Go from climbing mountains or ski touring to commuting in comfort in these.
Best Heated Mittens
Therm-ic Ultra Heat Mittens
For those who want the coziness of mittens, take a long look at the Ultra Heat Mittens by Therm-ic. The coils spread the warmth 360 degrees around the fingers. They hold two batteries each for double the heating time and no worries about battery life. They're waterproof, breathable and packed with PrimaLoft insulation. They even come equipped with a soft mask wipe and nose wipe on the thumb—signs of people who know winter.
Warm Hands for Winter Comfort
There's no reason to go through winter in a warm jacket, warm pants, warm boots and freezing fingers. Get equipped right, and throw on a pair of battery-powered heated socks, or even heated insoles. Most importantly, heated gloves will allow you to enjoy winter to the fullest!
SHARE