Best Kid's Winter Jackets – It's Time To Buy
Back to school is done. The first snowfall is around the corner. And the biggest parent dilemma of the season has again arrived – finding the best kid's winter jackets. We need a guide to something warm, waterproof, and comfortable for your boy or girl to go with their winter boots and gloves.
Some kid's winter jackets are insulated with goose or duck down. Some use synthetic insulation. Almost all of them are waterproof and have lots of features for winter activities like skiing, snowboarding and fun in the snow. But which ones have what?
Here are 14 of the very best kid's winter jackets, boy's, girl's and youth. Our baseline is the same I use for my kids – warm and comfortable, and more than one winter of use I hope. Some of the top brands featured, like Canada Goose, The North Face, Patagnoia and Columbia, are trusted companies with many years of cold-weather research behind them. Let's look at some of the best kid's winter jackets on the market.
***
The North Face 1996 Retro Nuptse Down Jacket – Youth
Kids love shiny new toys. How about a shiny new winter jacket that'll be warm and comfortable all winter long, with city style to boot?  You get all that in the 1996 Retro Nuptse Down Jacket for Youth by The North Face. It has warm 700 fill power goose down insulation and your child can stuff the whole jacket into the hand pocket. The North Face first made the glossy, puffy Nuptse in 1996 – it was cool back then and it's cool again today. This edition is for both boys and girls. The North Face makes legendary winter apparel, and the Retro Nuptse Down Jacket for kids is no exception.
***
Columbia Nordic Strider Jacket – Girls
Your girl will love the warm, stylish and comfy Nordic Strider Jacket for Girls by Columbia. It is completely waterproof and packed with synthetic insulation that retains warmth even if damp. This is a jacket that will not only keep your kid protected all winter but keep her looking good too, with a cinched waist and slightly longer cut. The hood has a faux fur trim you can remove. Columbia's Outgrown system lets you adjust the jacket as your girl grows. Columbia has always made great cold and wet-weather gear, and the Nordic Strider continues the brand's legacy of warm, dry, comfortable snow wear.
***
Patagonia Down Sweater Jacket – Boys
Don't let the 'sweater' in the name fool you. The Down Sweater Jacket for boys by Patagonia is warm, built for winter and resists light moisture and snow. It's got 600 fill power down insulation, trapping critical warmth and retaining loft better than anything out there. Patagonia is unbeatable in terms of being environmentally responsible. The Down Sweater Jacket features traceable down insulation and a 100% recycled windproof polyester shell. Tough and durable – that's how Patagonia makes their clothes and that's what you get with the the Down Sweater Jacket for boys.
***
Canada Goose Rundle Bomber – Youth
If only shopping for the best kid's winter jackets was so easy as Canada Goose makes it. The brand is a rare bird, at the top of the winter fashion world with functional winter jackets that are the standard for supremely warm winter wear. The Rundle Bomber for youth is just like your kids' fave Hollywood stars wear in the cold. Bombers are definitely in (just ask your children). This bomber comes with white duck down insulation, an Arctic Tech shell and the big signature Canada Goose hood. You can remove the fur ruff and just chuck the jacket into the washing machine when it's time.
***
Helly Hansen Summit Winter Jacket – Big Kids
It's a puffy filled with synthetic insulation. It's a ski jacket your kid can wear every day. It's the Summit Winter Jacket for Big Kids by Helly Hansen, with bright colours and details perfect for your boy, girl and you. Wear it on the ski trip – it has a powderskirt and a ski pass pocket. Trust me, it's an easy sell for your children with the Life Pocket, which preserves phone battery so they can still hit Instagram with their friends during the day on the slopes. Helly Hansen knows waterproof wear – the brand has long outfitted seafarers, and this winter jacket is sealed tight against moisture and padded for warmth.
***
Burton Hart Jacket – Girls
Let's stay on the slopes with the gold standard of mountain fun wear, Burton. Their new Hart Winter Jacket for Girls will have your kid begging for one last run well after you're ready to turn in. They'll want to wear it to school too, with a Dryride shell that shuts out water and wind. On the inside, Thermacore is a synthetic insulation that stays warm even if it gets a bit damp from all those turns or snowball fights. Burton makes their winter gear with care for winter activities, and their room-to-grow feature extends the season use of the Hart Jacket as your girl grows. Warm, dry, comfy on the slopes and in the playground– they won't want for more.
***
Burton Uproar Jacket – Boys
Have a boy that likes to make a statement? The Uproar Jacket for Boys by Burton is a kid's version of Athleisure. Collared, with a hoody-like profile (skate style gone winter!), this jacket is born to ride. A waterproof shell and synthetic insulation will keep your boy warm, dry and comfortable on the slopes on a snowboard, on skis or in the park.  The synthetic insulation will keep him warm even if he works up a sweat. Burton always considers safety first and the Uproar's hood is helmet-compatible. The sleeves extend as your kid grows up, meaning he can use it for multiple winters.
***
Marmot Slingshot Jacket – Girls
What's cool about the Slingshot Jacket for Girls by Marmot is that your girl will find the same protection and warmth as the adult version. 700 fill-power down and a waterproof, breathable two-layer shell make for a perfect start to and of the best kid's winter jackets. The down insulation has been treated to offer more moisture-resistance, keeping the loft necessary to trap body heat. A powder skirt has it ski-weekend ready. Marmot's mixing of cold-weather technology keep wearers warm and dry all winter, on the slopes or heading to school. It's just what mom and dad ordered when they order the Slingshot Jacket for their girls.
***
Marmot Guides Down Hoody – Boys
Movement is key in kid's winter jackets, especially to keep generating heat that will warm them up. The Guides Down Hoody for Boys by Marmot is down-filled and built so that body heat stays put. It's high-alpine technology brought to everyday life. Protective coating makes it ready for icy and wet conditions. Boys love to move freely, and the Angel-wing construction means arms are free – essential when loading up with snowballs. Marmot makes a men's version and makes sure all their winter jackets and gear are ready for cold expeditions.
***
Reima Serkku Reimatec Down Jacket – Youth
Nothing like warm waterproof comfort to give every parent peace of mind when looking at kid's winter jackets. Reima enters the waterproof-warm winter jacket fray with the youth's down-filled Serkku Reimatec Down Jacket. It's built for the North American cold – down insulation, waterproof sealed seams, and a faux-fur trim that detaches when the wind isn't so bad. Reima, from Finland, has figured out that kids need clothing that adjusts to size and activity. Throw in a close adherence to 'green' manufacturing standards and you have a kid's winter jacket that plays its part.
***
Canada Goose Brittania Parka – Girls
Here is one instance where Brittania does rule – the Canada Goose Girl's Brittania Parka, with powerful warmth, weather protection and a look that will be as stylish in years to come as it is now. Canada Goose once again sets the bar at its highest with white duck down insulated winter jacket for kids. That iconic big hood is there, with a removable fur ruff. This girl's edition extends to the thigh for extra warm coverage, and the tuck at the waist makes a stylish profile. Canada Goose parkas are so warm and comfy they are used in the arctic, and your girl will be happy with the Brittania's protection this winter, even without the trip to the North Pole.
***
Canada Goose Logan Parka – Youth
A high-end parka made especially for kids? Check out the Logan Parka for youth by Canada Goose. This is cut just below the waist and is perfect for the coldest days of the year. It's all about cold-weather protection with down insulation and Arctic Tech textile on the outside, pushing back against winter's worst. One of the best features of Canada Goose is the extended life of their products. The Logan Parka features the Gosling Graduate System, additional fabric in the sleeve that extends as your child grows. This is an investment piece and well worth it when you consider the Logan will keep your child warm and comfortable for winters to come.
***
Patagonia Pine Grove Jacket – Girls
You'll be hard-pressed to do better than the Patagonia Pine Grove Jacket for Girls on more than the warmth-comfort levels. Apart from being warm, comfy, and ready for the resort with a powder skirt, this jacket comes with Grow-Fit sleeve extensions. When little limbs grow, release more sleeve fabric. Patagonia products are some of the most environmentally-friendly around. Make your daughter proud with mostly recycled content and certified Fair Trade Sewn, and a bluesign-approved shell and lining fabric. You girl will feel great and you will too.
***
Columbia Mighty Mogul Jacket – Boys
Columbia always gives you a big bang for your buck and the Boy's Mighty Mogul Winter Jacket is explosive. It's ski-resort ready and plenty warm enough for the park. Columbia's amazing range of innovations are on display in the Mighty Mogul Jacket. Omni-Heat is a reflective lining that mirrors body heat back onto the wearer. Omni-Tech is a shell construction that keeps moisture out but lets excess heat escape. The Outgrown system adjusts to a child's growing limbs. Thick synthetic insulation, wind protection – he won't want to wear anything else this winter or next.
***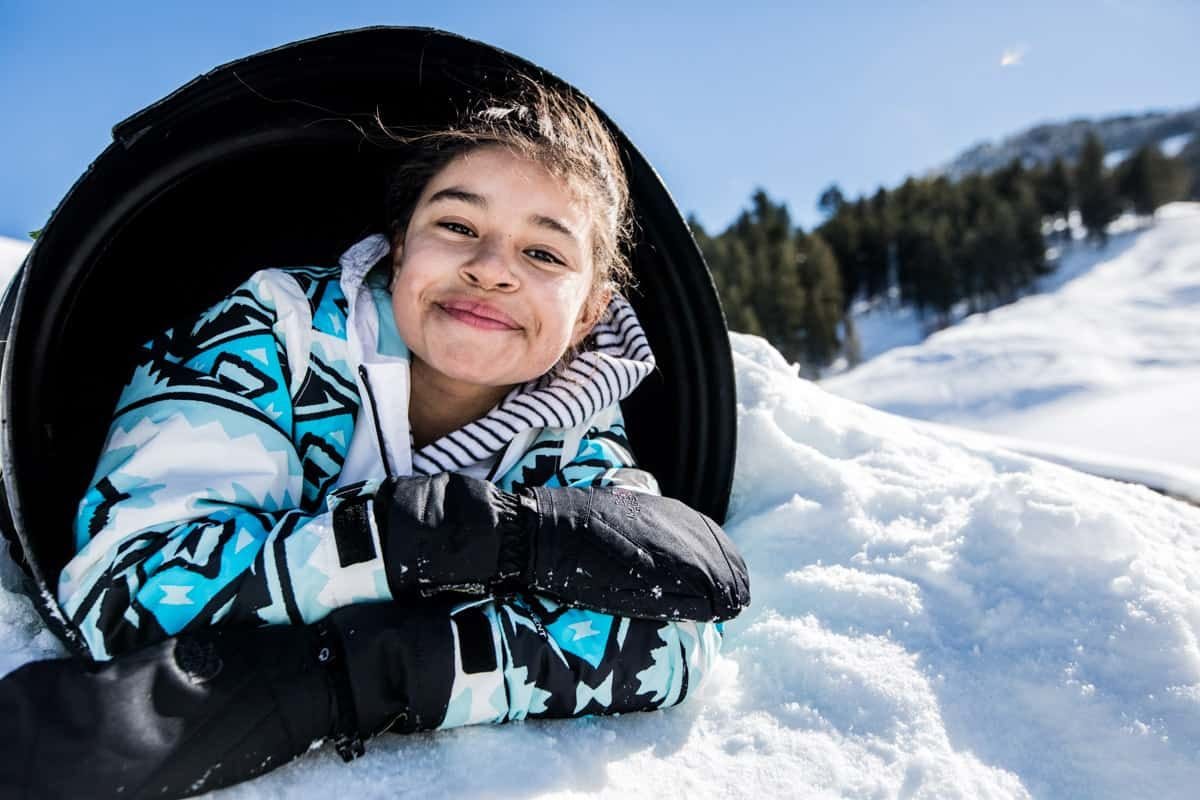 These best kid's winter jackets provide you with a range of options, including warmth, price, size, and styles for boys and girls. The time to shop is now so you'll have no headaches when the snow falls – and maybe some peace at home as they stay outside longer to play in their new, warm, cozy jacket. Ease your stress this fall and have fun this winter – the kids will!
SHARE