Yoga is good for you – it improves your strength, balance, and mind. It helps you relax and relieve pain from other types of workouts. Do you want to increase your chances of squeezing in a home workout before you leave for work? Are you looking to get into that zen lifestyle? Do you just want to unwind and recover after a busy day?
Well, you can do just that and more with the best yoga mat for you – and you've come to the right place to find it. 
In this article, we've narrowed down the best yoga mats of 2022 to help you select one for your needs. Whether you want a yoga mat that's non-slip, portable, or one that does it all – we've got something for you. So, stick around and we'll tell you everything you need to know to make your decision.
The Top Yoga Mats Reviewed
Top picks for Yoga Mats
Naturally, humans have pointy joints that hurt if put under pressure on a hard floor. With any sort of exercise on the floor, whether it's stretching or an ab workout, you might experience some sort of discomfort. And if you're not careful, you can injure yourself, too. 
That's where yoga mats come in.
Yoga mats give you a non-slip surface to exercise. They provide you with cushioning and traction as you accomplish your workout goals. The best yoga mats will protect you from hurting yourself, and as a bonus, they'll protect your floor from getting damaged too. 
It's necessary to invest in a mat, whether you're at home or in a studio. A yoga mat will prove its worth to you very quickly. And while it's easy to rent a mat, it's always better to buy your own – nobody wants to be exposed to the sweat and bacteria that comes with sharing yoga mats. 
Best Overall Yoga Mat
Are you looking for the best of the best yoga mat? Look no further. 
Our pick for the best overall yoga mat is the B MAT Everyday 4mm. 
Since its release, this has been a top seller, and for good reason. The B MAT Everyday 4mm is designed with every yogi in mind. It's whatever you want it to be: a companion for super sweaty and fast-moving workouts, or room temperature stretches with long holds. It does it all. 
Every day, this one-of-a-kind mat will be your workout partner. 
The B MAT Everyday 4mm weighs 4.1 lbs and, as the name suggests, it's 4mm thick. It's made of 100% rubber so it's got a great grip and will not let you slip after a super hot class or an intense home practice session. 
Also, it comes in many different colors, so pick your favorite one, and let's get sweaty.
Price:
0.00$
Pros
Durable

Everyday use

Comes in different colors 

Eco-friendly

Antibacterial properties
Best Affordable Yoga Mat
So, you want a yoga mat that does it all but also isn't too heavy on your budget? We got you. 
Our pick for the most affordable yoga mat is the GoFit Yoga Mat. 
This is perfect for if you're just getting started or need an extra mat to take with you wherever you go. 
This 3.5 mm thick mat gives you an excellent non-slip surface which is ideal for yoga practice, yoga fusion, and stretching routines. It will keep your hands and feet in place. It has a cushioned and airy surface that gives you the comfort and protection you need during your workouts. 
It's easy to roll up for storage and super easy to clean - all you need is a damp cloth.
Price:
0.00$
Pros
Price 

Portable 

Easy to clean

Non-slip
Cons
Not very durable

Not ideal for everyday workouts

Not ideal for intense workouts
Best Yoga Mat for Beginners
Is this your first time trying yoga? Do you want your mat to be one of the best yoga mats? Well, here you go. 
Our pick for the best yoga mat for beginners is the Essential Studio Mat (4mm).
It is tried, true, and the most widely-used mat in the Halfmoon lineup. It's got a 4mm thickness and provides a moderate cushion, which is ideal for beginners. You can use it at home or take it with you to the studio - it has great portability. 
It's super lightweight at only 2.4 lbs, while offering the thickness you desire in a yoga mat. Oh, and if you're allergic to latex, don't worry, this is latex-free.
Price:
0.00$
Pros
Easy to clean

Latex-free

Durable and portable 

Price
Cons
Slippery when wet 

No holding strap
Best Hot Yoga Mat
Do you need something ideal for both hot and wet conditions? Check this out. 
Our pick for the best hot yoga mat is the Synergy Regular 3.5mm Yoga Mat. 
It's truly an all-in-one. It's made of eco-friendly natural rubber and serves as a towel as well. Since it's super absorbent and has an anti-slip top layer, it provides great grip and traction during wet and hot workouts. It offers you ideal cushioning and support for your hot yoga sessions. 
It's got a microfibre coating on top so you never have to worry about sweaty hands.
Also, it has a beautiful design, so you'll stand out in your yoga class.
Price:
0.00$
Pros
Ideal for hot workouts

Highly absorbent 

Anti-slip

Eco-friendly 

Beautiful design
Cons
Difficult to clean

Slightly heavy

Price
Best Non-slip Yoga mat
Is it important to you that your yoga mat ensures safety above all else? This one's for you. 
Our pick for the best non-slip yoga mat is The B MAT Cork. 
It is ideal for those who need just a little more assurance that their mats have their back. 
It offers a 100% natural cork surface on  top and a 100% natural rubber surface on the bottom. And the best part? It's fully reversible.
This yoga mat offers a superior grip when it's damp which makes it ideal for hot yoga or a challenging vinyasa session. It dries quickly, and with its 4mm thickness, this  mat is a new take on traditional yoga mats. 
It's comfortable and strong and offers you the protection you need in your workouts. 
The B Mat Cork is the future of yoga mats and the best for home practice.
Price:
0.00$
Pros
Non-slip

Reversible

Super comfortable 

Durable 

Eco-friendly 

Extra protection
Cons
Price

Heavy

Needs to be cleaned regularly
Best Extra Large Yoga Mat
Do you crave some extra space during your workouts? Well, we've got you! 
Our pick for the best extra large yoga mat is the Pilates & Yoga Mat - XL. 
It's two inches wider and eight inches longer than your standard yoga mat to accommodate any size or exercise. Made from eco-friendly foam, you can stretch out this extra-large mat that gives you ample room for any kind of workout. 
This mat has a thick and cushioned surface. It provides you with excellent traction and shock absorption, and the possibilities with this thick mat are endless. 
So, extend your hands and feet as widely as you like and get started. Take it with you to your yoga class or use it for some home practice - it works great for both!
Price:
0.00$
Pros
Extra space

Eco-friendly

Recyclable 

Extra-thick
Most Portable Yoga Mat
Are you often on the go and need a yoga mat to accompany you? We've got just the one.
Our pick for the most portable yoga mat is The B MAT Traveller 2mm.
This lightweight 3.1lbs mat is anti-slip and offers ideal portability. Although it's only a 2mm-thick mat, it gives you everything you need for a solid workout session. It's made of 100% rubber so you can be sure it gives you great grip and support. 
It's easy to fold and roll up to take with you on adventures around your city…or the entire world.
Price:
0.00$
Pros
Durable and portable

Eco-friendly 

Antibacterial properties
Cons
Not very thick

Not sweat resistant, stains easy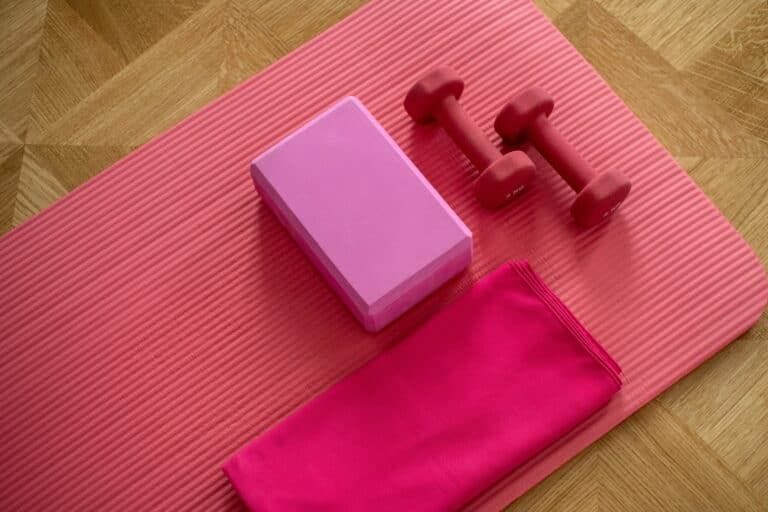 What to look for in yoga mats
Yoga really is for everybody. You can join a studio today or simply start at home.
And when it comes to even the best yoga mats, there are certain features that separate one from the other. It's true that most yoga mats will get the job done. And there are many, many choices out there, but it's still good to find a mat that best fits your needs.
For example, if you leave home for workouts, you'll want a mat that's got portability and is lightweight enough to carry. Or if you're a beginner, you won't want a yoga mat that's too expensive with features that you won't even notice at first.
Once you've determined what type of workout you'll be doing, consider the following factors before making your decision.
Materials
Texture, stickiness, eco-friendliness, sponginess, and durability are all factors in yoga mat materials.
Most traditional yoga mats are made of PVC, also known as vinyl. But newer, more eco-friendly options include reused or natural rubber, jute, and organic cotton – this also means that synthetic finishes are not used on the product during production.
So, if you're allergic to latex, stay away from yoga mats made of natural rubber. If you want a mat that's tried and tested and will last you a long time even with frequent use, opt for one made out of PVC. Even for sponginess, PVC yoga mats are your best bet. But if you're looking to shop for a more eco-friendly option, go for one that is made from organic materials.
Mat Thickness
Mat thickness is usually associated with how comfortable a mat is. For example, if your mat is too thin, you might hurt your knee doing a crescent lunge. But if your mat is too thick, it can be hard for you to feel the floor, and it might end up making you a bit wobbly.
Usually, standard yoga mats are 1/8 inch thick, and the thickest of all are about 1/4 inches. There are also wafer-thin yoga mats, otherwise known as travel yoga mats, that are sometimes as thin as 1/16 inches. These are easy to carry around because of their low weight.
There are a few things to consider when it comes to mat thickness: Have you got enough room to put your mat away? Do you like feeling like you're grounded when working out?
If you don't have too much space, go for a standard mat that's about 1/8 inches thick. If you're looking for a little more heft and cushioning, opt for a 1/4 inch-thick yoga mat.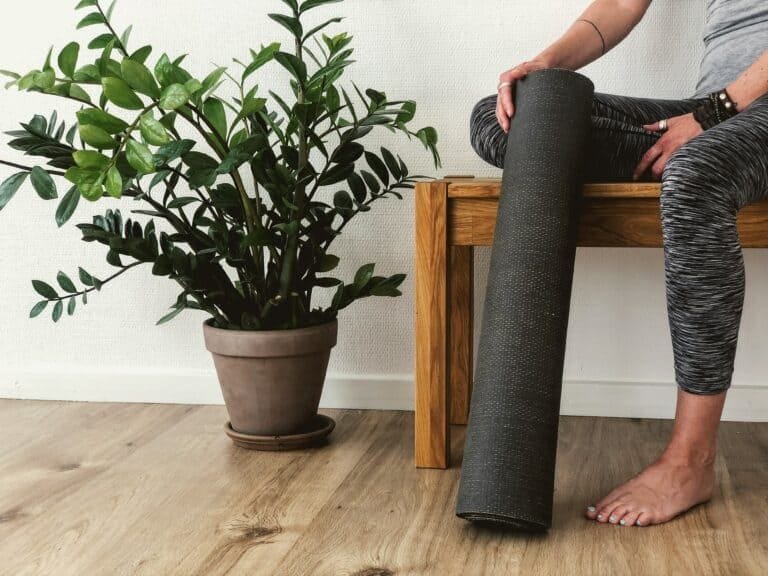 Feel and Texture
Now, we all want our yoga mats to feel good, right? 
Feel and texture indicate the overall comfort of your mat. 
There are yoga mats to suit every person's needs, whether you want something that's completely smooth or you like it a bit rough. PVC yoga mats have a softer feel to them, whereas jute and cotton mats have an organic roughness. 
So, if you want something that feels very smooth, a PVC mat should be your choice. And if you want a mat that prevents slipping, look for a rubber, jute, or cotton mat that has a bumpy texture. 
Traction and Grip
The texture of your yoga mat determines how much traction it provides. A raised texture has an impact on how your mat helps with slipping. A sticky texture keeps you from sliding all over the place and maintains your alignment as you work out. 
If you want a mat that prevents slipping, rubber and jute mats might be for you. These have a raised texture that keeps your feet in place during hot yoga sessions. You can sweat all you like without worrying about slipping and hurting yourself. 
If you're looking for a mat that has high stickiness, PVC is the one you want. All you need to do is keep it clean, and it does the rest for you. 
Durability
Most often, thicker mats last longer compared to thin ones, but mat durability is also related to the materials they're made of. 
Usually, PVC mats last the longest. These are made of non-biodegradable plastic materials, which makes them highly durable. 
Then, there are TPE mats that are a man-made blend of plastic and rubber, and while they're fully recyclable, they're less durable than PVC mats. 
Finally, there are eco-friendly options that lack durability but are the choice of people that prioritize sustainability. 
Portability
The length and thickness indicate the portability of a yoga mat. 
Is portability important to you? Well, then stick to an easy-to-pack wafer-thin or travel yoga mat. These mats have an 1/16 inch thickness that you can simply pack up and take with you where you go.
FAQs
Q: What is the best thickness for a yoga mat?
A: There's no single answer for that. It entirely depends on your personal preferences. 
If you practice more restorative yoga and hold poses for long periods, you probably want a softer and more cushioned mat. And in that case, a thicker mat is most comfortable. Also, if you want extra protection for your knees and elbows, a thicker one is appropriate for you. 
But if you're looking to increase stability and practice more active, balanced, and focused poses, a slightly thinner mat should be your choice. It can increase stability and give you a better grip on your hands and feet.
Q: How can you tell the quality of a yoga mat?
A: You should be able to tell the quality by a yoga mat's material and thickness. 
Many PVC mats last longer than jute or rubber mats, but the latter are far greener. A thinner mat will start showing wear and tear quicker than a thicker one. But while quality matters in terms of durability, other factors also determine the comfort of your yoga plans. 
You can also determine the quality of a yoga mat by reading online reviews from other people. You should be able to tell what experiences they had with the mat and how long it lasts. Then, you should find a mat that best suits your needs with its thickness, texture, and size.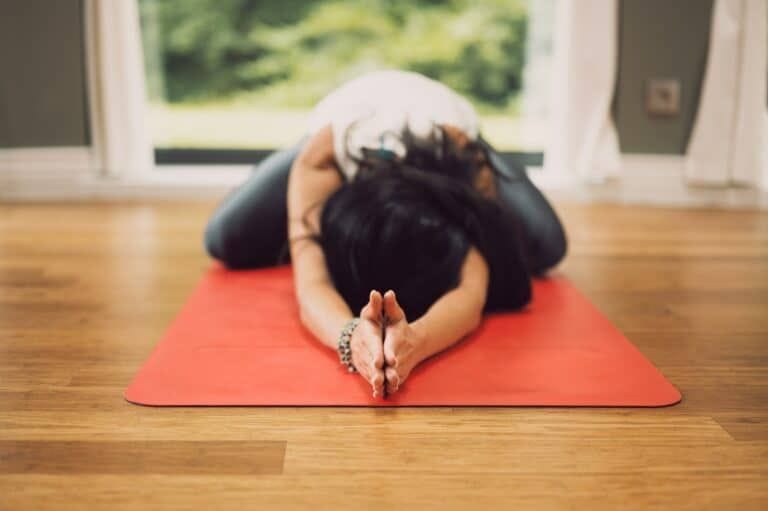 Conclusion
It doesn't matter what type you prefer – hot yoga or an easy morning flow – there's a yoga mat out there that's perfect for you. 
And if you're looking for the best yoga pants, look no further. 
We hope this guide to the best yoga mats of 2022 made your decision easier. But really, you can't go wrong with these amazing mats. So, head on over and get yours today.
SHARE