Towers and heat.
Exiting Incheon Airport, that was my first impression of South Korea as we drove into Seoul in +35 °C weather. Dome-like mountains with rocky orange tops bordered the distance. We weaved along 5-lane highways, through thousands of Kia's and Hyundai's, speeding past developments along the Han River. Screens flashed advertisements. Our driver had two Samsung Galaxy's attached to his dash. Absolutely everything was new.
Despite it being July, I was in Seoul to meet BLACKYAK – a renowned mountaineering brand designing Everest-tested outerwear. What transpired was a crash course in Korean culture during the hottest week of summer.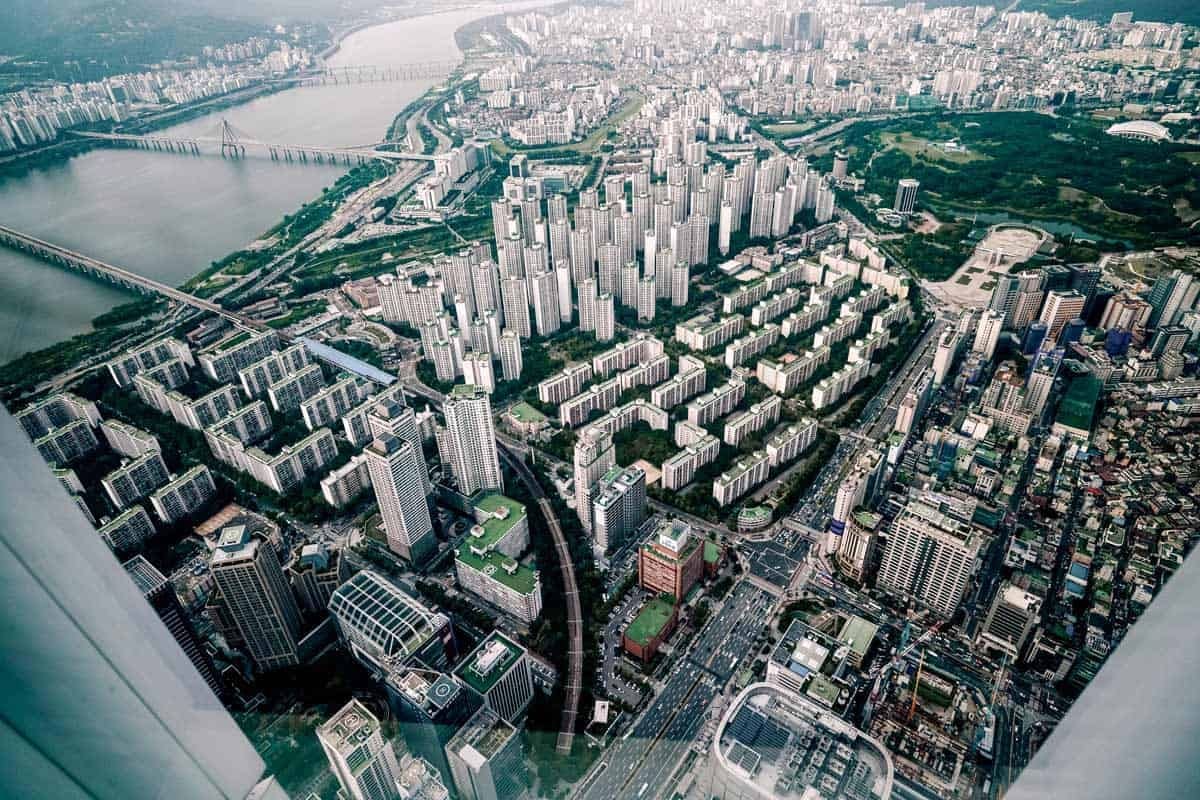 25 million people live in and around Seoul, a true world megacity. By the time our taxi rolled into the Gangnam district – home to the 26 neighborhoods, Samsung's HQ, and BLACKYAK – I was overwhelmed. South Korea's been named the most innovative country six years straight by Bloomberg. K-Wave culture has taken the globe by storm (see BTS, 'Gangnam Style,' and Netflix's K-Dramas). Gangnam is the country's cultural, tech, and business center, and trust me, the skyline shows it.
We dropped our bags in our room and jetted up to the hotel rooftop, where Seoul's endless towers were shrouded in sunset.
How did Seoul become the headquarters of Asia's leading mountaineering brand? Well, Korea is 75% mountains and has a deep history of alpinism. Within Seoul, there are ranges for climbing and hiking, and nearby Pyeongchang hosted the 2018 Winter Olympics. I was told this by BLACKYAK CEO Tae Sun Kang when we met him the next morning in the brand's headquarters, blocks from our hotel. Before that, our guide Hugh (Global Senior Manager) showed us the impressive HQ, featuring a massive storefront and trendy café.
70 and still an avid alpinist, Mr. Kang founded a mountaineering store in Seoul's garment district in 1973. Today BLACKYAK has 300+ stores in Korea and hundreds throughout Asia. The black Himalayan yak, which Mr. Kang credits for leading him to safety when lost during a Nepalese trek many years ago, hung in artwork alongside mountaineering memorabilia throughout his office. That yak remains his inspiration.
Up close with their upcoming winter Global collection, we could see the details that have elevated BLACKYAK outerwear into the elite. Many designs use hybrid construction, incorporating up to four technical fabrics into a single jacket – almost unheard of in the weight, weatherproof, and mobility-obsessed outdoors industry. The results? BLACKYAK's received 19 ISPO awards since they entered Western markets. Like other tech-savvy Korean businesses, their innovative products do the talking for them.

Up Birobong Peak
It was 7 AM, and I was inside a blue-lit company bus filled with the BLACKYAK Alpine Club (B.A.C.) headed to Chiaksan National Park. All BLACKYAK employees undergo mountaineering and climbing classes. After a Krispy Kreme pitstop, we arrived at the base of the 1439-meter Birobong Peak, and it was already +35 °C, my merinoblend Fulani shirt beading my sweat away.
Exiting the bus, we were handed garbage bags and pickers. The hike was part of the Clean The Mountain event – one of BLACKYAK's initiatives to maintain alpine environments. This past spring, Mr. Kang was part of Everest's basecamp cleanup in Nepal. Along with garment innovation, environmental preservation has become a focus of his company.
Our ascent up the shaded, sloping trail was lined with Mongolian and Japanese oaks. At a natural spring, one young trainee spotted some garbage off-trail and rushed into the bush with their picker. "There used to be more trash on the mountains. People realized they needed to be cleaned for them," said a senior B.A.C. member, pointing to the younger recruits.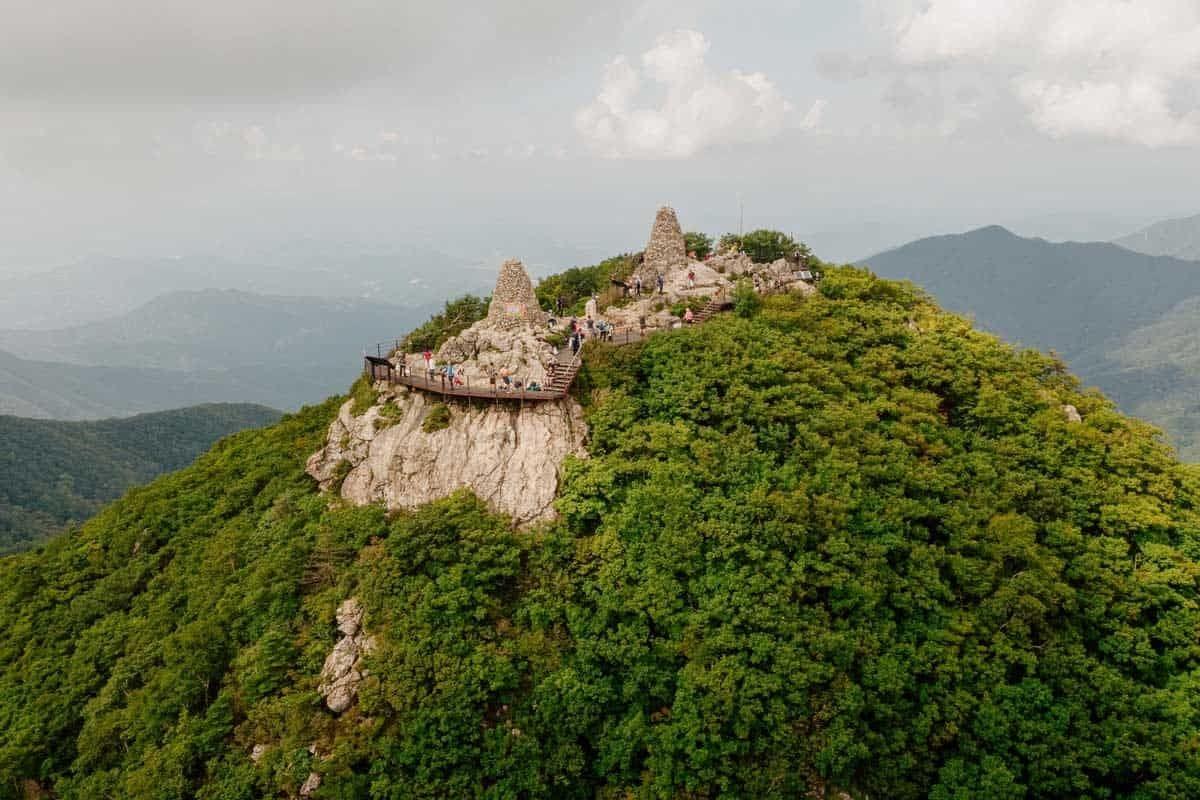 The day before, I'd met with BLACKYAK's marketing team in a ritzy Seoul neighborhood at the NAU House café-retail hub, built with pre-assembled models to reduce its construction impact. The team explained a series of initiatives to reduce environmental degradation based on the brand tagline, 'Made for Missions.' They educate customers that sustainability isn't a trend but a lifestyle, something that can be experienced (hence Clean the Mountain). Plus, the better made the gear, the less customers consume – and BLACKYAK products are renowned for quality.
The B.A.C. members on Birobong fully subscribed to this mantra, rocking gear with badges from past adventures. By the time we reached Birobong's Peak, we were exhausted. Thousand-plus vertical meter hikes are challenging in any weather, but humidity had taken its toll. Our 40-plus member crew grabbed Kimbap (Korean sushi) and battery-powered fans from our backpacks, eating with views of the leafy valley below.
The flattened mountain base featured a fully-preserved Buddhist temple. Sore from the steep, rocky descent, soaked from a swim we'd just had at a mountain spring above, we witnessed monks leading prayer class. We drank water from a well as the temple gong rang through the valley at sunset.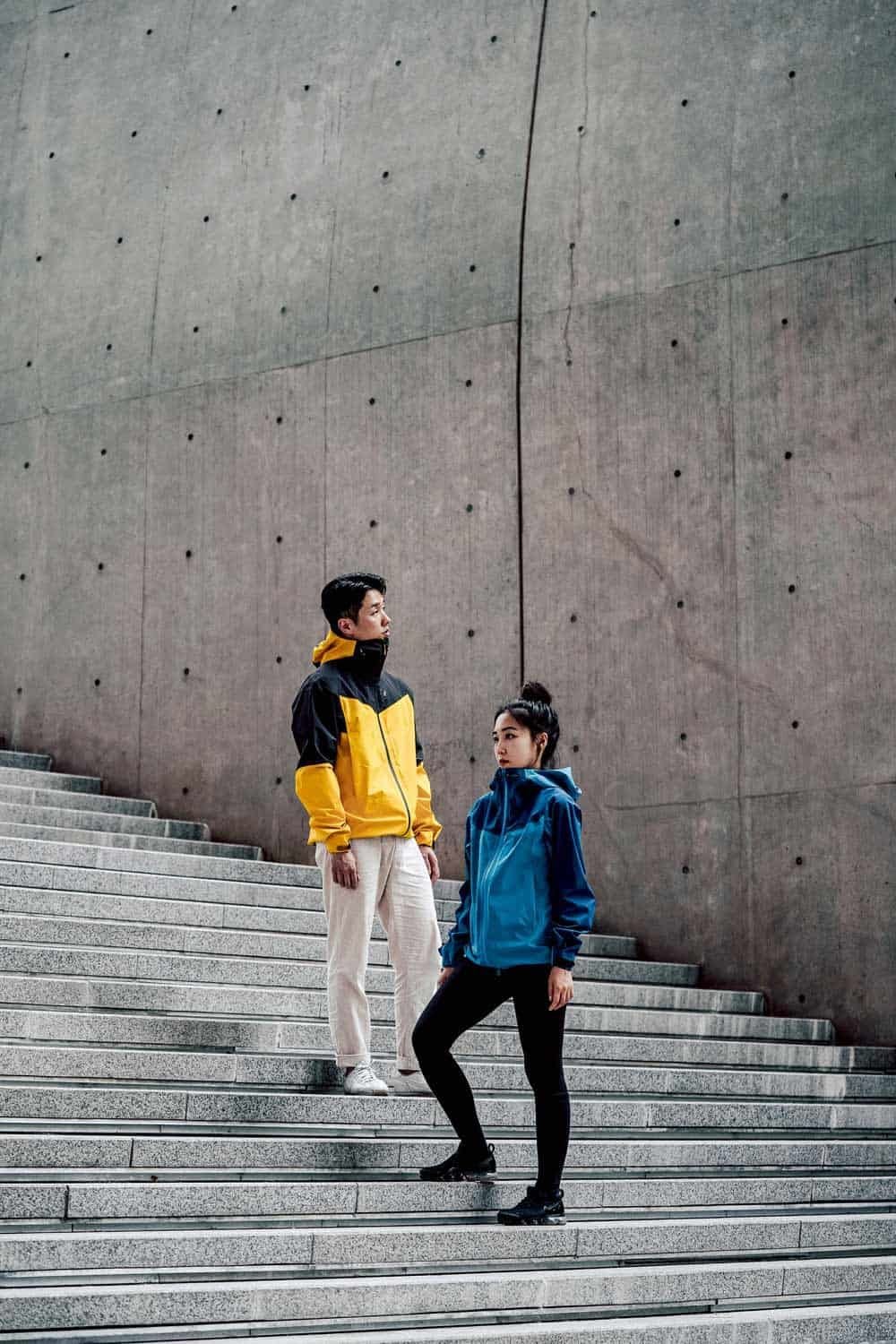 Seoul – Past, Present, Future
To understand the future, you must examine the past. Much of Seoul is new after being destroyed during the Korean War. There is an understandable drive to rebuild around innovation. Korea's geographical position between China, Japan, and South Asia is ideal for the 21st century. It allows BLACKYAK quick access to the fastest growing markets and the manufacturers that create high-end garments for the entire outdoor apparel industry.
While sightseeing, we went to the district where Mr. Kang opened his first store, and where a BLACKYAK shop still resides. It's an area that's still an outdoor retail hub filled with small buildings – a stark contrast from Gangnam. Next stop was the traditional Gwangjang Market, where our cabbie recommended a food stall littered with Anthony Bourdain photos amongst vendors selling dumplings, fried fish, and sauteed meats.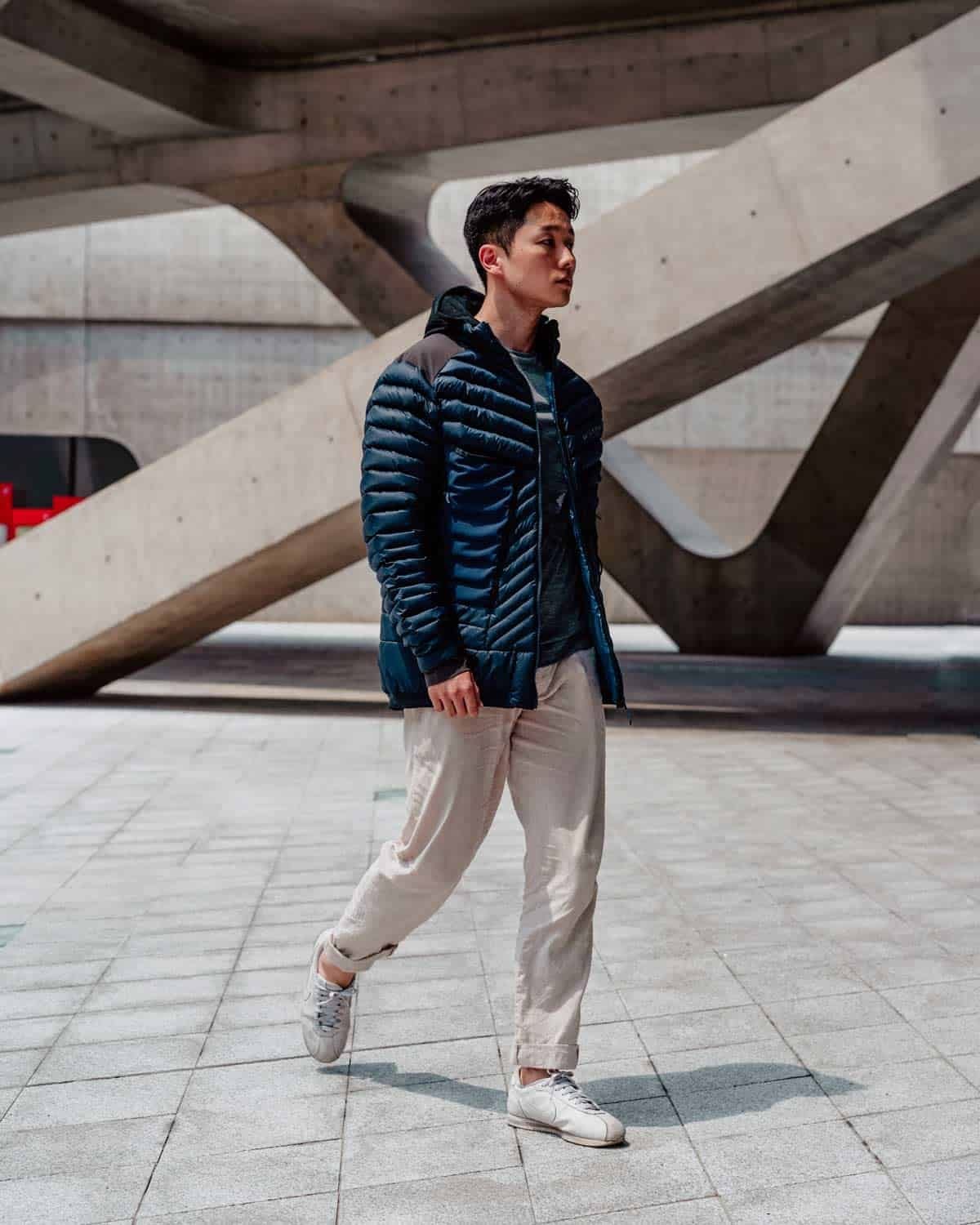 The following day, we toured the circularly-extravagant Dongdaemun Design Plaza by architect Zaha Hadid. The neo-futuristic building hosts fashion week along with cutting-edge exhibits. Its cold concrete bulges and hollowed interior were a relief from the +40 °C weather. We ended up in the 3-level d'Light exhibition at Samsung's HQ, gesturing in front of screens while AI cleverly created narratives out of our motions.
You also can't understand a culture without a proper meal, and in Korea, you shouldn't eat BBQ without soju. This clear, colourless 'burned liquor' is a staple with crispy meat. Hugh facilitated an epic dinner at a restaurant featuring walls lined with thousands of empty soju bottles. While every imaginable cut of pork cooked on our table, we toasted new friendships and whatever else deserved a toast. We also learned the etiquette of soju bombs…turns out soju and beer mix well.
Gangnam Station on a midsummer night is neon lights and relentless energy. We stopped at bars as Korean baseball games played in window displays. Young people were out dressed in white and black, maximalist sneakers, and the latest streetwear. Noise pulsed from underground Karaoke bars and lights flashed from the 20th floor of a nearby building, showing glimpses of the nightclub within.

Reaching New Heights
Locally, BLACKYAK fosters mountaineering culture through their new B.A.C. center in the north of Seoul, near popular climbing and hiking mountains. On our final day, we visited this innovative structure, which includes a 3-story underground rock wall, a children's gym with a five-story climbing wall, a store, plus staff and trainers. From the second-floor café window, we viewed the children's climbing wall while parents sipped lattes nearby.
The center's rooftop patio looks over the climbing routes pioneered by Patagonia founder Yvon Chouinard, who was stationed in Seoul post-Korean War. After touring mountaineering team guest rooms and alpine-safety course classrooms, we took turns bouldering novice rock wall routes. Our guide explained the center gives back to an area of Seoul that is a climbing mecca. Judging by children reaching the top of the walls, the future of Korean mountaineering looks bright.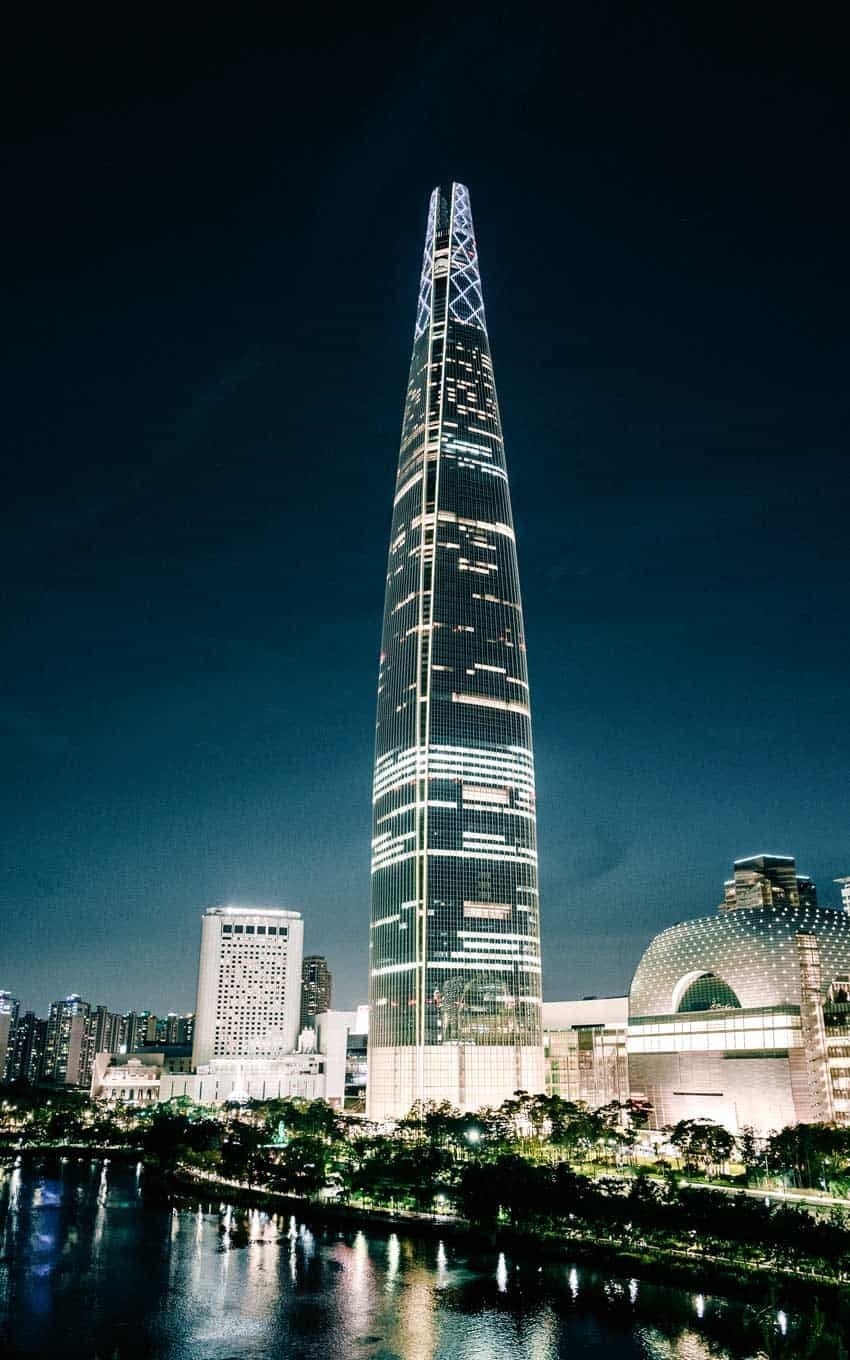 For our final evening, we went up Lotte World Tower – the world's 5th largest building – to take in Seoul's massiveness. A ride in the world's fastest 'sky elevator' shot us 118 floors in one minute. Afterwards, we spent the evening on a rooftop patio to watch the sunset behind the tower, which dwarfed the surrounding 40-story buildings. We drank beer and ate burgers as dusk settled. At dark, Lotte World Tower lit up, and a light show appeared, complete with emojis.
To say my time in Seoul was a blast of intense heat and good times would be an understatement. Exploring new cultures and settings is easier with a guide, and Hugh did a first-class job. BLACKYAK's presence in Korea was noticeable everywhere – the brand is clearly the country's leading technical outdoor apparel. Judging by their designs and investments, it's only a matter of time before they follow in the footsteps of other Korean giants. Seoul is the future, and BLACKYAK is next.
SHARE