Our itinerary was simply to go with the flow and experience the best of what Montreal has to offer, all while the city was digging itself out of a snowstorm. 
La Belle Province is regularly blanketed in snow for up to six months a year, and winter here is about embracing the joie de vivre no matter the weather. Instead of spending the day inside we explored, ate, and drank at some of the best places in Montreal, sporting Canada Goose parkas in their most natural environments. 
Gabrielle and Elif proved that if you dress accordingly, you too can live without restraints and embrace winter in Montreal to its fullest.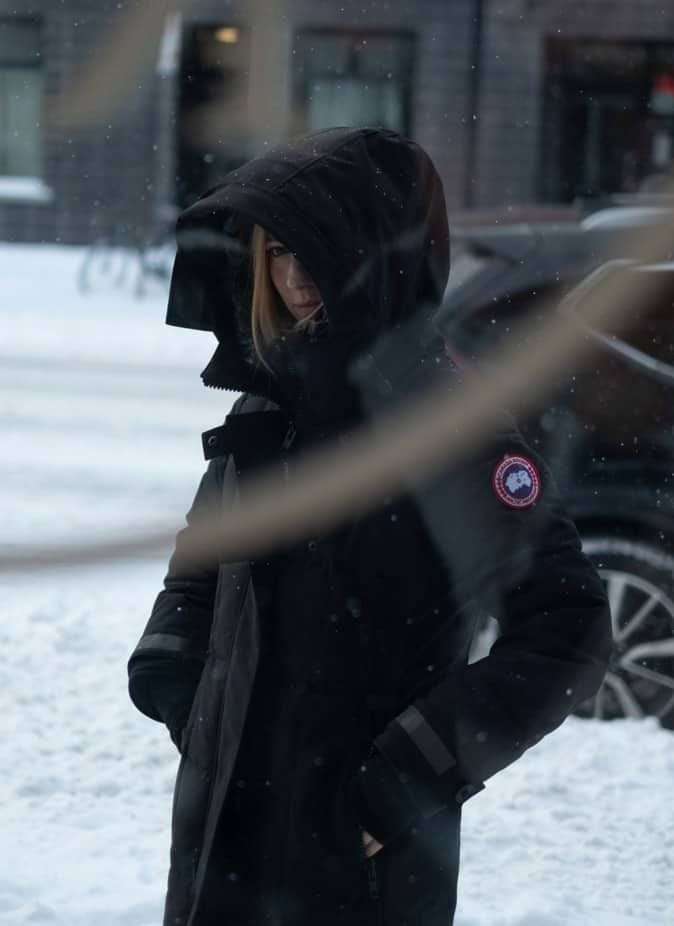 Could you tell us where you're from, and share your favourite winter memory in Montreal?
I'm originally from Magog, a town in the Eastern Townships right on Lake Memphremagog. It's extremely picturesque, and in my opinion, one of the most beautiful places in Quebec. I'm lucky I'm from there.  
As for winter memories in Montreal…my favourite moments are times with close friends. Winter here is very personal because of the effort it takes to walk through the cold and snow. That makes time with my friends precious, and those moments more special. 
Montrealers are fond of their coffee. Is there a cafe you love, and how do you take yours?
I always drink an Oat Milk Latte—a life changer. The creaminess and texture are something else. 
I don't have a regular cafe because I love most of them. Of course Pastel Rita, is a favourite. I also really like Larry's, just off Saint Laurent on Fairmount East. They have amazing coffee and cocktails. 
Could you explain what it's like living in Montreal's Mile-End to someone who isn't from our city? 
I usually call it the Brooklyn of Canada (laughs). It's a nice and cozy neighbourhood. Most residents are freelancers and creatives working non-mainstream jobs. It has a really different vibe—like an artist village in the city. It's also the place where the Anglo and Franco culture of Montreal meet. I'd say it's the perfect bilingual point of cultural exchange.
Now that we're at MAC Montreal (Museum of Contemporary Art), I have to ask if there's a style of contemporary art you're fond of?
Photography. The abundance of beautiful images is one of the best parts of the internet. 
One MAC exhibit that stood out was photos of men having encounters, presented in the way women are normally presented. It felt like for once the male body was being objectified. I also like contemporary paintings. It's funny—when I was younger I'd look at certain paintings and wonder how they could be considered art. Now I see how deconstructing everything you know to make that type of painting is difficult. There's a depth I didn't see.
Navigating the snow in Montreal is an art in itself. Do you have any winter-related fashion advice?
My first advice is to forget about 'cute,' which I didn't take when I was young. I wore shorter coats, which can be warm, but the ones I had weren't well-made. And most boots you see in Europe, you can't wear them here in winter. 
You just have to accept the fact that it's no longer Fall. It doesn't mean you can't look good. You wear a stylish but warm coat, put on winter boots, and shuffle on the ice like a Montrealer.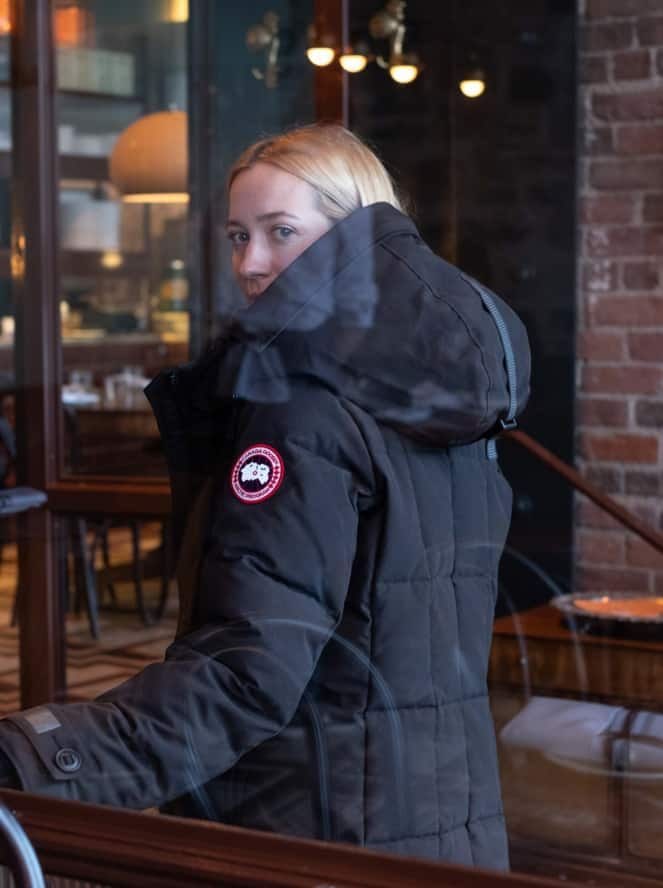 Any favourite destinations in the Old Port? 
Cafe Un Po' Di Piu' is a new favourite. I think everyone who visits Montreal should come to the Old Port. It's like Europe but in North America. Walk the narrow streets, see shops and galleries, take in the architecture—it's so different.
I've always liked Silo number 5 as a building on the Lachine Canal. It's unlike anything in the area—such amazing views of downtown.
What winter clothing do you think is worth the investment? 
I don't mind spending on pieces that last many winters—but definitely a longer parka. I'm such a walker—I don't own a car—so a big coat is important. I enjoy being able to wear a warm parka that doesn't require bulky sweaters underneath. Also knits, and that pair of jeans that look great in anything.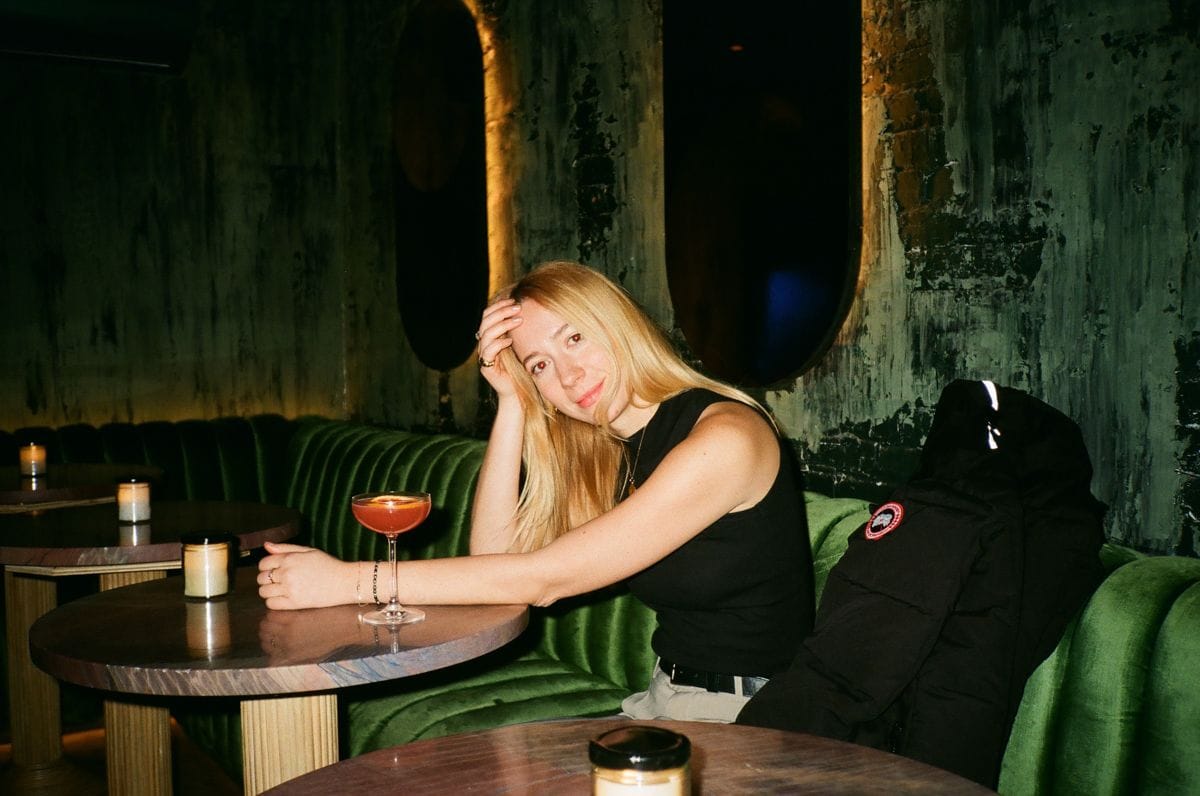 After cocktails at Milky Way Bar in Pointe Saint-Charles, we met Gabrielle's friend Elif at HideSeek—an immersive pop-up experience in an old storefront on Saint Denis. As we interacted with installations, we learned about Elif's move from Turkey to Canada.
Elif, can you describe your first winter here?
I actually moved to Montreal from Turkey in the middle of winter [laughs]! It was January 4th a few years ago. I remember it vividly. My husband—boyfriend then—was here, and I came to be with him. Neither of us were sure we'd survive winter. We knew the first winter was make or break. I was kind of prepared. It gets cold in Turkey. 
That winter I fell in love with Montreal. My husband was relieved. 
Was there a moment from your first winter that stood out?
I was enrolled in a daily French course. One morning in February, it was snowing so much I just assumed it would be canceled. I called my friend and I was like, "Hi, are you at school? Is the course still on?" And she was like "Elif, this is Canada. It's on!" I was like, "But I can't get out of the house—it's a blizzard."
I was naive (laughs). Everything went on like normal. That's winter here!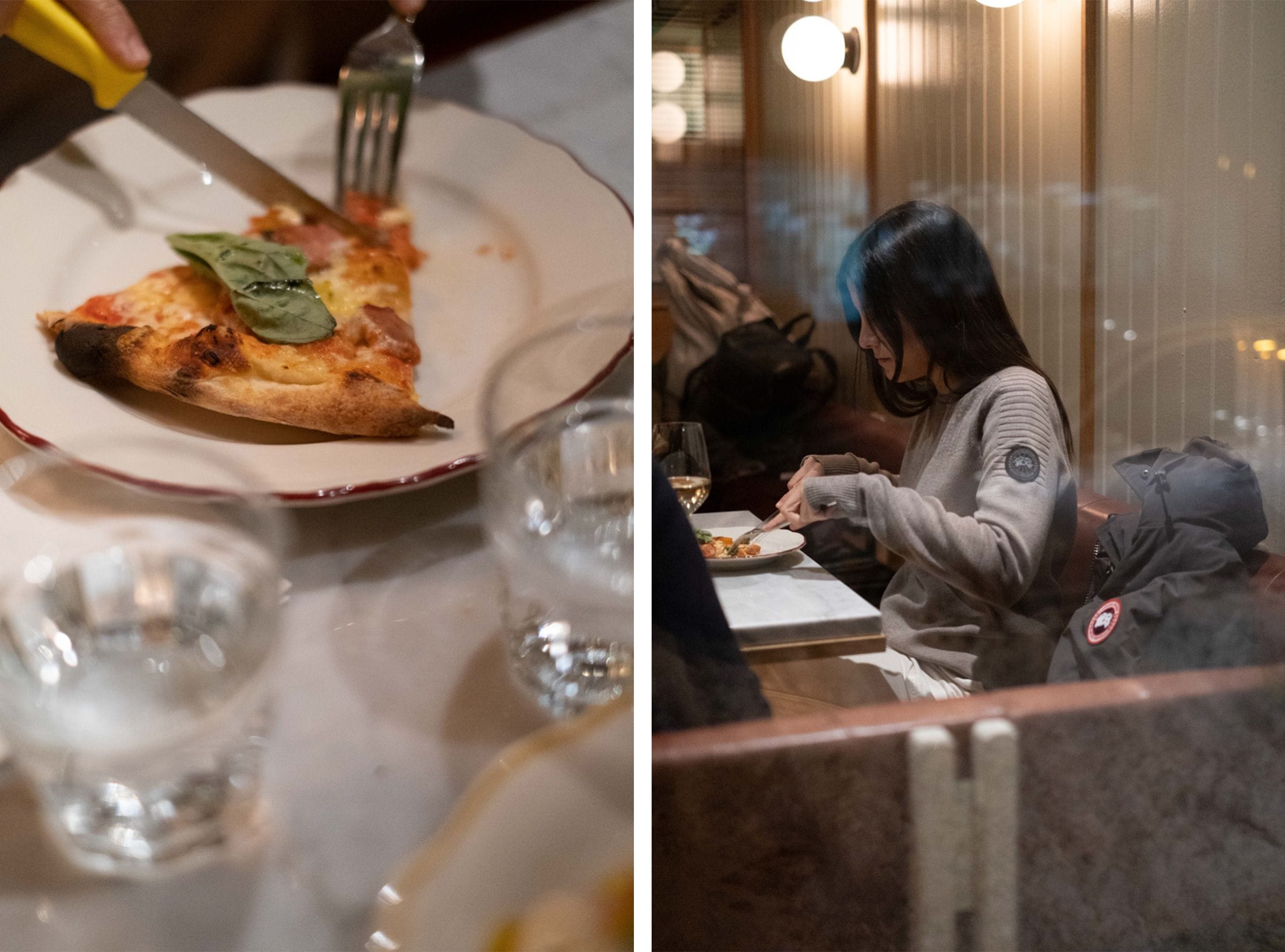 What's the essential every Montrealer needs to enjoy winter to its fullest?
It's funny actually—as soon as I moved here everyone was like you need a Canada Goose. I was like what?! They said if you want to be warm you need those parkas. Since then, my thoughts of winter in Canada are Canada Goose, without question. It's funny because lots of people in Istanbul buy Canada Goose, and it doesn't snow there! When I moved to Montreal, people there actually told me I was so lucky to get to wear Canada Goose in the winter!
Do you usually spend lots of time outdoors during winter? 
When it's cold, I try to keep it short and sweet [laughs]. But I just got a little puppy called Melba! I named him after Melbourne, the city. He's only 11 months. I walk him three times a day. He goes crazy for the snow—he loves it! 
When we got Melba, I knew I would have to prepare for winter. I wear lots of layers, a really well-insulated Canada Goose, good gloves, a scarf, and heavy-duty boots. When I'm well-dressed and moving, I'm warm.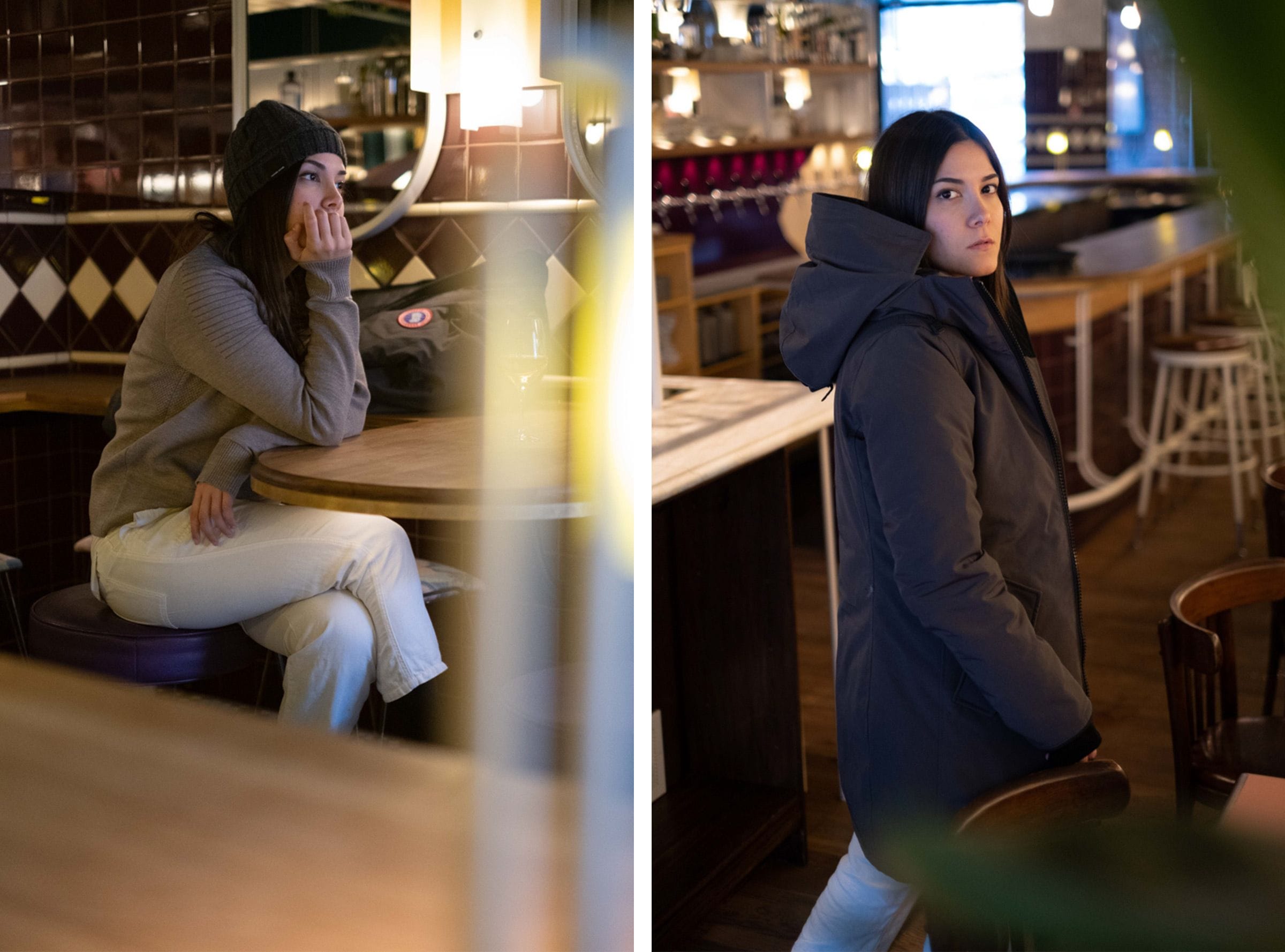 Could you share a special winter moment?
Yes! When I went to Quebec City during my first winter in Canada we visited the Quartier Petit Champlain. The decorations and lights are so beautiful. Ten years ago when I was living in Turkey, my Christmas cellphone wallpaper was the same street but I had no idea where it was. I just loved the photo. The minute I stepped foot on that street, I was like "Oh my god! This street was my wallpaper for so many years." It was my magic moment. 
When was the last time you spontaneously went tobogganing on Mont-Royal? 
It was a Sunday in March—spring for Montrealers. Everyone was out. My friend and I went to brunch, then got in the car and went to Beaver Lake on Mont-Royal. It was so spontaneous. We rented ice skates. After, we went up the hill and tobogganed. It was the most fun day ever. I thought, 'If I could do this every weekend, it would be amazing.'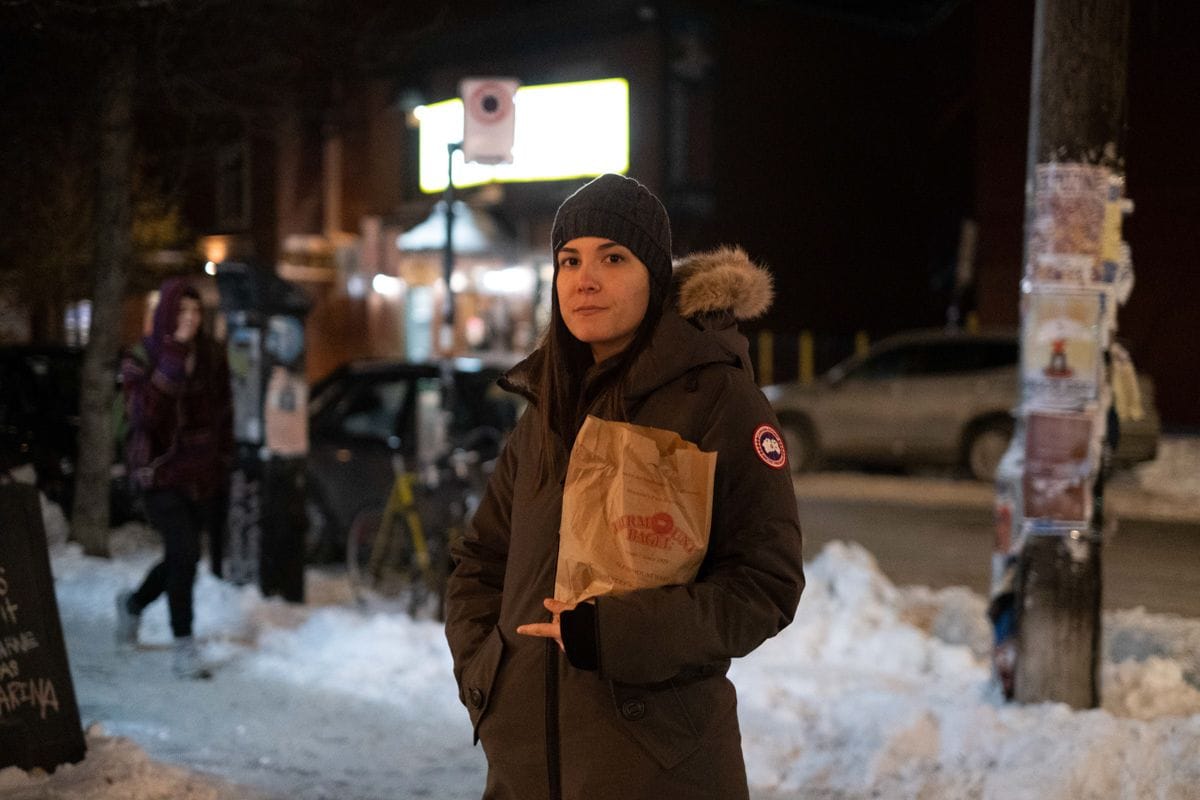 Tell us about your first Montreal bagel? 
I knew Montreal was famous for bagels, so I had to try them. One day we came to Fairmont Bagels and got them with those tiny cream cheese packages. We ate on the sidewalk—so Montreal! People say New York has the best bagels. It's not true. Montreal bagels are way better.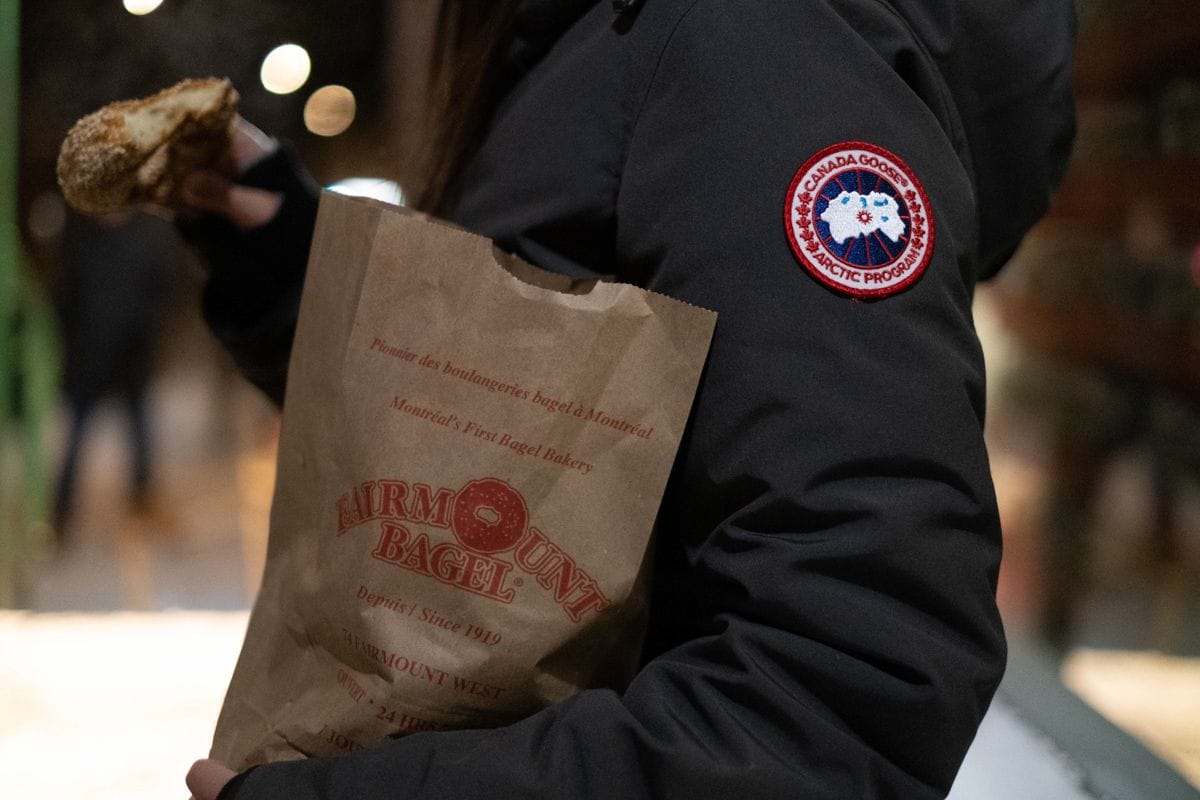 Now that the evening is ending, can you share what excites you most about winter here? 
Montreal is so beautiful. The snow is beautiful. I had high expectations when I moved here and they were exceeded. Winter makes this city fun. And sometimes it's nice to stay cozy at home with zero guilt. 
SHARE