A Little Fjällräven History
Let me tell you a bit about the makers of the Fjällräven Kånken. Fjällräven is a brand that started making framed backpacks over 50 years ago.  Since then, they have been making clothing and equipment, often out of their waxed, and tough poly/cotton fabric. They've been a go-to for outdoor adventurers for years, and now they are the latest in hip, understated urban wear and accessories.
The Kånken is a cool, minimalist backpack perfect for all sorts of people and adventures.  In 1978, this now iconic pack was designed for adorable little Swedish school children.

Kånken Standout Features
Made out of their Vinylon F fabric, the Kånken looks and is tough. Burly stitches are found across the board as well, and I have no fear they will come undone anytime soon.
The seat cushion is a removable pad slotted into the back. It provides a quick go-to seat cushion out in the wild or long days on the park benches cramming for exams.
Top handles compliment the backpack straps, giving you a tote-like option. This changes things up and is sometimes the more convenient option, depending on your activity.
Let's dive into the Kånken world.
Kånken Classic – the Cool School Bag.
The Fjällräven Kånken starts with the Classic. I've been using the Kånken on a daily basis for a couple of months now and I totally love it. The simple design makes it easy to carry tons of stuff around, whether going to school or hanging out around town. I find it is better suited for the city but can still be used for a couple of hours out in the forest.
Kånken No.2 Laptop Backpack
If you need a little extra cushion for your laptop, opt for a No.2 Laptop backpack. The padded sleeve has room for your 17″ laptop in the back, or you can slot it into the main compartment sleeve.
Kånken Mini Backpack
The Mini is a cute smaller version of the Classic, with the same features but for lighter travelling and adventures. I love it in the summer or on the weekends – just enough storage and the same looks.
Kånken Art Backpack
A more funky option is the Art backpack—bold colourways and fun designs wrapped around the super-functional backpack. It brings more style and flair to your everyday, and let me tell you these really pop on the street.
The Kånken Classic Straps
What is really great about the Fjällräven Kånken is its carrying versatility.  It comes with an interesting set of narrow, flexible shoulder straps. Wear them as usual or buttoned up at the shoulders when you want to carry the pack tote-style.  Two loops at the top convert it quickly into a tote.  When school ends and you don't want to hit the pub with your backpack, you can switch to tote-mode.
The straps are rugged and durable. You can boost the comfort on them with padded straps that are sold separately. If you're looking for more stability, try a chest strap.
What's Inside the Main Compartment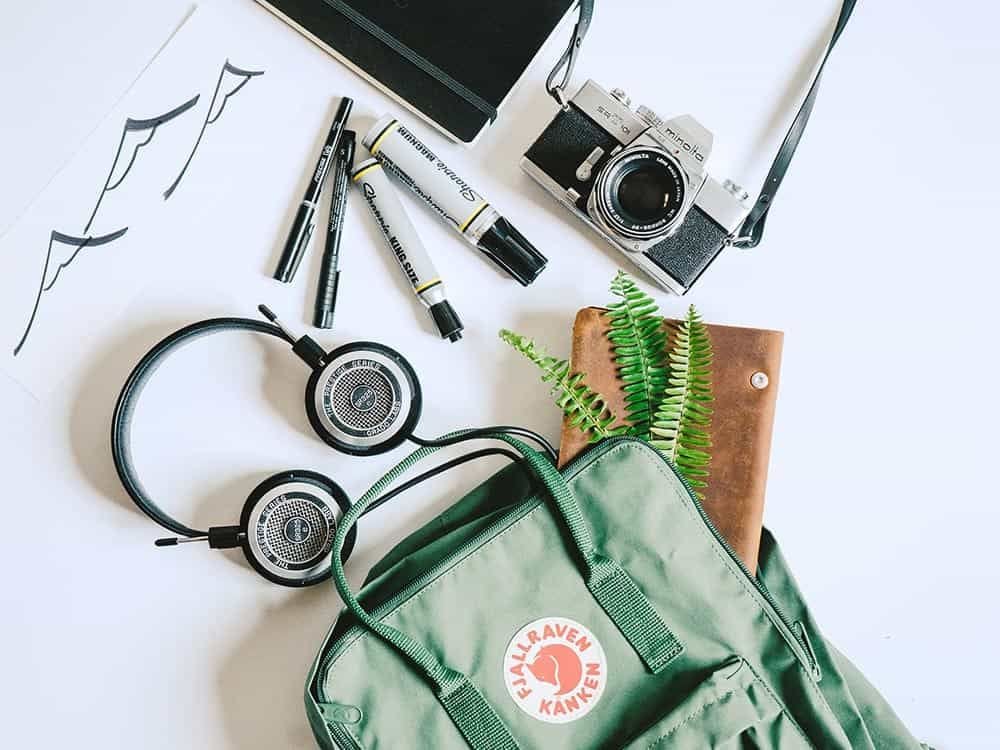 Other notable features on this pack are the massive zipper that gives you access to the entirety of the contents (a feature I love, being a slob), the padded 3/4 inch foam removable insert in the back and the external pocket perfectly sized for my GameBoy and man-purse.
The main compartment on the classic 16L is pretty basic but gets the job done, with enough room for your dailies. There is a slot at the back for papers, and you can easily fit a couple of notebooks, a textbook, headphones and lunch. Sometimes it depends on your packing skills, but for a day at class or heading out you'll be fine.
Kånken Accessories
There's a whole Kånken world out there – pen cases for your, you know, pens; separate laptop sleeves, toiletry bags, and even coolers. Dream it, and it probably exists.
The Kånken was built for the city—it won't be your epic-Adirondacks-hike-adventure pack, but don't overlook this for a shorter one or two-day excursion.  I loved the retro look, tough fabric and solid construction. The Kånken is a prime example of why we are seeing more and more Scandinavian brands hitting our shores in recent years.
SHARE