Eco-responsibility is at the heart of our values at Altitude Sports. From a new "Eco Friendly" filter on our site that makes it easier for you to shop our selection of eco-friendly products, to our Green Committee's implementation of environmental initiatives, we are striving to do our part to create a better, cleaner, more responsible world for everyone.
We believe that all of us should have open access to nature, now and in the future. Our initiatives are geared towards achieving this goal, starting with our annual fundraiser, Alti Action.
Alti Action
Alti Action is a fundraiser that takes place twice a year. Our clients can make a $15 donation in exchange for 30 Alti Dollars, which are redeemable for a future purchase on Altitude-Sports.com. Year after year, the initiative focuses on environmental protection and social issues, encouraging environmental initiatives consistent with our values as a company. Since its inception in 2017, Alti Action has helped raise over $415,000 for various organisations. The spring 2019 campaign saw nearly $130,000 donated to our partner organizations World Wildlife Fund, the Canadian Wildlife Federation and Protect Our Winters Canada. 
Whether it's turning outdoor enthusiasts into environmental advocates, educating and inspiring communities to protect the environment, ensuring the conservation of Canada's wildlife and natural environments, or building and preserving trails for future generations, the organisations partnered with Alti Action represent our desire to make nature accessible to all.
Internal Initiatives
No gesture is too small to be considered. We've set up an internal Green Committee at our head office. The Green Committee's mission is to make our workplace more environmentally friendly with initiatives such as composting stations, gardening activities and weekly challenges like vegan, zero waste or zero emission weeks where all employees are invited to cook vegan dishes, commute by bike or public transport, and share their findings. Other community-based activities include cleaning up local parks, such as the site of the future Gorilla Park, where the now-vacant concrete-covered land will turn 'green' through citizen participation. 
Print Releaf X Our A-S Magazine
Our bi-annual A-S magazine brings together a variety of buying guides, our travelogues, brand stories and the most beautiful products from our latest arrivals. While publishing a paper magazine might feel quaint in the digital age, it's meant as more of a book to inform and inspire you. Our choice is to print with fully-recycled Rolland Enviro paper, but there is more.
In 2019, we partnered with Print Releaf, helping to replant over 1200 trees in Brazil, the US and Canada to offset our use of paper to print our magazine. Print Releaf calculates the amount of paper needed to print our publications and replaces trees accordingly.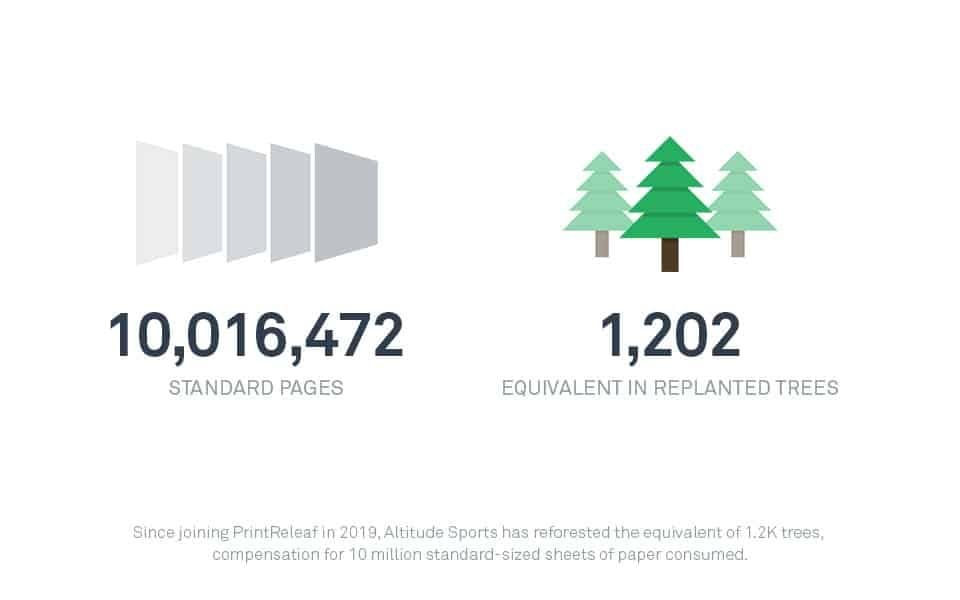 Recycled Packaging
Our packages are shipped in fully recyclable bags made from 50% recycled fibres. We've also removed the included return label to avoid waste.
Responsible Manufacturers
We've implemented an eco filter, allowing users to shop for products manufactured according to strict environmental standards and made of environmentally-friendly materials. Our eco-labelled products can be bluesign certified, made from ethical, recycled or traceable down, eco-friendly wool or recycled materials.
From Patagonia to Icebreaker to The North Face, we make it a point to highlight eco-friendly brands. With over a hundred eco-friendly manufacturers, our collection of eco-friendly brands grows season after season. For us, ethics are at the forefront of all trends, and we're happy to witness the enthusiasm our customers share for this new approach to fashion.
Durable Products
The expertise, manufacturing methods and durability of the products we offer. We believe that investing in clothing that lasts over time is the best weapon against fast fashion. Our blog brings together various guides and tips to help you maintain your gear and technical clothing to extend the life of your goods and reduce waste. Check out our articles to learn how to clean your down jacket, how to wash your waterproof shell, how to take care of your ski goggles or what to do when the down escapes from your jacket.
Towards a Greener Future Together
We take our cue from the best brands in the industry and put our hands to work to curb waste and encourage ethical fashion. The products we choose are part of this circular economy movement: they are designed to be repaired, reused and recycled. The choices we make as consumers have a direct impact in achieving eco-sustainability. Our humble mission is to encourage you to make the right choices.
SHARE