Athleisure, the comfortable aesthetic that blurs the line between the clothes you'd wear to the gym and those you'd wear to the café, has become completely embedded in the fashion world and our wardrobes. In a matter of years, athleisure has gone from a trend to a lifestyle. Whether you're new to athleisure or your daily uniform consists of leggings and a bomber jacket, here's how to build the perfect athleisure wardrobe that's packed with pieces from some of our favourite brands.
In a world where wellness is the ultimate luxury, cool is no longer synonymous with partying until the sun comes up. It is now much more fashionable to wake up early and put on workout gear before heading out to hot yoga. Or as it's often the case with me, skip the workout altogether, and head to work sporting my most stylish athletic wear.
The foundation for a perfect athleisure wardrobe is a great pair of leggings. Keep things simple with Alo Yoga's black high-waist legging engineered with a fabric so light it feels like a second skin. Elevate your look while keeping your environmental impact in check with Lolë's printed Parisia leggings, whose sweat-wicking technology is made without harmful chemicals. Invest in a versatile pair of pants that can transition from a rugged mountain hike to an office- or campus-ready look in a flash. The North Face's Bridgeway pant is made from light, quick-drying material that's breathable and repels light rain. Thanks to a slim fit and cinchable ankle, this design turns performance wear into everyday wear.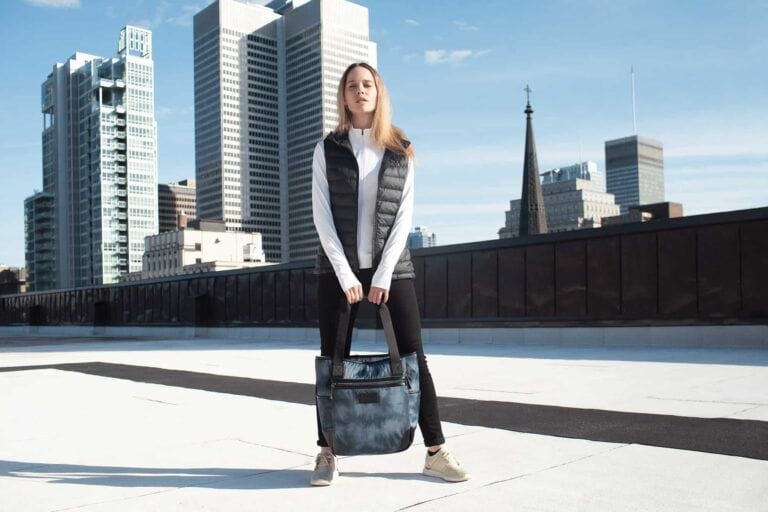 With the temperature steadily dropping, selecting a few pieces of outerwear will help you transition your athleisure look through the seasons (and finally embrace sweater weather). A classic like the Adidas Must-Haves 3-stripes hoodie made with soft cotton and recycled polyester (because the last thing you need holding you back from a workout is your environmental impact) will go a long way between the gym and work. For an even more sophisticated look, slip on the Maria wrap jacket from Lolë. When the temperature reaches the single digits, reach for something that can truly block out the chill like this Mountain Hardwear Ghost Whisperer 2 hoody, which will keep you warm and dry. An eco-friendly take on the famous puffer jacket, it's made from a 100% recycled outer fabric, and is highly compressible and ultra-versatile. Wear it in the city or in the mountains!
Trade in your purse for the adorable HH 2 30L duffle bag from Helly Hansen. It keeps all your belongings safe, has removable shoulder straps, waterproof fabric and plenty of compartments to hold your phone or sneakers. Perfect for a workout or a quick run during lunch.
It's become clear that wearing athletic wear no longer means you've given up on style. Sure, athleisure has been touted as lazy at times (haven't we all?), but athletic brands have heavily stepped up their game when it comes to the style and technical benefits of fitness wear in order to stay at the top of this multi-billion-dollar industry. A perfect athleisure wardrobe offers the style, tech and comfort you need to confidently transition into the new season.
SHARE