With all the snow we've had in winter 2020, the conditions are ideal to strap on your snowshoes and head out on an adventure. For beginners, finding the best snowshoes among all those available on the market can be a little daunting. Especially since the models offered nowadays are more specialized. You can leave the huge wooden babiche classics behind. Snowshoes have greatly evolved from a technical standpoint and are specialized according to specific types of activities. For the uninitiated, the choice can be overwhelming.
Our snowshoe guide rounds up our best snowshoes by activity and explains what to keep in mind when choosing your snowshoes.

The Best Snowshoes
Finding the best snowshoes for you will depend on the activity you'll be doing. There are many types of snowshoes, so it's important to decide how you will be using them before setting your sight on a specific model. Here is a list of our top snowshoes: 
Best Snowshoes Overall
Lightning Ascent Snowshoes by MSR
Among the best snowshoes available on the market, Lightning Ascent by MSR are equipped with the latest technologies offered by the American brand. Ideal for most terrains, especially mountains, this performance snowshoe offers excellent traction on rugged terrain. Durable, resistant and efficient on ascents thanks to its Ergo Televator heel, these comfortable snowshoes offer a perfectly stable and aligned stride.
Check out the women's model!
Best Snowshoes for Trails
Evo Trail 2.0 Snowshoes by MSR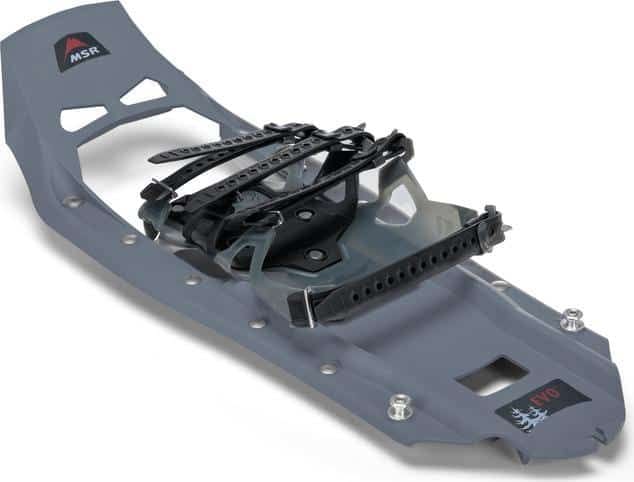 The ultimate hiking snowshoe. The Evo Trail 2.0 snowshoe by MSR is particularly efficient on hilly terrain and adapts to every type of condition. These snowshoes can be used with a wide range of footwear and strap on easily. We particularly like the fact that the bindings can be adjusted without removing your gloves. Equipped with crampons on almost its entire length, this unisex snowshoe offers maximum performance for backcountry snowshoeing.
Best Snowshoes for Deep Snow
Rangr Snowshoes by Fimbulvetr
We recognize the unique look of these snowshoes by Fimbulvetr, the famous Norwegian manufacturer. The original model, the Rangr snowshoe, is particularly efficient in deep, powdery snow and for backcountry snowshoeing. Less recommended for marked trails, these snowshoes give the impression of floating on the snow. They also help to accommodate heavy backpacks. Perfect for flat or hilly terrains, these robust snowshoes resist the cold down to temperatures of -40.
Best Snowshoes for Beginners
Blizzard III Snowshoes by Garneau

These snowshoes perform well in various snow conditions. The Blizzard III snowshoes by Garneau are both light and robust thanks to their aluminum frame. Equipped with crampons that offer good traction on rugged terrain, this performance snowshoe is a good fit for beginners due to its ease of use. They slip on easily thanks to their Boa closure system. Versatile, they are particularly good for hiking in powdery snow.
Check out the men's model!
Best Affordable Snowshoes
Nordik I Snowshoes by Garneau

Also recommended for those who want to take their first strides in snowshoes, the Nordik I from Garneau offers some of the best value on the market. Flexible, robust and lightweight, these snowshoes are suitable for short strolls on marked paths and on hard snow. They are also built for speed, should you be inclined to try running in snowshoes!
Best Snowshoes for Women
Revo Explore Snowshoe by MSR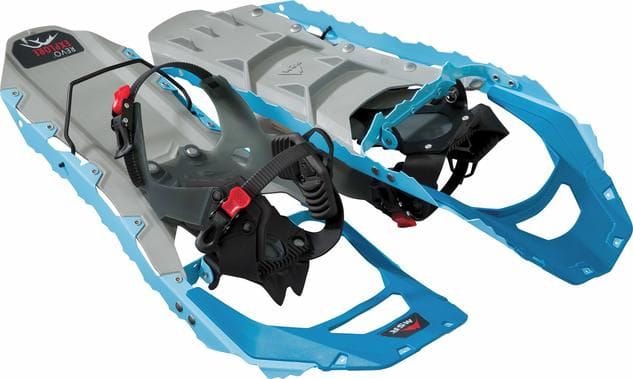 One of our best sellers for women, the Revo Explore snowshoes by MSR (yes, again) are hybrids that are well suited to various types of mountain excursions. These snowshoes offer good weight distribution and their crampons provide a solid grip on hilly terrain. Ideal for women or for people who have a shorter stride, the Revo Explore snowshoes' fast binding system allows you to slip them on and off in seconds. Designed for all conditions, especially for mountain hikes.
Best Snowshoes for Men
Lightning Explore Snowshoes by MSR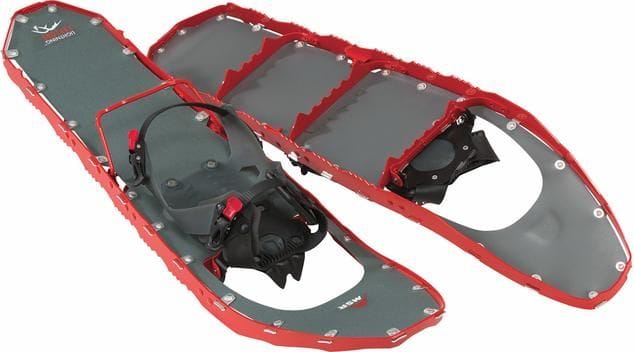 This high-end model is designed for mountain adventures on deep powder as well as on packed snow. The Lightning Explore snowshoes by MSR offer an amazing grip on ascents, considerably reducing fatigue. We love its ease of use and great versatility. Designed for those with shorter strides. 
Best Snowshoes for Kids
Flex JR
Ideal for your child's first strides in snowshoes! The Flex JR snowshoes by Tubbs are perfect for kids between 6 and 10 years old. Very easy to put on and use, they strap on easily thanks to the simple Quicklock binding with easy-stretch heel straps. Below, small crampons make it easy to stride through marked trails. 

How to Choose Snowshoes
Choosing the right snowshoes involves taking into account its components, the type of snowshoe, its size, as well as the accompanying accessories. 
Types of snowshoes

Understanding binding systems

Size

Accessories
1. Types of Snowshoes
Among the most popular are walking and hiking snowshoes for trails, mountain snowshoes and running snowshoes.
Trail snowshoes:  Designed for marked trails and packed snow, walking snowshoes are suited for flat terrain. Ideal for beginners or those who go snowshoeing occasionally, these models are easy to use and available at an accessible price point. Their traction system is limited but allows you to go up a few hills.
Mountain snowshoes: Designed to maximize your grip on difficult terrain. They are robust and can be worn with warm, technical winter boots. These are designed to climb and are perfect for icy and steep terrain. If most mountain snowshoes have impressive front and back crampons, some models have a second set of side teeth for even more bite. 
Running snowshoes: They are gaining popularity in Canada! Adapted to flat or groomed terrain, running snowshoes offer less flotation. Short, narrow and asymmetrical, they are mainly designed to allow a fast and fluid stride.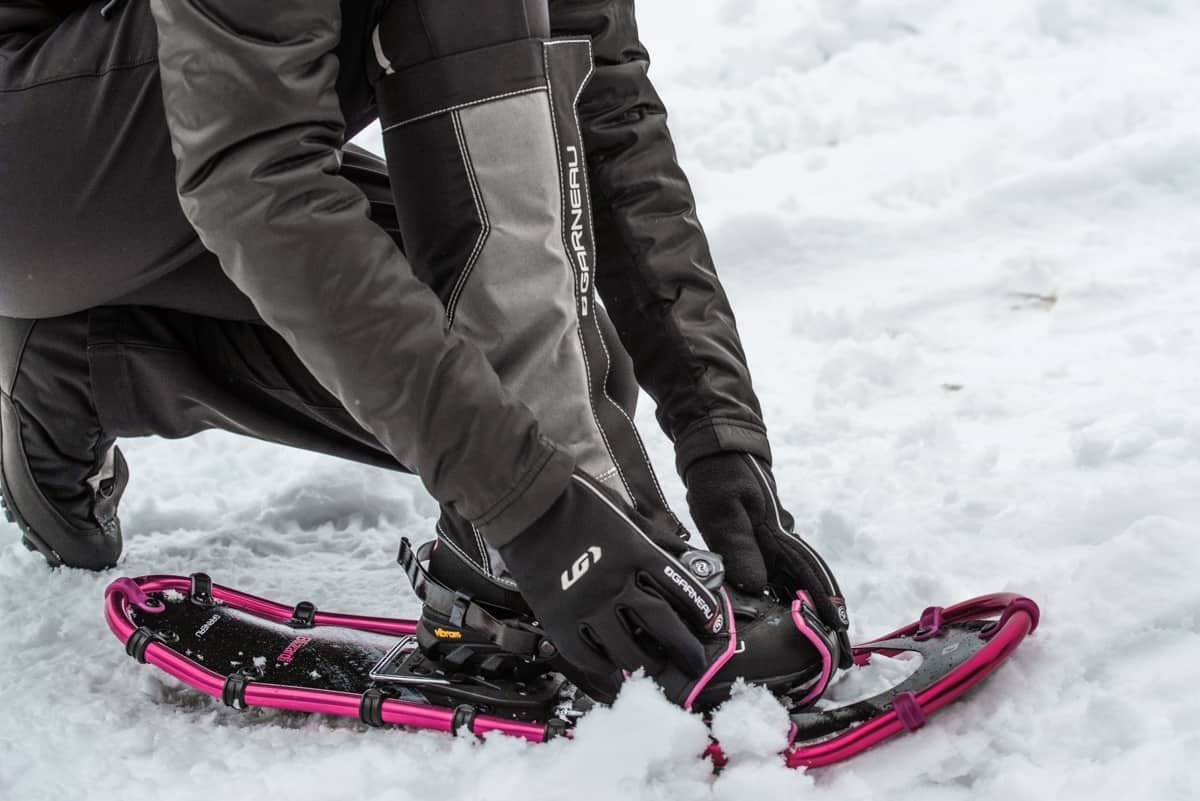 2. Understanding Binding Systems
Binding systems can make all the difference. It's particularly important to think about which boots you will be wearing when you go snowshoeing. Most snowshoes designed for tall mountains have large, resistant straps. On the flip side, running snowshoes are designed to accommodate lighter footwear.  
The binding system is what keeps your foot in place on the snowshoe. There are two types:
Fixed rotation system

: With flexible straps attached to the frame, this system ensures that the back of the snowshoe lifts very slightly during the stride. It helps to better absorb shocks and make precise steps, making it a perfect system for running or hiking snowshoes.

Articulated rotation system

: Equipped with a pivot located at the front of the foot, this system makes it possible to tackle deep snow and rough terrain. It is usually found on mountain snowshoes.

3. How to Size Snowshoes
Narrow snowshoes (about 20 cm wide) are designed for fluidity of movement (running snowshoes, etc.) and are best used for flat or groomed terrain. Larger snowshoes (about 25 cm wide) provide better flotation for walking in deep snow.
As for length, it depends on you. In fact, the length of a snowshoe is directly related to your weight. The heavier you are, the larger it will need to be in order to keep you above the snow.
4. Accessories
You can use many accessories to make snowshoeing more interesting. If you are heading to the backcountry, these products will prove particularly useful.  
Extensions for Snowshoes
For those who venture off the beaten path or on snowy, powdery terrain, the Revo extensions are a welcome addition. Hooked to the back of your snowshoes, they increase the flotation surface and help you make strides in deep snow. The extensions also help support heavy loads. Each extension model, however, is not compatible with all snowshoes.
Gaiters for Snowshoeing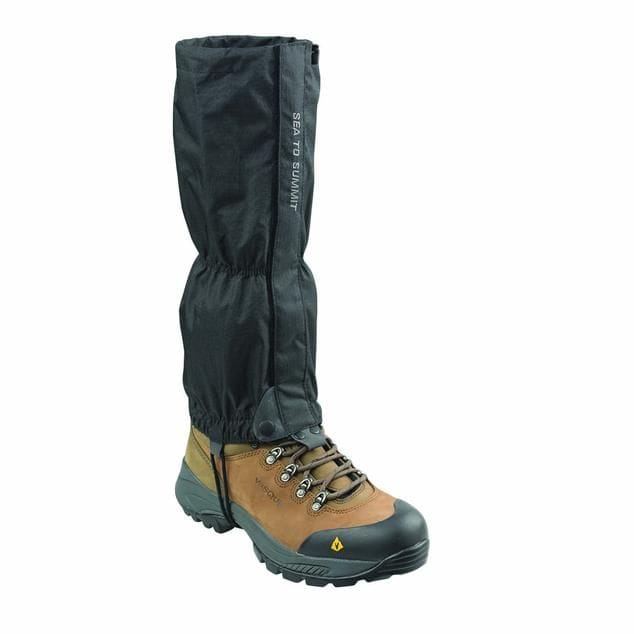 The best value on the market. Off the beaten path or in deep snow, the Grasshopper gaiters are robust, easy to slip on and protect your legs from powdery snow.
Snowshoeing/Hiking Poles

If snowshoeing in the backcountry or on difficult terrain, it's a good idea to equip yourself with Dynalock Carbon Ascent poles. Strong and ultralight, these poles are easy to carry when folded.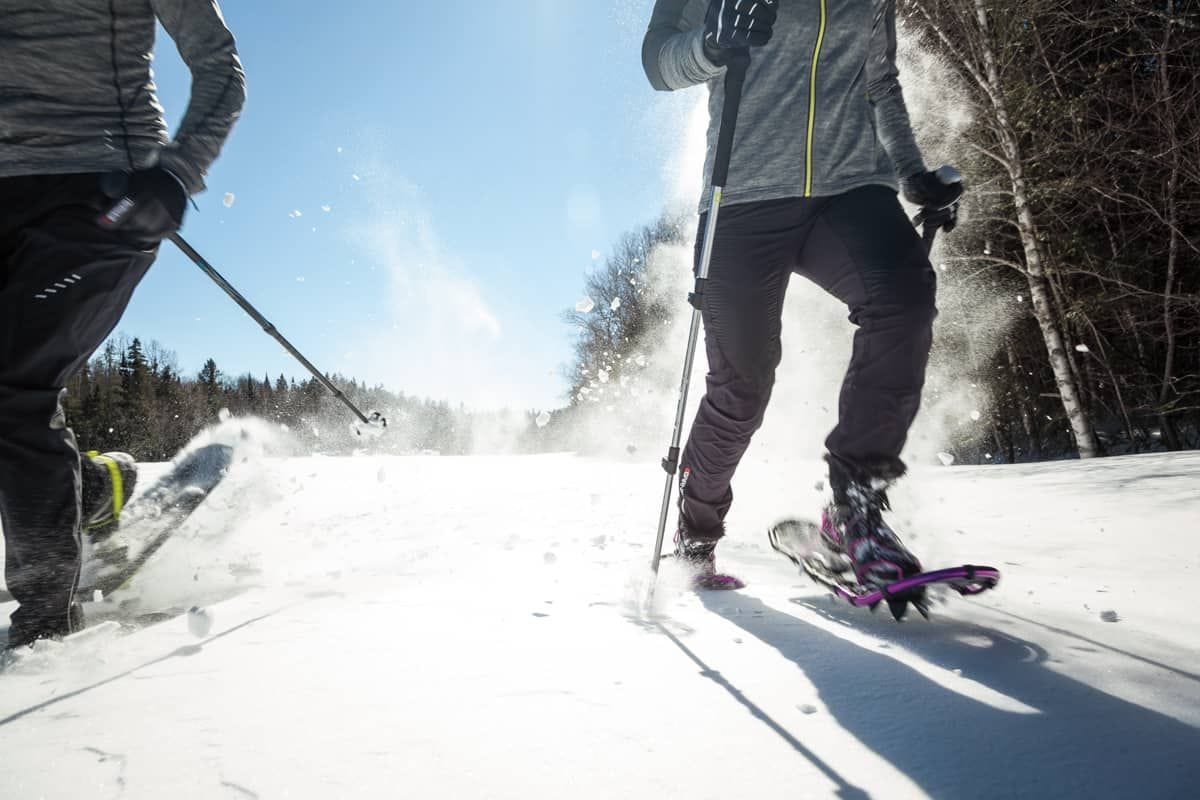 Found the snowshoes of your dreams? Now you just need a place to try them out!

Read also: Best snowshoe boots 2020
SHARE