Are you the type to raise your nose to walking poles? For many, this is a cumbersome accessory, which serves only to test the terrain. While it is not a tool that will appeal to all, using walking poles has many physical advantages, especially in long-distance hikes where we carry all our equipment on our backs .
Why Use Walking Poles?
For those who have already had knee pain after a day of walking trails, using walking poles significantly reduces impacts and loads on the joints. This can be exceptionally helpful especially if you carry a heavy bag or are on downhill trips that can be tiring for the legs.
When walking in difficult terrain or when crossing obstacles, using hiking poles also provides greater stability and balance.
Convinced? Before you start buying walking poles, it is important to know what type of activity you will be using, as there are poles adapted to different disciplines, such as hiking or Nordic walking. In addition, your choice will be strongly influenced by the frequency and intensity of your excursions.
The Handle
Black Diamond

Alpine Ergo Cork Poles

Black Diamond

Trail Trekking Poles

MSR

Deploy TR-2 Standard
You have to pay particular attention to the choice of handles to ensure they are comfortable for you, because you will always have them in your hands. Bad handles could quickly create blisters.
The plastic ones are the least comfortable and become slippery when perspiration is present although they are durable, resistant and affordable. They will do just fine for occasional walkers looking for poles that support them on relatively easy trails.
Handles made of cork or foam are better if you use your poles more intensively or if you travel along more difficult paths. The choice between these two options largely depends on your personal preferences. Cork handles offer a strong grip and are ideal for those who tend to have sweaty hands when exercising since they breathe well. The foam handles, even if they are less durable, provide greater comfort and your hands will not slip when walking.
The Wrist Strap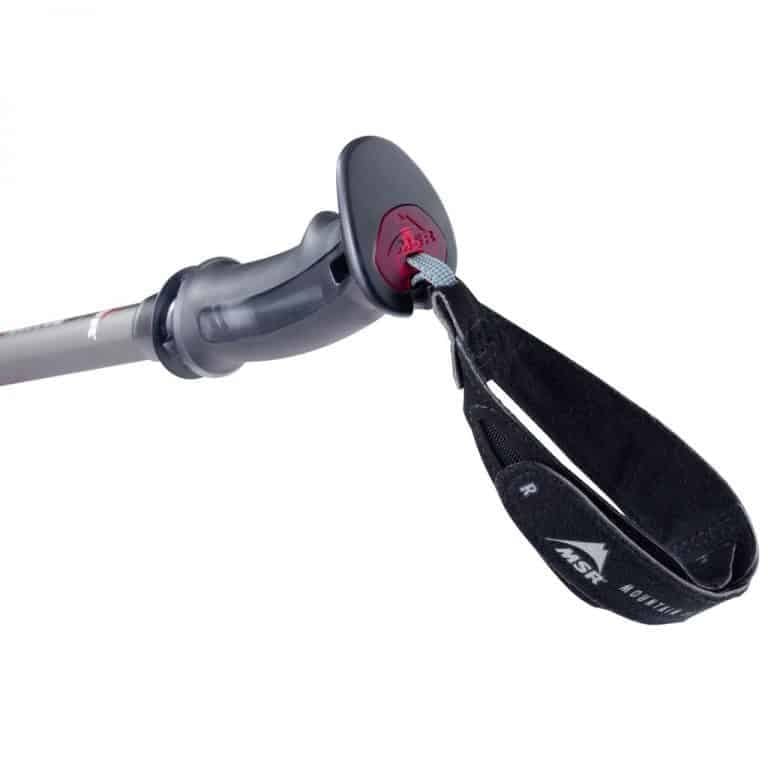 The strap connected to the stick is threaded around the wrists. The shape of it varies according to the activity to which the pole is intended. Thus, in Nordic walking they have a special opening for the thumb in order to let go and catch the pole easily.
In hiking, the strap takes on the appearance of a simple strap to put around the wrist. Despite their trivial appearance, the wrist strap is useful for not losing the pole, but especially to support the wrists throughout the exercise. The larger the wrist strap, the greater the support will be and some are even padded to increase comfort.
The Pole
MSR

Flight 2 Pole

Leki

Instructor Light
All of us have already used a branch as a makeshift pole during a hike. For a temporary amount of time, this is an acceptable accessory, but forget the wood. Nowadays, walking poles are designed to cater to the terrain and built with much lighter materials.
Most are made up mostly of aluminum. These offer a good price to lightness ratio and are rather resistant. However, the aluminum absorbs shocks and the poles thus made are more suitable for sporadic excursions.
The ideal pole material is a carbon fiber alloy which dampens vibrations better and is extremely lightweight. The more carbon within the pole, the more expensive it will be. Depending on how often you use it, it may be wise to make this investment.
The Fastening System
Leki

Photosystem Carbon

MSR

Swift 3 Trekking Poles

Black Diamond

Alpine FLZ Poles
The size of the pole is important to consider. For optimum use, the elbows must be at a right angle (90 °). If you use it primarily for climbs, you can choose a smaller one, or a larger one for descents, but most hiking poles are adjustable. Thus, even if the Nordic walking poles are single-stranded, the hiking ones are telescopic, with 2-3 sections adjustable to fit according to the surveyed terrain.
There are three storage mechanisms for hiking poles:
Clips, like Leki's Photosystem, are a practical and rather durable system. It is only necessary to slide the segments into each other before locking them.
With the screw system, like that of the MSR Swift 3, simply unscrew the segments and slide them into each other before tightening them. This is the most common size adjustment because it is simple and easy to use.
Finally, the z-folding system found on the Black Diamond Alpine FLZ poles. This is the lightest and quickest to store however, unless it is partly associated with one of the two previous systems, the pole size will not be adjustable.
The Tip
Leki

Trekking Basket

MSR

Powder Baskets

MSR 

Tip Protector Pole
The tips of your walking poles must be resistant, because they will be in constant contact with the ground. Most are made of steel or tungsten carbide. The steel is perfect for easy and sporadic hikes, while the carbide has a good grip and a better resistance, more adapted to regular uses.
There are also various accessories to allow you to adapt the tip of the poles according to your needs. You will find protective end caps on the tip of your poles. You can store them at the end of the day without damaging the rest of the contents of your bag. There are also spare baskets or snow baskets for those who wish to use their pole while snowshoeing.
One or Two Poles?
Should you use one or two poles? Again, the choice comes back to you and will depend on your use of the accessory. Using a single pole is obviously less cumbersome and lighter. This will do the same job on easy paths where our backpack is not too loaded. On the other hand, using two poles is recommended for long walks, more challenging paths and during excursions where one is particularly loaded.
SHARE