You've found the perfect rain jacket. It's lightweight, wind-resistant, waterproof, and stylish. You've invested time and money to purchase this jacket. But like any good investment, you want it to last. Even the most durable and water-resistant jackets will begin to lose their effectiveness over time. That doesn't mean there's something wrong with the jacket – torrential downpours, snowstorms, and muddy terrains can take their toll. Cleaning your rain jacket can ensure that it lasts for many seasons to come.
The North Face

Venture 2 Jacket – Women's

Black Diamond

Fineline Stretch Rain Shell – Men's

Marmot

PreCip Eco Jacket – Women's
Benefits of Cleaning Your Rain Jacket
A dirty jacket doesn't only affect appearance. It can also diminish its effectiveness against the elements. On humid summer days when the rain starts to fall, you not only want to stay dry, but comfortable. Besides rain, dust, body oils, dirt and even smoke can easily get into the fibres. These can affect your jacket's ability to do its job. If your jacket has lost its water repellency, the fabric will begin to absorb water on the surface, diminishing breathability, and adding weight to the garment. The water absorption process is known as 'wetting out,' and once this starts to happen, it's time to give your technical shell a good clean.
Spot Treatment
The first thing to do is give it a quick once over. You never want to put a piece of clothing in the washer if there are untouched stains on it. Don't hesitate to use a brush and technical soap like Grangers Universal Spray Cleaner to remove noticeable stains like dirt and wine (#afterski) before throwing it in the wash.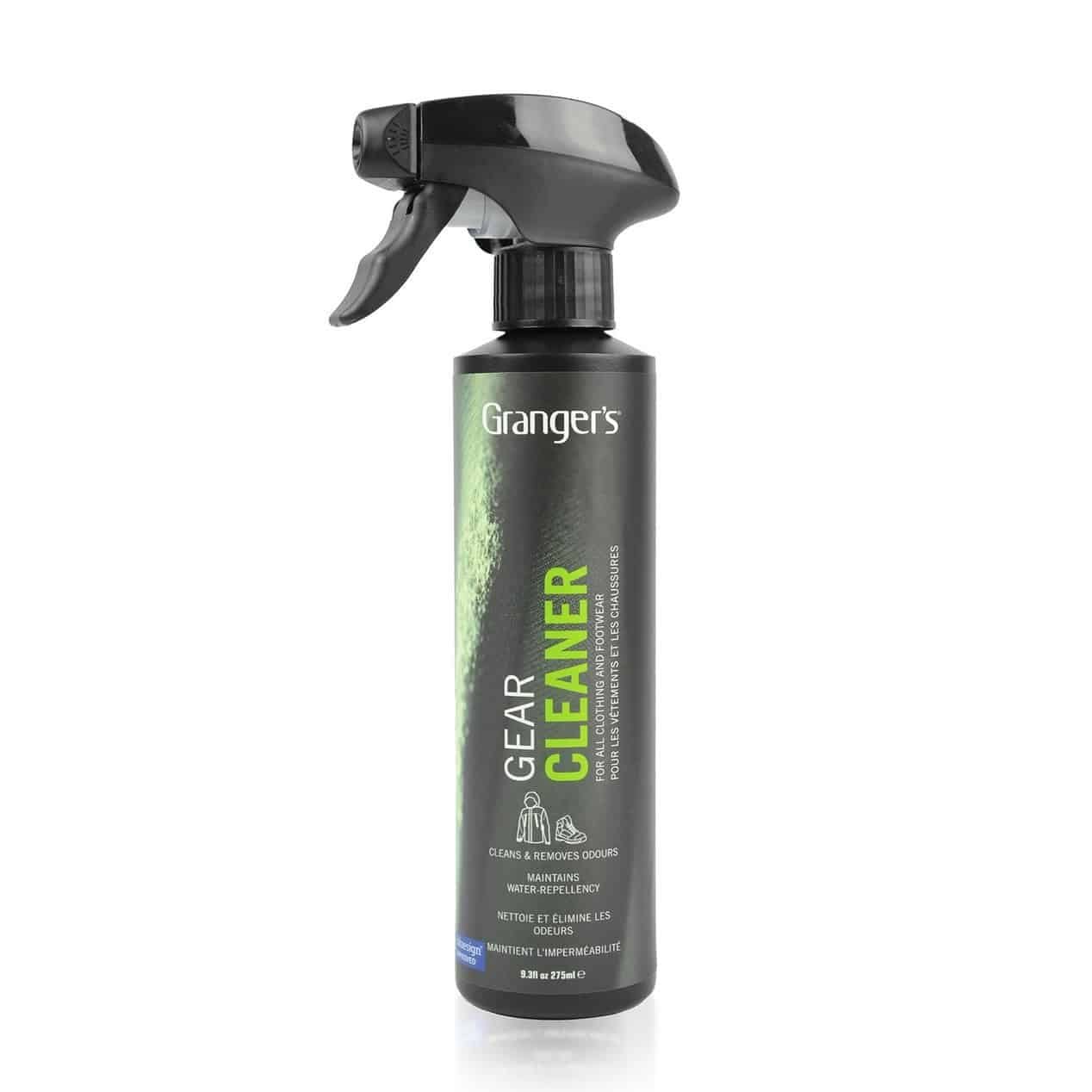 Grangers
Universal Spray Cleaner For Textiles
Washing Your Waterproof Jacket
Standard detergents use ingredients meant to help water penetrate the fibres for a deeper clean. While this is great for regular clothing, the residue from the detergent will make the fabric more absorbent – something you don't want from a jacket meant to repel. In this case, we would recommend a technical detergent like Nikwax's Tech Wash, which is designed to clean the shell and protect the material. When you throw your jacket in the wash, check that the soap dispenser has no residual detergent before adding the detergent.
Nikwax

Tech Wash

Nikwash

Soft shell Proof Wash-In

Grangers

Clothing Care Kit
Drying After Cleaning Your Rain Jacket
Here, you have to be careful. Heat is meant to help reactivate water-resistant treatments, but too much heat can ruin the fabric. Always read the tag instructions carefully before doing anything. If it's not clear, let the jacket dry on low for 20 minutes, and then hang it.
Arc'teryx

Beta AR Jacket – Men's

Arc'teryx

Zeta SL Jacket – Women's

Rab

Downpour Waterproof Jacket – Men's
How To Re-Waterproof Your Jacket
In some cases, a quick wash is all you need to restore the water-repellency of your jacket. Over time the "good as new" effect of the washing machine will wear off, at which point it's time to bring in extra reinforcements. Using the Nikwax Soft Shell Waterproofing treatment, you can restore your jacket to its former glory. The quick and easy process works by leaving a water-repellent treatment on each individual fibre, so the jacket is protected while remaining breathable.
Always wash your shell before applying a new waterproof treatment on it. Otherwise, dust or residues can stay trapped in the fabric. If you want to save some time, you can also use the Grangers 2 in 1 Wash and Repel that can be added to your washing machine and acts as both a detergent and water-repelling treatment.
After Cleaning Your Rain Jacket – You're Good to Head Back Outdoors!
Once the treatment is done, you're good to go!
SHARE