Okay, you may be thinking "I go outside to connect with nature, why worry about electronics?" Well, I have a similar view but many of my trips involve remote locations and the need to capture photos, videos, and sound. This article is my 2 cents and geared to those who want to be able to keep their gear safe and functional for days on end.
First off, there are varying degrees of complexity in a tech set up but the main concerns are protection, power and weight. My set up would change slightly on a canoe expedition versus a hiking trip but the principles are the same.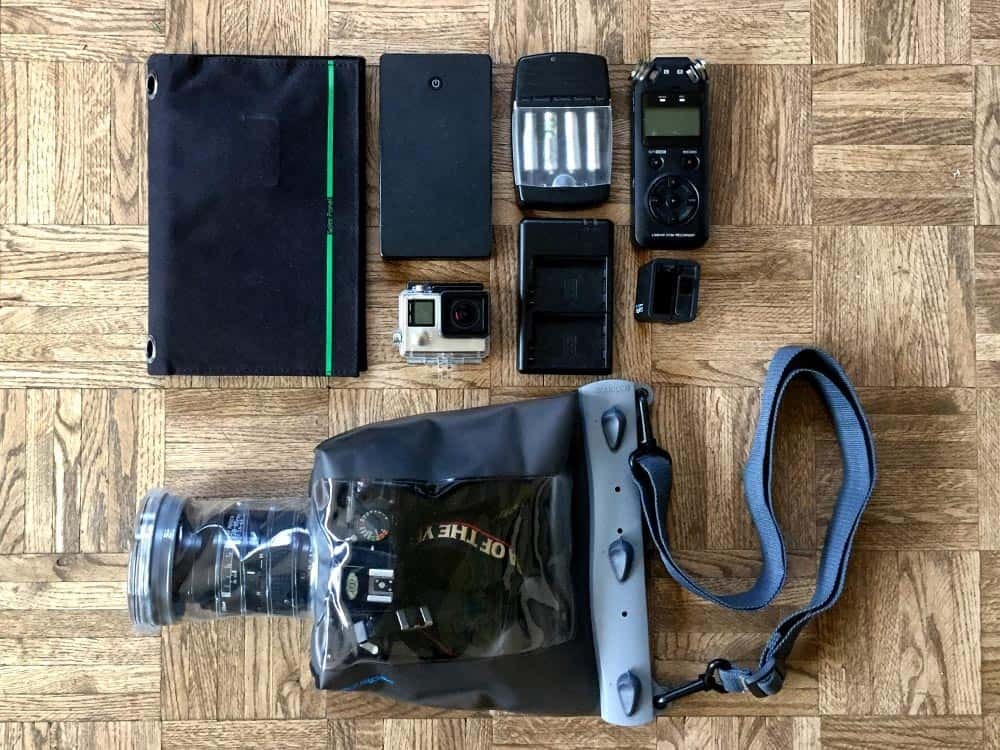 Protection
 1)
Dry Bags
 Not all dry bags are created equal. It's important to test them ahead of time and if it's something that you really care about (fancy camera perhaps?) maybe consider double bagging it. I've learned this lesson the hard way so hopefully, you don't have to.
A 20L option is a great mid-size bag, and generally a very economical way to start. Smaller items (cell phone, GPS) can likely fit in a 5-10L bag.
Sea to Summit 

View Dry Sack – 20L

SealLine 

Discovery Dry Bag 20L
Camera specific cases are often a transparent dry bag variation. I've had good luck with these in the past, both for an SLR or a point and shoot.
Aquapac 

SLR Camera Case

Aquapac

Mini Camera Case W Hard Lens
2) Hard Cases
 Often providing the most protection, from impact as well as the elements these cases are best suited for trips that weight is less of a concern. Canoe trips are the first example that I can think of and would like to give a nod to Pelican cases.
Pelican

1020 Micro Case

Pelican

1535 Air Carry-On Case

Power
 Not everything can be charged via USB, but it certainly makes it a more concise and interchangeable set up. To keep my camera and audio gear charged my set up includes:
 Solar Panel – Used to charge your power bank while in motion (hanging from your pack or upright in a boat) or charging your devices directly when you're stationary.
 Power Bank – Start the trip with a charged bank and recharge it with your panel while you're out there. It will provide a more consistent charge to your devices when the time comes.
 Rechargeable Batteries – A necessity and a great way to save weight.
Goal Zero

Nomad 7 Solar Panel

BioLite

Charge 20 USB Power Bank

Goal Zero

Guide 10 Plus Recharger
Conclusion
Your setup will evolve and change with time, just find what works best for you. The biggest advice I can give is to plan your needs in an adventure specific way, remember to power off things you aren't using, and start on a full charge. Go forth, create and explore!
SHARE