The idea of side sleeping designed bag hadn't crossed my mind. I mean it's so obvious right?! This is coming from someone that can only sleep if I'm on my side which has meant in the many years that I have been camping and using sleeping bag's I haven't gotten the best night's sleep. So along comes the Nemo Equipment Disco sleeping bag and I couldn't be more eager to try it out.
Pros:
Cons:

Expandable zips
Side sleeping makes it very comfortable
Lightweight
Packs nice and small

Doesn't retain heat once wet
Now first impressions out of the bag ( no pun intended) is it's smaller and lighter than my current bag from a reputable climbing brand. Jumping straight into it I found it very spacious and lots of room. It's a regular bag and I'm 5'11'' and I still have wiggle room which is lovely. Rolling onto my side and not being restricted or having the bag contort its self around was an instant delight!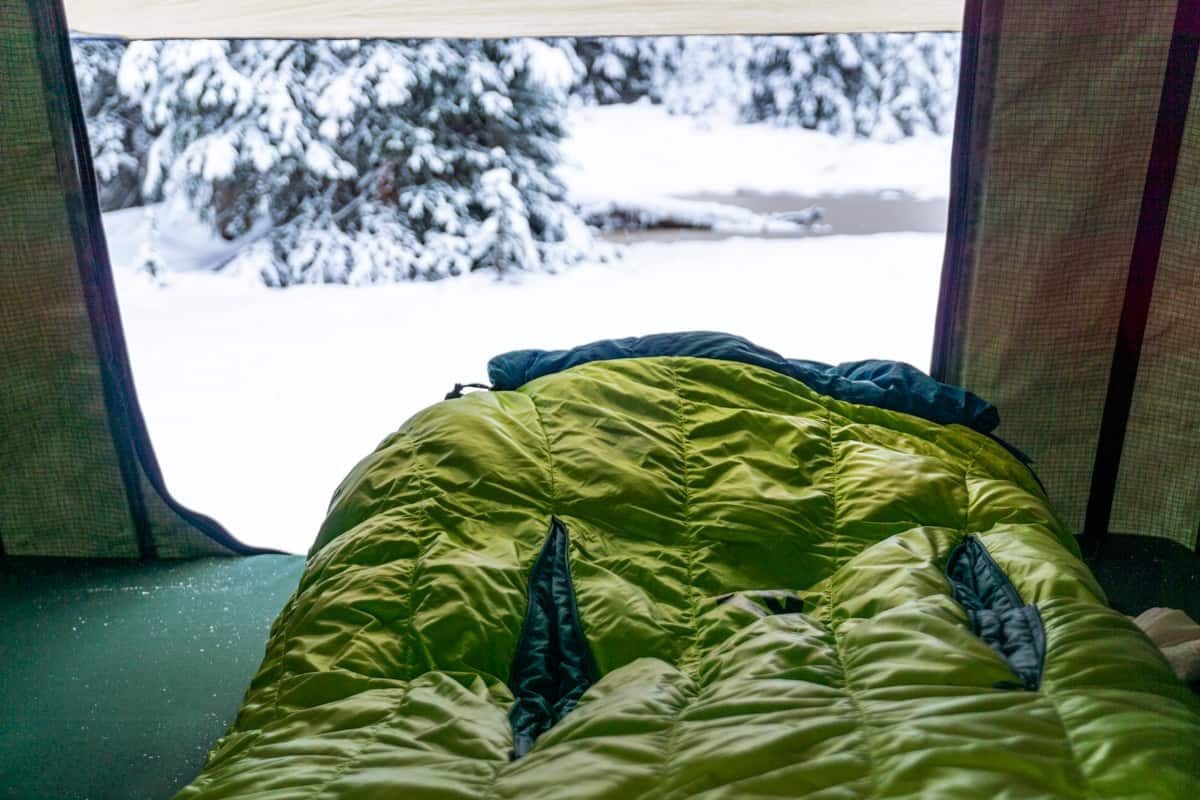 Looking into the design features it has a couple of things that really stand out to me other than the vibrant lime and blue colour. A wee pocket up near the mouth where your head pops out is very handy for putting a light, keys or what I did was a snack. There is nothing worse than waking up in the middle of the night and needing something to eat but being very cosy and
snug, well maybe there is and that is and venturing out of the tent to use the bathroom.
Also the 2 expandable zips on each side allowing to increase the space say if you wanted to wear some extra layers due to the cold or just wanting more room to move about in. I tested to see how it was what it would be like to put another sleeping bag inside the Nemo Disco and I found that it was very comfortable but I got hot very quickly.
If you haven't had a down sleeping bag before or even a down product that's used in the outdoors there are somethings you should know. It is great at keeping its warmth and being very compressible, it's very durable and will outlast its synthetic counterpart if treated right and looked after. But should the feathers that make up the insulation in the bag get wet you will lose
almost all of the insulating properties. So the recommended thing would be to have the bag in a dry bag should you be travelling anywhere with a high chance of your gear getting damp.
Now the Disco does have some water-resistant coating to help protect it from the condensation on the inside of the tent as well as a waterproof footbox. The feathers in the bag are coated in Nikwax to help increase the longevity of the insulation.
I have spent many night's using the Disco 30 and had a very enjoyable time. It kept me very warm throughout while snow fell all around me. It's something that I will continue to use for many years to come.
SHARE