I was standing on the school steps waiting to get picked up. I zipped up my jacket to ward off the cold Edmonton winter, adjusted my hat and peered down the road, looking for the minivan. There it was, it was easy to recognize because of the Thule Box full of skis on top. I jumped down the stairs and slid open the side door. Warm air hit my face as I climbed into the van to sit next to my older brother Lucas. As we pulled away my mom looked back at me, smiled and asked how my day at school had been. All I could think was "Finally, it was Friday!"
First Descents, First Competitions
However, we were not driving home, we were headed straight for Jasper National Park to go skiing. Ever since I can remember this is how my family spent our winter weekends. Every Friday my brother and I would get picked up from school and our family would drive 4 hours to reach the mountains. My friends at school often asked if I could hang out on the weekends. My reply was always the same "sorry I can't, I'm going skiing with my family."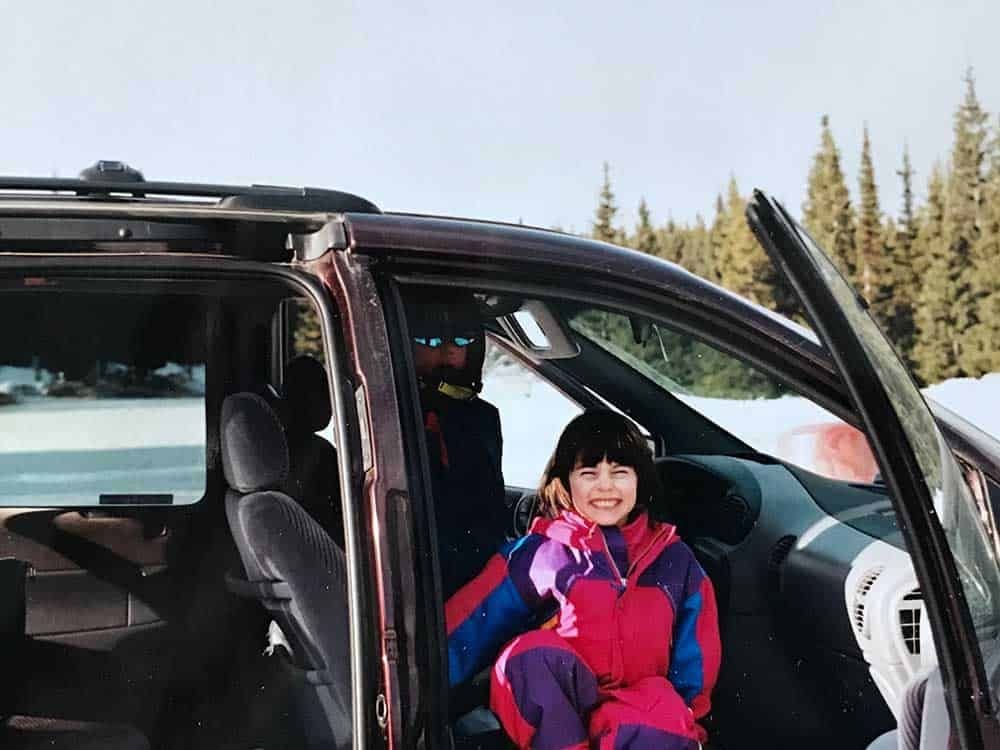 My brother and I grew up skiing every bit of terrain that Jasper's Marmot Basin Ski Resort had to offer. At an early age, my parents enrolled my brother in the Jasper Freeride program in an attempt to keep him busy. I quickly followed in his footsteps, joining the team when I was 7 years old, and that's where it all started. The Jasper Freeride Team introduced me to the wild world of freestyle skiing.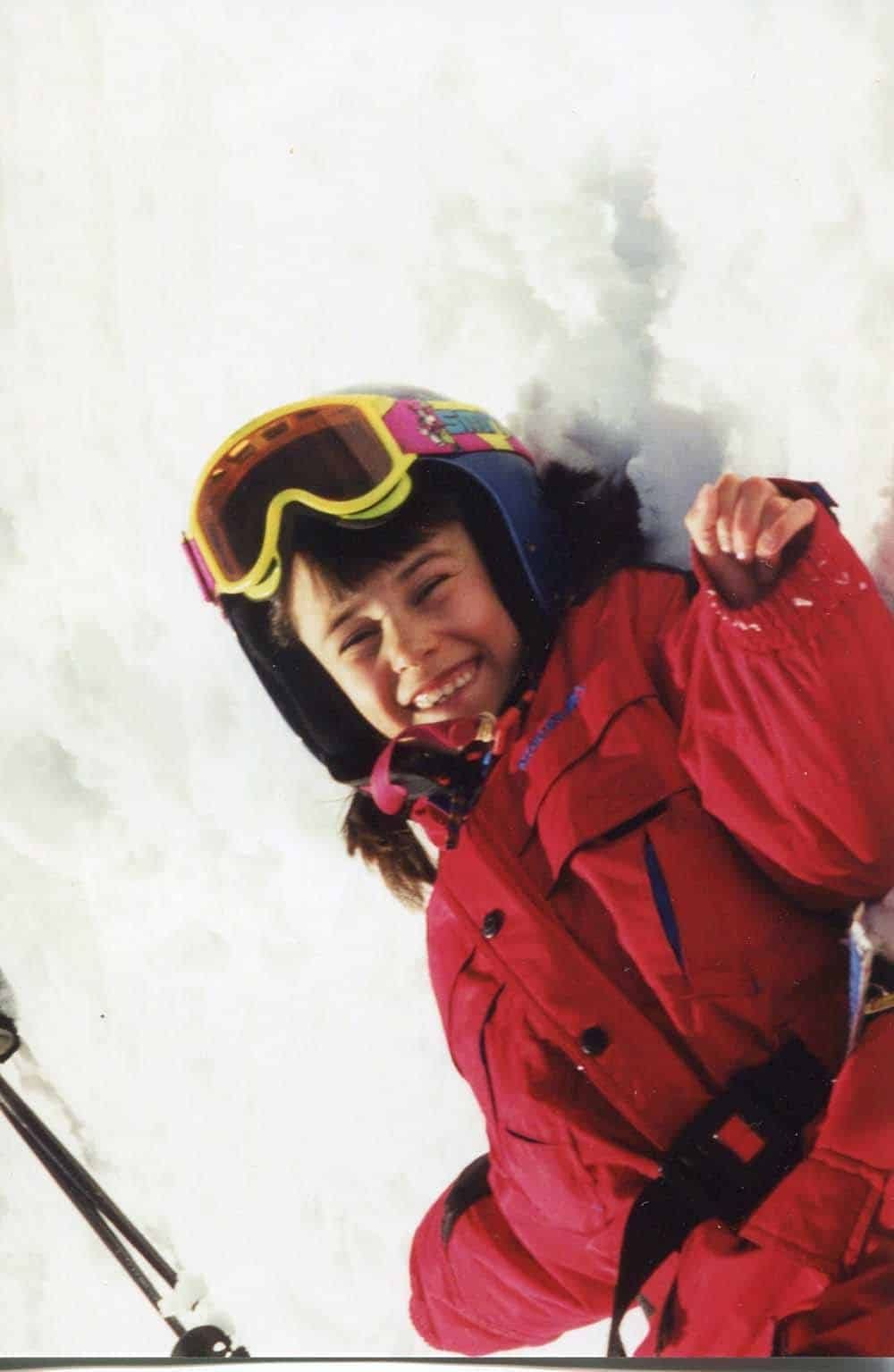 I don't really remember making a decision to join a sport where I launched myself into the air to perform tricks on skis. To be honest, I remember being really scared most of the time, but I loved the proud feeling of overcoming my fear. As I got older I began to compete more, entering Club Competitions, then Provincials, and Junior Nationals. I was usually on the podium, but there were so few girls competing in freestyle skiing at the time, it was difficult to gain a perspective on my abilities.
I competed in all the freestyle ski disciplines: moguls, big air, slopestyle and halfpipe. I liked them all, but moguls was the only Olympic sport, so there was pressure from the coaches to follow that path. However, my heart gravitated towards slopestyle, big air and halfpipe. So I continued to compete in all events finding national success in all of them. Fast forward a few years and I was 15 years old with several National Championship medals and a gold at the Canadian Winter Games under my belt. I was ready to start competing outside of Canada.
Victory in Colorado
In 2008, I went to my first event in the U.S. I travelled to Colorado to compete in my first-ever North American mogul event to test my skills against the U.S. competitors. There also happened to be an open entry professional halfpipe event just a few days before the mogul event. With encouragement from friends, I decided to enter the North American Open Halfpipe event just for fun.
To my absolute surprise, I won the event. I had been so focused on my own skiing I had barely watched the other women in the contest. Being a slightly naive 15-year-old, I actually left the contest without my prize money. I had no idea you could win prize money for that type of event. I stood on the podium in slight disbelief and then left happy with my backpack full of prizes. The next day I turned my focus to the mogul event where I ended up near the back of the field.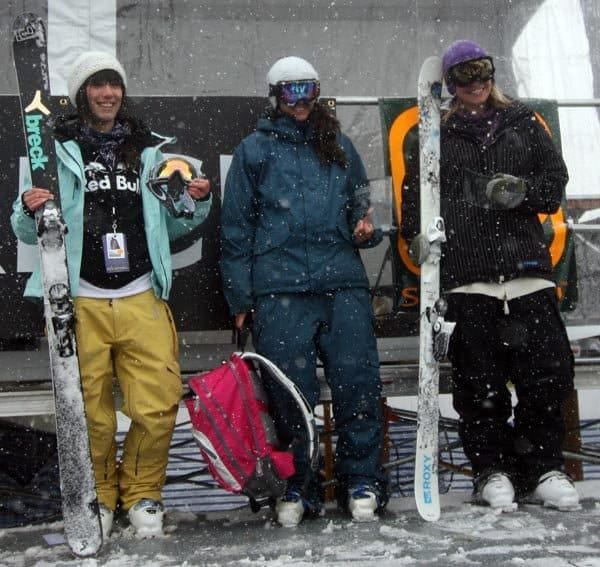 It wasn't until a few weeks after I returned from my trip that my father received a call from the event organizers of the North American Open. They wanted to know how they could contact a Keltie Hansen because she had won $1000 dollars and never collected it. My dad said, "you must be mistaken, my daughter didn't win the contest in Colorado." He was thinking of the mogul event, the one they had originally sent me to compete in. Once he realized it was the halfpipe contest, it all made sense; he was also pleasantly surprised that his 15-year-old daughter had made $1000 in just one day while skiing halfpipe.
New Beginnings and a Taste of The Halfpipe Life
That event marked the beginning of my halfpipe career and the end of my mogul career. My parents told me they would support whichever direction I chose, so I carried the momentum of that first win and continued to learn new tricks and improve my skill on the halfpipe. At that time there was no Canadian National Halfpipe Skiing Team because it was not an Olympic sport.
The only option was to become a professional skier, seek out individual sponsors and pursue events like X Games, Dew Tour, and other open events like the North American Open. I began to travel with a provincial coach and a few other talented athletes from Alberta. Several years later, my best friend and teammate Megan Gunning, and I were invited to our first X Games! To say we were excited would be a huge understatement.  We were two giggling girls who were just excited to be skiing together every day.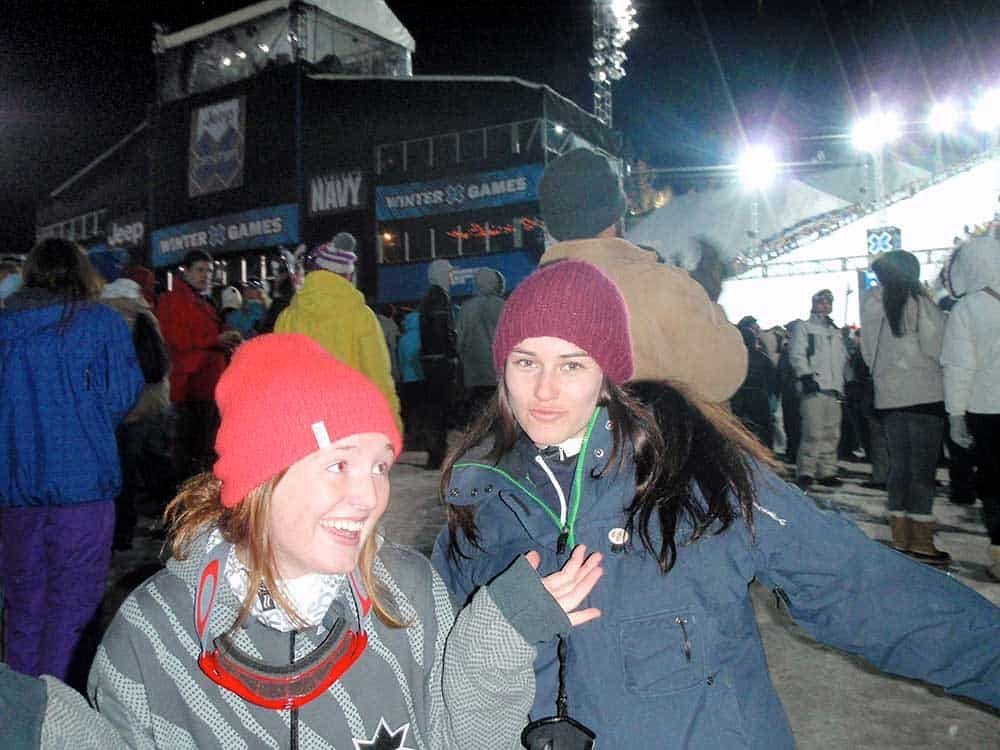 Megan Gunning shocked and awed the freeskiing world by placing second at the X Games with an extremely progressive run. I, unfortunately, had been skiing on broken bindings and was unable to finish my run, a hard, but well-learned lesson to always check my gear. I still remember having a huge smile on my face at the end of the competition. I mean my best friend had just made it onto the podium at the X Games!
After the event all the contestants that we idolized went out to party, but Megan and I being 17 years old, went out for dinner with our dads and coach to celebrate. After dinner, Megan and I curled up on the couch in sweat pants, watched a movie (probably Napoleon Dynamite) and recalled how crazy the day had been. Even at that time, I did not comprehend the full reality of where halfpipe skiing could take me. I had no idea that halfpipe skiing would take me all over the world and ultimately shape the next 10 years of my life. In the next few years, I started to wise up and began to realize my full potential as a skier.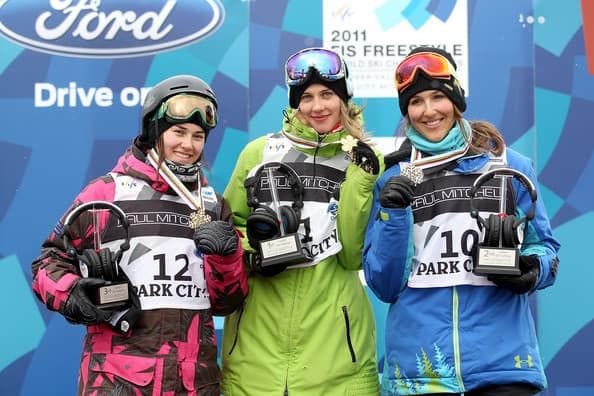 Setting Our Sites on The Olympic Games
In 2011, after a bronze medal at World Championships and a gold at the World (AFP) Freeski Professional Championships, the Olympic committee announced that halfpipe skiing would be included into the Olympics. The debut event would occur at the 2014 Winter Olympics in Sochi, Russia. Soon after the announcement, the first Canadian National Halfpipe Ski Team was formed. Megan and I were the youngest two females to be appointed to the women's team to train alongside the talented and famous Sarah Burke, Rosalind Groenewoud and Dania Assaly. All of a sudden I had an Olympic dream and 3 years to prepare to earn my Olympic spot
The year before the Olympics, my chances looked great for one of those Olympic spots. I had finished top five at every World Cup and won the bronze medal at the Olympic Test Event in Sochi, Russia. Now I was not only a shoo-in for an Olympic spot, but I was also a contender to win a medal for Canada.
Motivated by my successful season I worked harder in training and was committed to learning new tricks for the season ahead. Sadly, all my momentum came to a screeching halt when I crashed and injured my knee at a summer training camp before the Olympic season. Turns out I had torn the ACL ligament in my knee.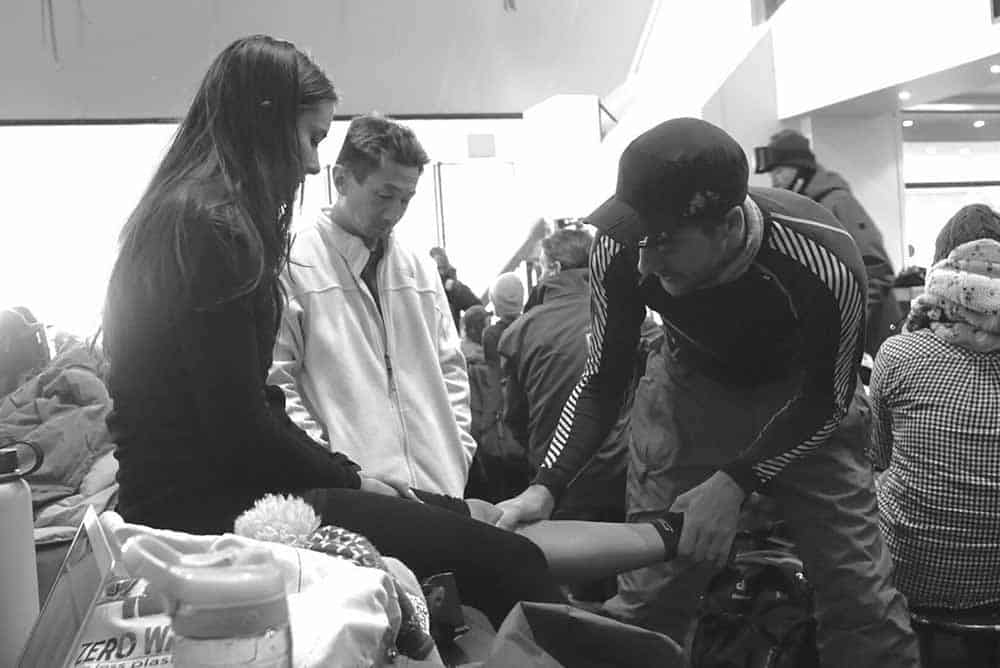 Setback and Keeping the Olympic Dream Alive
Usually, when an athlete tears an ACL it takes a year before they are fully competitive again. I remember sitting in a hospital bed when the doctor explained my situation. I was staring at my knees—they still looked fine, the right knee was just a little swollen. The doctor told me I would need surgery and it would take about a year to heal.
As the reality of those words sunk in, my chest tightened and I felt light-headed. My Olympic dream was gone, just like that, and after all my hard work. Out of my daze, I heard my mothers voice, "she is so close to qualifying for the Olympics, is there anything you can do?" The Olympics were in 8 months, and I needed to be back training and competing within 6 months.
My doctor explained that we could fast track my recovery if I was willing to work extremely hard. He would allow this because I had no other damage except to my ACL ligament.  My knee would not yet be fully healed when I returned to snow, so I would have to ski in constant pain. If I could withstand this, the doctor was confident my knee would be fine if I trained smart and didn't try anything too risky.
My injury changed my Olympic dream, I no longer had a medal in my sights, I simply wanted to go. The months leading up to the Olympics were some of the most difficult I have ever experienced. As my family and friends witnessed, I was determined and extremely stubborn—I had been given a second chance and I was going to make it happen.
Against All Odds and A Spot on the Sochi 2014 Canadian Halfpipe Team
I focused all my energy on healing and preparing mentally and physically for my early return to the snow. I went to the gym almost 7 days a week and in my free time, I visualized my skiing. Finally, with the help of my doctor, family, and the support staff at Canada Freestyle, I competed 6 months post-operation and I earned my Olympic spot. Two months later I competed as one of the first ever-female halfpipe skiers at the 2014 Winter Olympics!
I finished 13th at the 2014 Winter Olympics, one spot outside the final. At the time this result broke my heart. The previous season I had been aiming for the podium and now I was not even in the final. The reality was that I had successfully returned to competition to earn my Olympic spot, but I was not skiing at my full potential. At the time it was hard to let go of my previous standard of success. For several months after the Olympics, I struggled with mixed emotions about my experience. I felt pride at having overcome my injury and becoming one of the first halfpipe skiers to compete at the Winter Olympics. But there were also feelings of deep disappointment and I was haunted by the thought "what if I had been fully healthy?"
Once An Olympian, Always An Olympian
It took me several years to gain perspective on my own Olympic experience. Today when I reflect on my Olympic journey, I think of it as a success and appreciate the hard work I put into my rehabilitation. I know that I made the best of my situation and because of that I will forever be an Olympic athlete. I now smile at the thought of what that little girl in the minivan would have thought if you had told her she was going to become an Olympian!
SHARE