The first collection designed by Outerknown in 2015 never saw the light of day: it simply didn't live up to the uncompromising environmental demands of the young company. So yeah, you could say the Australian brand, founded by surfing legend Kelly Slater and industry veteran John Moore, is serious about sustainability. From the very beginning, Outerknown has been committed to protecting the environment and supporting fair labour – and strives to continue creating the most sustainable practices possible.
What if your clothing could stay out of landfills and in circulation — forever? In our super fast-paced world that's riddled with fast fashion made from low-quality materials, this question feels like a pipe dream. But for Outerknown, it's the goal that leads the brand towards their mission for complete circularity by 2030.
"We believe in smart design that connects people to the clothes they wear and the world around them. We don't believe you have to sacrifice good design for more sustainable decisions — we prioritize both."
Making products that last starts with the materials that go into them. Outerknown's casual, beach-day-ready clothing is made from 90% organic, recycled or reclaimed fibres. Their process to achieve this includes utilizing recycled factory scraps, as well as recycled polyester and nylon, which helps to reduce synthetic waste in our oceans. What's more, their cashmere assortment contains their Reimagine line, which is made from 95% recycled cashmere, sourced from a combination of pre and post-consumer garments and scraps. By innovating and paying close attention to the fabrics that go into their designs, the brand creates timeless, durable styles that can be repaired, reused, and resold.
Outerknown also believes that true sustainability starts with transparency. So when it comes to manufacturing its garments, the brand seeks out makers who share the desire to take climate action. Mapping 100% of its supply chain is Outerknown's priority, and it strives to share every step of its journey with its customers. On its website, the brand describes its relationship with its different suppliers, and allows you to look at all of its facilities through the Open Apparel Registry (OAR).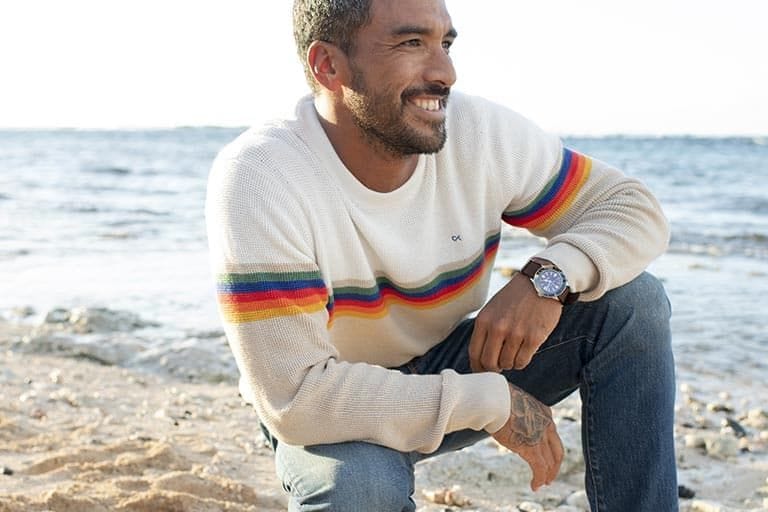 Sustainability and circularity is one of Outerknown's priorities, but crafting responsible garments also means creating fair working conditions for the people who make them. Along with increased transparency into garment, fabric, yarn, and raw material suppliers, Outerknown seeks to protect more workers in its supply chain and implement fair compensation strategies.
The brand works with Fair Trade Certified™ factories, which follow rigorous social, environmental and economic standards to protect the health and safety of the workforce.
Following this responsible manufacturing process, Outerknown wants circularity to prevail even after an item has arrived in the customer's hands. That's why it has a designated section on its website for buying and selling used, gently-worn Outerknown pieces. We all have that one shirt, sweater, or pair of pants that we haven't worn as much as we thought we would. We keep it at the back of the closet, thinking someday the right occasion will come, but…it never does. So why not do some recycling to let someone else enjoy it? 
By incorporating all these responsible initiatives into their business, Outerknown is doing more than creating durable, sustainable (and super stylish!) products. It's inspiring a new generation of manufacturing. At least, that's the brand's goal. The clothing industry is harmful, and it needs new, bold innovations and circular models to move to a more sustainable future. 
"We recognize that the sustainability challenges we face can't be solved alone. We invite other organizations to join us as we pioneer a future where apparel contributes to a world that thrives, not just survives."
If we all want to enjoy a lifetime of beautiful beach days, we need to take action when it comes to protecting our planet. Outerknown is making huge sustainable strides by using durable, recycled materials, implementing responsible manufacturing practices, and encouraging everyone – both consumers and companies – to join the circular movement. The brand is teaching us that what goes around, should always come back around. And that starts with shopping (and discarding your used pieces) more thoughtfully.
SHARE