Saturday morning, I packed up my road bike and hit the road early for Mont Tremblant. It is PEPPERMINT Bikefest this weekend, and I get the chance to participate in the fun alongside many other like-minded women. This event is a cycling event dedicated to bringing women together through the sport of cycling initiated by PEPPERMINT Cycling. You can sign up for one of the two types of cycling offered (road or mountain bike) and join other fellow female cyclists on the trails or the road.
While I usually reach for my mountain bike and head for the dirt, this weekend, I traded in my relaxed fitting mountain bike attire for spandex. The ladies at PEPPERMINT Cycling kitted me out in one of their latest cycling kits – Signature Jersey on top, Signature Cycling Bib on the bottom and of course, the Signature Socks on my feet.  Now, I look and feel like a real road cyclist.
| | | |
| --- | --- | --- |
| Signature Jersey | Signature Cycling Bib | Signature Socks |
PEPPERMINT is known for their head-turning graphics, and the Apricot Burst colour of my Signature Jersey was just that. The colour jumped out from the rack, and I couldn't wait to test it out. Who doesn't love a little colour in their cycling wardrobe anyway?
Once dressed, I made my way through the sea of women kitted out in brightly coloured cycling apparel buzzing around the event hub where event PEPPERMINT experience partners offered snacks and smoothies as tasty fuel for the day. I grabbed a smoothie and topped it off with some granola and continued to make my way mingling through the crowd.
PEPPERMINT gear was spotted everywhere as old friends, and new friends shared smiles, laughs and snacks before the rides began. Clouds in the sky above slowly replaced the blue patches, but even the threat of showers couldn't rain on this cycle party.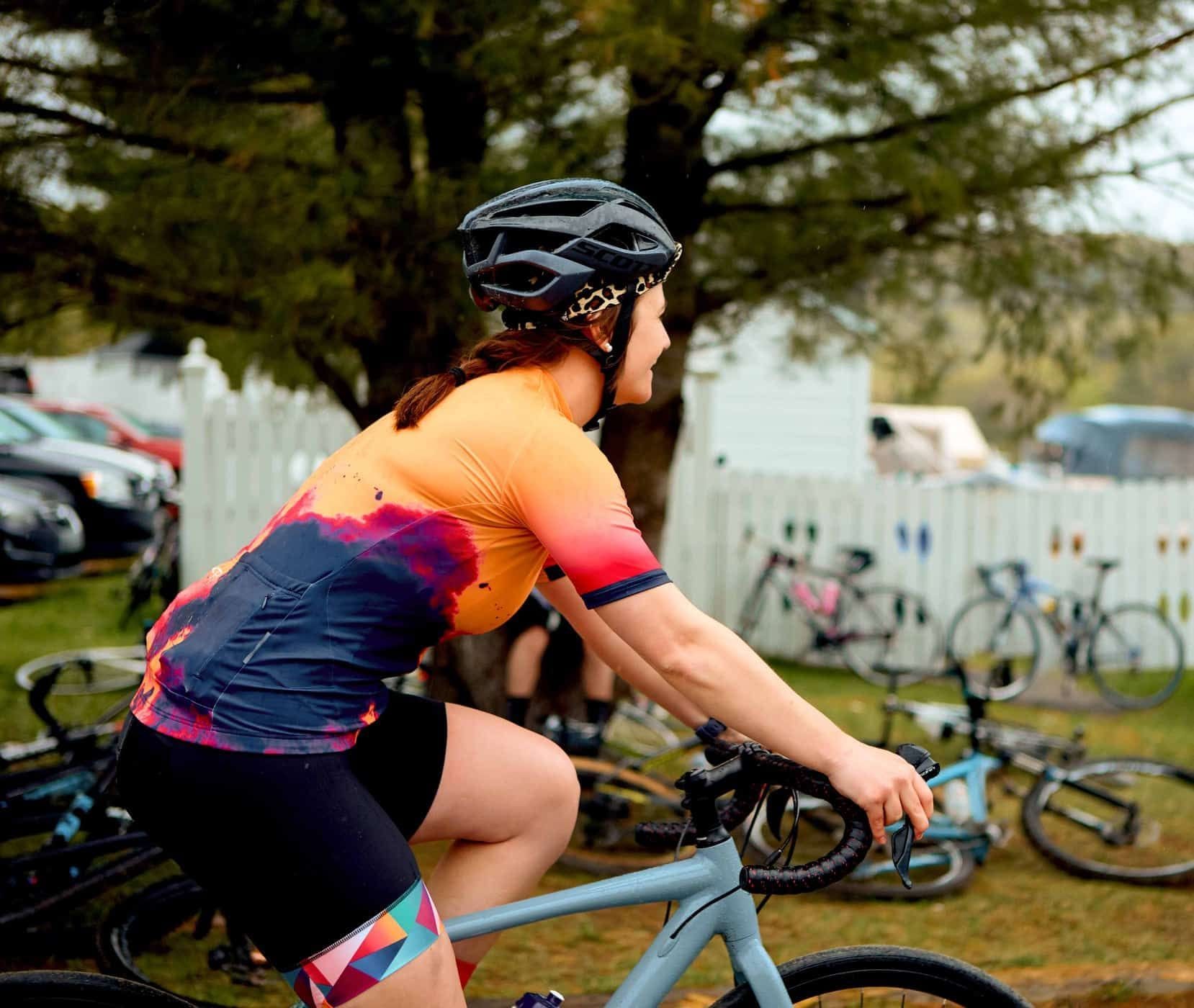 Before long, we were lining up in our groups getting ready for the main event of the day: the ride! I placed myself into the 50km road ride group and joined my fellow cycling friend, Virginie. Geared up in my colourful PEPPERMINT kit, I was confident the ride would be comfortable and fun.
Our group was the last to leave the gravel parking lot as we took off with smiles and buzzing with energy. Some minor road construction introduced us to our cycling route, and I was thankful for my wider gravel tires.
As the kilometres passed by, I was impressed with the PEPPERMINT cycling apparel. Any cyclist would know that a few hours in the saddle can make for a pretty sore derriere, so I was thrilled that after the first leg of the journey, I was still comfortable and enjoying the ride. We meandered along winding roads through blowing fields and alongside la Rivière Rouge, it was peaceful and the rain had yet to start falling (*knock on wood*).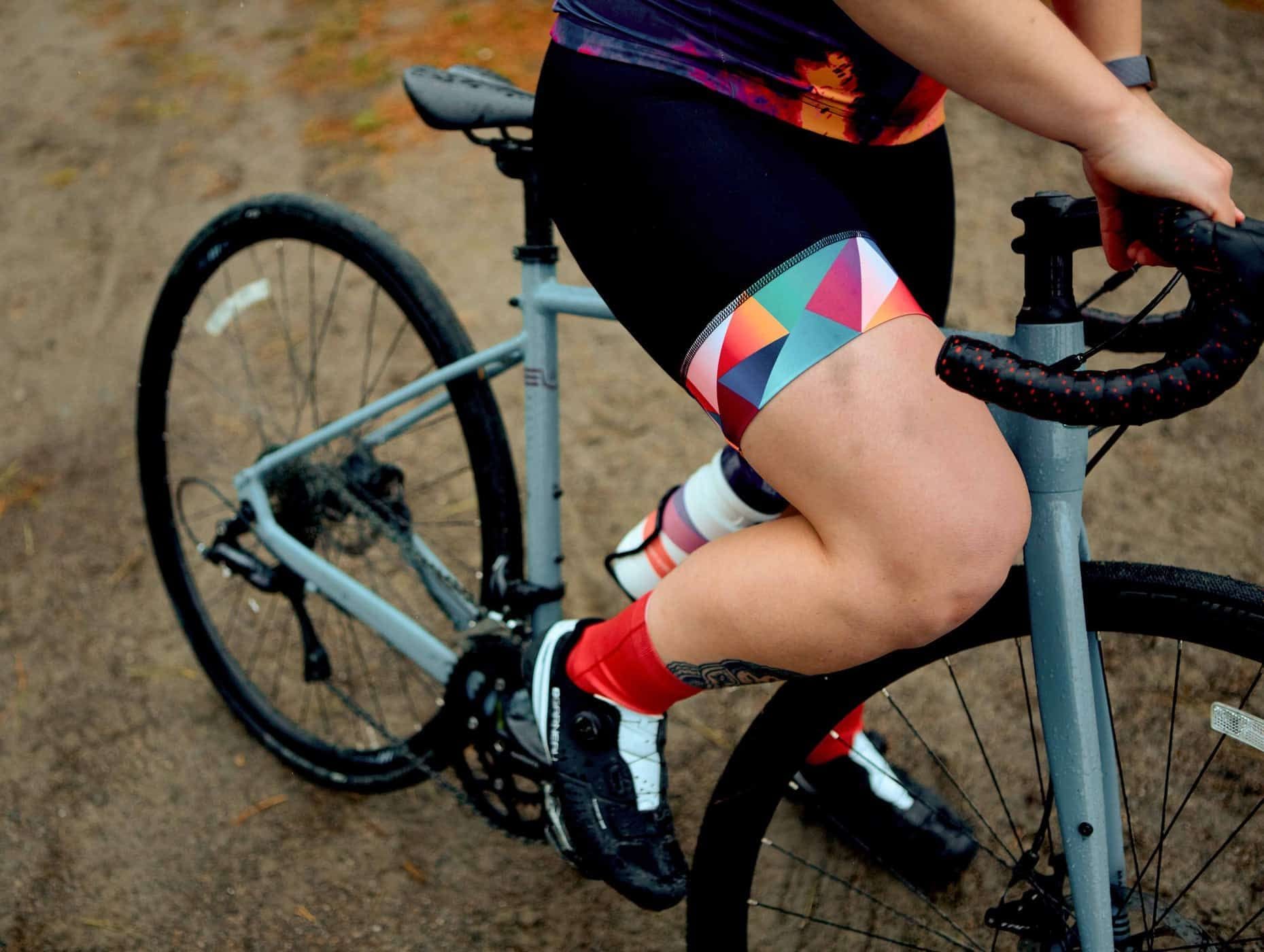 Because PEPPERMINT is a women's cycling brand, each of their products are designed specifically for women. For this reason, they choose a top quality Italian-made CyTech chamois pad for the bibs to ensure comfort so you can focus on the ride. Thick 2.5 inch leg bands made with double fabric enhance comfort and eliminate any uncomfortable pressure or discomfort while cycling. If you are a serious cyclist or you know one, you know that long hours on the bike equates to muscley thighs, so comfortable, wide leg bands are a must.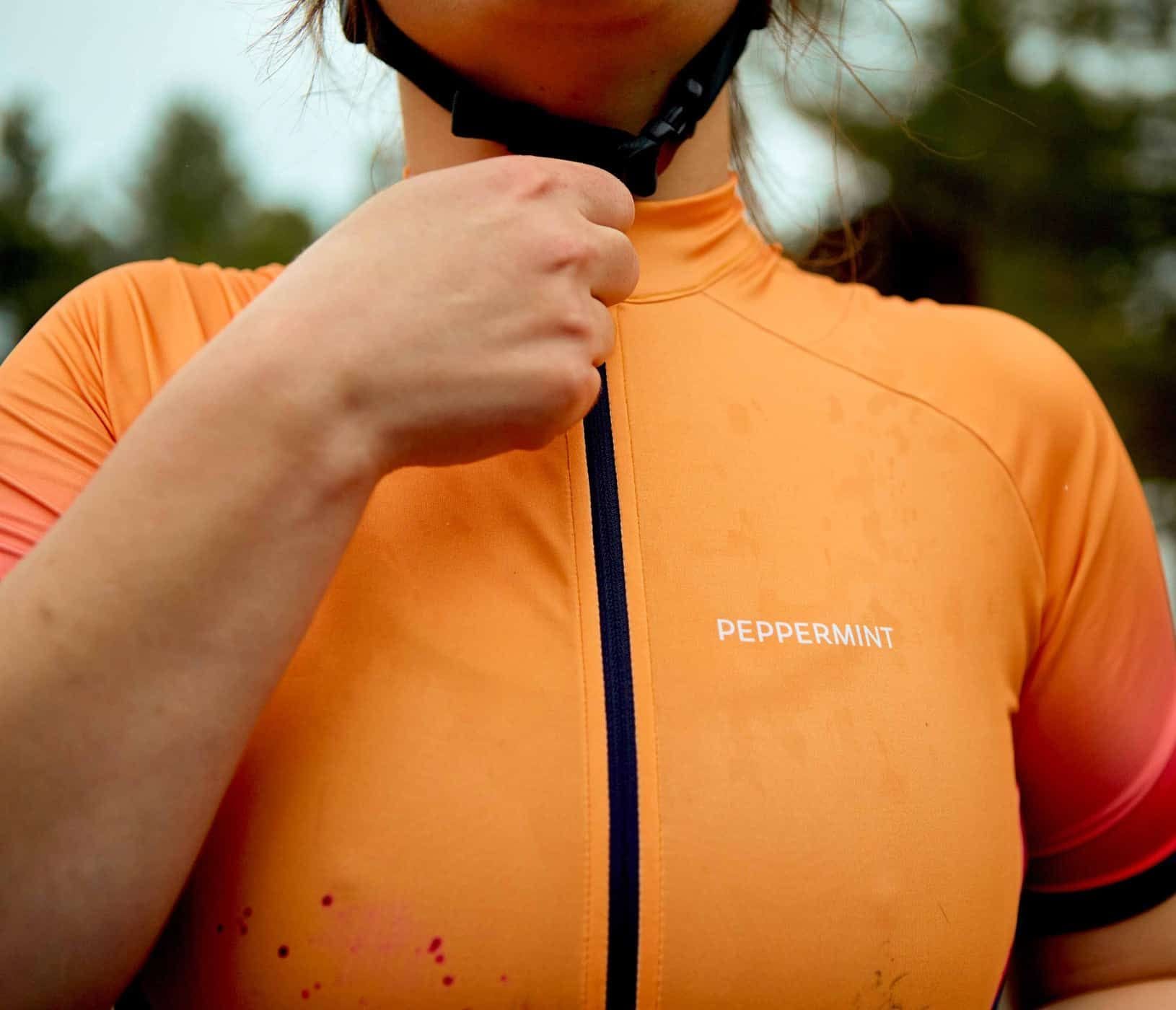 My favourite part of the Signature bib is the colour block pattern located at the bottom of the right leg and on the bib shoulder straps. This touch of colour adds a little fun to the kit and mixes up the usual full black bib look. There are also reflective accents such as the PEPPERMINT logo found at the base of the back as well as at the bottom of the left thigh on the back. These accents are ideal for when you are riding in conditions with limited visibility or after dark.
Now to my favourite part of the kit, the jersey. First of all, I love the Burst Apricot colour of the Signature jersey, but it also has some great features. I'm always skeptical about stuffing essential belongings into the back pockets of a road jersey as I worry that small items may fall out unnoticed. For this reason, I found the vertical zipper pocket located on the right side incredibly handy. I could leave my keys stress-free knowing that I wouldn't accidentally drop them when reaching for a snack bar or my phone.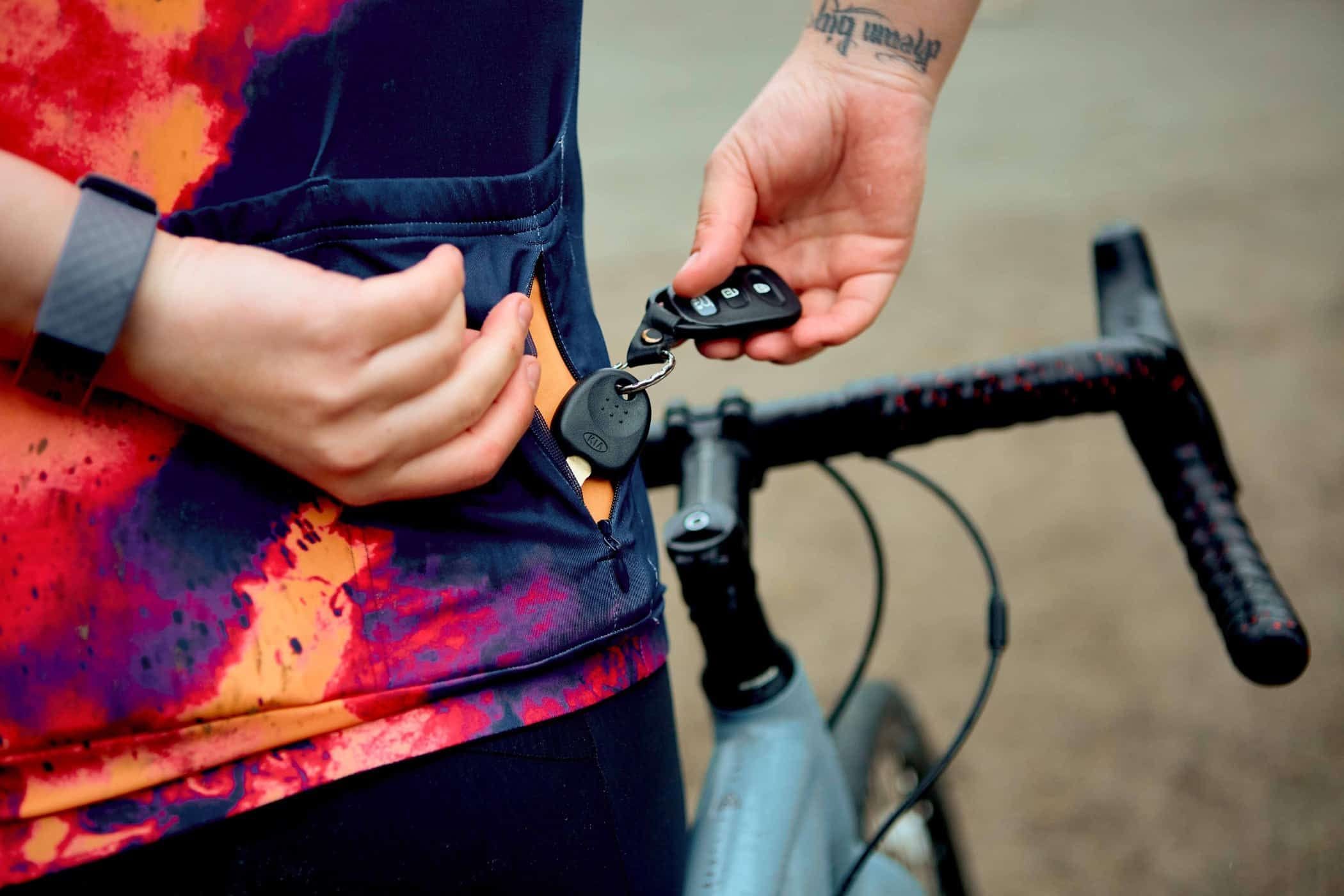 Aside from the zippered pocket, there are three regular pockets that are great for storing your usual road snacks and your phone. Thanks to the anti-slip silicone elastic, the jersey stayed in place and didn't right up awkwardly as I pedalled – this is a bonus! PEPPERMINT also took into account your position while on a bike and have made their jerseys with a longer back to ensure full coverage. Everything stays in place, and overall, the PEPPERMINT Cycling kit has a very flattering fit that every gal is sure to love.
I often find myself between small and medium when it comes to sizing and found the PEPPERMINT Apparel to have an athletic fit. Because of this, if you are planning to purchase a cycling kit, I would suggest sizing up as I did find the sizing to be fit slightly on the smaller side.
For the ladies who prefer the dirt to the pavement and relaxed cycling apparel to spandex, PEPPERMINT also has a mountain bike collection. You can find funkily patterned and vibrant coloured jerseys in relaxed cuts perfect for long rides on your local mountain bike trails. There are also mountain bike shorts to complete your mountain bike look.
| | | |
| --- | --- | --- |
| Enduro Mountian Jersey | 3/4 Mountain Jersey | Wild Mountain Short |
SHARE