With more than 120 years of experience, you could say France's Rossignol was there when the notion of skiing as a sport began. A foundational ski brand driven by innovation and the pursuit of perfection, Rossignol has greatly influenced the growth of alpine skiing as we know it.

The Origins of Success
Carpenter and passionate skier Albert Rossignol made his first wooden skis in 1907 in his French homeland. It was the birth of a brand. By the following year his prototype won its first national prize. Four years later production went industrial.
The skis gained traction in the upper echelons of the alpine downhill world. High-level athletes quickly caught on and spread the word, partly through winning competitions on Rossignols. They begin with furnishing Olympians skis at the 1924 Olympics in Chamonix. As success grew, Rossignol decided to go global in the 1960's.
The first breakthrough came with legend Emile Allais' metal Allais 60 skis, which Jean Vuarnet used to cruise to Olympic gold in 1960. The next revolution came with the first performing fibreglass ski, the Strato, released in 1965. US and Canadian expansion exploded, and through the 1970's Rossignol rose to become the prominent global ski manufacturer.
| | | | |
| --- | --- | --- | --- |
| Men's Hiver Down Jacket | Men's Alberic Knit | Women's Hiver Down Jacket | Women's Medaille Print Pants |
Expansion, Struggle, and a Renaissance
After a long time at the summit of the ski world, Rossignol turned to diversify their portfolio and began manufacturing clothing, tennis accessories, golf wear and other items.
In 2010, after a rough passage, ex-employee Bruno Cercley bought the company with a different strategy in mind. He moved part of their ski manufacturing back to France, specifically Sallanches, close to Chamonix. The move heralded Rossignol's return.
Rossignol still produces a range of cycling products and clothing, all while adhering to the goals that won them their place: style, performance and versatility in the alpine world.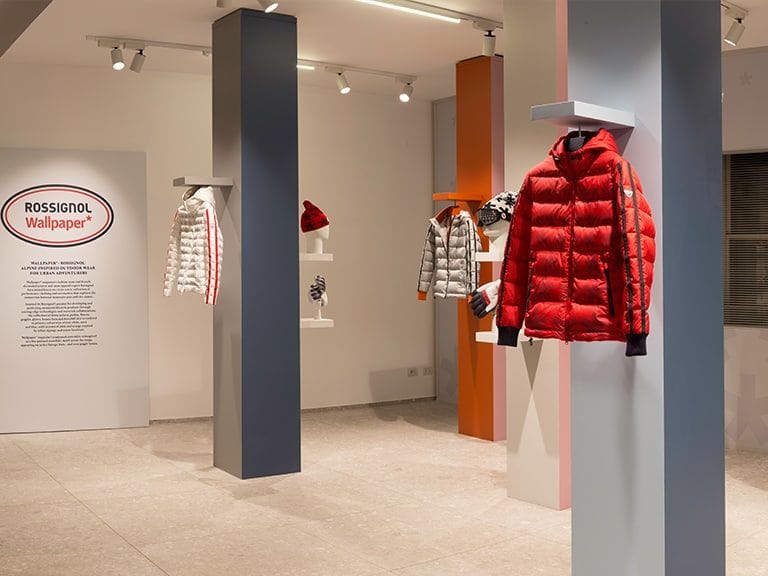 The Wallpaper* Collaboration
| | | | |
| --- | --- | --- | --- |
| Men's Cesar Asterisk Jacket | Women's Carolina Asterisk Jacket | Men's Asterisk Sweat | Women's Maxence Asterisk Parka |
Today Rossignol offers a quality selection of winter wear for men and women, from down insulated coats to knit sweaters. Urban and alpine friendly, their branding speaks to their origins: blue, white and red, France's national colours, appear in some way on every piece in deliciously retro fashion.
The contemporary urban fashion world has been taken by storm by this angle, as their recent collaboration with British design magazine Wallpaper* proves. The line of jackets and accessories is versatile enough to shine in the city or at the ski resort. Combining the heritage Rossignol rooster logo with the emblematic Wallpaper* asterisk branding, the collection offers uniquely elegant après-ski clothing to please any winter urban explorer.