So you've spent all winter avoiding the gym and coming up with every excuse in the book to skip-out on the spin classes you were so motivated to sign up for. Now it's spring and you're determined to run because running seems easy enough right? Find yourself a nearby running route, slap on some proper fitting running shoes and you're all set.
Getting Started
Although running is one of the easier hobbies to pick up, there are a few essentials for the beginner runner that you need to consider. Common sense is key so small things like warm-ups and hydration are important to not be skipped.
Stretch, Stretch, Stretch!
Pulling a muscle can put you on the sidelines as quickly as you start your routine and keep you there for a whole season so be smart and stretch. Give yourself ten to fifteen minutes before each run to warm up your muscles and again at the end of your run to cool down. An efficient stretch and warm up will keep you from damaging your muscles and allow you to enjoy a full running season.
Start Small & Grow
When you're starting out, it is important to not over commit. There's nothing wrong with starting off with a short route and building up to longer more challenging running routes. If you've never ran a day in your life, there's a good chance your body will be overwhelmed by the sudden burst of activity.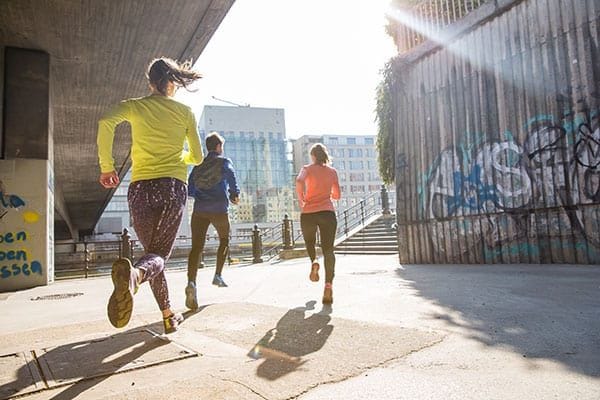 * Photo By Vanessa Andrieux
Running Shoes
Your number one tool as a runner is your footwear. Inadequate running shoes can make or break you within the first few minutes so do your research and make sure you find the perfect running shoe for your running style.
Brooks

Women's Ghost 9

Salomon

Women's Crossamphibian Swift Shoes

Saucony

Men's Triumph ISO 3 Running Shoes

Zoot

Unisex Ali'i 16
Apparel
You're only as comfortable as the clothing you wear so dress accordingly.
On the Top & Bottom
Being active will get your heart rate up and increase your body temperature and running is no exception. Dress in quick-drying and moisture wicking materials (not cotton) so that if you do work up a sweat, the perspiration can be wicked away effectively before you catch a chill.
Whether you wear shorts, capris or tights, find a pair that fit comfortably. There's nothing worse than fumbling around with a too-large waistband or seams in all the wrong places while you're trying to run.
Arc'teryx

Women's Motus Crew Short Sleeve

Icebreaker

Women's Comet Shorts

The North Face

Men's Ambition Short-Sleeve

SAXX Underwear

M's Kinetic Train Short
Under Garments
For the ladies, a supportive bra will be the difference between an enjoyable run and a less than thrilling experience. Leave the push-up bras and lacy bralettes at home and invest in a comfortable sports bra that will provide the support your gals need.
For the ladies and the gents, comfortable underwear is also essential. Pick a fit and style that you know won't be a distraction.
Prana

Women's Aelyn UW Top

MyPakage

Men's Pro Series Boxer Brief
Socks
Don't forget to pamper your feet. These little motors will be with you every step of the way so a comfortable pair of socks is crucial. Once again, avoid cotton because once it's wet, it stays wet and sweaty feet are never a great feeling (or smell). Find yourself a pair of socks made from synthetic materials or a wool blend like those from Smartwool, Icebreaker, Wigwam, Darn  Tough and more.

* Photo by Scott Markewitz
Accessories
Some people run with hats, some wear watches to track their results, some run with a small backpack and some leave it all behind. When you're starting out, you don't need all the bells and whistles although there's nothing stopping you if you do.
Water Bottles
Hydration is key so whether you run with a water bottle in your hand, a small hydration pack like Salomon's Agile 2 Set or a runner's belt like the Mercury 2 Hydration Belt by Nathan equipped with water bottles, drink up and continue throughout your run.
Watches
Not everyone uses them but if you're setting goals for yourself, a running watch is a great accessory. Track your heart rate, your number of calories being burned or even your distance and time. When you're starting out, a basic watch that does all three, like the Garmin FR 70, is ideal and you can get more complex and technical as your routines do.
Sun Protection
When the sun is blazing, you are vulnerable. Throw on a tech cap like one of the many styles and colour options from Ciele Athletics to keep the sun off your face and out of your eyes.
Not a hat person? No problem! There are multiple styles of eyewear that are designed for running so find your style and tint and you're ready to hit the road.
For those scorching hot, sunny days where you can't resist to go for a run, ensure you lather on some sunscreen to avoid unsightly tan lines and unbearable sunburns.

*Photo By Vanessa Andrieux
Official Runner Status
Once you get past the awkward search for your personal running technique and begin to follow a regular running routine, you can award yourself with the official runner status. Turn those extra kilometres each week into incentives for new running goodies and build up your own collection of running accessories.
Like anything, without giving a 'good old school try,' you're only left with the potential of liking something. So throw down your guard gates and get out there and try running this spring.
* Cover Photo by Scott Markewitz
SHARE