Signing up for a marathon in Dubai in the middle of the winter may sound like a great idea… until you have to head out and train in the snow, ice and cold.
As my girlfriend and I wanted to avoid the dreadful treadmill, we had to find a shoe that would be grippy, comfortable, waterproof and light enough to train 4-5 times a week.
Our review of this product
9.0 / 10
The pros are:

Light and Fast

Great traction

Multi functional

The cons are:

Not entirely waterproof

Too stiff for very long runs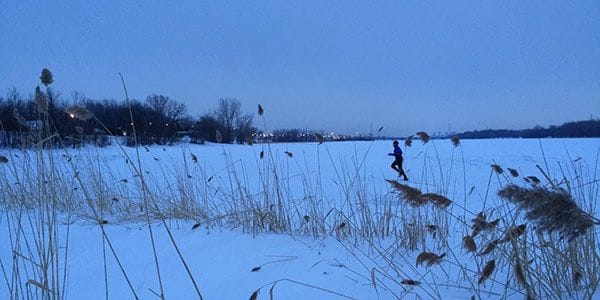 After a little browsing, we chose the 2014 Salomon Speedcross CS. CS stands for Climashield and is slightly more waterproof than the regular version yet not as much as the GTX (Gore Tex) version.
The men shoe is lightweight at 279g in a size 9. while the woman shoe weights 250g in a size 7. Interestingly enough, I also own the same shoe from the 2013 vintage and it is heavier at 314g (after more than 500kms of running). A 35g reduction is a great improvement for a shoe that still provides the same (fast) running experience.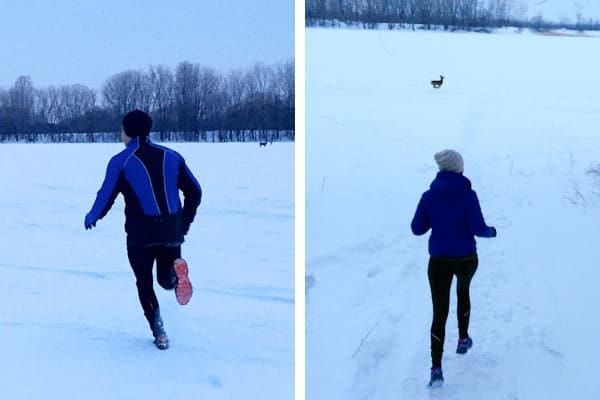 Salomon Quicklace system is easy to use, fast and does not loosen by itself while running. However, I had the tendency to tighten it too much and often found myself loosening it after a few clicks. The shoe fits true to size as both my girlfriend and I chose our usual sizes.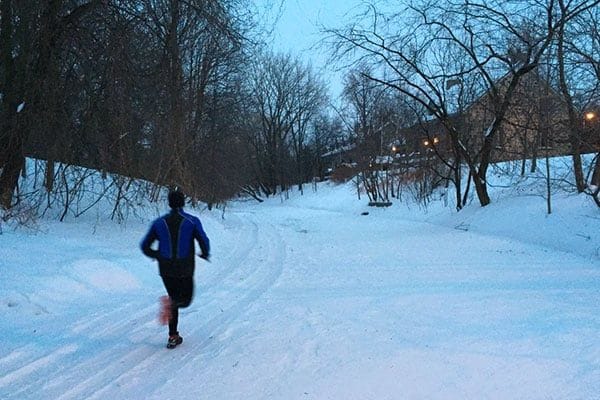 The shoe provides a lot of confidence on slippery surfaces; it is really fast and grippy. Considering that the sole is very rigid and stable, It forces you to have good running form with either a midfoot strike or forefoot strike. I remember that last year, as a beginner, I was faster in the Salomon Speedcross on light snow than in my usual Asics GT2000-2 on pavement! The shoe is great for speedplay, interval training and long runs up to a half marathon. I found that the shoe was a bit too stiff to train longer than 21kms and remain comfortable. It is manageable, but I like to be REALLY comfy on long runs. I still think I wouldn't mind running a winter marathon or a trail race in them as they are lightning quick.
As shown in the picture, we had the opportunity to test the Salomon Speedcross CS in a many different situations 🙂 The stiffness of the shoe was great when walking uphill in the desert as it provided a sort of platform preventing sinking.  The rubber spikes were also our allies when hiking in the rocky mountains of Oman. When running on the St-Lawrence river (with our deer friends), the shoe provided ample traction, however, when the snow starts to get deep, the Climashield is not sufficient to keep your feet entirely dry. In 2-3 inches of fresh snow it is not a problem but perhaps the GTX version would be more appropriate in deeper snow.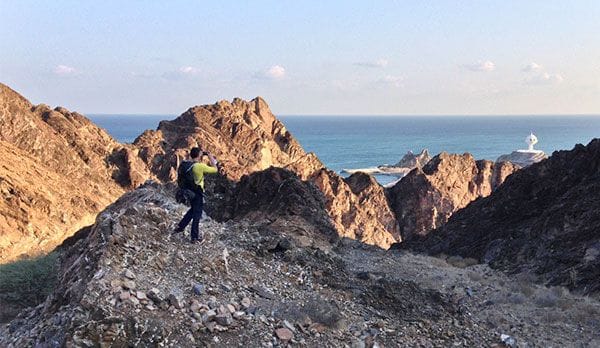 Overall, we are very satisfied with the Salomon Speedcross CS, it provided the perfect winter running partner and we were able to both cross the finish line under the warm Dubai sun!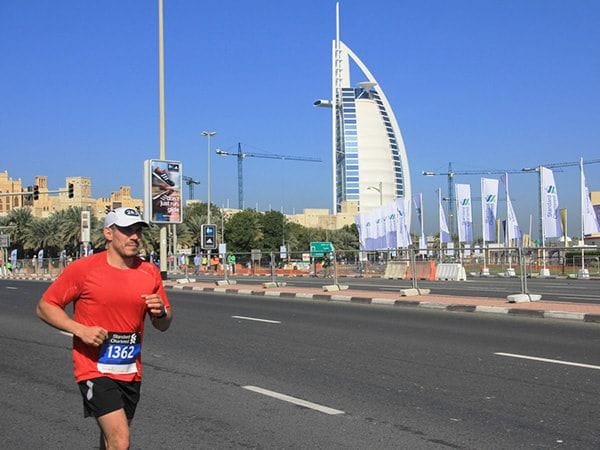 Bottom line
The best winter and trail racing shoe available.
Buy it if : You want to be fast on wet, dry or snowy trails.
SHARE