Cooler weather calls for layers, insulated clothing and this season's Smartwool Smartloft insulation. The brand has embraced the beloved characteristics of wool and branched out to create the 'world's most comfortable insulation' – Smartloft. Made from 50% recycled materials, this light, lofty, warm and sustainable insulation is made up of 88% wool and 12% polyester. The 88% wool portion is comprised of 50% recycled Merino 250 scraps and 38% virgin wool so you get the warmth you love within an eco-friendly way.
Smartwool has been at the forefront of the base layer industry and a favourite among many. With a shift towards 100% ethically sourced and traceable sources, their products can only get better. This season's Smartloft collection has been refined to offer greater warmth, be lighter, feel softer and be more packable. Each garment is lined with Merino wool for maximum comfort and a soft feel next to the skin.
The Smartloft Collection
The standout feature of Smartwool's Smartloft collection is the fact that they are using the leftover scraps from the production of their Merino 250 products. The wearer can explore warmly knowing that every inch of sourced merino is being put to good use and not going to waste.
Smartloft for Her
| | | | |
| --- | --- | --- | --- |
| Smartloft 120 Skirt | Smartloft 60 Jacket | Smartloft 150 Vest | Smartloft 180 Parka |
Smartloft garments are made up of layers starting with Merino next-to-skin – a PhD Ultra Light fabric lining. The second layer is a fiber-proof scrim fabric whose job is to keep the insulation in place. Next to the scrim fabric is the Smartloft fill otherwise known as the Smartloft insulation. The final layer is the outer layer which is a wind-proof nylon with DWR. Altogether, these layers provide optimal warmth in a variety of conditions so you can explore comfortably even in the coldest temperatures.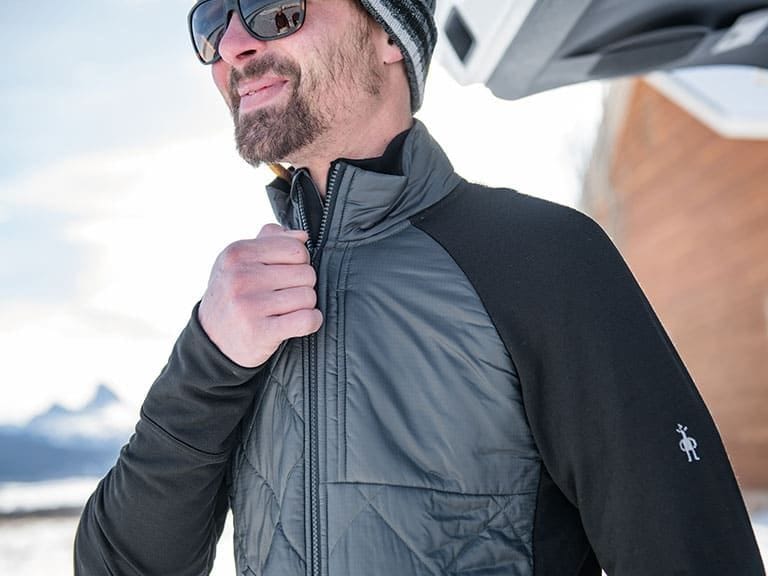 Smartloft for Him
| | | | |
| --- | --- | --- | --- |
| Smartloft 150 Hoodie | Smartloft 120 Vest | Smartloft 60 Shirt | Smartloft 120 Bomber |
Whether you're snuggling up watching the sunset on your favourite park bench or putting in the final kilometres to your base camp, Smartloft is designed to keep you cozy during your adventures in the mountains and in the city. It is easy to see (and feel) that style and comfort are a key feature for the designs within this collection making each garment the perfect addition to any wardrobe.
SHARE