'Guys, the road is reopening soon!' We could see snowplows finish clearing the last of the white concrete-like crust that had blocked our path. Sounds of TNT avalanche probes rung throughout the alpine valley. In a line of vehicles at the checkpoint, our crew sat in the truck bed with our skis, ready to be driven back up the valley for another skinning ascent—but Nature had once again delayed our adventure. After more than a 30-minute wait, we were going to be allowed through the checkpoint where snow walls taller than trucks lined the road.
At the break of a bluebird dawn that morning, one of the camp ski guides led us on skins up Red Mountain Pass in Colorado's San Juan Mountains for a descent dreams are made of. The snow was deep, light, and fluffy—over 80 centimeters of fresh had fallen the previous two days. During our descent, we'd overshot our intended stopping point, and needed to radio a truck from our lodge to pick us up near the valley bottom. 
The lines in the snow we'd just carved with our skis glistened on the sunlit mountain bowl above, meandering down into the pine trees and out of sight. Our group replayed every turn and the beautiful powder spraying above our heads, blinding our faces for a few seconds of pure bliss. The look on each skier's face at the bottom was priceless. 
But during our descent, an avalanche had slid from the face of an opposing mountain, blocking the remote valley road and covering it in several meters of snow. As we waited, our guide told us that two weeks earlier a skier had perished in a slide in the same valley we'd just skied. The avalanche-covered road was a grim reminder of the beauty fraught with real danger backcountry skiing poses. The joyful feeling from our priceless descent we'd just experienced mixed with nervousness the longer we waited.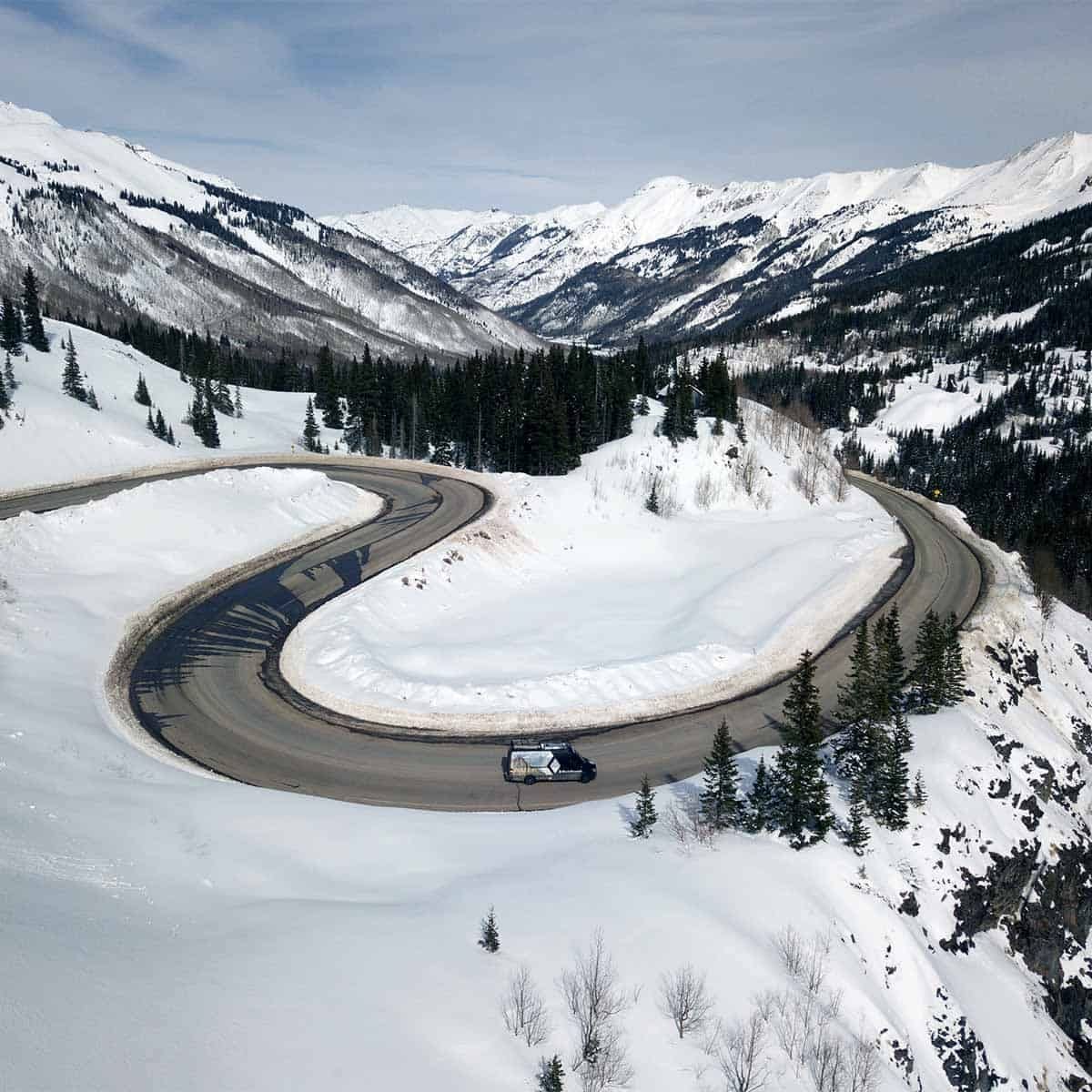 Our trip to the Black Diamond Dealer Ski Camp in Colorado had been earned with 36 hours worth of travel. Winter storms had already significantly impacted our itinerary. The result was a missed plane in Montreal, a blown connection in Chicago, a canceled flight in Denver, and the cold hard floor of Denver's Gate B86 for a night's sleep. 
A monster mid-February storm battering Denver was the cherry on the cake. Winter 2019 saw record snowfall in the American West, making for epic conditions at the 3350-meter high Red Mountain Alpine Lodge. When we finally arrived in the San Juan Mountains, we were exhausted, excited, and greeted by some of the most epic powder conditions imaginable—but the consequences of those conditions were avalanches.
That evening at Red Mountain Alpine Lodge, the sunset bathed everything in a pink-orange light. After a day of ski touring, the fondue and charcuterie board replenished our strength, and the deep powder outside restored our spirits. Around the large wooden cabin table, we went over why we were here in the heart of Colorado's legendary backcountry. Sure, our goal was powder skiing, but we were also there to test Black Diamond's new outerwear, equipment, and avalanche gear, and give the brand's product designers our feedback.
Since the beginning, Black Diamond has been about two activities—climbing and skiing. What started with a climbing anvil and hammer made in a backyard has grown into a global business built by individuals who share a deep passion for rock, snow, and ice. The company is renowned for designing innovative gear, equipment, and apparel for the most diehard enthusiasts. Our trip into the San Juan Mountains with other dealers was further proof of  Black Diamond's commitment to product testing in severe conditions.
During the recap of our day's events, our ski guides reminded us that although the conditions were exceptional, they were also exceptionally dangerous. Because of the endless snowfalls, avalanches had become a daily event near the camp lodge. Nate Disser, the owner of the ski guide company explained in detail the dangers on the slopes and the extreme vigilance which we'd require while skiing. We needed to double and triple-check our equipment, ensure we were properly briefed on avalanche rescue techniques, and choose our routes carefully.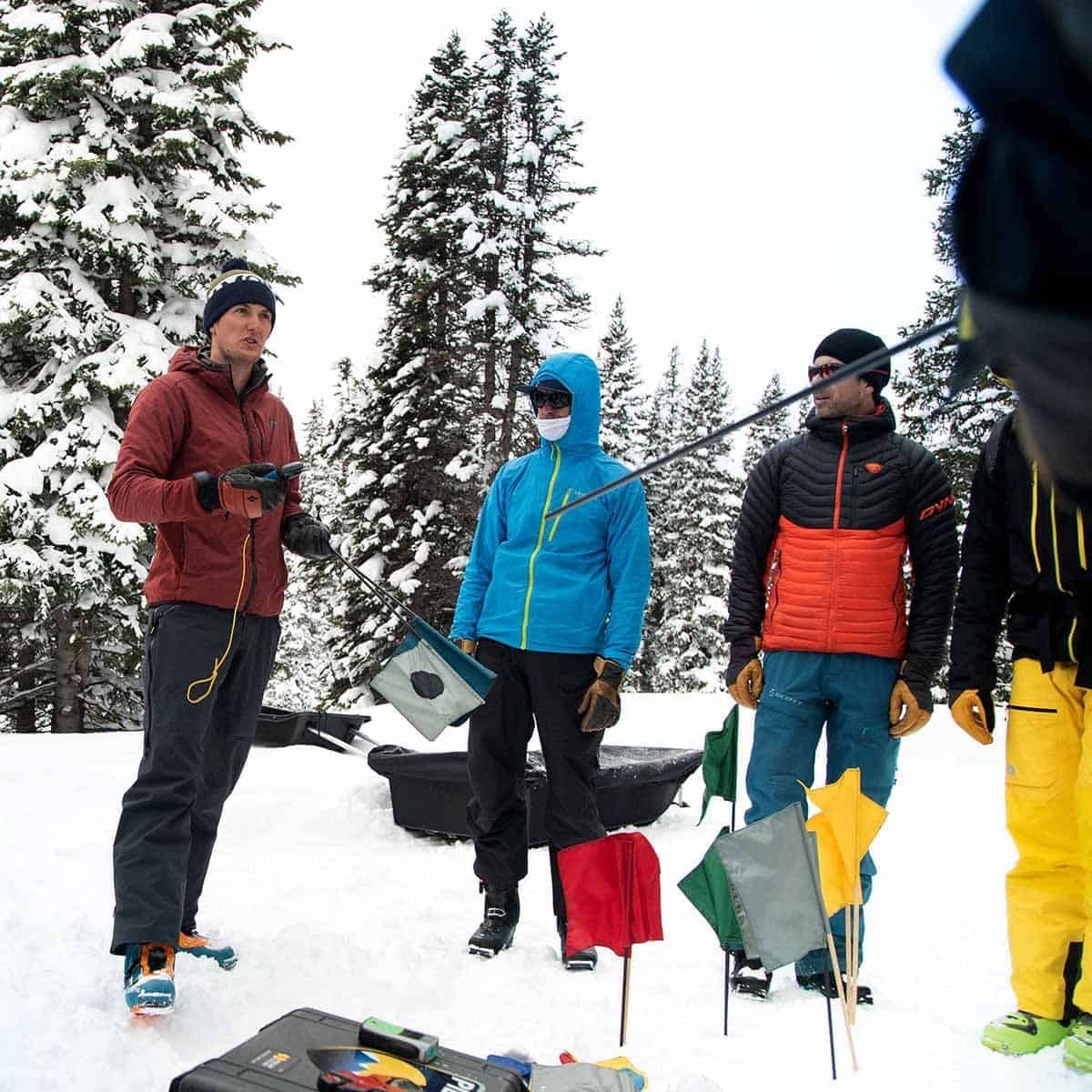 The second night went later than expected—good times and good people at high altitude— and we needed a big breakfast the next morning to get us ready for what looked to be a cloudy final day. After we dressed into next season's outerwear, we chose skis, attached ski skins, and clipped into our touring bindings right outside the lodge door. I grabbed my Dawn Patrol backpack and stowed away my precious chocolate pralines for a snack. Our group set off single-file into the overcast backcountry.
Sheldon Kerr, our guide for the day, was a San Juan local with years of backcountry skiing expertise. She brought us to the top of our first lines, monitoring our safety with every step. Before each ascent, she checked that our Avalanche Beacons were fully functional. In fact, she wouldn't let anyone go without their backcountry essentials: an Avalanche Beacon, a shovel, and an avalanche probe. Fortunately, Black Diamond is the ski industry's premier manufacturer of avalanche safety products.
It was during day three that the fatigue started to affect our skinning ascents. At over three kilometers above sea level, the San Juan Mountains altitude was cutting my breath short. There are techniques for saving energy on your climb, and I had to remind myself to be diligent about them while focussing on the cloudy mid-morning terrain. 
Despite the lung-bursting climbs during the morning, nothing could take away from the sheer magnificence of our final afternoon ascent. The clouds began to evaporate as we skinned out of the treeline at 3700 meters, and we could see every surrounding peak. It was as if Nature had given us a final sun-drenched powder run as a reward for our disrupted journey to Colorado. 
Distant peaks seemed to lean into us, enticing us with their beautiful untouched powder faces while hiding the potential danger of their crashing snow. Our guides had different ideas about the ski-able terrain. Thanks to the unstable snowpack, we wouldn't be tempting fate on exposed slopes due to the high risk of slides.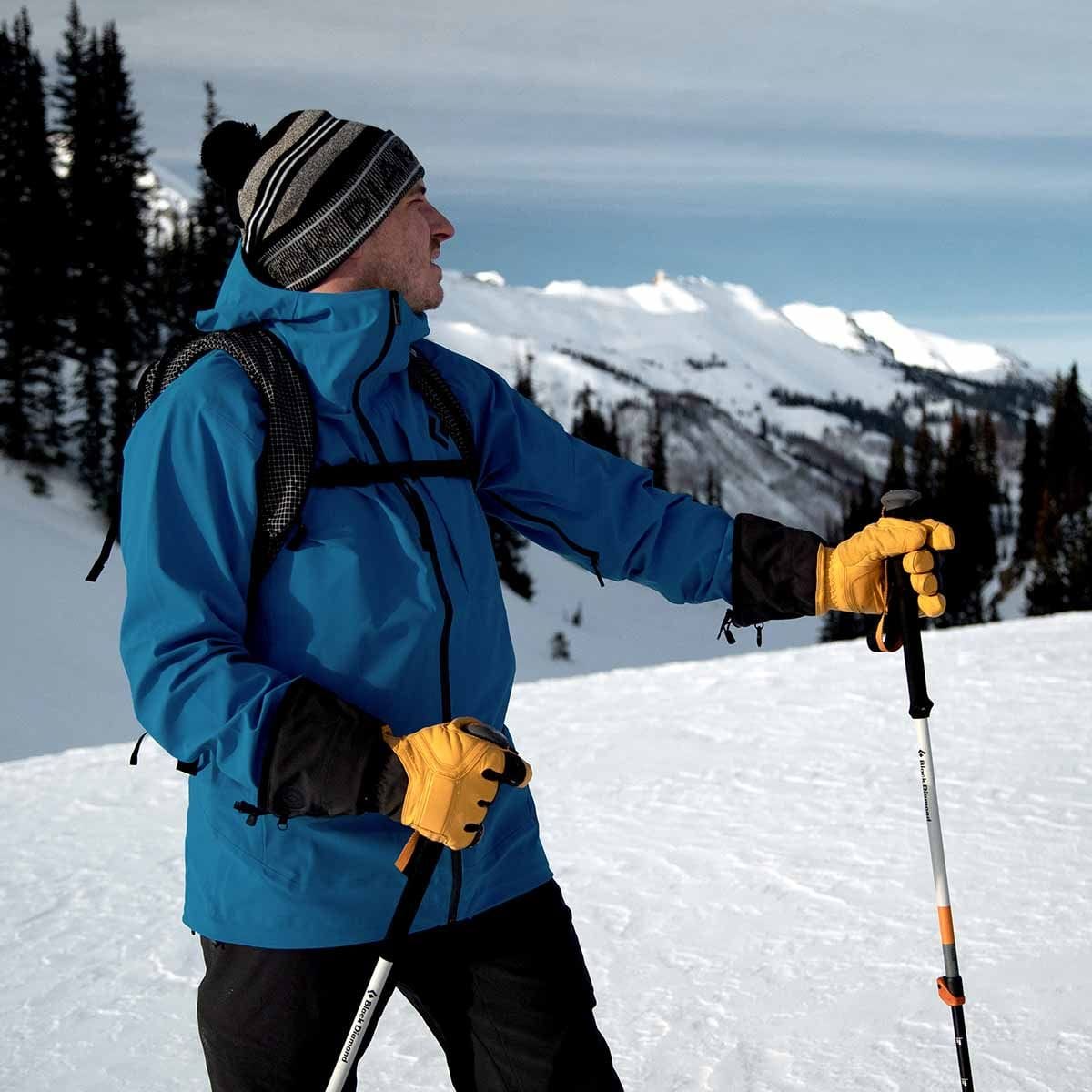 The blue sky and sun near the peak couldn't prevent colder winds from chilling us to the bone. When we stopped to remove our skins, we scrambled for extra layers. I slipped on a thick mid-layer under my waterproof Recon Stretch jacket, swapped my gloves for warmer ones, and zipped my ski pant vents shut. Before our much-anticipated final descent on a pristine open bowl, we received our final instructions from our guides—never two people skiing down at the same time, and eyes fixed on the person skiing in front, in case there was an avalanche.
A voice on the radio called out, 'Dropping in ten!'—and suddenly I was whipping down the wide-open slope. Like a metronome, my legs steadily swerved into each turn in rhythm as adrenaline pushed my fatigue aside. After an epic descent of powder, fun, and exhilaration, I finally met up with the team on a hill above the lodge. Everyone was chatty and stoked, feeling the energy of the magical conditions, which stayed with us into a night of craft beers and duck lasagna.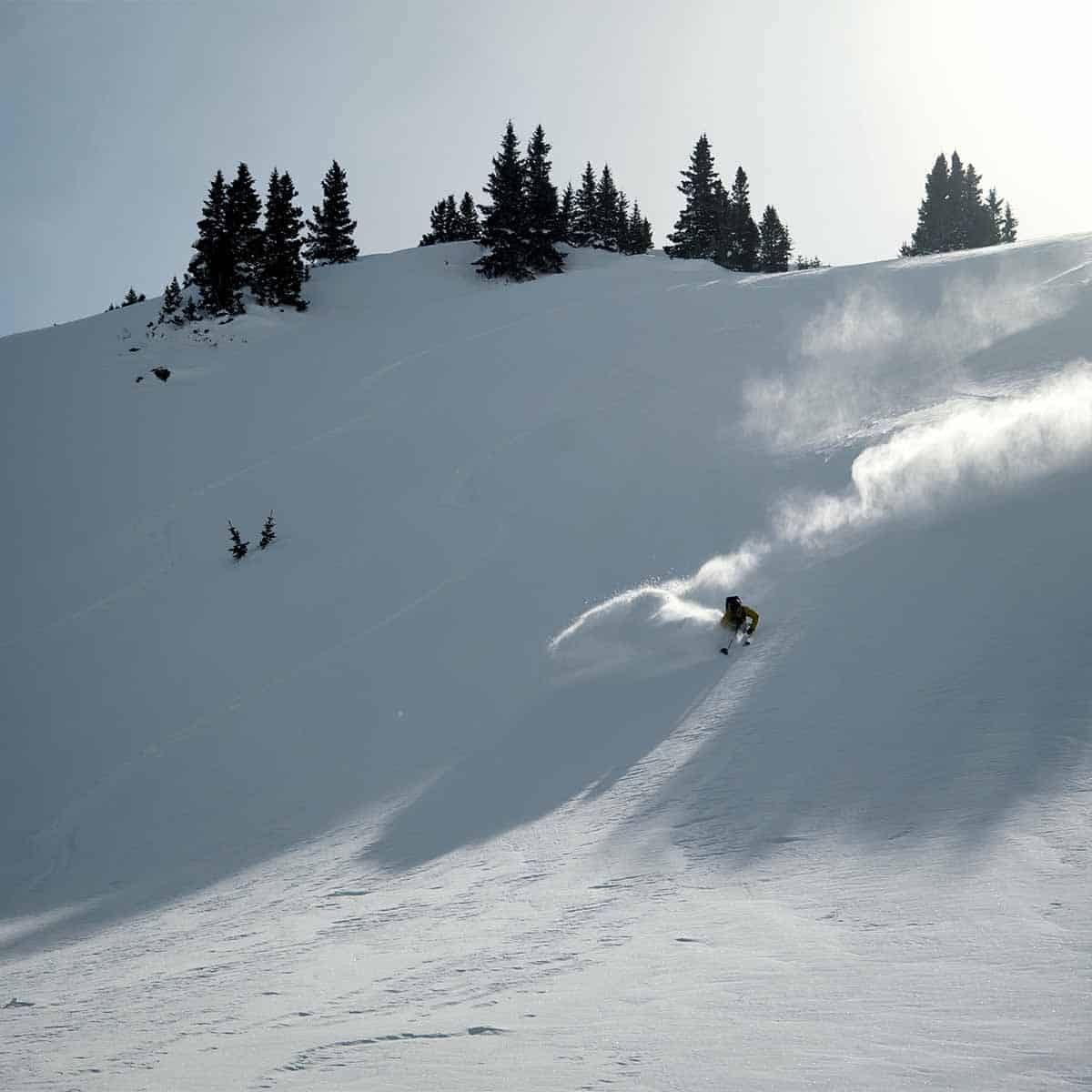 After our final dinner at the camp lodge, we met with Black Diamond product developers and engineers for our detailed feedback session. Our group gave their impressions on the products we'd tested. The engineers took notes on various prototypes and asked about small tweaks they'd made to legacy styles. We also shared feedback from our own clients. The goal of the session was simple: improve every facet of the gear, outerwear, and equipment to Black Diamond's industry-leading standards.
It's a Black Diamond team that is wholly dedicated to making the best products. They're driven and guided by the sport they also practice at the highest levels. Garrett, a development engineer who was with us the whole way, was outstanding on the slopes, better than anyone in the team.
It was a safety-first trip, and we got to test all the avalanche gear, but what really struck me was the outerwear. Not many companies can pull off consistently-performing gear at high altitudes under intense conditions. The trip was worth the exhaustion and setbacks, the delays and caution, with memories of descents that will always be with me. And Black Diamond has proven themselves again in the field, setting the highest standards for themselves first of all. 
SHARE