Techwear is all about functionality. It applies the principles of technical wear to the style of streetwear. These sleek and modern designs are made to hold up against the elements while giving you the ability to move freely through the city. In the past decade, outerwear companies have been taking their technical expertise and applying them to urban styles. Depending on where you live, the requirements of your techwear gear may differ. For those who live in the city and want functional urban designs that keep them warm and protected when the snow starts to fall, here's our guide to winter techwear.
Winter Functionality
Cities that face rainy, overcast weather would require a durable shell, often reinforced with GORE-TEX for waterproof protection. Head to the cities where brutal winter cold, icy streets, and mountains of snow are the norm, and you'll realize you require a lot more than a shell and a sweater. Winter insulation, windproof design, and waterproof protection – all of these and more are required of our winter techwear.
Layering
We have to remember that techwear places an emphasis on functionality.  In the case of winter techwear, there's even more emphasis on clothing that's adaptable to constantly changing environments and climates. From the snow-covered city streets to the underground, the commute to work or school offers many challenges. Depending on the temperature, the type of weather, or personal preference, layers can provide the versatile coverage you need.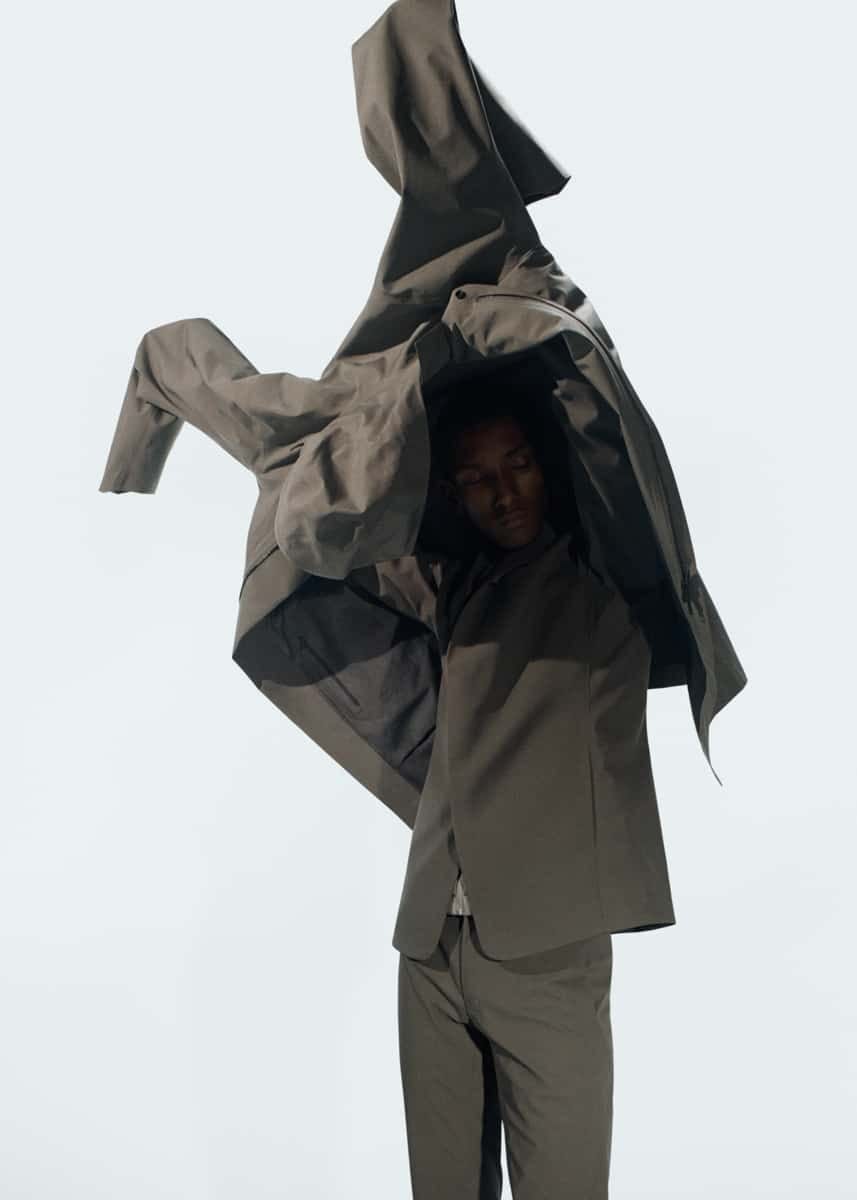 Base Layers
Whether you're layering up, or just going with a heavy-duty parka, the role of the base layer won't change. Whether it's a top, a bottom, or both, this layer sits right on the skin so it needs to be soft to the touch. You don't want to be too hot, and when you start to sweat, you don't want the fabric to soak. While synthetic fabric blends can do a good job, there is no better fabric than merino wool to offer the temperature regulating, moisture-wicking quality that you would need from your clothing. Brands like Smartwool and Icebreaker have set the standard for high-quality garments made using merino wool. Arc'teryx has followed suit and used merino when designing a number of their base layers.
Arc'teryx

Satoro AR Crew Neck Shirt LS

Icebreaker

Anatomica Long Sleeve Crew

Smartwool

Intraknit Merino 200 Crew
Mid Layers
The mid layer is the most versatile piece in the techwear uniform. It can usually be worn on its own, or with a shell. When creating a three-layer system for winter, the midlayer will often feature down fill or synthetic insulation. A DWR finish is always preferable, but if you're wearing your insulated jacket as a mid layer, you can rely on the shell to protect you from wind, rain and snow.
Since the midlayer will often feature the most insulation in your layering system, it might be worth considering what type of insulation to use. The two main types of insulation are down and synthetic, and while the benefits of both outweigh the cons, you might want to consider how each one is being used. Down-fill insulation has a better warmth-to-weight ratio, but synthetic insulation is more affordable and will not lose its ability to keep you warm when it gets wet.
Down-fill Mid layers
Descente Allterrain

D.I.S. Down L/S Shirt

Mountain Hardwear

Ghost Whisperer 2 Jacket

Black Diamond

Approach Down Hoody
Synthetic Mid layers
Veilance

Mionn IS Jacket

Blackyak

Calvana 120 Hoody

Arc'teryx

Atom LT Hoody
Techwear Shells
The hard shell is essentially the armour of the techwear uniform. It's the jacket you wear over everything else, and has to be able to protect you from everything nature throws at you. Vicious winds, freezing rain, non-stop snowfall and more. A weatherproof membrane and completely sealed seams are a must. GORE-TEX is the go-to technology for most outdoor apparel brands because it provides all the protection you need while remaining durable and breathable.
The Partition LT gives us a glimpse of a techwear future with its clean, minimalist aesthetic and durable construction. The oslo is a classic car coat but reinforced with a GORE-TEX membrane, it becomes a prime example of techwear functionality. The Summit L5 features The North Face's new Futurelight technology in all it's glory, with a  lightweight field jacket style that looks good in the urban environment.
Veilance

Partition LT GTX Coat

Norrøna

oslo GTX Coat

The North Face

Summit L5 Jacket
Insulated Shells
A technical shell by definition won't have any lining at all, but some jackets with durable exteriors do come with minimal lining. These wouldn't be classified as hard shells or parkas because they're designed to provide warmth during transitional seasons that require weatherproof protection but don't require full winter insulation.
The Ames Jacket from Arc'teryx features a durable 3L GORE-TEX shell, and light insulation, all wrapped into a sleek urban coat with minimal lines, and total functionality. Alchemy Equipment designed a blazer with a removable Primaloft insulated jacket and a weatherproof shell that embodies the techwear spirit that blends the functional and the aesthetic. Veilance continues to create innovative designs, and the Patrol Down Coat with its built-in layering system shows us the full potential of techwear apparel.
Arc'teryx

Ames Jacket

Alchemy Equipment

Primaloft Insulated Blazer

Veilance

Patrol Down GTX Coat
Techwear Parkas and Coats
Your winter techwear jacket needs to do it all. The parka needs to have premium warmth combined with a durable exterior that can hold up to cold winds and snowy days. Thick insulation, whether synthetic or down, is protected by a thick outer fabric, that either has a GORE-TEX membrane or a finish capable of keeping you dry. It also has to do all this and more, while conforming to the sleek urban aesthetics of techwear.
The Outremont Parka from Vallier offers premium weather protection and warmth in a sleek design that gives you total winter coverage. The røldal Parka from Norrøna is an urban parka that provides complete winter warmth with a durable GORE-TEX outer shell. The Ystad Down Jacket from Norse Projects combines goose down insulation with a fully waterproof, windproof, breathable GORE-TEX membrane. Techwear has become almost synonymous with Veilance, and the Galvanic Down Coat ticks off all the boxes when it comes to style and total winter-ready functionality.
Vallier

Outremont Parka

Norrøna

røldal GTX Insulated Parka

Norse Projects

Ystad Down GTX Jacket

Veilance

Galvanic Down GTX Coat
Winter Techwear
Many brands who started making technical apparel for the great outdoors, have found their way back into the city. The North Face started making jackets and gear designed for exploration, and now their clothes are seen all over the city. Arc'teryx took their knowledge of technical fabrics and applied it to the futuristic designs of their urban brand Veilance. Weekend warriors want apparel that can accommodate their active lifestyles, with designs that are ready-made for the city. When the city hits subzero temperatures, you need to adapt. Whether you bundle up with a mid layer and a shell, or you roll all that winter protection into one, you want to say protected against winter's worst. After all, techwear is all about conquering the elements in the urban environment, no matter how cold it gets. 
SHARE