"Our mission is to inspire the world to discover and to walk within nature. We believe strongly it will make a saner future for everyone. And we have our experience and our passion for nature to guide us."
 -Martin Axelhed, President of Fjällräven
The Classic hike was created by Ake Nordin, founder of Fjällräven, to celebrate the Scandinavian concept of friluftsliv, life in the outdoors. In 1970, the company started this weeklong outdoor hike, lending equipment and explaining how to use it. Forty years later, I am invited on the very same hike in Northern Sweden, continuing this splendid tradition.
The trip was going to take me from Montreal, through Stockholm, arriving finally in Kiruna. It's 110 kilometers long and would take us along the last part of the Kungsleden (King's Road), 145 kilometers north of the arctic circle. It's one of the most remote hikes in Europe, found in the Lapland region of Sweden. Every year, 2000 trekkers from over 45 different countries converge to Nikkaloukta to begin the trek, which finishes in Abisko.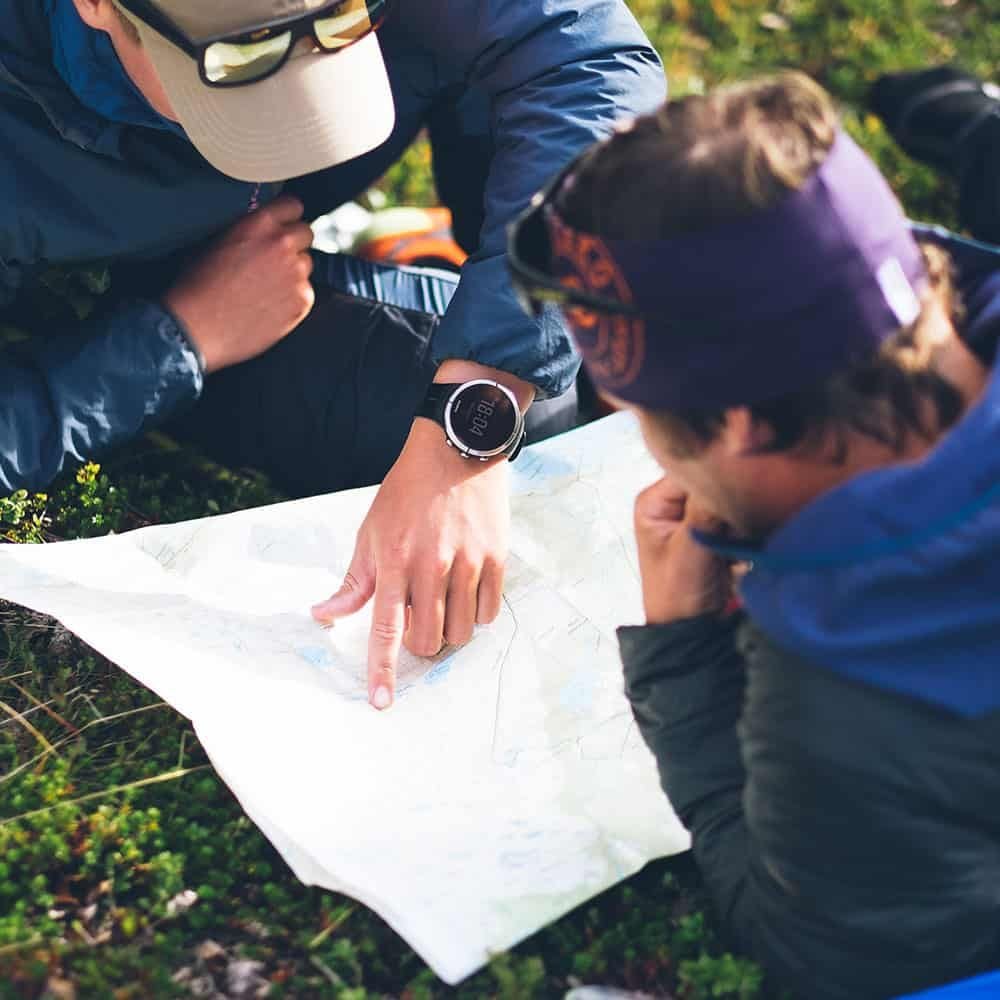 Preparation
Excited to begin the adventure, I approached the main cabin to meet my trekking/living partners for the next 5 days. We were 17 trekkers with three experienced guides and our trekking experience was just as diversified as our home countries.
Once we packed for the next day, we used our last night in civilization to get acquainted by telling stories around the dinner table. Everyone was nervous but equally excited.
Day 1- Nikkaluokta to Kebnekaise (24 km)
The morning brought a mixture of excitement and anxiety. With my 30-pound backpack, holding my trekking poles in my hands, and a smile on my face, our group took off into the unknown.
The first 100 steps were magical; the air crisp and the mountains impressive. We walked along a glacial lake with unimaginable blue water. The sun and clouds shared the sky, bringing a greyish hint to our surroundings. It was the ideal setting to relax and contemplate life for a few hours; however, we had kilometres to walk. I took a photo, then returned to the trek.
When we arrived at our destination, we were relieved to unlace our boots and take it all in, starting with the plentiful blueberries that spread out around us. A herd of wild reindeer glided across the valley floor, adding to the magnificent scene. I took a deep breath and accepted all that Mother Nature had to offer.
I fell asleep deep in my sleeping bag and dreamed of the wonders we would encounter tomorrow.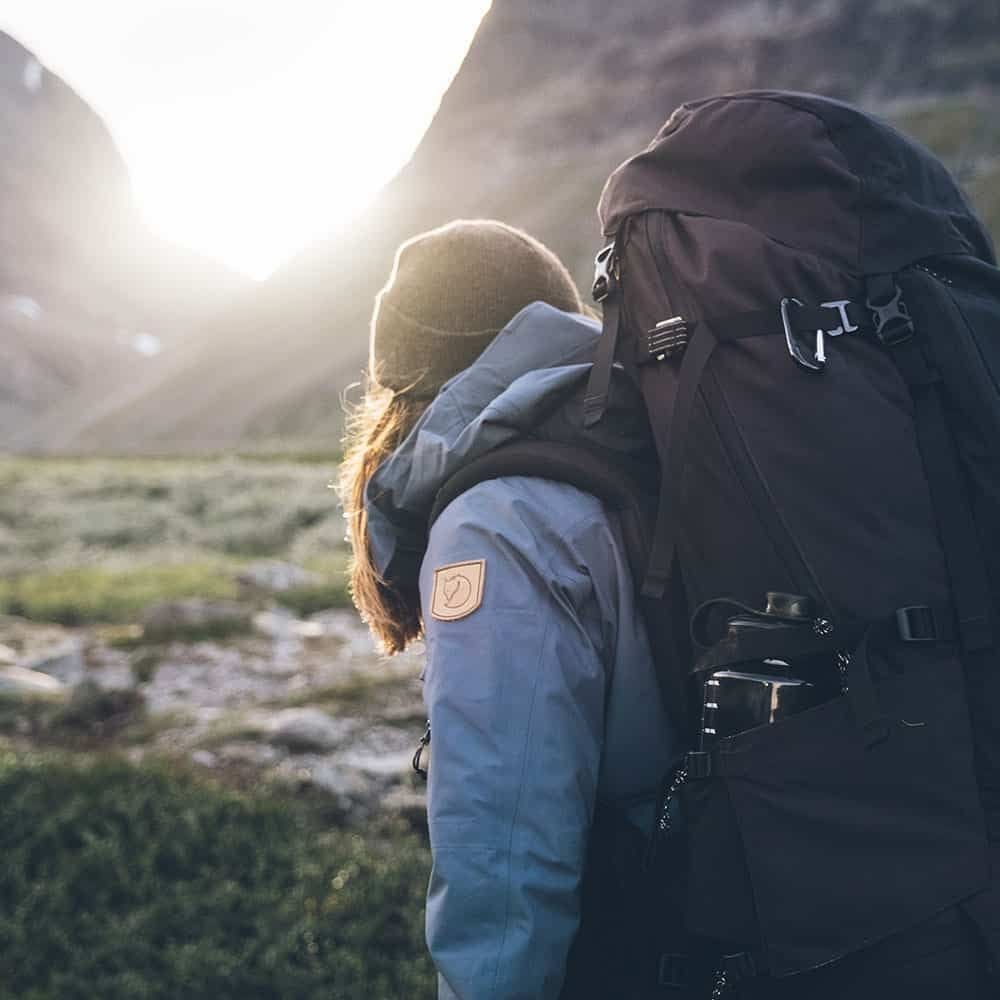 Day 2- Kebnekaise – Singi – Salka  (22 km)
We awoke to cool the morning air and vicious wind. Bad weather only affects those who let it affect them, so we all left camp in good spirits. We jumped rocks, crossed streams, wore away pebbles hour after hour in deep silence. The valleys were vast, untouched and pure. I felt a mix of solitude, melancholy and serenity.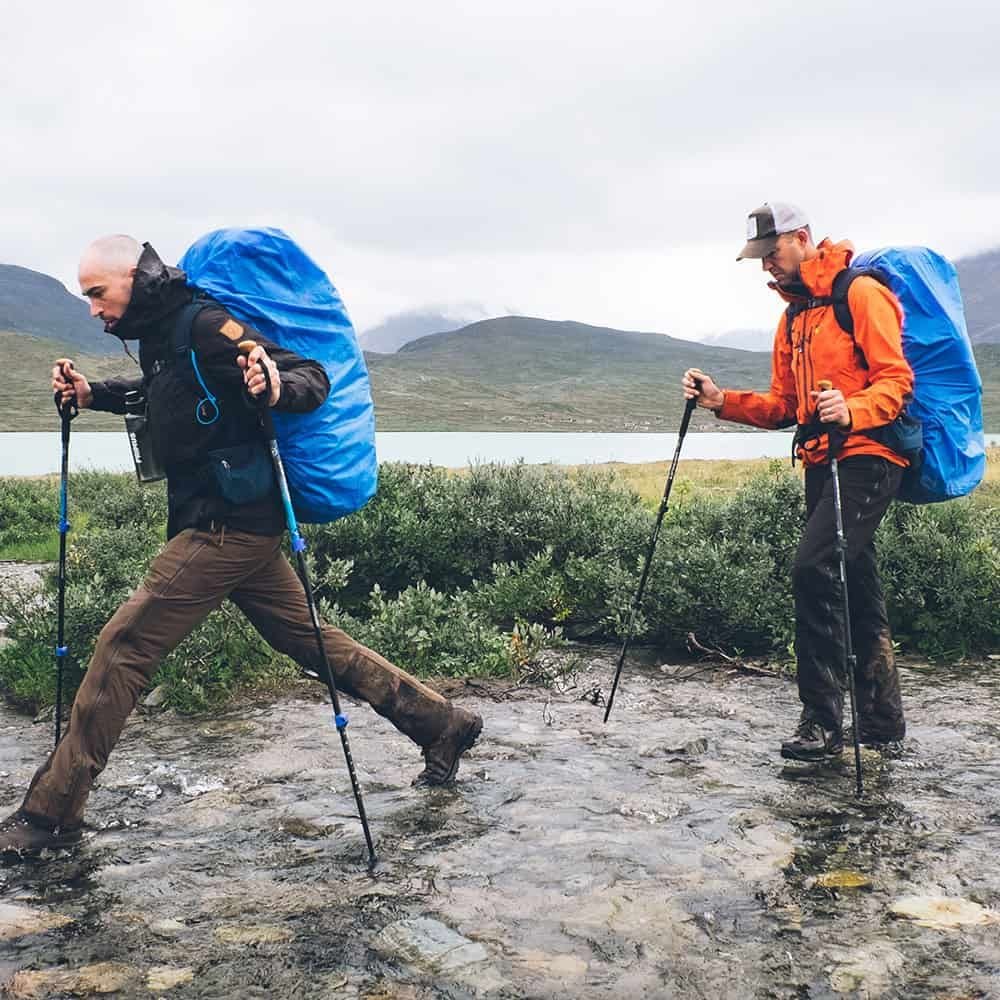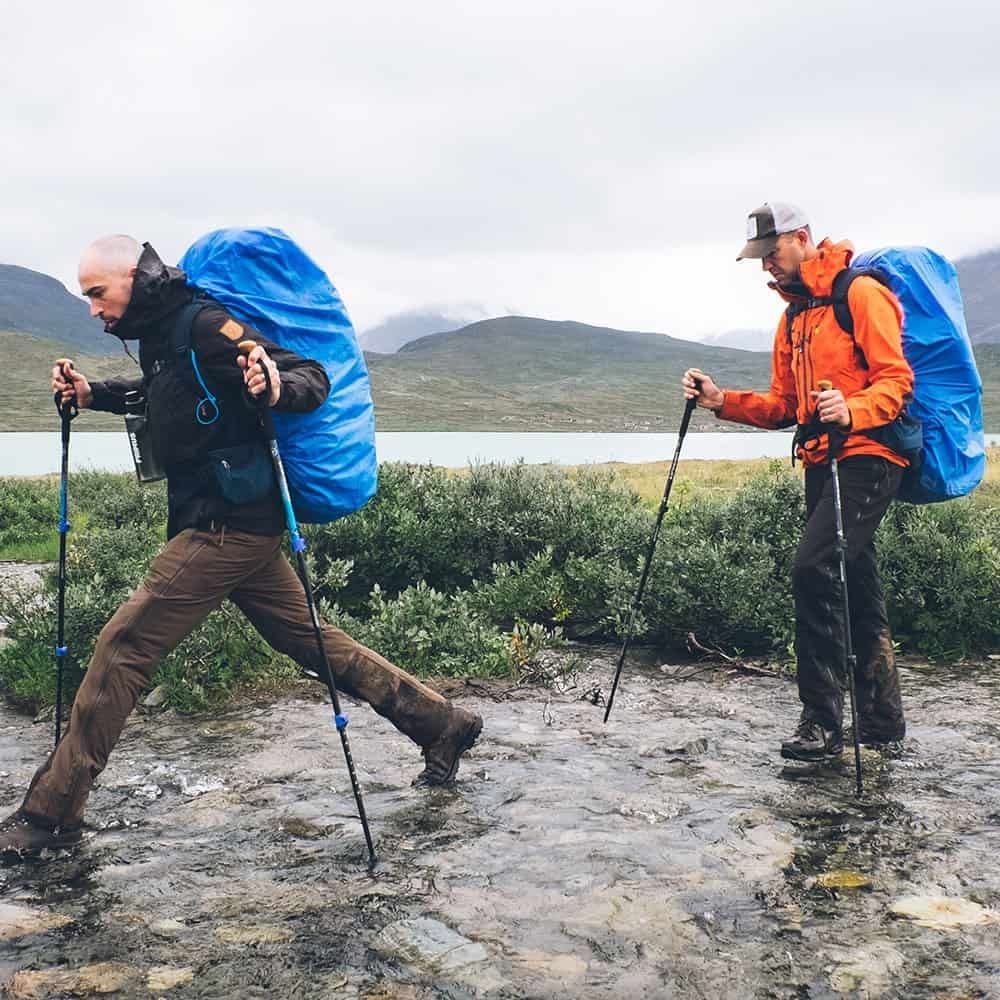 The rain finally caught up with us after lunch, making every footstep more precarious. Luckily, the trail is made for these conditions, so we were able to stay above the treacherous ground and native flora on long wooden planks.
Fatigue began to set in as the kilometers passed. Our backpacks felt heavier on our shoulders. Day two was mentally tough for most of us, as pain and fatigue slowly replaced excitement. I couldn't avoid focusing more and more on the tiny blister on my little toe; it began to symbolize the challenges ahead. With all that, I still smiled every time I looked up and saw the mountains. I wasn't going to allow fatigue to ruin the experience. I was happy and appreciated the opportunity given to me by Fjällräven- I also was grateful for the technical apparel and equipment which protected me from the elements.
At Salka, with great teamwork, we set up camp in record time and quickly had the water boiling. We were getting accustomed to the routine, and some embraced it. I was happy to jump into my base layers, wool socks and sleeping bag to wait for eight minutes until the water boiled so I could dig into my vegetarian chili.
Day 3 – Salka – Tjaktja – Alesjaure (27 km)
In the morning, I realized that my body was getting used to the grind. The rain was still falling, but nothing would put a damper on the mountain views. That day we were to do 27 kilometers, including the highest ascension of the Kungsleden at 1,140 meters above sea level.
We crested the summit right before lunch. A barter system had quickly evolved on the hike, with lunches involving the exchange of snacks: a cookie for a candy, a protein bar for a piece of dried reindeer meat, a pair of gloves for a wool hat. The aim of the group to assist and encourage each other was key on this trip and was a great help in allowing us to reach Alesjaure in time.

Alesjaure was comprised of a hut, a general store with provisions, beer and candy. We reached a silent agreement, and everyone grabbed beers and immediately gathered our strength in the hut. Warm and cozy, we reflected on the lakes and bare mountains we'd crossed that day and the moments that we would remember for a lifetime.
That night we shared stories, experiences and impressions of the trek, as well as remedies for our various aches and pains. We weren't just getting closer, we were officially a family.
Day 4 – Alesjaure – Kieron (19 km)
Our early morning routine was down to a science: early morning yoga sessions, herbal tea in solitude, self-massage and lotion application for soreness. Each of us used these routines to help us face the next full day of trekking.
On this morning I finally felt "in sync" with nature and respectful of my environment. That was when I realized that Fjällräven objective for this hike was spot on; while in the remote areas of Sweden I had become closer to the outdoors. They believe we must be responsible for our environment and leave no trace behind, and I fully understood as I sat looking out of my tent door.
We arrived at Kieron 19 kilometres later and, to our delight, were offered crêpes with jam and whipped cream. Without a doubt, they were the tastiest crêpes I have ever eaten.
We spent the last night around a cozy fire relating our highest and lowest moments from the past five days. With hot chocolate, of course. The camaraderie around that fire erased all memory of blisters, sore feet and the hours in the rain.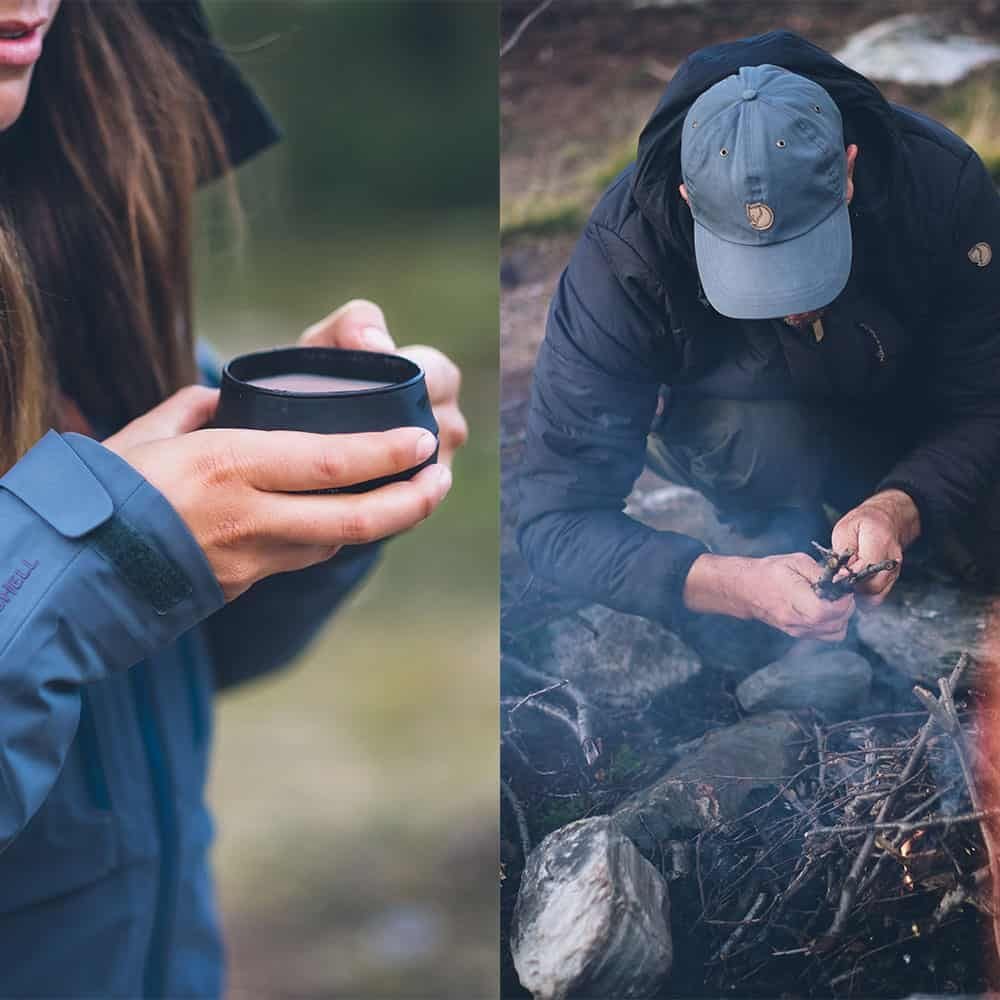 Day 5 – Kieron (18 km)
We awoke to snow-capped mountains on some of the higher peaks. It was our last day in this untouched wilderness and it seemed as if the surroundings wanted to put on a show for us until the end. With my first steps, excitement and nostalgia coursed through my veins.
We walked serenely, knowing that we were approaching the end of the journey. We gathered along a rushing turquoise river to take in the moment, just a few hundred meters from the end and let ourselves experience the emotions.
As we crossed the trail's end, we let out a rallying cry. We had finished the Kungsleden, an adventure that enriched and challenged us, mentally and physically. We sipped our well-deserved celebratory beers and nibbled on our reindeer sandwiches under a large tent. Hooray! Everyone was in an exuberant mood.
Digging into a dinner that didn't come from a bag rounded out the unforgettable experience. I was in awe of my new friends, of what I had learned about camping and the outdoors, and most importantly, I had pushed my limits. I left with a thirst for exploration and a desire to share my experience and encourage others to get outdoors and respect what we have around us.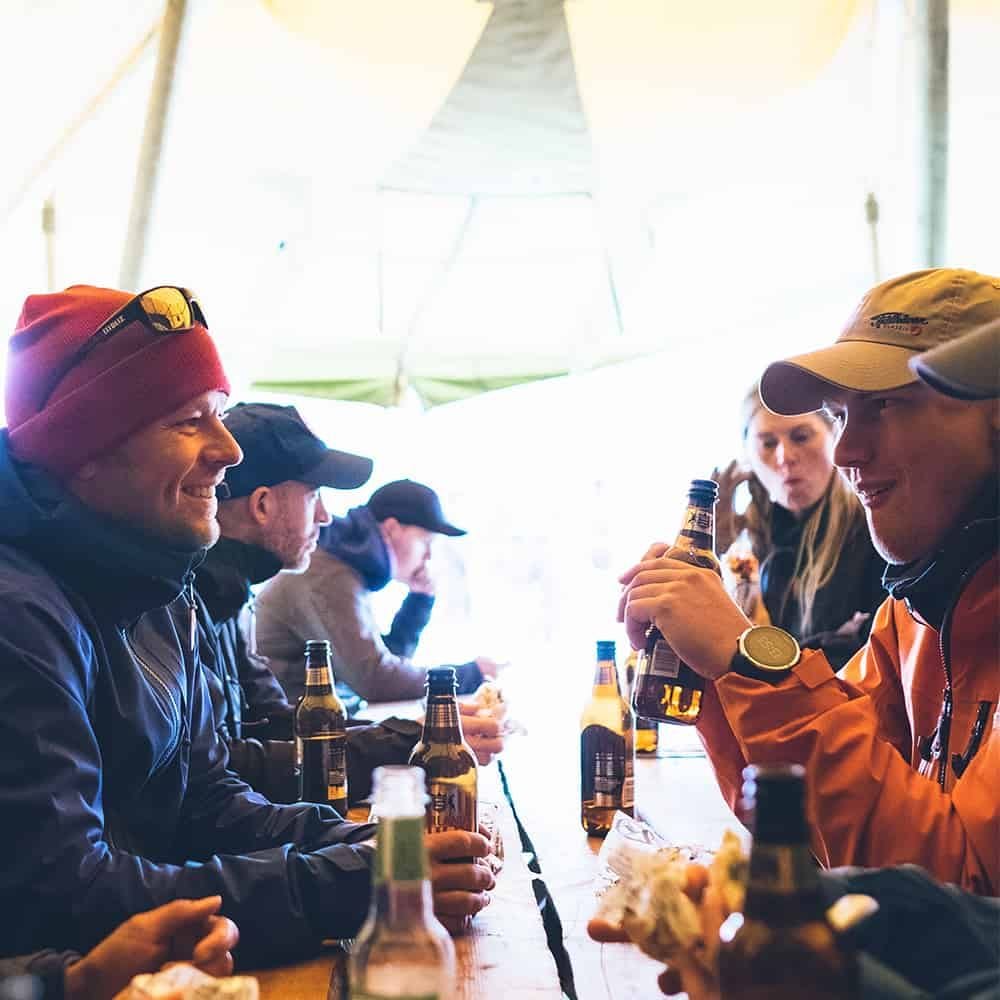 Thank you, Fjällräven, for teaching us what it's all about.
Interesting facts

Number of participants: 2000
8% did not finish the trek
Average age: 38 years old
Heaviest garbage bag: 33.2 pounds

43% were women and 57% were men
Nationalities present: 45
Oldest participant: 73
Youngest participant: 1 and ½
SHARE