Many consumers have made the switch to purchasing more environmentally-conscious clothing, but there is also a huge responsibility for companies to step up as well. At The North Face, nature is at the heart of everything they do, and they are constantly innovating their practices to be as sustainable as possible.
SCALING CIRCULARITY
Every second, the equivalent of one garbage truck of textiles is landfilled or burned. This means 87 percent of material used to make clothing ends up as waste. Carol Shu, Global Sustainability Manager at The North Face, wants to make an impact in reducing this number.
She explains that the brand is applying these principles to their products, "using a systems approach by scaling circular efforts across multiple initiatives—from designing products for recyclability when they're worn out and unusable, while also growing The North Face's Renewed program to keep those products in use for as long as possible."
While they currently have initiatives to keep gear out of landfills, their first products intentionally designed for circularity will launch in 2022.
RESPONSIBLY-SOURCED FABRICS
The North Face has set the ambitious goal of ensuring that all their products are made with recycled, regenerative, or responsibly-sourced renewable fabrics. These fabrics are derived from materials that will replenish over the course of a lifetime, and the brand is on track to reach this goal for their apparel in 2025 and their footwear and equipment by 2030.
They are also committed to helping their suppliers and retailers to reduce their environmental footprints. Their suppliers receive recommendations on things like reducing their energy and water usage by implementing various improvements in their manufacturing processes and facilities. The North Face partners with retailers who share their mission and values, and strives to spread their efforts beyond their brand to reach the entire industry.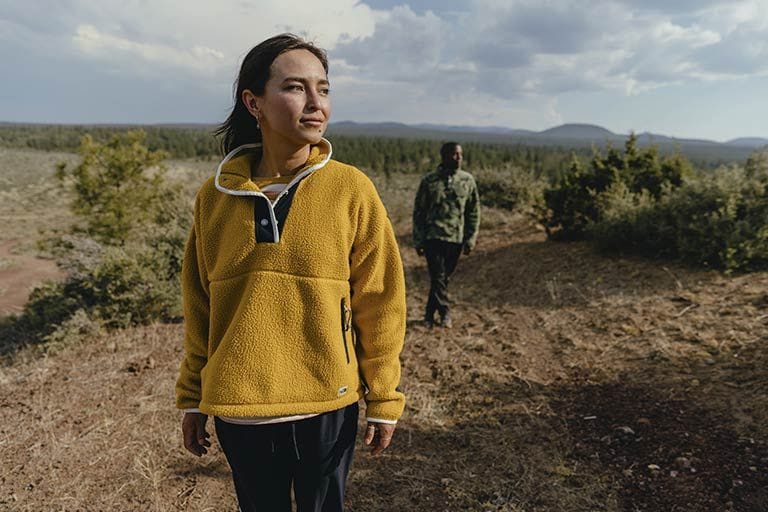 SUSTAINABLE PACKAGING
Being environmentally conscious extends further than the product itself. As the popularity of online shopping only continues to rise, the sustainability of packaging has been put into question. The North Face has answered with their goal to eliminate their usage of single-use plastics by 2025.
However, Carol explains that there is a complicated dilemma faced by The North Face and many companies: "Reducing the environmental impact of packaging is a complex systems problem. Packaging protects products, and damaged products create waste." With that said, she still states for the brand that, "reducing and prevention are always the best opportunities to take in the waste hierarchy."
They are always working to reduce remaining product packaging and use only recycled content and/or third-party certified content (such as Forest Stewardship Council certification) for paper materials like product hangtags or cardboard shipping boxes.
Cutting back on our waste and reducing our ecological footprint is necessary to ensure a better future for our environment. With companies like The North Face making so many sustainable choices in their production line, it makes it easy for consumers to do the right thing. When you're looking for products to take on your next outdoor adventure, do your research: find out how the clothes are made, and make sure you're buying something that you know will serve you for many years. Shopping The North Face is a good place to start.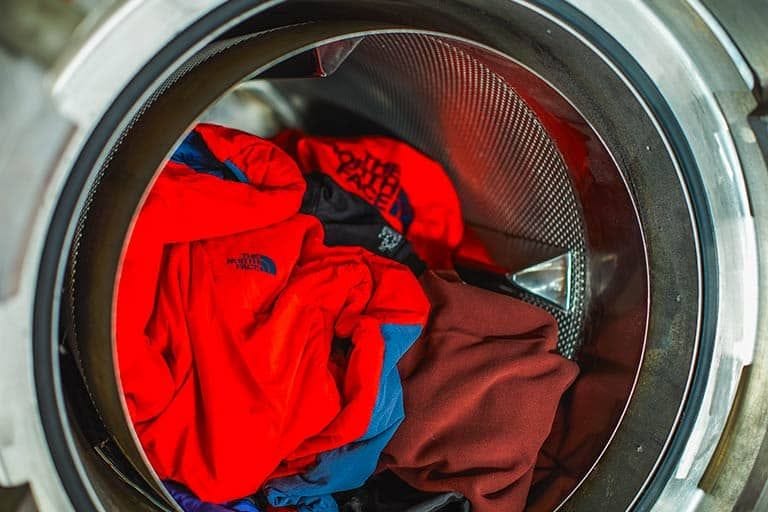 SHARE