We dropped into Vancouver International Airport on a Tuesday for a few days to dig deeper into BN3TH and the team. What we knew was that they made men's underwear. But these were more than boxers with cool designs. 'Forged by chaos' in the world of extreme sports, we had come to meet a crew who were taking the underwear game to another level. 
Their offices were just across the water from Vancouver in the fast-growing economic hub of North Van. It was here, away from the high-fashion, athleisure vibes of Van City, that the biggest names in technical wear and outdoor apparel were making their mark. North Vancouver is the gateway to the rugged landscapes of Canada's West Coast, where alpine equipment and outerwear manufacturers come to play and innovate. As we watched the sunset over the calm waters of the Vancouver Harbour, we braced ourselves for tomorrow's entry into the radical world of BN3TH, a brand making waves in the action sports industry and beyond.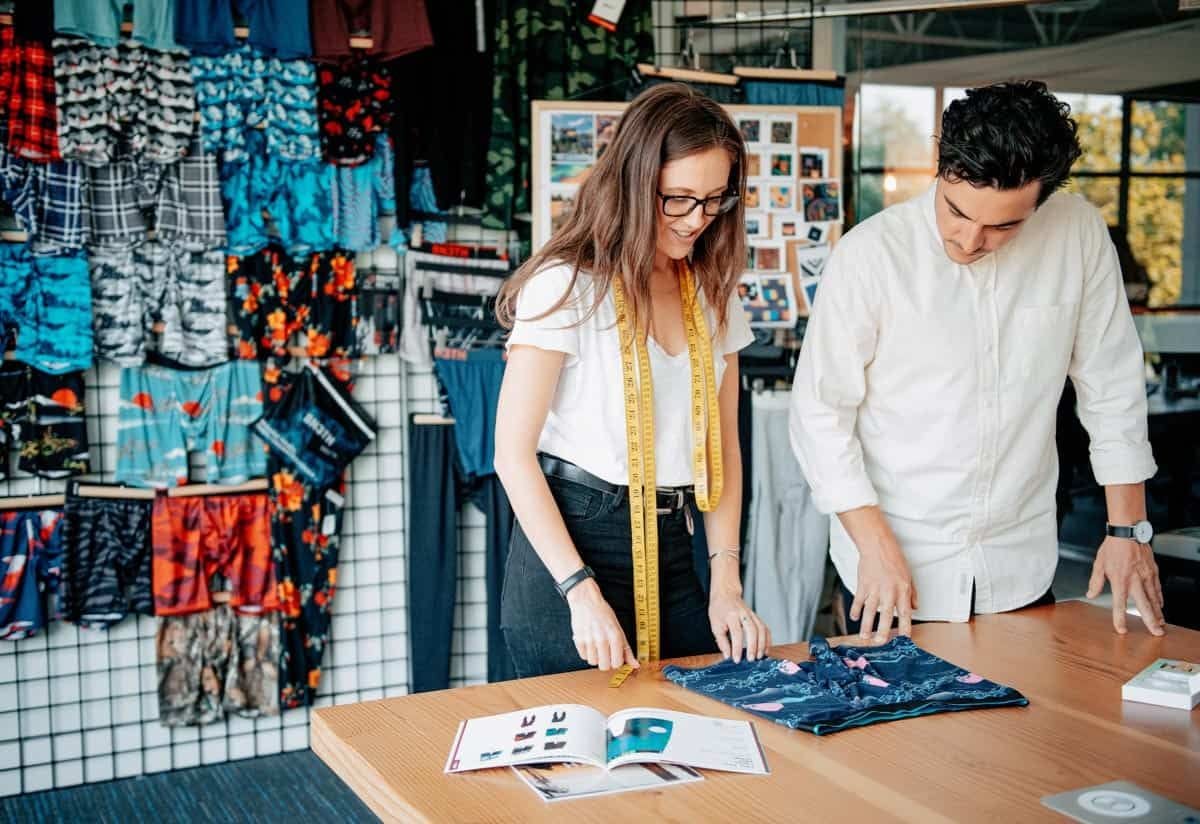 BN3TH's World of Radical
Early Wednesday morning Adam Chuntz, Director of Integrated Marketing was at the hotel to pick us up in his classic West Coast Toyota Tacoma truck. From there the trip to the BN3TH headquarters was only a short drive.
The large office complex across the street from McKay Creek felt more like a clubhouse than a head office. Mountain bikes, snowboards, and skateboards lined the walls. Everyone looked ready to bolt for the mountains in search of powder after a big snowfall. Co-Founder and Chief Creator Dez Price greeted us with a smile, wearing a Guns N' Roses sweater and a bucket hat. There was nothing corporate about the vibe and it's obvious BN3TH liked it that way.
A bright conference room featured displays of a colourful range of boxers and apparel, a visual presentation on the brand's history. Founder Dez had spent years shredding the slopes of Western Canada, working at Island Snow in the Okanagan. He then headed to the iconic No Limit Sports, where he managed the brand, marketing, and a team of some Western Canada's best skaters and snowboarders. Dez already understood the needs of athletes, and he learned more about the culture and market of action sports.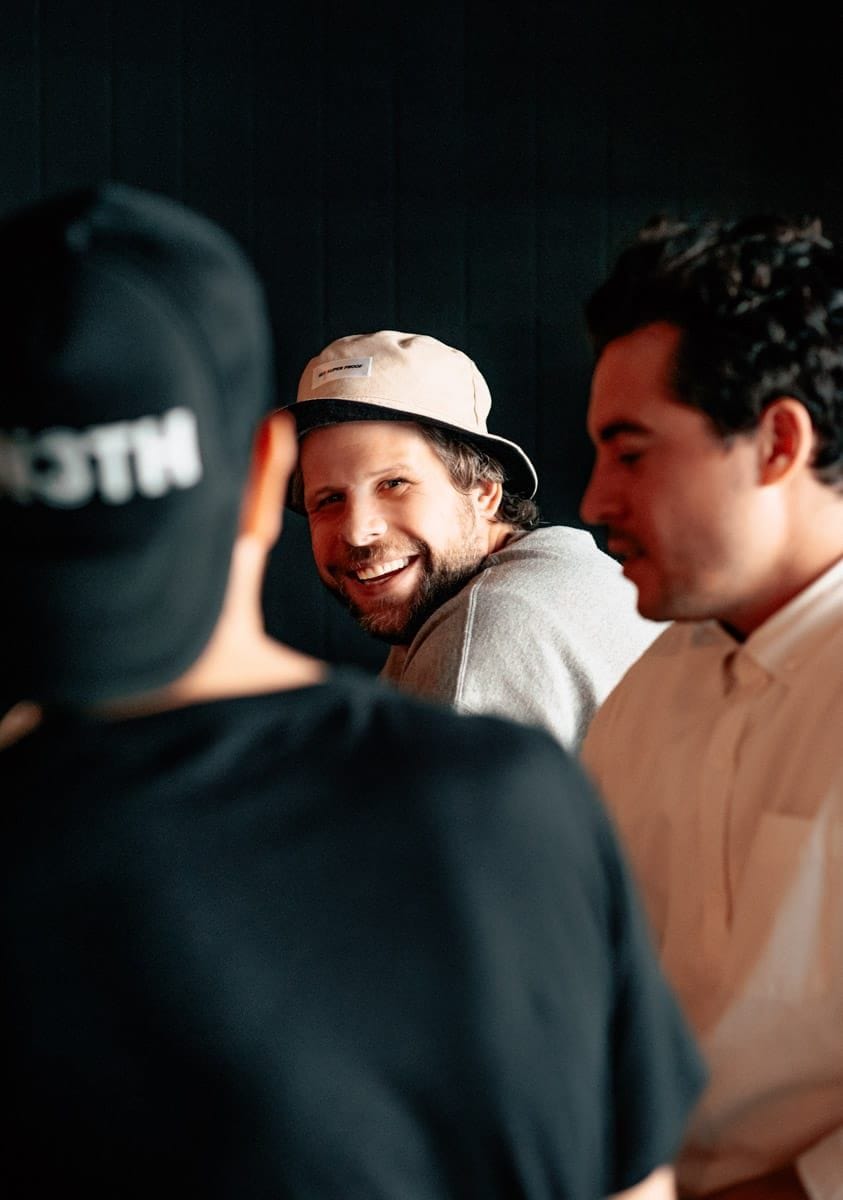 Underwear was the logical choice for Dez because it's essential—it's the first thing you put on in the morning, and comfort makes all the difference. With a grin, Dez recounted how he and co-founder Dustin Bigney had the help of Dustin's mom to sewing their prototypes before finding the correct factory. In 2010, Dez started handing out their first production run to friends and fellow athletes to get feedback on fit and design. Word got around, demand increased, and MyPakage was born.
The brand got its name from the patented three-dimensional pouch design that keeps everything in place, increasing breathability and decreasing the need to readjust. Others imitated it, but none replicated it. As MyPakage gained momentum, Dez, Adam, and the team felt the original name was too limiting. They wanted something more inclusive to transition into clothing and women's apparel, leading them to rebranding in 2018.
Changing how men thought about underwear had become a new vision. Comfortable underwear was important, and now it offered limitless possibilities, "to inspire people to experience their most radical self." This idea grew into the World of Radical, and from there BN3TH was born.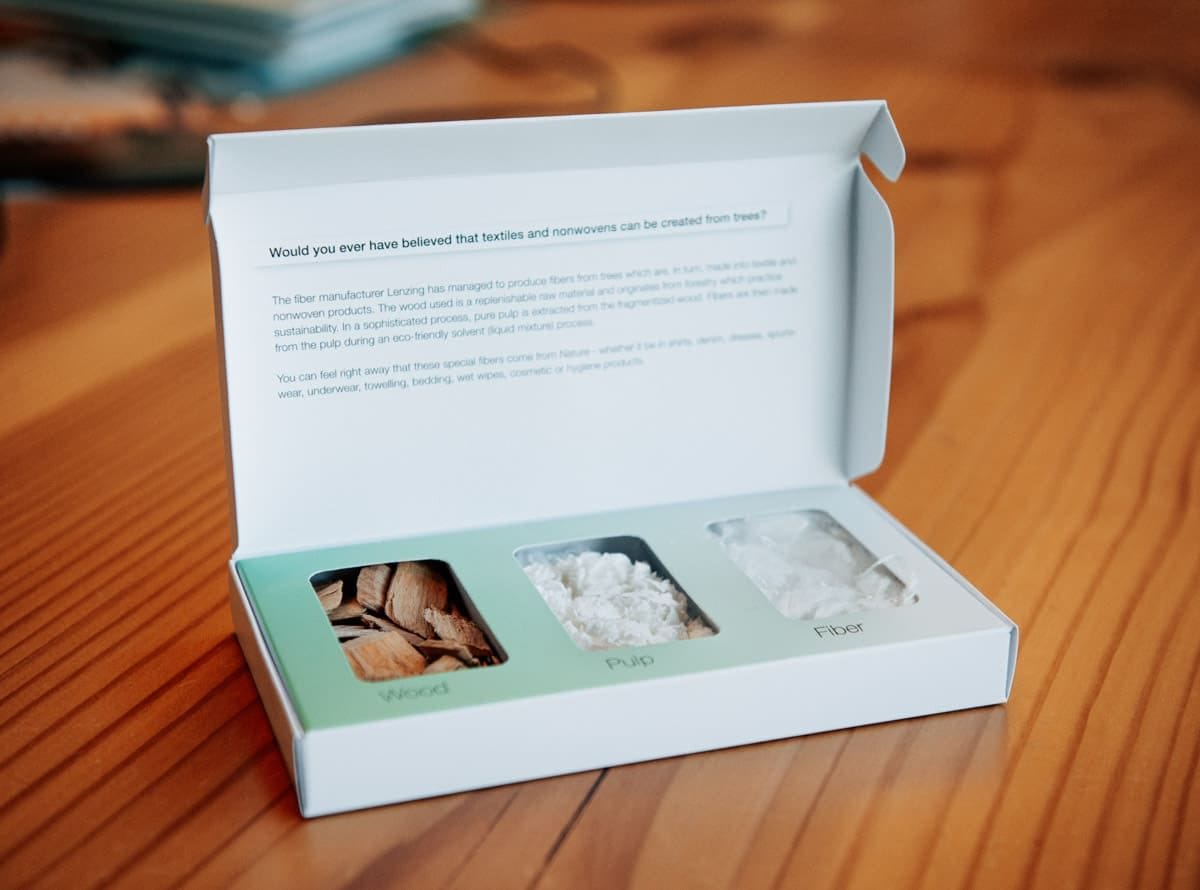 'We're not Perfect, but we're Trying'
Dez and Adam's presentation was followed by a meeting with Nora Shaugnessy, BN3TH Director of Product. The MyPakage Pouch Technology was vital in earning their reputation as makers of high-quality performance boxers. Nora, who'd been there for the rebranding, made sure the radical underwear they created stuck to principles of 'Increased Comfort = Increased Performance.'
What's kept BN3Th ahead of the game is their dedication to sustainability. Given their lifestyle—heli-skiing, backcountry snowmobiling in search of powder, strapping mountain bikes to their trucks—they understand that a 100%-sustainable lifestyle isn't always feasible, but worth the effort. Their "we're not perfect, but we're trying" approach directed them to look for more environmentally-friendly ways to make their products.
Fabrics like Tencel Modal made this possible. Nora slid over a small box labelled Tencel filled with wood, pulp, and fibers. Produced in Austria, Tencel starts as wood chippings that are slowly converted into pulp, then broken down into fibers. These fibers eventually become the soft fabric BN3TH uses to make their long-lasting boxers. Other important fabrics, such as ECODRY, are made using recycled materials, helping BN3Th improve its sourcing.
After our office tour, we loaded into Adam's truck, and went for a bite, Dez following on his Husky motorbike. We headed to trendy Yaletown to a bar called El Guapo for Mexican dishes with northern influences. The spot turned out to be owned by a friend of Dez, who had opened the eatery only a month before. Over tacos and beer Vancouver-style we shared stories about past and future West Coast adventures.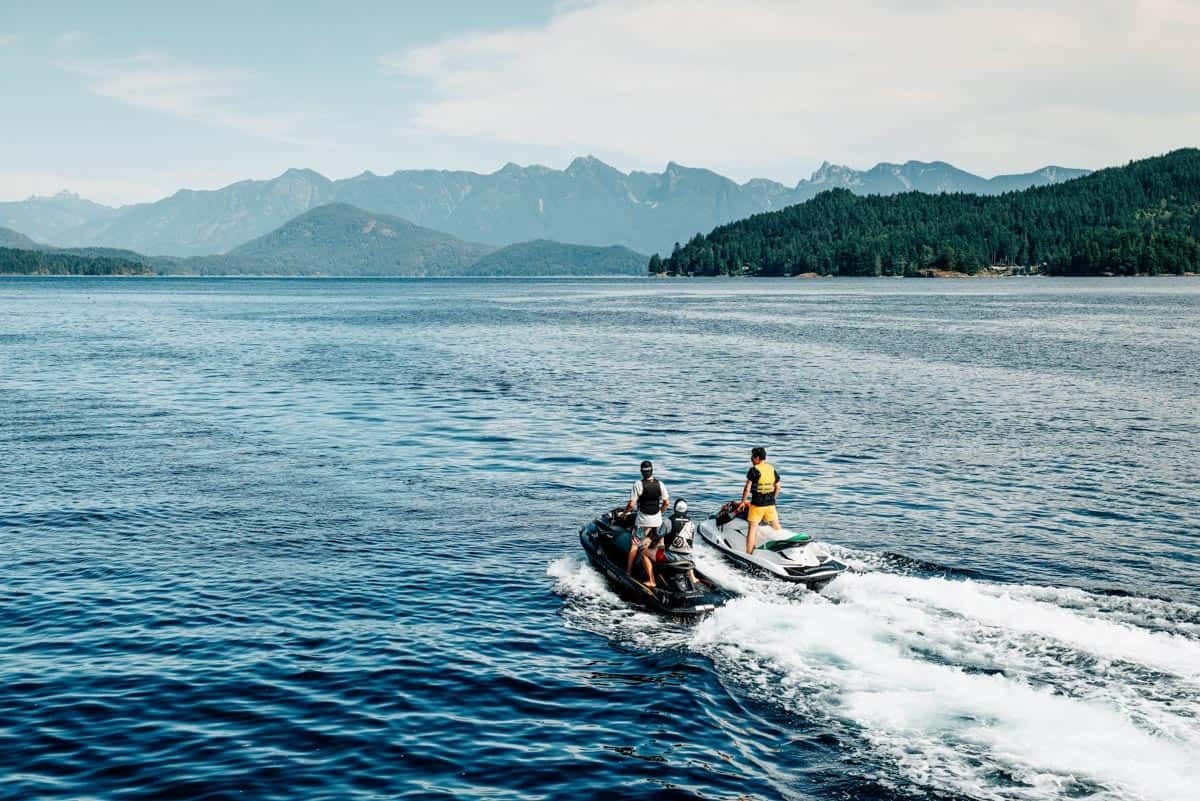 Getting Rad with Rory Bushfield
Adam picked us up in his truck the next morning with a big smile. When we'd parted the previous night, all we'd been told to do was to pack swimwear. Adam drove us towards the town of Gibsons on the Sunshine Coast. There we were met by the BN3TH team, who had trailers full of the latest Sea-Doos. We unloaded the Sea-Doos and hit the waters of the Georgia Strait, carving turns as we island-hopped the Sea to Sky Marine Trail. 
After lunch it was off to Squamish. BN3TH athlete Rory Bushfield was waiting for us at the Sea to Sky Air parking lot near his personal plane. Rory came over to greet us barefoot, wearing only a trucker hat and jeans with his BN3TH boxers poking above the waist, all smiles and handshakes as his furry friends Dex and Yung Frank leapt about.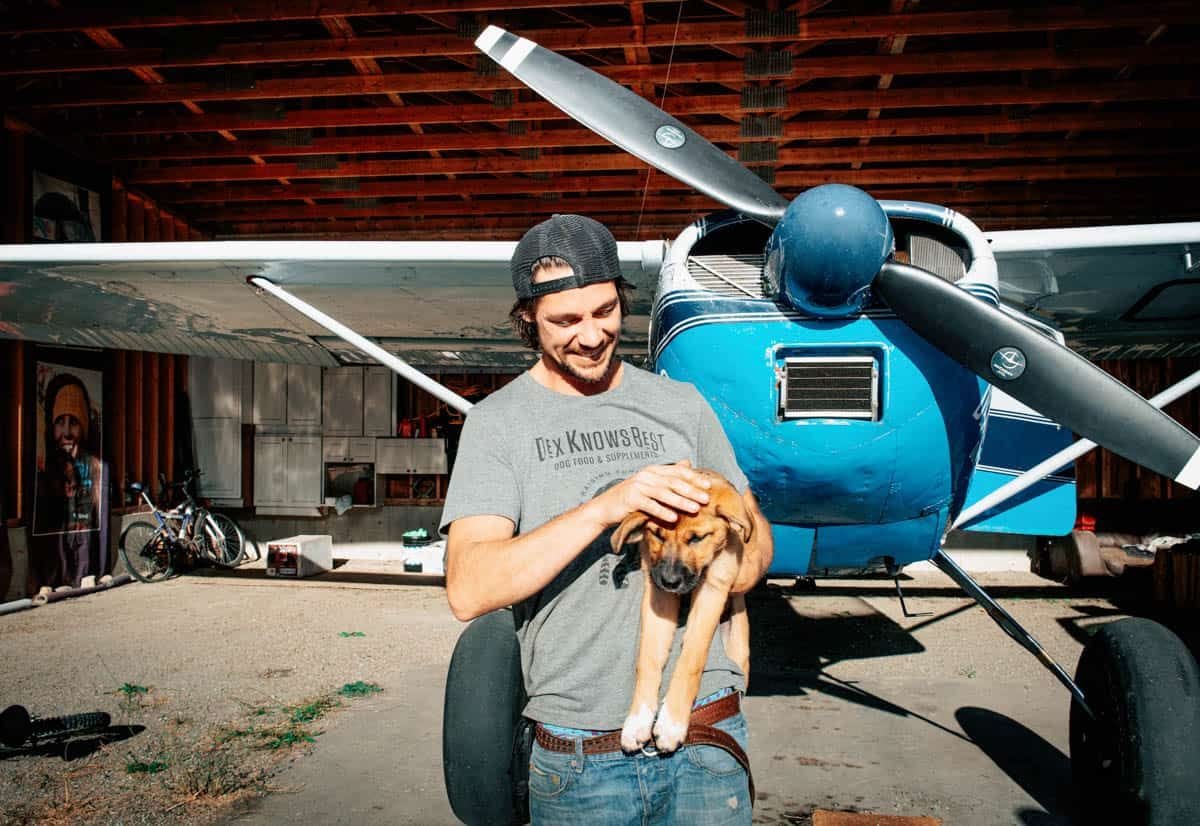 Rory—a professional skier and extreme sports enthusiast—was a member of Canada's World Cup Moguls Ski Team. Through skiing he'd met his wife, Sarah Burke, a legendary freeskier and pioneer of the women's Superpipe Ski event, where she'd won 7 XGames medals. Sarah tragically passed away in 2012 after she fell while skiing the superpipe at an event, two years before her chance to compete at the Olympics. Her memory lives on through the Sarah Burke Foundation, which Rory began to help support up-and-coming athletes follow their passions.
We pushed his single-engine plane to the runway. On the fuselage was Dex's picture and the words 'Dex Knows,'—Rory and Dex's new dog food company. As Rory taxied to take off he explained a portion of every bag of dog food sold is donated to the Sarah Burke Foundation.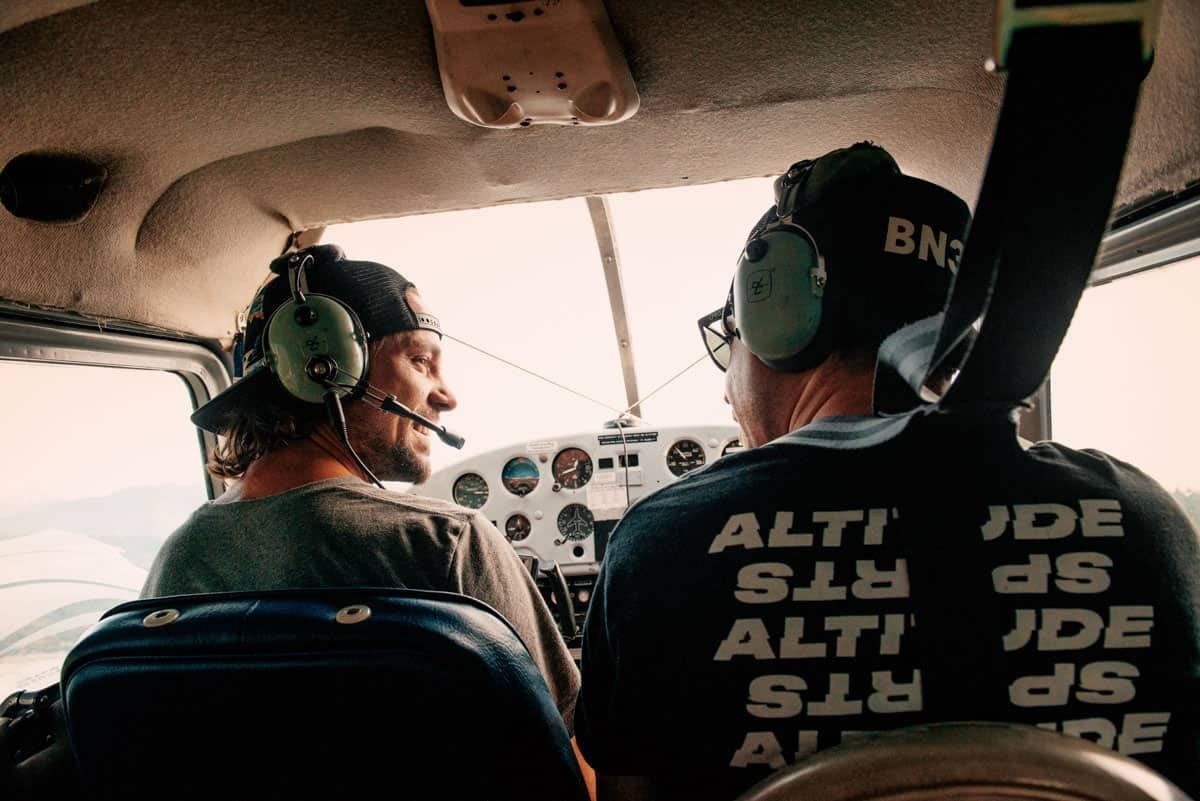 Rory guided the plane to cruising altitude and pointed out Squamish landmarks from the sky. He talked about Sarah, Dex, and his dedication to living every day to its fullest. He passed me the wheel and laughed as I twitched nervously. Nothing phased him, and his optimism was contagious. 
The day before, Dez had said, "Being yourself is rad. Get out there and do whatever you wanna do. If it makes you feel better, do it. That's radical." Innovative thinking in North Van's design hub, living it up in Yaletown, Sea-Doo's, and now flying over Squamish with Rory 1000 ft above the ground—I was beginning to understand what living radically really meant.
SHARE