For simple biology, like the basic fact you have to fuel up, but also it has to taste…good. A fine meal is great motivation to slug through that last three klicks of mud and rock, 40 kilos of equipment on your back, before breaking camp.
I don't know about you, but after hours of trekking, I'm more inclined for something deliciously original instead of the same old like ramen, oatmeal, or dehydrated 'delights' (even if there are some REALLY good ones like Southwestern Beef Masa by Alpine Aire Foods or Happy Yak curry Shrimp).
Whatever the case, prepping and making your own food – especially on a campfire or a custom portable stove – is a comforting thought.
Before You Begin: the Equipment
To make things easier, here's some top-line equipment for forest-cooking. The first place I turn to for camping stoves, heaters and utensils: Mountain Safety Research (or just MSR for those in the know). One of the most efficient options on the market is the Quick 2 System cooking set, a thorough package. There's also the light version for multi-day adventures. The 2-person mess kit is a great addition to your gear. Another thing I regard highly is Grandpa's Firegrill: you attach it right to your pack while walking. Just find the right branch and voila: a mini portable barbecue.
Now that you're fully kitted out, here's my top 5 breakfasts, lunches and dinners, woodland-style.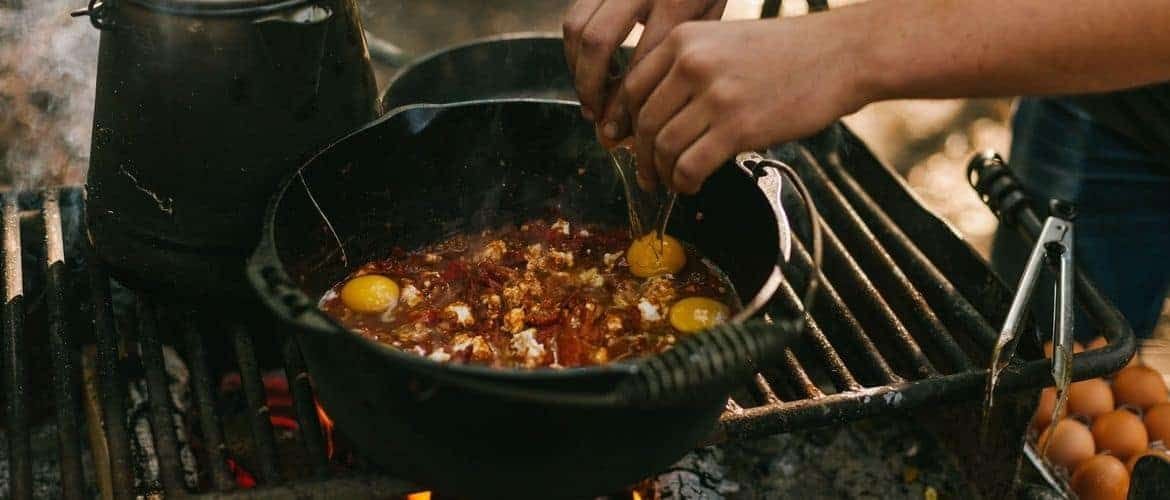 Breakfast: Goodbye, porridge
Peanut-butter & Nutella bagel: Keeps well, and good even when squished! #win
Voyager breakfast: Nature's brunch. Break your eggs in a hermetically-sealed container, cook and wrap the bacon beforehand, and bring one can of pork and beans.
Shakshuka: Found this on Huckberry and this is literally the best camp breakfast I've ever had. Break your eggs in a hermetically-sealed container, cook the veggies beforehand (peppers, onions, jalapenos), and add spices (garlic, chili, cumin, paprika) over the open fire. Add cheese if you like (STRONGLY recommended).
Banana bread: Simple, light, delicious. Add peanut butter for protein.
Pancakes: You have options here. Make and pack in a hermetically-sealed bag or buy mix and cook them in the skillet over the campfire. Have it with maple syrup, cheese, and/or chocolate chips.
Lunch: Sausages? Sausages.
Quesadillas: Simple, quick, yum. Bring flour or corn tortillas, a store-bought or homemade salsa, and cheese if possible. Heat it up and consume.
Smoked salmon with bagels: Gravlax or smoked salmon, you can find it vacuum-sealed nearly anywhere, which is great for keeping it in the bush. Eat it with a bagel…or without. Does smoked salmon really need anything else?
Veggie pitas: Choose your pita and your spread: pesto, hummus, baba-ganouj… Add tofu or nuts to top it off.
Tuna spread: The good old tin of tuna. But now there are many more interesting kinds out there, like Thai-spiced, lemon-pepper, or jalapeno. Easy to prep and nutritious.
Sausage and cheese: Last but never least, we can't forget the classic. A little cutting board, a trusty Opinel knife, a view of the mountains, and bingo!
Dinner: Ramen Forever
Chili with sweet potato chips: For starters, chili is a classic, but it's filling, it hydrates and dehydrates well, and hits the spot at the end of a long day. Bring along sweet potatoes, slice fine, fry in a frying pan with salt, and you get homemade chips, camping style.
Pine-needle smoked mussels: Great for the first night. Bring fresh mussels in a thermos, collect long pine needles, arrange the mussels on a flat surface (metal or wood), cover them with the pine needles, light them on fire, blow off the ash…perfectly-smoked mussels.
Pesto rigatoni: Ultra-simple and comforting. Prep the pesto in advance or buy a jar. Boil water, cook the pasta and enjoy.
Soup as a meal: High-end Ramen! Bring noodles, dehydrated veggies, spices and tofu. Simmer and enjoy.
Quinoa and pita salad: Accompany with ingredients and seasonings you like – veggies, preserved fruit, vinaigrettes…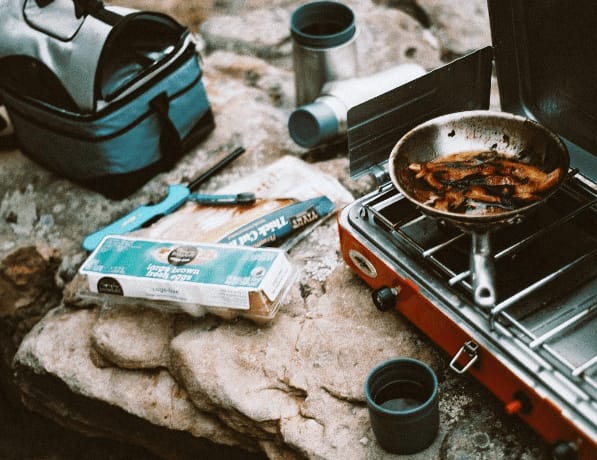 Snacks: Enough with the Trail Mix Already
Chocolate-coated coffee beans: Everywhere now. I love the coated fruit ones too. A little sugary-energy boost.
Homemade jerky: Because it's so easy to make at home, and you can control the amounts of salt (not sure if you've ever checked out the sodium content in convenience-store jerky, but it's scary).
Peanuts: Not much to say here, except delicious and full of protein.
Iced Tea: You can hydrate in many ways on the trail. My go-to is powdered lemon iced tea. Always in my bag, my perfect boost.
Stanley flask with liquid gold: A little reward at the end of the day. I stumbled upon a mini-bottle three-pack of Glengoyne scotch while traveling the Adirondacks… Perfect in your morning coffee or by the evening fireside. You'd swear it was made just for camping!
Add Your Heading Text Here
SHARE