Ski season is right around the corner and depending where you live in Canada, some lucky souls have already glided their first tracks through fresh, fluffy powder this season. For those who have yet to feel this satisfaction, they continue to fight back their stoke and stare wide-eyed watching ski films as they add the third and fourth layers of wax on their skis or boards.
Backcountry VS Slackcountry
Part of this pre-season stoke is focused on backcountry trip planning and gear checks because whether you're in the backcountry or the slackcountry, properly working gear is essential.
Some people may ask, what is the difference between backcountry and slackcountry or is there even a difference at all? The answer is yes, there most definitely is a difference!
Slackcountry put easily, is easy-to-reach backcountry meaning these lines are just outside the boundary ropes and signs in the ski resort. These locations are the early bird's haven on a pow day because they're close enough you generally don't have to work too hard to get there but in an environment where not every average Joe can rock up easily to catch a few fresh tracks.

Backcountry on the other hand is a bit more vague. For some, they consider anything out of ski resort or park boundaries as backcountry although for others, that's still slackcountry. In either case, backcountry is unpatrolled terrain and often located more than a few hours from civilization so safety awareness and proper equipment is necessary.
Although both are generally not patrolled, slackcountry is often close enough to park or resort boundaries that help could still get to you if the situation was very serious in a reasonable amount of time.
Backcountry Gear
One of the most important pieces of gear when you head out of bounds is your backpack. You want a bag that is big enough for all your gear but not too big that you're compromising your mobility and ability to move safely and comfortably.
With the increase in technologies for avalanche safety equipment, many bags such as the Arc'teryx Voltair have surfaced on the market and include avalanche airbags that inflate when triggered. These inflated airbags enable your body to stay above avalanche debris and surf the slide. It is important to remember that these bags cannot guarantee you will be 100% safe while wearing one but they do increase your likelihood of making it out of a hairy avalanche situation unscathed.
Along with your backpack you need the proper avalanche safety equipment. This includes your shovel, your probe and beacon or transceiver. It is ideal to take an avalanche safety course before heading out because having the gear is one thing, but knowing how to use it properly is another and could very well be the difference between life and death in an undesirable situation.
Many brands carry a variety of avalanche safety equipment including Mammut, MSR, Black Diamond and Backcountry Access. An even larger collection of brands carry backcountry backpacks.
Backcountry Backpack Features
Shoulder & Waist Straps
When you're choosing your backcountry backpack, there are a few important features to look out for. I have recently purchase the Gregory Targhee 32 for myself and cannot wait to use it this season. I looked at a few packs before I settled on the Targhee and the most important feature for me were the traps. You'll often have a lot of gear in your pack and sometimes may be carrying your skis or board as well so having thick, comfortable shoulder straps will make it so you don't dread carrying a heavy load.
I was also very picky about the waist straps. You want something that is thick and comfortable and won't feel flimsy and thin and dig into your sides. Like a hiking backpack or travel backpack, you want majority of the bag's weight to be supported on your hips and not your shoulders. If the bag's weight is hanging off your shoulders, you may get a fatigued back quicker or end up with a backache halfway through your day.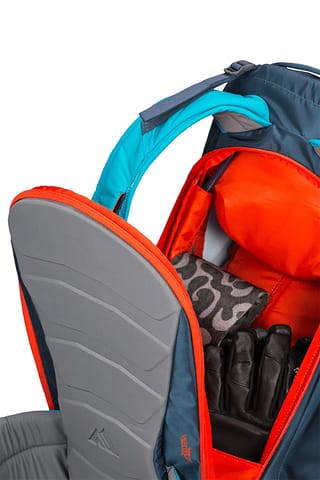 Pockets & Compartments
Other important features are the pockets and the zippers. You want to have enough room for your avalanche equipment, your skins if you are using them as well as extra layers, toques and gloves in case the weather changes. The Targhee has a great amount of pockets that are the perfect size for the gear I will need to carry. The best part, is the stowable helmet pocket on the front.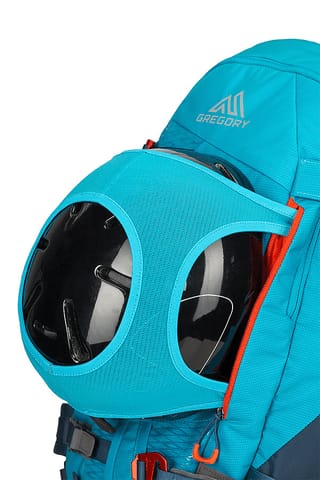 Look for a bag that has all the necessary features you need and try it on. Always double check to make sure the size is right for you and there's no hot-spots where the bag will rub uncomfortably. If you're going to be doing long trips into the backcountry you want to ensure you're going to have a backpack that's comfortable enough that you almost forget that you're even wearing it.
Zippers & Zipper Tabs
Another features to consider when you're shopping for a backcountry backpack is the size of the zipper tabs. Keep in mind that you'll often be wearing gloves or mitts so having larger zipper tabs with loops or grippy pieces will make your life a heck of a lot easier. As for the zipper, most backcountry backpacks will have heavy duty zippers but it's always good to check. Try unzipping and zipping the bag a few times to make sure there's no tricky spots where the zipper gets jammed.
Ski & Snowboard Carrying Options
Whether you plan to hike with your board or skis on your bag or not, having the option is a luxury and will make your experiences more enjoyable. Some bags will have side carrying and diagonal options for skis and front carrying options for snowboards. Often there will be small side straps where you can attach your poles too if you have them.
Hydration Compatible
Last but not least, hydration features. Having a backcountry pack that is also hydration compatible is perfect and very convenient for those who don't have time for constant water stops or are traveling along terrain that isn't ideal for frequent stops. Staying hydrated in the cold, winter weather is just as important as it is in the summer months so don't forget to stay hydrated! If you can find a hydration compatible backpack, buy it. Keep in mind too that cold, winter temperatures will often freeze your water so look for an insulated hydration system. There would be nothing worse than carrying around a cumbersome, ice block all day.
Backcountry Backpack Size
When it comes to size, you generally don't want to go smaller than 20L because you'll be packing it to the seams. A 40L pack may be too big although it depends what kind of gear you're skiing with and how much you have. If you're a guide, you may need the extra space for extra gear. A pack between 25L and 35L would be ideal for day trips into the backcountry so in the list below, you've got a few great options to choose from. This doesn't mean that any pack below 20L is a bad choice and anything over 35L is too big, in the end, you've got to pick a size that feels right for you.
Top Picks for Backcountry Backpacks
Pack Your Bag & Head for the Snow!
Each bag has its own unique features that appeal to different skiers and boarders so it's always worth checking out a few bags to compare. You never know, you may discover a feature on a particular bag that you never noticed before. Once you've decided on your backcountry backpack, you can pack up your gear and head for adventures!
SHARE