Before we get into my review of the Mountain Fleece, a Topo Designs fleece top, I should say I've always wanted to be one of those athletes that celebrates winter. I have often wished that I could fly down the ski hill with icy pellets bouncing off my face, still sporting an ear-to-ear grin. Or return from a run outside with ice hanging from my eyelashes and be unfazed.
But I'm not, and the driving reason is that I get cold quickly. I've made it a personal mission of mine to find clothing that is warm enough, to the point of trying a self-heating jacket (nope). As a result, I'm on a constant quest for clothing that will keep me warm through Canadian winters.
This quest led me to the Mountain Fleece by Topo Design. It makes pretty bold claims about a performance insulation technology that regulates body warmth without adding weight, all the while staying highly breathable and fast drying. These are critical for any winter trekking, tops on my winter sport list. I was also curious to try out a Topo Designs fleece.
Any fleece I have owned in the past is prone to pilling and I was pleased to see that the Mountain Fleece is rated pill-resistant. It's also presented as a low-maintenance piece of clothing with standard washing instructions.
I ordered a small in the Forest/Black colourway and tried it on literally the moment it arrived on my doorstep (after I shook the snow off the box). It was warm straight away, almost too warm while wearing it around the house. This is no question a high-performance sweater.
Another key feature that I didn't notice until I tested it out was the reinforced elbow patches, helpful extending the life of the sweater. Testing it outside, the Mountain Fleece seemed to work best for hiking, skiing or as a coat alternative at -10 C and warmer (for my personal comfort). It was a bit bulky under a down jacket but worked well under a shell.
In terms of how the product is made (which is very important to me), Topo Designs created this with 100% recycled polyester and careful craftsmanship. They believe in the durability and offer a limited warranty alongside their repair program, good for anything you purchase from them.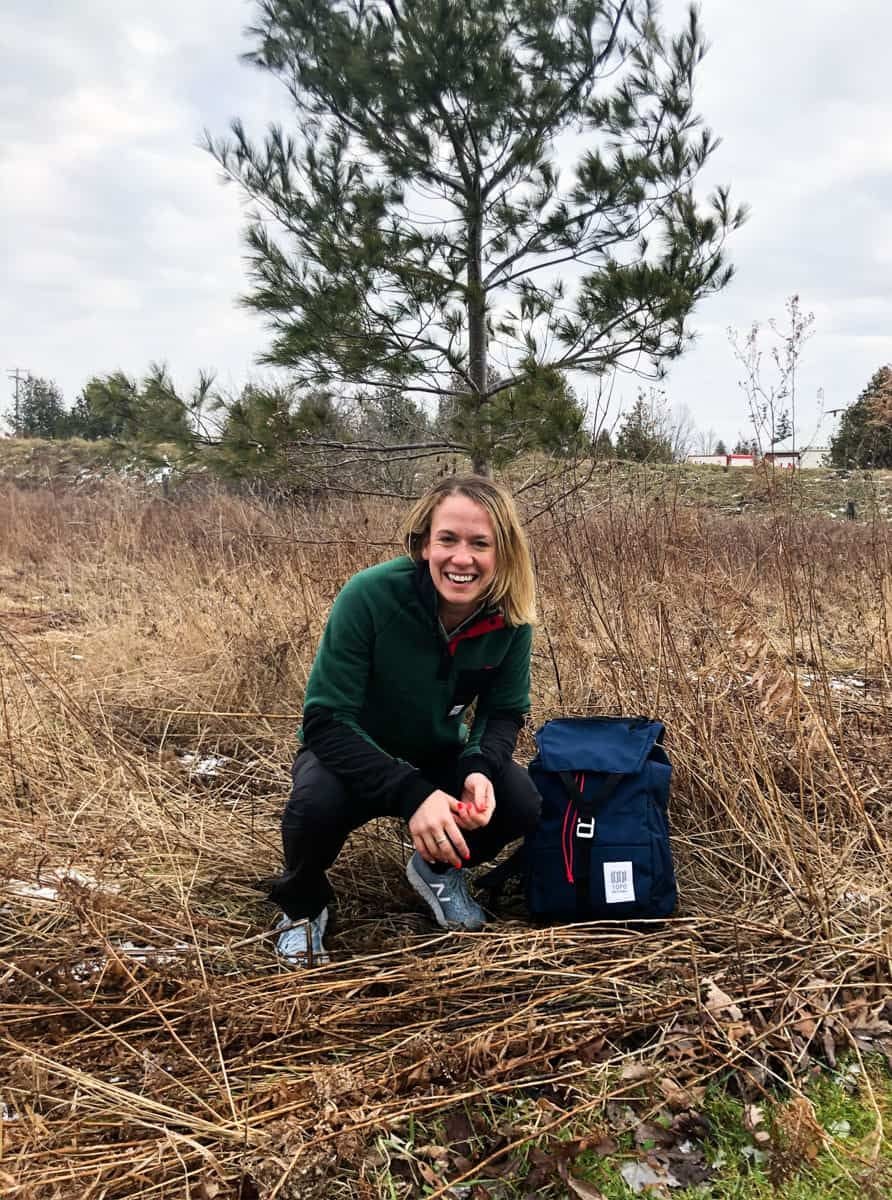 Pros:
Cons:

Polartec 200 technology in the sweater: ridiculously warm garment, perfect for cold winter months
Tailored fit is flattering and not bulky; fits to size
Sustainably-made with warranty and repair program
Reinforced elbows are a stylish and functional addition
Front pocket is ideal for carrying compass, cell phone or hiking snacks

I have a longer torso so I would have liked it to be a little longer.
Because it is a tailored fit, with the two buttons, it's a little snug in the head/neck when pulling it over your head—but translates into more warmth while wearing it
Overall, I think this Topo Designs fleece is a perfect solution for an active, winter athlete who is looking for a very warm, breathable layer that can be used with a shell. It also converts easily into a warm stand-alone layer. My standards for warmth in cold weather are high, and the Mountain Fleece met and exceeded them. A high quality, tailored sweater – I recommend it!
SHARE