A parka and a cozy pair of boots should be warm but stylish and comfortable, too. These are pieces you'll not only be wearing all winter, but likely in the spring and fall transitions as well.
This season UGG has launched a small collection of men's and women's parkas. These coats are down-filled, waterproof and wind-resistant and come with a detachable nylon down vest. Although they feature tech details and durable construction, these parkas are stylish for streetwear as well as in the field.
The new styles from UGG this season show that the brand has gone well beyond its classic comfy boots – but don't worry, even though their new street styled footwear options are more tailored, you can still expect the same comfort and warmth that UGG is well-known for. This is truly a more grown-up and sophisticated look for the brand.

Women's Coat: UGG Adirondack Parka
The UGG Adirondack Parka is quite stylish as far as parkas go. The ability to nip it in at the waist with the internal drawstring allows it to flatter on all body types. The added Adirondack-styled buttons to the front of the parka add an extra element of style while also covering the zipper for added wind resistance. This parka comes with a lightweight nylon vest that can be snapped in or out as an extra base layer.
Pros:

Cons:

Comes in classic neutral colours.
Internal drawstring waist and angled hip pockets allow for a more flattering fit.
Really warm but also breathes nicely to keep you at the right temperature.
Wind resistant and waterproof. Warm up to -31C.
Bonus lightweight vest that snaps in and out.
Lots of pockets – internal and external.
Elastic cuffs and soft lined collar.
Removable fur hood trim.

Fits a little snug in the sleeves, so be conscious of layers worn below.
Hood is not fully removable.
Not as long as other parkas.
Dry clean only.

Women's Boots: UGG Aika Boots
The UGG Aika Boots are a grown-up and more tailored version of the UGG Classic Mini Boot. The side buckles add extra style and sophistication to this sneaker silhouette. These boots are the perfect boot for pairing with leggings or skinny jeans in the fall or winter. The 'bootie' style of the Aika provide a flattering over-the-ankle height that allows for off-duty styling with wool socks or other layers.
Available in both black and chestnut, the details are more pronounced and elegant in the contrast of the white lining and brown suede option than with the black (which has black lining).
Pros:

Cons:

High grip rubber sole.
Cozy soft lining, soft suede exterior.
Easy slip on and off.
Adjustable side buckle with elastic stretch.

Not ideal for deep snow.
A little tight to start – need to be broken in a little.
Not much arch support.
Heavier than other UGG boots because of the sole.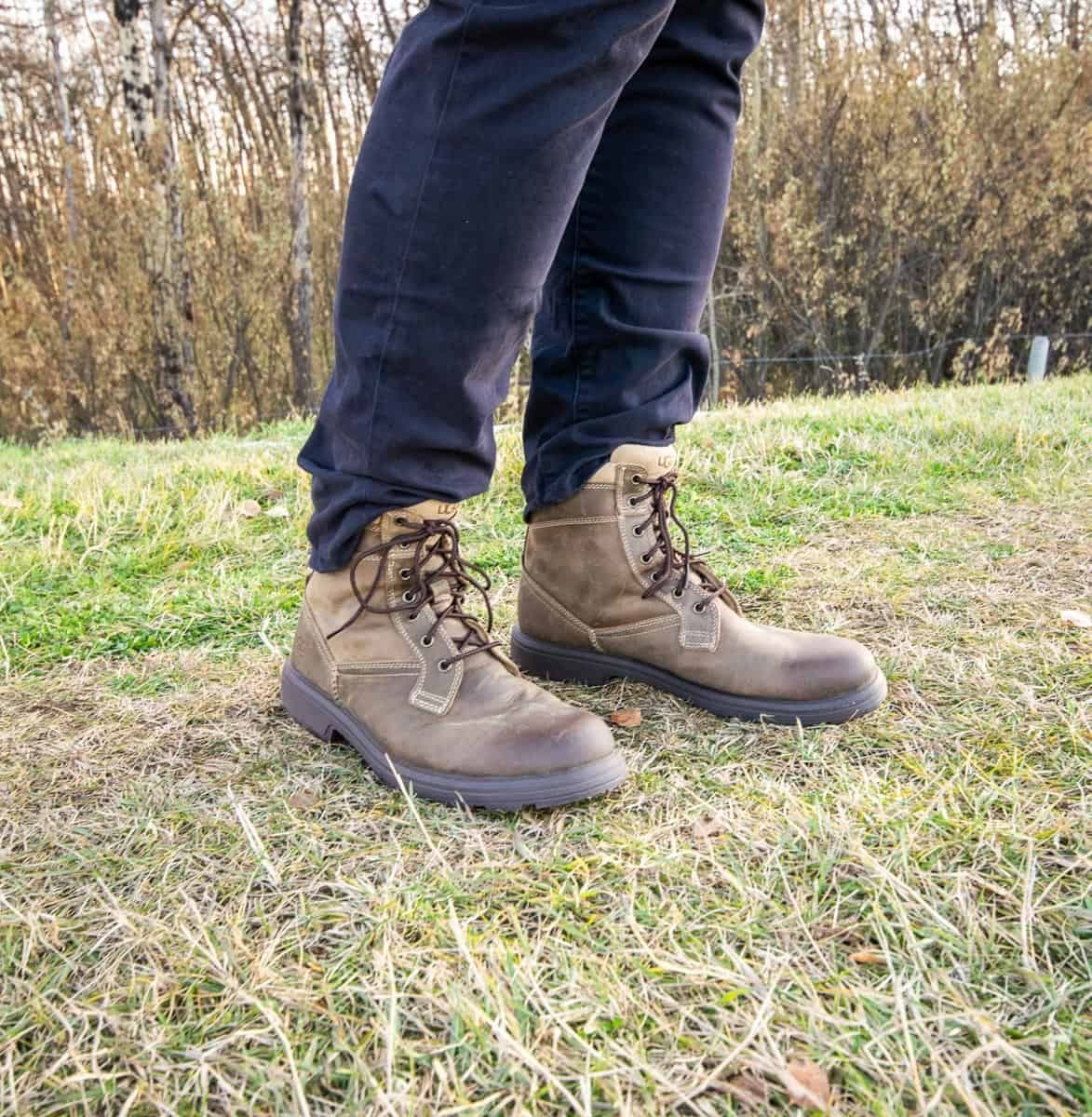 Men's Boots: UGG Biltmore Workboot
The UGG Biltmore Workboots are a lace-up version of the UGG Biltmore Chelsea Boot.
They bring all the warmth and comfort you want from UGG but with a more tailored fit and great street style. These boots perform well in the city and the field and are perfect with jeans or a tailored cotton pant. The UGG Biltmore suits the every day man, the trendy man, the outdoorsman and more. The breathability of these boots makes them a great three-season choice as they're warm when you need them to be, but cool and temperate, too.
For a more tactical look and feel, opt for this pair in black instead of brown (shown: military sand).  
Pros:

Cons:

Really grippy soles.
Waterproof with sealed seams.
Stylish and wear really well.
Comfortable padded collar and breathable textile lining.
Comfortable fit for even wide feet.
Surprisingly lightweight for the size of the boot.

Scuff easily, but it adds character to the boot.
A little bit expensive.
SHARE