So you just got a mountain bike and you're dying to hit the trail. Awesome. But, before you do, we've got some pointers that'll help make the most of your time in the woods. Our beginner-friendly guide to mountain biking gear walks you through everything you need to know.
Let's jump in!
1. MOUNTAIN BIKING HELMET
If you're new to mountain biking, it may come as a surprise that there are at least four unique types of MTB helmets.
Cross-Country Helmet
Large vents are a key characteristic of cross-country MTB helmets. In fact, many people mistake this breed of helmet with a road helmet. Though similar, the difference in weight and durability is substantial. While road helmets are made to feel lightweight and agile, cross-country helmets are designed to sustain greater impacts. Additionally, they're fitted with a rear retention system to ensure a snug fit.
See the differences between road helmets and MTB helmets.
Trail Helmet
Trail helmets are most common. They feature extended/reinforced back and side panels, offering 360° coverage. A front peak acts as a vanguard against pesky branches and falling debris, but mostly it offers well-appreciated protection (being the first thing to hit the ground if your face ever feels like going there during a crash). Some models are also goggle-compatible. Like cross-country helmets, they contain many vents and a retention system to ensure a snug fit.
Full Face Helmet
Think gravity races, downhill races, and freeriding. Basically—anything where your life hangs precariously in the balance of a single slip-up. This type of helmet offers full head and face coverage. Inside, polystyrene and EPP foam absorb impacts, while a chin bar protects your face.
Another common feature of a full face helmet is the visor. A visor is often the first thing to provide shock absorption for front facing crashes.
MIPS Technology
In recent years, a new technology has emerged that offers cyclists a major safety boost. While traditional helmets do a good job of absorbing direct impacts, this is rare outside of testing facilities. In fact, most impacts occur at an angle, meaning that rotational force is exerted on your neck and cranium.
Rotational force bypasses the padding, so the brunt of the impact gets absorbed by your brain. MIPS technology—which stands for Multidirectional Impact Protection System—solves this problem through biomimicry. To understand the mechanics, check out this video. 
2. Mountain Biking Glasses
Not those John Lennon-inspired shades you picked up at a roadside gas station last summer. No—cycling glasses are built to prioritize function over form. When choosing a pair of MTB glasses, opt for a wide lens. This provides maximum coverage from trail spit.
Meanwhile, good quality frames should be lightweight, durable, and scratch-resistant. As an optional feature, interchangeable lenses are a great way to increase versatility across daylight and low-light conditions. Think of the infamously hip Oakley Sutro sunglasses. You can read our full review here.
Want to learn more? Check out our best cycling sunglasses of 2021

3. Mountain Biking Clothing
The first thing you need to consider is the outside temperature. While this seems obvious, many people forget that plain old shorts and your favourite cotton t-shirt just won't cut it. Let's look at some of the essential gear and accessories you'll need.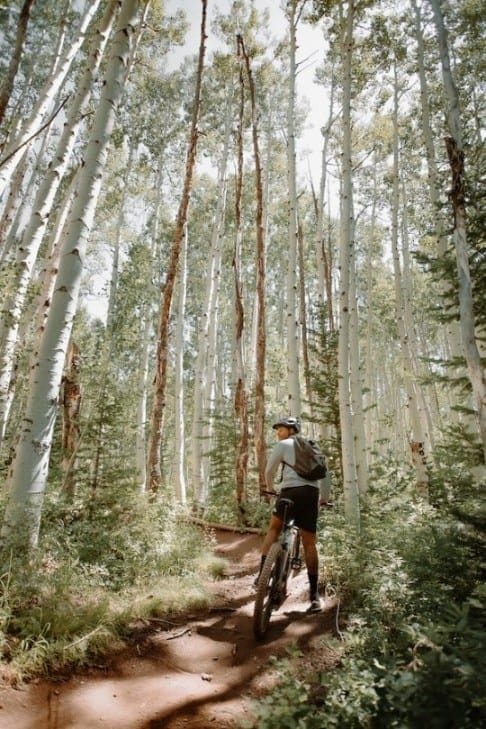 Summer Mountain Biking Digs
For those blistering summer days, swap out your favourite cotton tee for something that offers technical performance. Whether you prefer the attractive price tags of polyester fabrics or the organic feel of merino wool, you'll need something that wicks sweat and keeps you cool and dry.
And while road racers love to dress like scuba divers for an aerodynamic edge, mountain bikers are quite the opposite. You're going to be most comfortable rocking loose fit tops. Medium-loose cuts are ideal, as they promote airflow without generating too much wind flap. When possible, look for shirts that offer SPF protection.
Another consideration is durability. Wiping out is a fact of life when it comes to mountain biking; abrasion-resistant clothing is the answer. 
Pants are great because they offer more protection against spills. They also keep you warm on cooler days, or even on downhill and chairlift outings when you're not pedaling uphill. 
On hot days, a long short—one that extends past the knee—is recommended to balance ventilation and protection. Like with shirts, get something on the looser side; this will permit you to layer your padded liner underneath without discomfort.
Check out our picks for the best mountain biking shorts in 2021.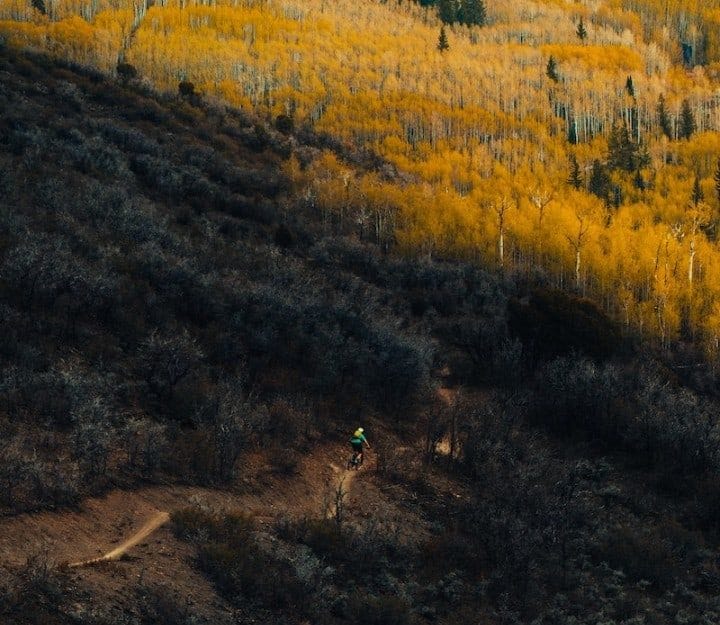 Shoulder Season Mountain Biking Layers 
Time to layer up! Yes, layering is the best way to face the cold. If the sun rears its sleepy head, you can shed your outer layers to stay cool. Pair this with a drop hem rain shell to block trail spit.
On chilly days, a simple cycling gilet will do. A gilet is just a fancy French word for a vest. This lightweight and weather-proof piece of gear is handy on bright, chilly days. It prevents your core from losing body heat without making you feel like you're in an oven.
4. Mountain Biking Gloves
Unlike winter gloves, mountain biking gloves do a lot more than just keep your hands warm. In fact, most serious riders won't leave home without 'em. 
For starters, MTB gloves are made from materials (like leather and synthetics) that improve handlebar grip—especially while working up a sweat. This, in turn, reduces the painful blisters that result from the friction against your palms. 
Some MTB gloves also feature gel or foam padding, which absorbs the impact generated by bumpy terrain and air time. This redistribution of force goes a long way in reducing hand soreness and even helps prevent carpal tunnel syndrome.
MTB gloves come in four styles: half-finger, three-finger, full-finger, or pogies. Though half-finger gloves are nice in warm weather, they're not for serious MTB riders. 
Half-finger gloves
Although half-finger gloves may not be the coolest in terms of MTB style, this type of gloves is still a great option for super hot days on the trail. 
Pro tip : Want to go even lighter? Try simply rubbing your hands with dirt or dusty sand. A bit like chalk powder at the climbing gym, the dirt will make your sweaty hands dry before going down the mountain.
Three-finger gloves
Three-finger gloves are worn in the wintertime; the idea is to create a sort of "buddy system" between your digits. This system effectively allows your fingers to generate warm air pockets between themselves and, most important, it allows your index to still reach the brake levers!
Mostly used for fat biking, these could still be useful during fall season when the temperature drops below zero.
5. Mountain Biking Packs
There are a few important features that differentiate MTB backpacks from your run-of-the-mill Jansport. For starters, they're designed to fit a lot more snug against your back. This decreases the annoying—and potentially hazardous—floppiness.
MTB Backpack
Unless you're doing a multi-day cycling trip through the mountains, you don't need a large volume pack. In fact, something between 9L and 14L is more than sufficient to carry your daily essentials, from snacks and water to repair kit and extra layers.
So, why can't I just use a small, regular backpack? One big advantage of an MTB pack is that it features spine protective technology. The Dakine Drafter Hydration Pack 10L is an exceptional option that's specifically designed for MTB adventures.
Hydration Pack
Whichever route you choose, a hydration system is a must. Some backpacks and hip packs feature an integrated hydration system, but you can also add it to your existing bag. This is the best way to avoid dehydration on the trail because, really—who wants to pull over every ten minutes, unzip their bag, and unscrew their bottle just to take a swig of water?
6. Mountain Biking Protective Pads
How would your knees feel if they discovered you gifted your head a helmet, but nothing for them? I can tell you that they wouldn't be very happy. In fact, both knees and elbows have a reputation for becoming jealous. Bottom line: Make sure to pad up. If elbow pads are a nice-to-have, knee pads really are a must-have.
Of course, now that your head, knees, and elbows are all decked out, the other parts of your body may begin to show signs of envy. Good news: Some MTB jackets and MTB jerseys come equipped with chest, shoulder, elbow, and forearm padding. Likewise, you can find MTB pants with built-in shin, elbow, and hip pads—phew!
7. Mountain Biking Socks & Shoes
Boxers wear boxing shoes; wrestlers wear wrestling shoes; and mountain bikers wear, well, mountain biking shoes. Let's take a brief tour of footwear.
Shoes
Mountain biking shoes are known for being especially stiff. Though it can feel weird at first, it's what permits your feet to remain stable and in control on the pedals. The outsole is typically constructed with a carbon polymer. This is much more rigid than average athletic shoes, ensuring maximum force transfer from your muscles to the peddle.
Another nice characteristic about modern MTB shoes is that many of them are lightweight. Since your legs are working hard to continually drive the pedals up and down, you don't want to be wasting energy hauling unnecessary ounces. 
Finally, the heels on a MTB shoe are designed to be snug and secure. This prevents the kind of slippage and friction that leads to painful blisters. Additionally, many uppers feature multiple adjustment points to ensure a cozy fit from every angle.
If you've got a generous budget, consider shoes that boast detachable cleats and spikes. These clip directly onto your pedals and assist you not only with pushing down, but also pulling up—a lifesaver on uphill rides. 
FAQ
Q: Can you wear jeans mountain biking?
A: Yes, you can even go naked. That said, it doesn't mean you should. MTB pants are designed with moisture-wicking properties, a high level of breathability, weather-proofing, and abrasion-resistance. Your 511's are not.
Q: Can you wear Vans mountain biking?
A: Yes, thanks to their flat soles, Vans make a decent alternative to genuine MTB shoes—especially for the price. Just note that, due to their rather soft and bendy soles, they don't offer as much stability on jumps, at high speeds, or through difficult uphill sections.
Q: Do I need gloves for mountain biking?
A: Yes, but make sure the gloves you purchase are designed for mountain biking. Some also use dirt or sand on the trails to keep their hands dry, but obviously, this option offers no protection in the event of yourself kissing a tree.
Q: Can I wear my road cycling clothes for mountain biking?
A: Generally speaking, it's not recommended. Road biking clothes prioritize aerodynamics over impact-resistance.
Whether you're new to the activity or just a bit rusty, don't feel rushed to get all your mountain bike clothing at once. Take your time to see what works best for you. This will save you money and help you choose MTB gear that you absolutely love. Until then—ride on!
SHARE