Have you decided that this winter is the perfect year for you to snowshoe? Good idea! Accessible and enjoyable, the activity is gaining a lot of popularity, with more and more people trying it every day. Snowshoe trails abound and models are evolving more and more, to the delight of users. Once you get your hands on the right snowshoe model, you'll need a pair of boots – or the best snowshoe boots for your needs.
Some common questions are what are the best snowshoe boots to wear with snowshoes? What boots do I need for mild weather snowshoeing? What boots are best for snowshoeing in extreme cold? What boots should I get for a long snowshoe trek? What are the best gaiters for snowshoeing? You have the questions, we have the answers below!
Best Boots for Snowshoeing & Winter Hiking
Nowadays, the majority of snowshoe models easily pair with most winter hiking boots. They feature warmth, insulation and are a perfect beginning before you get into buying equipment and apparel. To maximize your comfort, here are some tips to follow to ensure your pairing is one of the best type of boots for you.
Best Overall Boots for Snowshoeing
Salomon Quest Winter GTX Men
For those who want to tackle snowshoeing head-on, the QUEST WINTER GTX offers the full Salomon winter package: great fit, insulated warmth, GORE-TEX waterproofing and a sole with serious grip. It's designed to handle a snow-covered trail or a slippery sidewalk. Sitting on top of snowshoes will provide the ultimate in comfort and flexibility every stride you take.
Salomon Ellipse Freeze CS Women
For tromping through a snowy landscape, a winter commute, or a hike in cold weather, the ELLIPSE FREEZE CS WP boots keep your feet happy and comfortable. Made with a women's specific fit and bottom unit, they support your unique structure, and its combination of felt and suede leather ensures comfort and durability.
Best for Extreme Cold
Baffin Control Max Boots
This Control Max boot is rated to perform in temperatures as cold as -70°C/-94°F. That's…pretty cold. This boot is part of a  collection of technical, lightweight expedition worthy boots featuring a waffle-comb foot-bed to trap warm air under your foot. With Icepaw Design pads, which improve contact-point grip on ice, and an Arctic Rubber compound in the shell to provide flexibility in cold environments, the Control Max  has everything you need in a performance winter boot.
Best Affordable Boots for Snowshoeing
Sorel Buxton Lace Men
The men's Buxton Lace Boots has warmth, weatherproofing, and traction in a stylish package at home in the city or the greater outdoors. Synthetic insulation rests inside a seam-sealed waterproof suede upper. And synthetic insulation keeps your foot warm even when working up a sweat. An injected thermal rubber shell outsole is waterproof, with powerful traction to keep you stable when slippery underfoot. The removable footbed and a bonded frost plug midsole give your foot comfort and distance from the frost and snow underneath.
Sorel Snow Angel Women
A short and lightweight lace-up featuring a cozy fit and soft microfleece lining, the women's SNOW ANGEL Boot by Sorel provides you with the perfect snowshoe boot, with flexibility and warmth. This performance winter boot features insulation, a cozy fleece lining, and a removable footbed topped with microfleece. Outsole lugs allow for enhanced traction. A waterproof suede upper and injection-molded waterproof rubber shell combine to leverage completely snowproof protection for your foot.
Best Waterproof Boots for Snowshoeing
Baffin Charge Boots women
The women's Charge features a form-fit fixed liner that offers waterproofing, breathability and supple insulation in a bootie construction. The Polar Rubber outsole gives you premium traction in a cold-weather outsole. A TPU base plate provides both protection and torsional rigidity. A fixed frost plate keeps a buffer between your foot and the cold ground, while an EVA midsole cushions impacts. The stabilizing anti-microbial insole is removable. The Charge is 100% snowshoe-compatible.
Best Boots for Long Treks
Hanwag Alaska GTX Trekking Boots Men
The Alaska GTX trekking boot is well-suited for heavy-pack treks. A Vibram Fuora outsole is built with braking tread blocks and a PU shock absorber. Stabilising anti-supination and pronation elements mean better motion control on your trek. The lining is a breathable GORE-TEX, waterproof and durable. A higher-built upper of waxed nubuck leather and a comfortable last make this rugged construction well-suited for trekking anywhere in the world.
Best Mild Winter Snowshoe Boots Men
Keen Karraig Mid Waterproof Boots
Sometimes the weather is mild and the powder is irresistibly deep and fluffy. You might not need the full power of a deep-winter insulated boot. Throw on a pair of thick hiking socks and slip into a waterproof wonder like the Karraig Mid's by Keen. This waterproof boot features board-lasted construction for added stability plus a heel brake for extra support on the descent. It's built for rugged trails and with a snowshoe on board, it'll provide plenty of comfort and stability.
Best Mild Winter Snowshoe Boots Women
Keen Pyrenees Waterproof Boots
With a classic hiking look you'll have everything you need when snowshoeing in the Pyrenees—the Pyrenees Women's Boot by Keen, that is.  Blending traditional all-leather construction with modern waterproof/breathable technology, these are built to keep feet dry and comfortable over long days and rough miles. European styling conceals a waterproof membrane that seals out precipitation while allowing moisture to escape. In a thick warm pair of hiking socks and moving through fresh snow, these will work like a charm.

On Your Snowshoes
Smartwool

PhD Outdoor Light Crew Men

Sidas

Volcano Heat Insole
Make sure you are comfortable in your boots and have enough space to move your toes to prevent frostbite. If you have questions when choosing the right pair of boots, you can consult our guide for buying winter boots.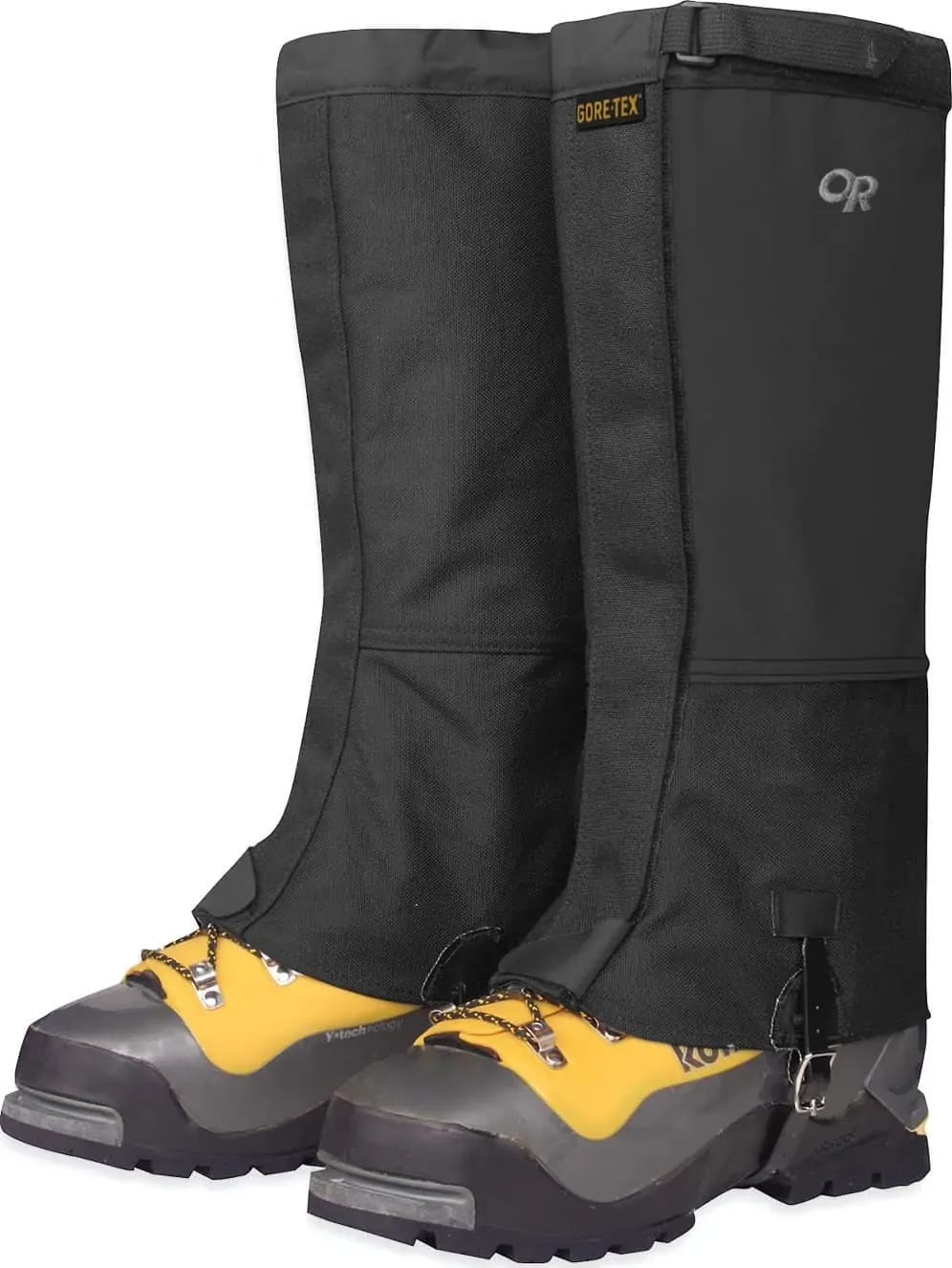 Outdoor Research
Expedition Crocodiles GTX Gaiters
Wearing gaiters may be wise, especially during long mountain expeditions. They will give you added protection by preventing snow from getting inside your boots.
Choosing a pair of fitted socks can also make all the difference when paired with the best snowshoe boots to ensure warmth and comfort. Finally, if you are one of those who has cold feet all the time, take a look at the heated soles. Then you only have to put on your snowshoes to enjoy the snow!
What kind of Boots should you wear for Snowshoeing?
If you are an occasional snowshoe-er or you only venture on flat or groomed terrain instead of outback trails, a simple pair of winter boots should suffice as your choice for the best snowshoe boots. Make sure, however, to choose a warm and waterproof model. Ideally, the model should rise high enough on the ankle to cover it well. This ensures good stability to your leg and protects it from the snow. Ask yourself, "Would I wear these boots anytime this winter?" If the answer is yes, there is a good chance that the boots can be worn with snowshoes.
Most of the time, a pair of hiking boots is the best choice for snowshoeing, as long as they are insulated and waterproof. Light, they will keep your feet dry despite the snow, while providing good support at the ankle on longer trail treks. In addition, they will allow your feet to breathe without losing heat, while their design will guarantee a natural and comfortable stride.
SHARE