My skis glided along the snow as the T-bar snaked up Blackcomb Glacier. Located in Whistler, British Columbia, the glacier cast an impressive shadow over the mountains and valley below. On a bluebird spring day we got ready to test some of the latest gear from Arc'teryx. It's part of their quality control process done in the field—vital when designing apparel for the world's harshest mountains.
We strapped on our skins as our guide Chris went over what to do in case of an avalanche. For backcountry skiers, the reward of fresh turns rarely comes without risk. Safety is our top priority. I took a moment to appreciate the snow-covered landscape stretching endlessly before us. I turned in awe to Ryan Letchford, a member of the Arc'teryx ski team for 19 years, who told me, "I get to do this all the time. I grew up a skier and working for
a company that's involved in backcountry skiing in the Coast Mountains is a dream for me. This never gets old."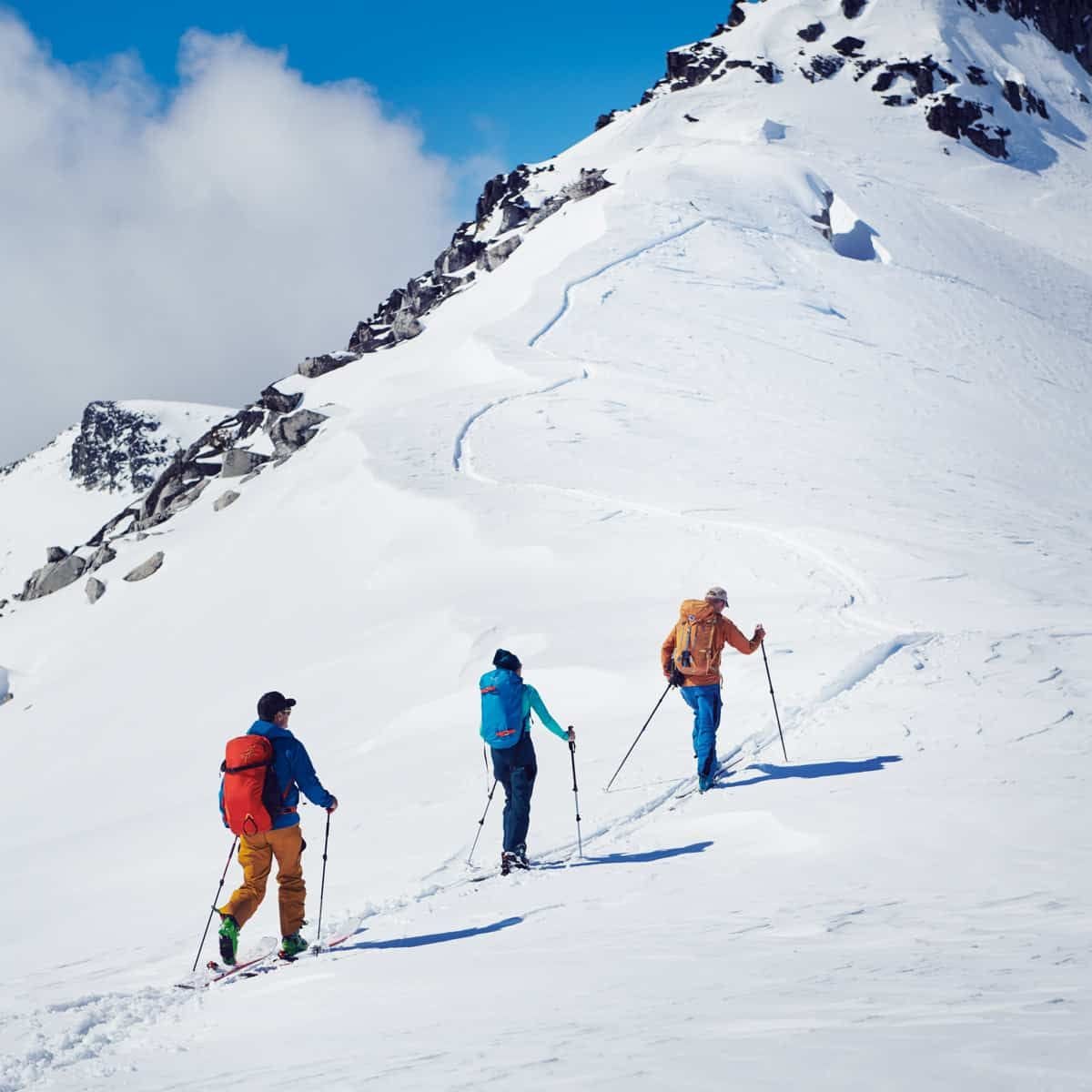 Ryan might be the Canadian Sales Manager, but like many of his colleagues his job requires elements of fieldwork. "Everybody here [at Arc'teryx] gets out and uses the gear, so there's a lot of critics. It keeps evolving the end product forward. It's always about innovation."
This approach and the natural challenges of the surrounding Coast Mountains are driving forces for Arc'teryx. Passion and determination spawned their Whiteline collection, a series of high-performance pieces designed for on-piste and backcountry skiing. Whiteline's ingenious features, technological improvements and minimalist-yet-durable designs make big differences in the alpine.
On the mountain your apparel needs to move and breathe with your body during ascents and descents, protecting you from the weather. Sun, wind, snow and large temperature fluctuations can all occur in the same outing—especially during spring in Western Canada.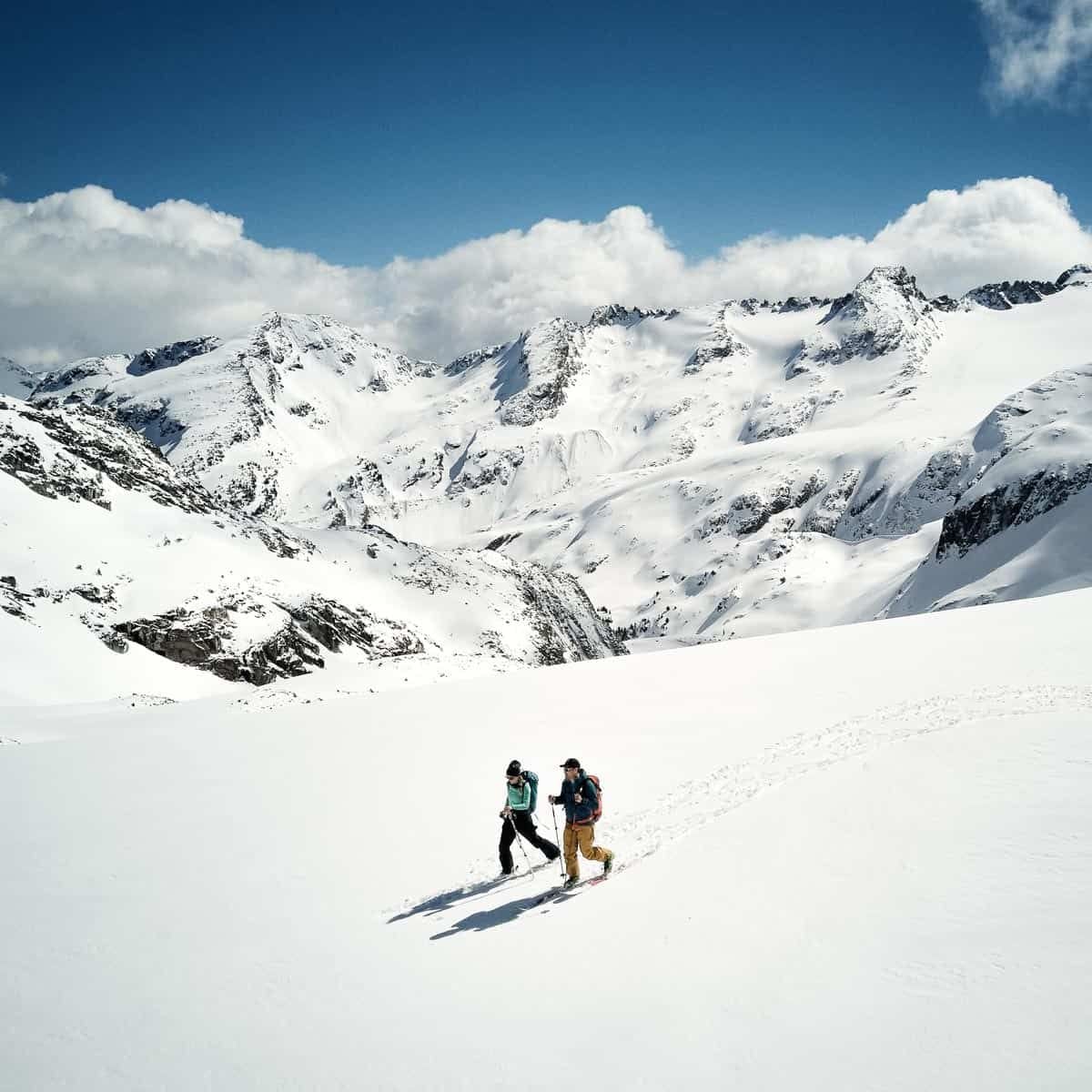 Their hands-on approach to testing every detail was evident when I took off my Shashka Jacket and put in my backpack. Light, packable, constructed with 100% waterproof Gore-Tex Pro fabric, it fit in my bag without a problem. With less weight, I pushed myself harder as we skinned up the mountain beyond the resort trails.
I shared this with Ryan who said, "Whiteline jackets are designed to solve problems, to encourage people to push their limits." He quoted Arc'teryx VP of Design, Dan Green: "We build tools to enable and inspire." While there's no lack of natural inspiration in Whistler it remained to be seen if my ski experiences from out East would help me on serious Western terrain.
At the top, we removed our skins and adjusted our straps. I threw the Shashka over my lightweight mid-layer, grabbed my poles, and we started our first descent. The snow on the south face was heavy and sunbaked as I followed in Ryan's tracks, but the turns became worth it.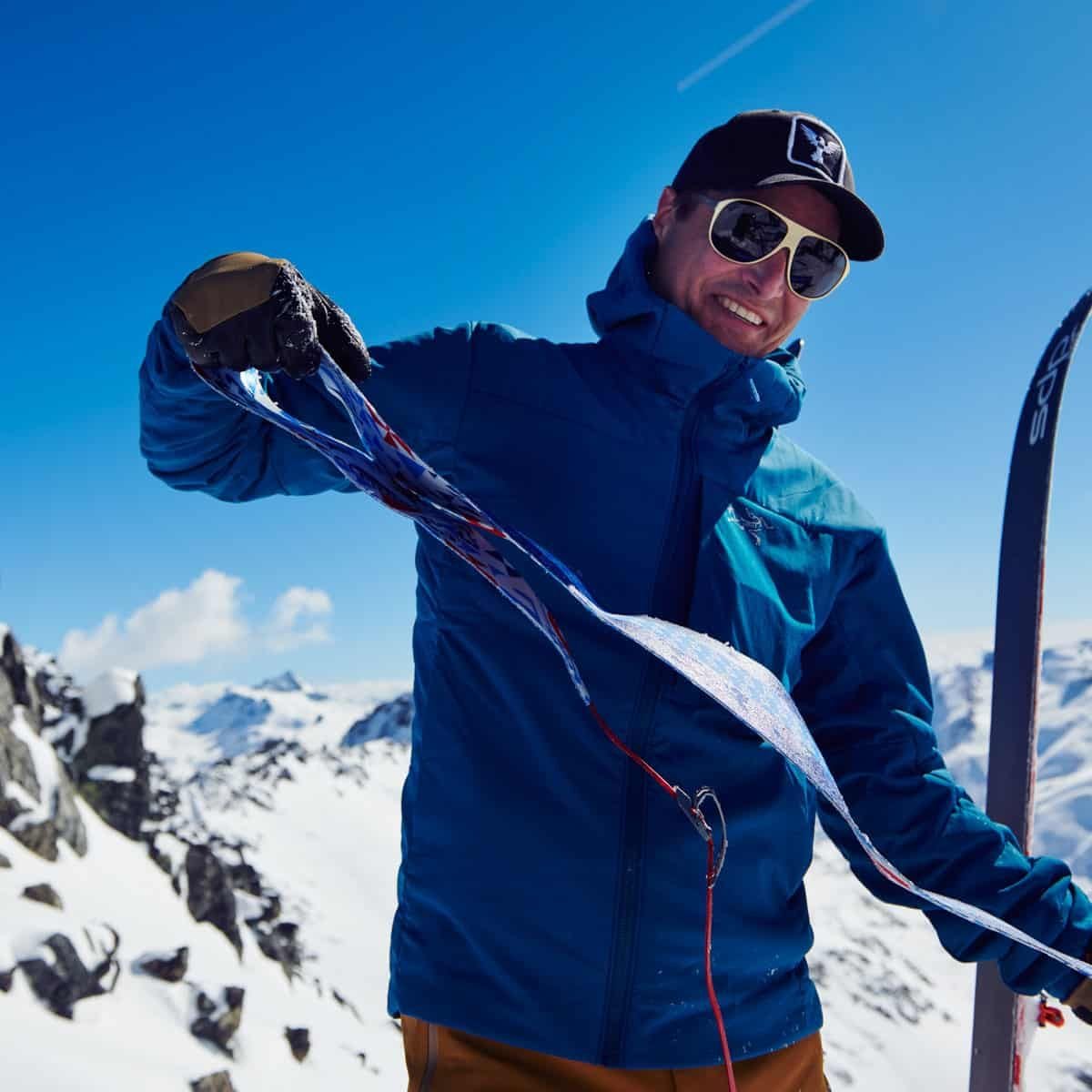 I struggled on some steeper pitches lined with trees. The last turns in an open bowl were smoother, and we stopped just above a small frozen lake. After catching our breath, we looked up the mountain at the lines we'd drawn with our skis. I mentioned how incredible it must be to have this nearby terrain to test prototypes. "Being based so close allows us to test and fail again and again and again. Lots of failures at work, but in the end, our stuff lasts the longest." said Ryan as he put his skins back on for another ascent.
Ryan recounted how Arc'teryx first started building and adapting their machines to perform in-house tests. The founders used a pizza oven to mould the foam for one of their first climbing harnesses. Their aim continued to focus on improving the comfort, reliability and durability of their gear. They've set the highest standards by sparing no effort to develop efficient and sustainable solutions. "It's what the brand was founded on."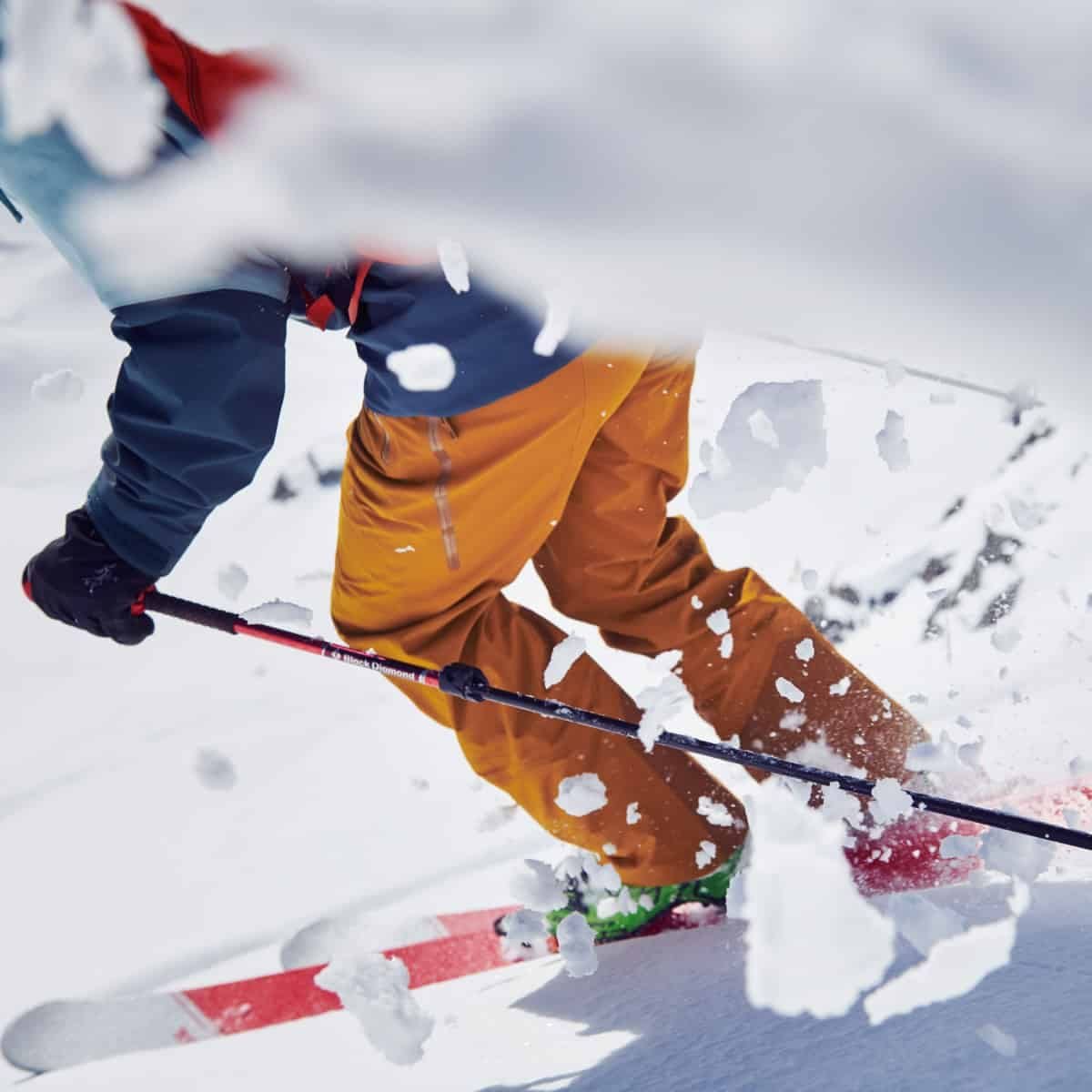 We stopped at the top of the glacier for lunch and absolutely breathtaking views. Ryan described the processes that go into creating an Arc'teryx jacket. Patterning and stitching combine to optimize the range of movement. The design center creates colour shades for the upcoming season, testing daily to make sure they can replicate their colours for every material. The materials team develops fabrics to stand up to Nature's worst and to reduce their environmental impact.
Our jackets, hanging limp on our ski poles, had passed the day's weather tests so far. It's impressive just how much technology and R&D go into garments that appear so simple.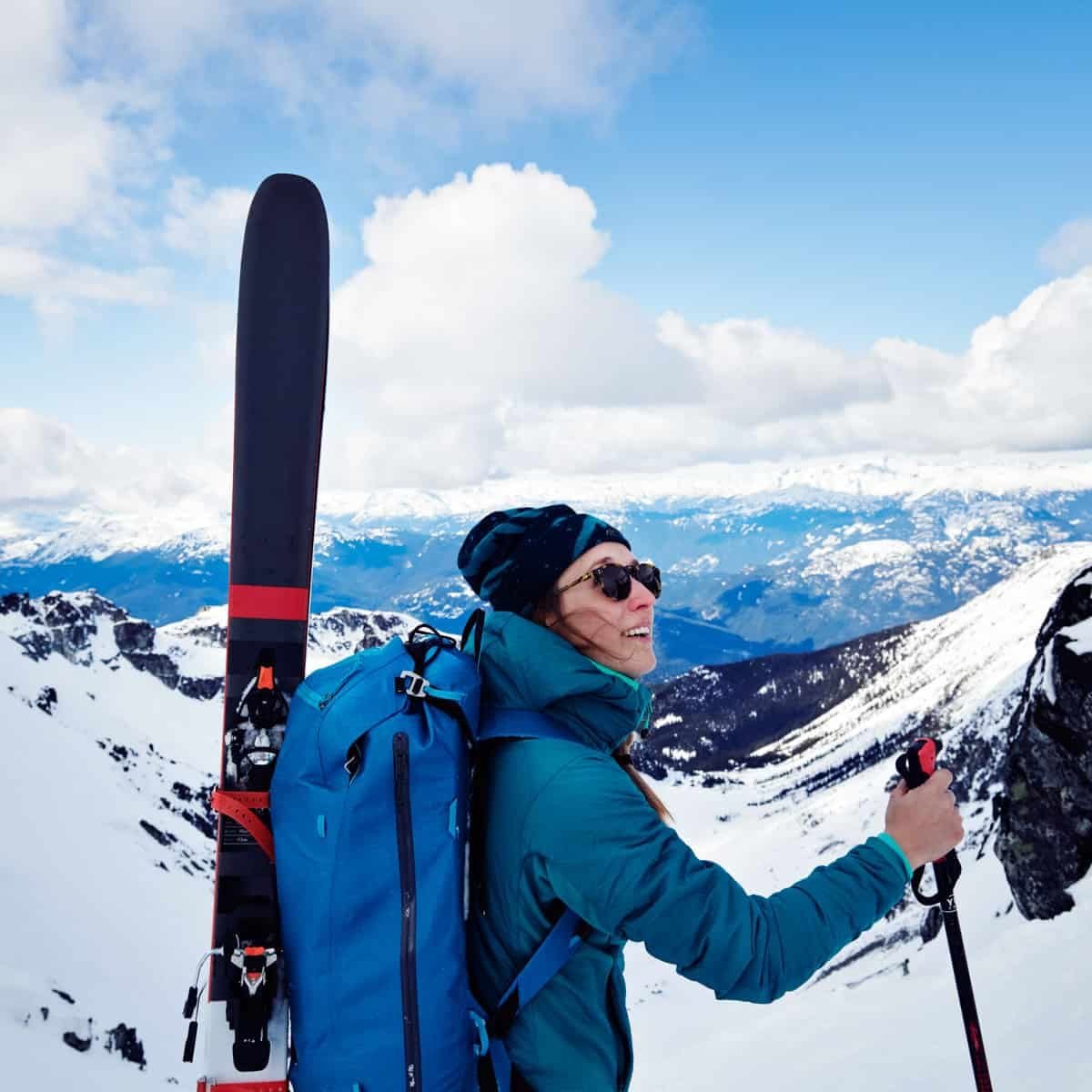 We began our last ascent on foot, the slope too steep for skins. Our boots, packed into our backpacks, were heavy but gave us balance along the trek up. From the top of the ridge we looked down the steep Husume corridor. I slipped on my jacket, took a moment to breathe and headed cautiously down the narrow trail. The ride down was tough—for the second time that day I lost my balance and landed on my back in the ungroomed snow. If I'd learnt anything from my time with the Arc'teryx team, it was we're never done improving, no matter where you are.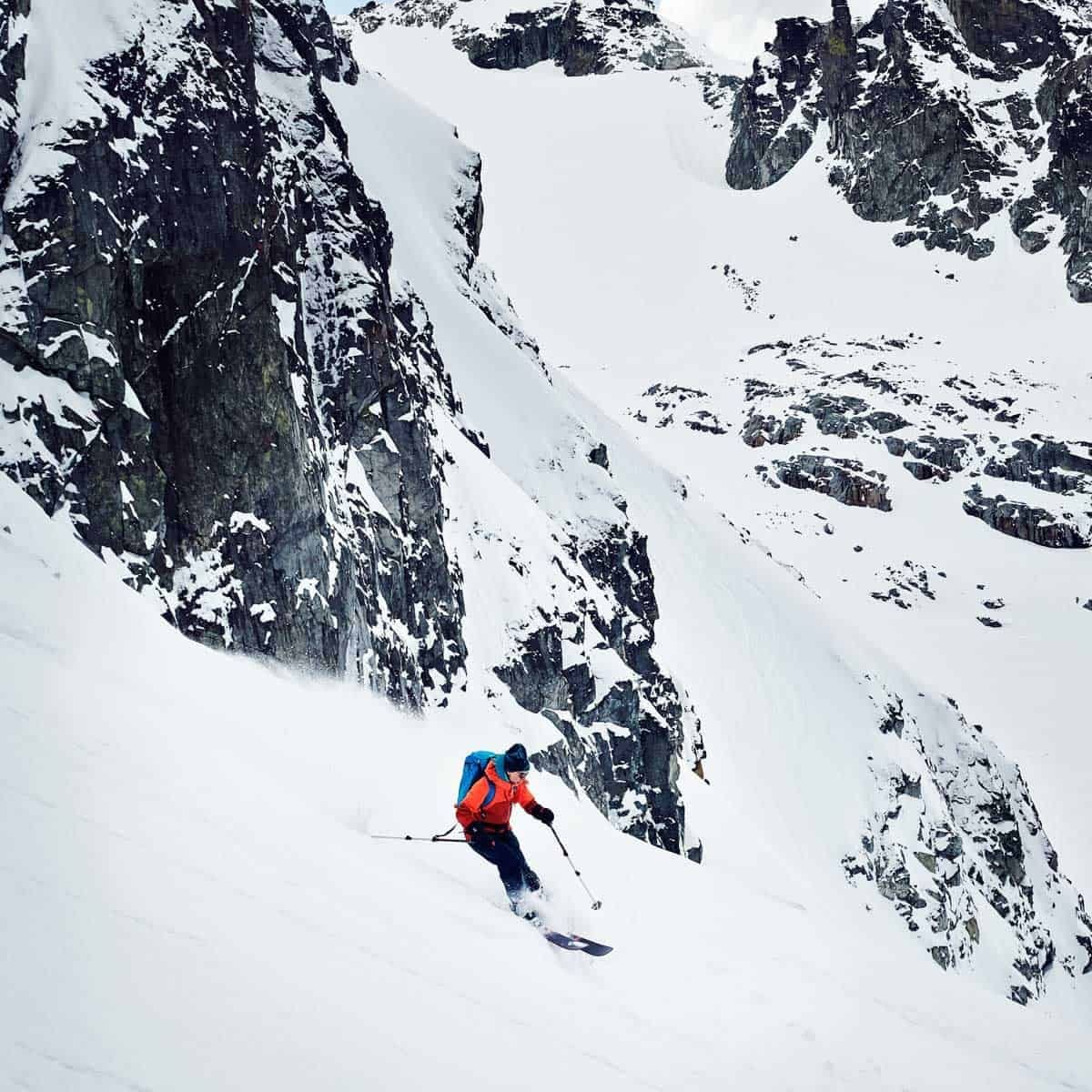 At the bottom, the skiing at a close, I was happy to free my feet from the confines of my ski boots but in no rush to remove my Shashka, still dry and warm inside after a full day in the backcountry.
Over a cold beer the Arc'teryx team explained that though a fantastic day of backcountry skiing might seem like another day on the job to an outsider, it's not something they take for granted. At Arc'teryx a day at work is spent developing new technologies and testing them against the harshest conditions imaginable, whether at the ARC'One factory in Vancouver or the Blackcomb Glacier.
Our guide Mike summed it up nicely: "We're making very cool gear for very cool people that do some very cool stuff."
SHARE