Don't get us wrong, we love the holidays, but finding gifts for your uncle that visits once every few years, or your office mates isn't always easy. With a list down to the floor of gifts you already need to purchase for loved ones and close family members, it's hard not to get overwhelmed. Finding a gift that's personal (somewhat) but doesn't look like it was picked out while you were waiting in line to pay isn't always easy, especially on a budget. We're here to make it easy. Socks, outdoor gear, backpacks…you'll find plenty of simple, affordable ideas that'll make everyone on your list happy. Here's our list of the best gift ideas under $50 to give you some inspiration.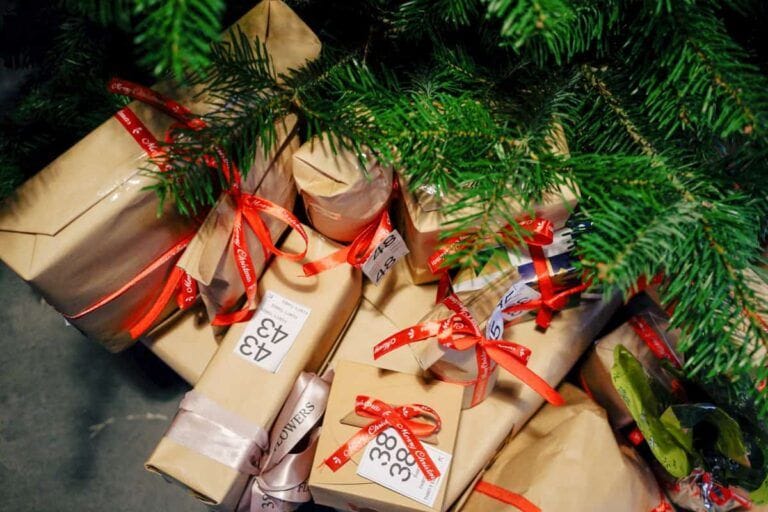 Our Best Gift Ideas Under $50
1. Hydro Flask Bottle
No the water's not included in the price but anyone who's tried a Hydro Flask bottle will say it's well worth the cost. There's nothing worse than taking a sip of warm water on hot sunny days. Whether your intended recipient is a camper, an adventurer, or just someone who likes to stay hydrated, you can't go wrong with this one. It'll keep your cold drinks cold, and if so desired, your hot drinks hot.
Price:
0.00$
2. Arc'teryx Hip Pack
For those recipients who are too cool for school, what's hipper than a hip pack...nothing. It's literally in the name. But that's not the only reason why the Mantis 1 from Arc'teryx is a great gift idea. It's the perfect compact solution to weekend hikes, or for the traveller who needs a small pack to carry around essentials without wanting to carry a backpack. It's got plenty of great features, and did we mention it's under $50?
Price:
0.00$
3. Smartwool Merino Socks - Men's
Who doesn't love a good pair of socks at Christmas? Especially when they're the softest socks they'll probably ever wear. These beauties from Smartwool are made from the brands renowned merino wool which means whatever feet these end up, they'll stay dry, warm, and cozy for the duration of the hike and/or fireplace chill session. And guess what, that's right, they're under $50. Maybe get a pair for them and a pair for you.
Price:
0.00$
4. Ski Key Systems Lock
This gift idea is a bit more specific, but sure to pay off if you get it right. This one is for the skier or snowboarder on your Christmas list. Maybe it's your uncle John, the family ski bum, or Janet from HR who starts every meeting by telling everyone about her weekend ski trip. This is one of those gifts that doesn't cost you much, and is super practical for whoever ends up unwrapping your newspaper wrapped gift.
Price:
0.00$
5. Opinel Knife
It might not be the best gift for your clumsy nephew, but if there's a camper on your list this one is a slam dunk. In the knife game, you won't do better than Opinel. They're renowned for their stainless steel blades combined with stylish wooden handles. When you're packing your camping gear it should be near the top of your list just for its usefulness and pure ruggedness.
Price:
0.00$
6. Lolë Yoga Mat
This one is for the free spirit on your list. The one who won't stop complaining about back problems. Or the one who likes taking random afternoon naps on the floor. Whoever they are, bring a little zen to someone on your list with this Lolë yoga mat. It's your traditional no-stink, super grip mat with a shoulder strap for easy carry.
Price:
0.00$
7. Stanley Gift Set
Whoever gets this one as a gift is going to be the de facto life of the party. Whether it's for the yearly camping trip up north, or a casual summer hang at the park, they can bring a bit of liquid gold with them wherever they go. This kit features a stainless steel flask and shot glasses for sharing. You can always rely on Stanley to have the camp kitchen well stocked.
Price:
0.00$
8. BioLite Grill Kit
Whether it's a family reunion or an office party at the park, everyone's met him: the BBQ guy. The one who comes in and takes care of making sure those burgers are well done and those steaks are medium-rare. Or maybe you noticed your neighbour's kit is looking a little rusty. Whoever opens this one up, make sure they're the master of their domain with our sweet BioLite grill kit featuring a santoku knife, slotted spatula,  and tongs.
Price:
0.00$
9. Kombi kids mitts
Are you looking for that last gift to give to your grandkids? These adorable Animal Family mittens from Kombi  are sure to put a smile on their faces. Warm and insulated, they'll keep their little fingers warm as they spend the day building snowmen and igloos.
Price:
0.00$
10. Black Diamond headlamp
They always say save the best for last. That doesn't mean that 1-9 weren't sweet gift ideas, but this one is bound to light up their life. Literally. There are so many situations in which a headlamp comes in handy: camping trip in the backcountry, night time dog walk, or just taking out the trash at the chalet. We could go on. And if you have to pick just one, this one from Black Diamond is as reliable as any. 
Price:
0.00$
Take Advantage of Our Best Gift Ideas Under 50$
Whether or not you love the holidays, it's the best time to find yourself amongst friends and family. Even if your list is long, it always feels good to give a gift to your mom, grandpa, and even that coworker that you've never spoken to but happened to choose in the gift exchange. With this list of gift ideas under $50, it's easier than ever to find a gift that's original, fun, and useful.
Don't forget to check out our gift guides for kids, travellers, and runners.
SHARE